Noah Schultz was neither a Cubs nor a White Sox fan as a kid despite growing up in the Chicago area. His dad's a Dodgers fan, so that's the team he and his family always watched.
That certainly changed Sunday night.
Schultz, a 6-foot-9 left-handed pitcher who graduated from Oswego East this spring, was drafted by the White Sox with the 26th pick of the Major League Baseball draft.
"My heart stopped," Schultz told White Sox reporters in a press conference Sunday night while wearing a black White Sox cap. "It's the best night of my life. It's always been a dream of mine to play in the major leagues. To be drafted by the hometown team, it's just something I've been looking forward to my entire life. It's surreal."
The moment capped off what's been a meteoric rise for Schultz to the No. 1 overall prospect in Illinois by Perfect Game.
Schultz, whose older sisters Emily and Ashley were softball stars at Oswego East, had a six-inch growth spurt the summer before his freshman year. Then he grew another six inches before his sophomore year.
His fastball likewise took off, from the high 70s his freshman year at Oswego East to creeping into the low 90s as a junior and 94 last summer. He hit 98 in a game in March at Lockport.
Schultz made a verbal commitment to pitching powerhouse Vanderbilt before throwing a varsity pitch, but on Sunday night indicated to reporters that he will turn pro instead of going to Vanderbilt.
"I am a Chicago White Sox now," said Schultz, who said he's been to two Sox games this spring. "It was a great school to be committed to, but I think this opportunity is something I could not pass up. I'm excited to see what happens in the future."
Schultz is the first high school pitcher selected by the White Sox in the first round since right-handed pitcher Kris Honel out of Providence in New Lenox in 2001.
But Schultz's profile does follow a White Sox draft pattern of picking tall, left-handed pitchers in the first round.
In 2010, the Sox selected 6-foot-6 Chris Sale with the No. 13 overall pick. Ten years later, they picked Garrett Crochet – also 6-foot-6 – at No. 11 overall.
"Noah is a rare talent, and it was a bit unexpected to us that he would be available at pick No. 26," said Mike Shirley, the Sox's director of amateur scouting, to reporters Sunday night. "We could not be more excited about his future. He is a 6-foot-9, left-handed pitcher who moves very athletically. We believe Noah has a huge ceiling, can anchor a rotation down the road and will be part of something very special for the White Sox.
"His talent and character speak loudly today and we believe will be even louder in the future."
Schultz has indeed elicited favorable comparisons from scouts to other tall, left-handed pitchers with similar repertoires, including retired two-time All-Star reliever Andrew Miller.
"Noah Schultz is going to be hell for hitters in the AL Central," Joe Doyle, Director of MLB Draft from Prospects Live tweeted Sunday night. "Incredibly easy 97 from a wide, terrifying slot. Slider flashes double-plus and can turn over a developing changeup."
"I have a four-seam fastball, a slider and a changeup," Schultz told reporters in the Sunday press conference. "Those are three pitches that I've been working on and I'm very confident in all of them. I'm excited to see how they can take off and become the best they can in the future."
Schultz's rise, and a relatively low number of innings on a high school mound, make him somewhat of a unicorn on the local baseball scene.
He went two years between high school seasons because of the pandemic, during which time Schultz emerged as one of the nation's top prospects in his class.
Schultz struck out 10 at Waubonsie Valley in a dazzling varsity debut in the spring of 2021, but was limited to just 10 innings that spring.
He emerged as a potential high draft pick last summer. On the circuit with other nationally ranked guys, Schultz pitched at MLB parks Coors Field, Tropicana Field and Petco Park, and didn't allow a run in any of them.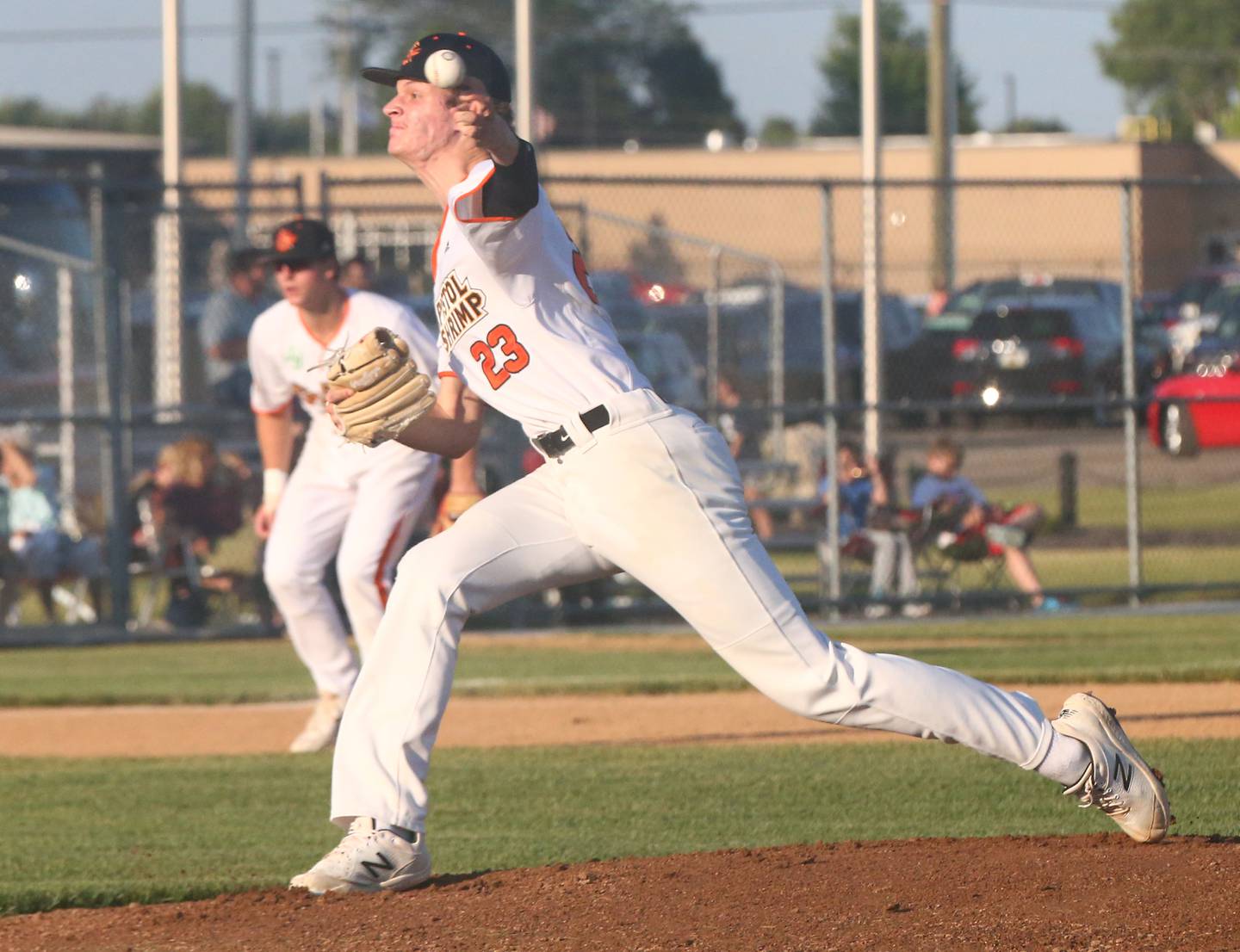 Mono sidelined him for over a month this spring after his season debut against Lockport. Schultz returned to throw an inning of relief in front of close to 50 scouts at Oswego in May.
Schultz pitched for the Illinois Valley Pistol Shrimp in the Prospect League this summer, going 1-0 with a 0.93 ERA in six games with 37 strikeouts over 19⅓ innings.
"I don't want to say I didn't believe it, but I didn't ever picture myself being in this situation," Schultz said, "and now that I'm here it's truly a showing of all my hard work and everything paying off. It's something I never could have imagined. It's a dream to be able to play for the Chicago White Sox."