OSWEGO – Noah Dowler's position at second base allowed him a good view at the sight of Noah Schultz on the mound Thursday night for the first time since March.
It was something to behold.
Coupled with the crosstown interest, the buzz of Oswego East throwing both Schultz and Ashton Izzi brought out a massive crowd. The parking lot outside Jackie's Field of Dreams was full 30 minutes before the game. Bleachers burst at the seams.
[ Photos: Oswego East vs. Oswego baseball ]
Rows of scouts, some 50 deep, stuffed behind home plate and raised their radar guns every time Schultz, a Vanderbilt recruit projected to be drafted in the first round, and Izzi, a Wichita State commit who could also be a high draft pick, released pitches. Dowler claimed he didn't notice all the scouts, but he sure loved seeing the 6-foot-9 lefty Schultz back throwing.
"Comeback game for Noah, it was electrifying. It felt like it should be," Dowler said. "It felt like we were missing something on the team. He's out there now and it felt great."
It only got better.
Dowler's two-out, two-run tying single capped off Oswego East's four-run seventh inning to force extra innings. The Wolves went ahead in the eighth on a bases-loaded walk, and went on to a 7-6 win to snap a nine-game losing streak.
Schultz was one of the first Wolves to tumble out of the dugout in a mad celebration, sports drinks spraying in the air, after Christian Battista got the last out of three innings of scoreless relief.
"Just to get back out there, it felt great," Schultz said. "Didn't have the best stuff but the team really helped. We had a couple big hits and a hell of a game by Christian to close it out."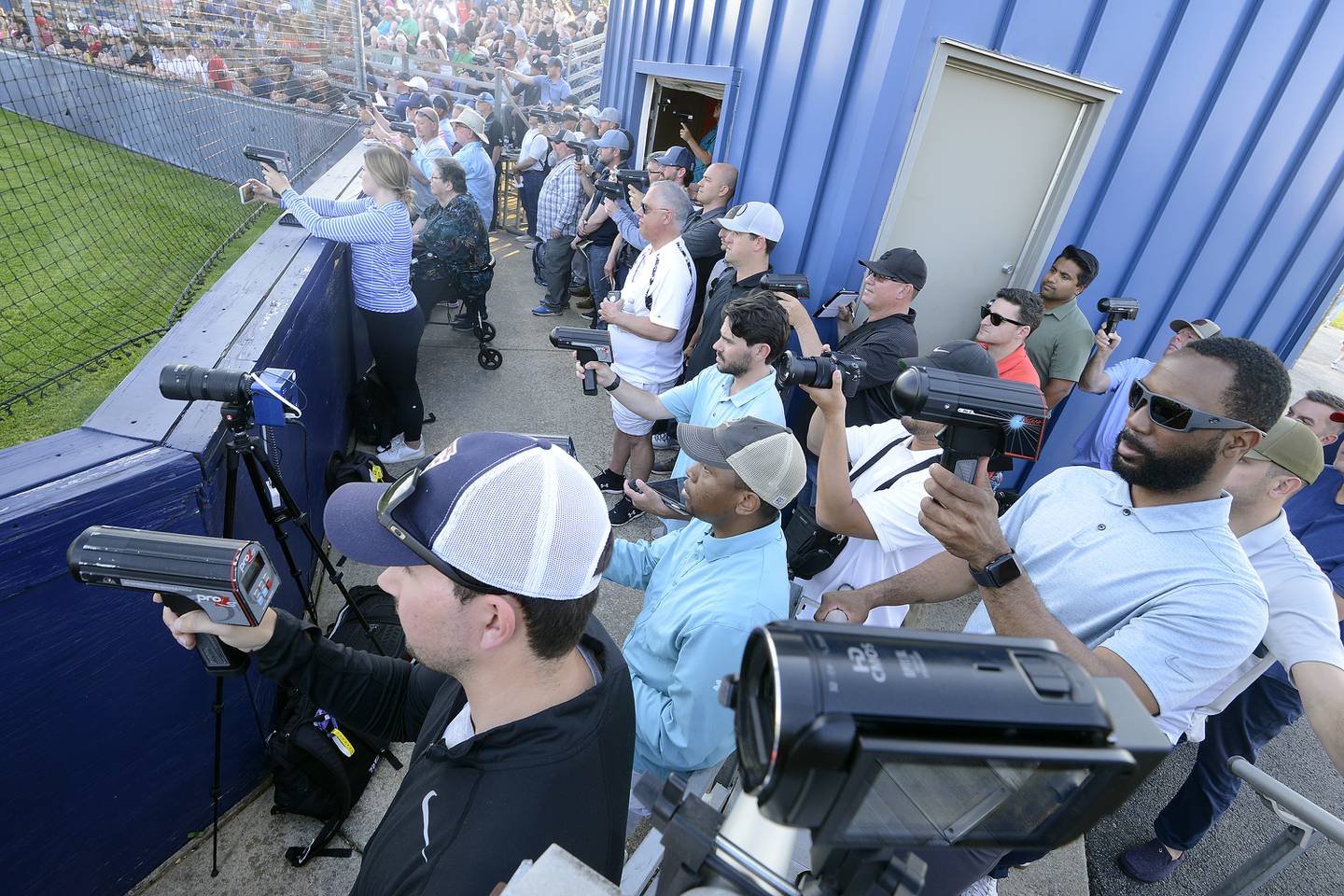 Making his first appearance since March 22 in Lockport – he was shut down from any activity for a month with mono – Schultz came on in relief in the fifth inning with Oswego East (7-15, 4-8) trailing 3-2.
He struck out the first batter he faced with a 96 mph fastball, showcased his wicked slider, and his fastball sat 94-96. He walked two, and a pair of runs came in on an errant pickoff and a third on a Chase Gerwig squeeze – but got a called third strike on a slider for the last of his 25 pitches.
Schultz was scheduled to possibly throw 35 pitches, but Oswego East coach Brian Schaeffer opted to not bring him back for a second inning.
"For the first time throwing, especially in this situation, he threw well," Schaeffer said. "The velocity was up, he was still strong, slider was devastating."
Schultz, for his part, welcomed being out there.
Kids lined the fence in right field while he warmed up during the game. He said he talked to them a little, showing them grips.
"It's always nice to be a part of the team. When I was out I did the same thing but now being able to be in the game felt much better," said Schultz, who will start a game next week. "It was awesome tonight. Great atmosphere, great outcome."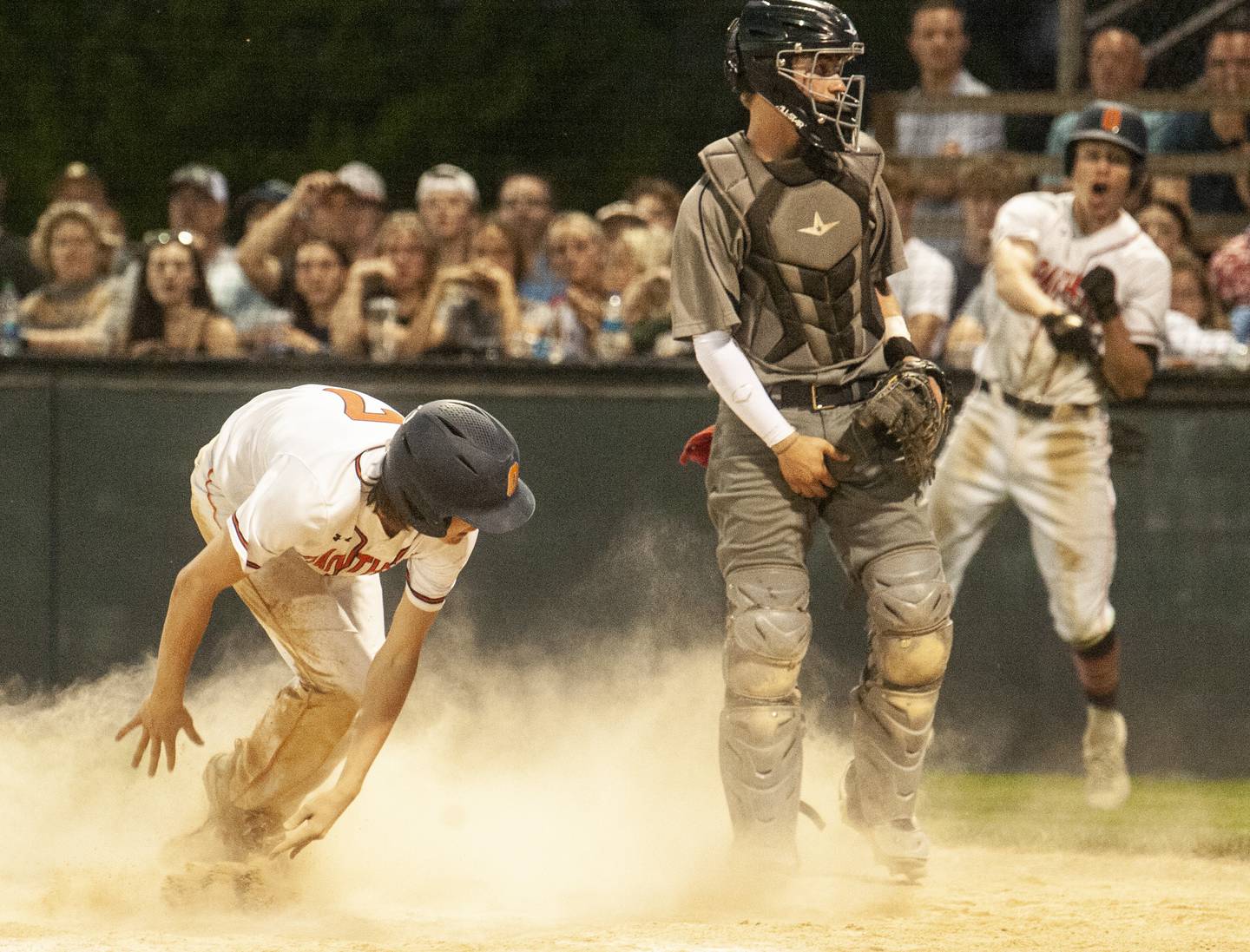 For six innings, though, Oswego (14-10, 7-5) played the part of the foil to the showcase all the scouts came to see.
Izzi sat 93-95 with his fastball in a scoreless first inning, but Oswego worked three walks and had four hits over the next two innings. Gerwig singled in a run in the second, Trey Hernandez singled in another run in the next inning and Izzi, who struck out seven, was out after a 36-pitch third inning trailing 3-0. The Panthers likewise made Schultz work.
Meanwhile, Oswego's own pitcher, Illinois-Springfield commit Joey Cecola, took a shutout into the fifth and struck out 11 over six innings, leaving after 105 pitches.
"He did what he has always done. Very proud of him and his performance. He handled himself top notch," Oswego coach Joe Giarrante said. "It showed a lot about him as a kid and where he's come and how much he's grown."
Three outs from a series sweep, leading 6-2 to the seventh, the wheels fell off for Oswego. Dylan Kubek had his third hit for Oswego East and the Panthers walked two, hit a batter, and had the potential last out of the game trickle away in the dirt, allowing the batter to reach to set the stage for Dowler's big hit.
Four more walks in the eighth followed.
"For six innings we executed and did everything right," Giarrante said. "We just didn't finish the ballgame."
Schaeffer welcomed the win, and also the opportunity for his kids to play in such an electric environment.
"It's special for the kids to experience this. A lot of them won't experience something like that again," Schaeffer said. "[Schultz] is a close friend of everybody, been with us through thick and thin and it's good to have him back. The experience is uplifting to the guys having him and Ashton throwing."