Lisa Molek never had to think twice about who to fix her eyes on in the Yorkville huddle when challenging her team to make a play this season.
She could always rely on Ella Bourque.
If the Foxes needed a kill to get out of a bad rotation, Bourque would get that kill. If they needed an ace to separate from an opponent, she'd serve an ace.
"Ella is everything you want in an athlete," said Molek, Yorkville's coach. "Ella is not only extremely skilled from her experience in club and the training she has received, she is a tremendous leader, a kid that other players and coaches can always count on. She was the rock for our team."
From her quieter younger years, Bourque grew into the role of putting a team on her back and carrying them to the finish line. And led Yorkville to a historic season.
The Foxes, a season removed from a modest 7-7 record, won their first conference championship since 2015 in their third year in the Southwest Prairie Conference. Then they won their first regional title since 2007, capping off a 31-6 season.
Bourque, the team MVP and a Canisius recruit, was at the center of it all, with 209 kills, 480 assists, 181 digs, 51 aces and 16 blocks. She is the Record Newspapers Volleyball Player of the Year.
"Honestly, the first words that come to my head are amazing and unforgettable," Bourque said. "To win a conference championship and regional championship was amazing. I had such an amazing bond with my teammates and love them so much. To go out like this, it's honestly amazing."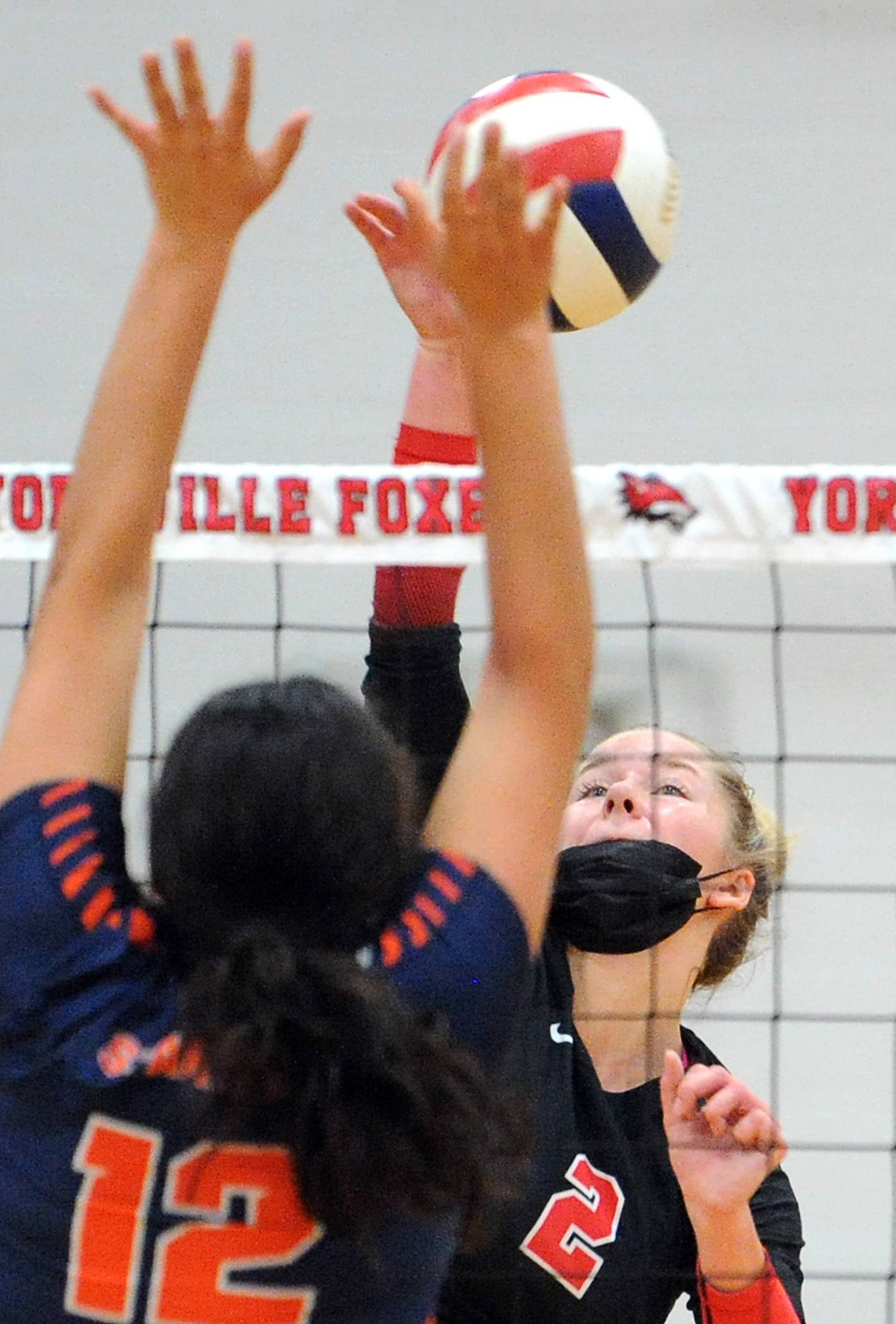 Bourque relished being the player her teammates could turn to at crunch time. She was huge in key matches in the season's last weeks, beating Plainfield North in a match for the conference lead and Naperville North to win a regional.
"It's definitely super important, especially in tough games," Bourque said. "It's something that comes with experience, which I feel I have a lot of. It's a great feeling, a good pressure. I have trust in myself."
Bourque, who followed her older sister Maddy into volleyball, had the unique experience as a freshman of getting consistent reps with the JV team while traveling with the varsity with classmate Saige Avery.
"It made a huge difference, and I can't be more thankful that I got to do that," Bourque said. "It opened my eyes to a whole new experience and a whole new level of play. I had my sister on the team, too, so I felt a little more welcome. It wasn't as scary."
By the time Bourque was a junior she had blossomed into a leadership role as both a setter and hitter. Between the spring and the fall, though, Molek noticed that she had taken her hitting to another level.
"Her arm swing from the spring has completely changed; in the spring she did not look like that," Molek said. "She went back to club and made it a priority. She wants to play six rotations in college and she knows that is a gap that she has to close in order to beat out some kids. Her contact point is higher and her arm is faster now. She is contacting the ball before the block is closed."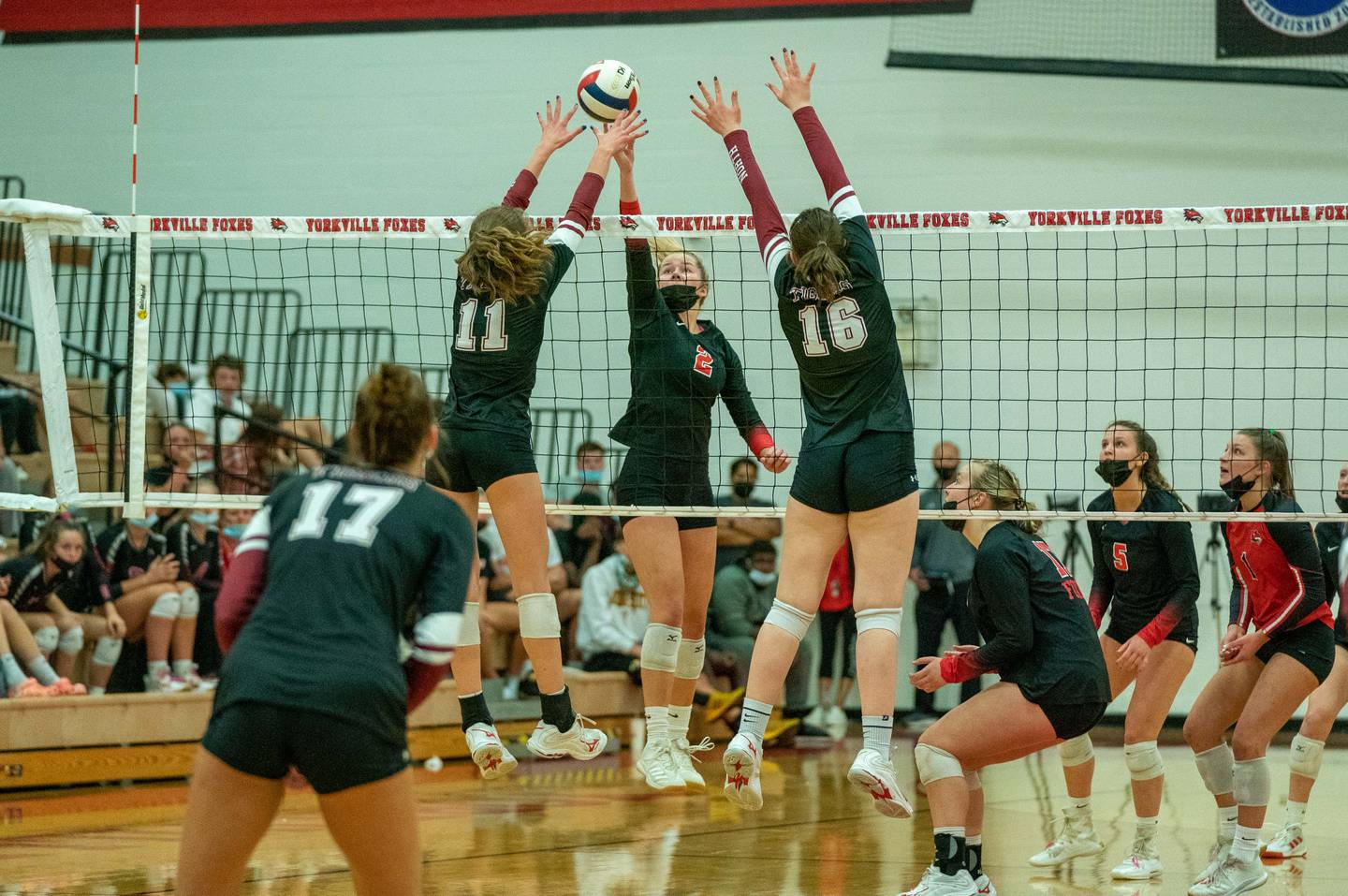 Molek witnessed Bourque grow into the lankiness of her frame, to become more dynamic and athletic, built for Division I volleyball. She knew Bourque would be special since middle school, but "I blinked one day and she became the full package."
It's no secret how Bourque got here.
When Yorkville wasn't practicing, or didn't have anything going on Sundays, Bourque religiously put in the time getting reps at Sports Performance.
"I'll tell her 'Honey, we played for 12 days in a row, you can take a day off,' and she's like 'No,'" Molek said. "She always wanted to be D1 and had her eyes on the prize and wouldn't settle for anything less. That's why she's the player she is. The amount of hours she puts in are crazy. She lives, she breathes volleyball."
Bourque said she's always been like that.
She really started taking volleyball seriously, though, when she got to high school. She would stay and practice with her sister at school, or go to Sports Performance together. Her parents were always supportive, but also stressed that if she wanted something she was going to have to go and get it.
"They would never tear me down, they would uplift me," Bourque said, "but they always encouraged me to work hard and strive for bigger things. To not be satisfied."
Bourque will be missed around Yorkville, and not just for her volleyball skills.
"She doesn't have a cocky bone in her body," Molek said. "She is very sweet and humble. Teachers absolutely love her. She is not just a great volleyball player, but a great kid. She does all the little things right. That's what sets her part."