Yes, Zoe Schuberth isn't afraid to admit it.
It wasn't easy for the Yorkville Christian senior to give up hitting this season – even if at 5-foot-6 she is naturally suited for the back row.
"Honestly, it was hard. I enjoy hitting," Schuberth said. "I can't hit in club because I'm way too short. I love hitting, it's a fun part of the game to score the points – but the team needed my defense. I knew it was a necessity."
Schuberth indeed accepted the move gracefully, and it has certainly worked for the common good.
With Schuberth moving back to her natural position of libero, kid sister Nina Schuberth now setting three rotations instead of hitting all-around and the huge addition of Chloe Saxe to hit and set, Yorkville Christian is 9-0 after winning the Sandwich Tournament last weekend.
"It's allowed us to go back to our natural positions," Zoe Schuberth said. "Last year we were all out of order. We didn't really have outsides last year, and I did fine outside, but our back row needed some help. Our defense is definitely a lot better and cleaner now."
Yorkville Christian varsity volleyball is only in its third year, but the Mustangs have already made significant strides. The team went 7-6 during the spring season, the Schuberths first at Yorkville Christian after transferring from Aurora Christian to match the 2019 team's win total, and have taken another big leap this fall.
"In the preseason I knew we we had a decent team," said Yorkville Christian coach Bob Coselman, in his second season. "But no, I didn't expect to be 9-0."
Having the Schuberths around, and adding a transfer in Saxe, gives Coselman a foundation to build on.
"Zoe and Nina, they're both dynamite players," Coselman said. "Zoe is my team leader, my senior, she brings energy to the court, to the games, to practice. She keeps the girls focused and on task. She's a great kid. I don't know what the team would be without her.
"Nina can play any position you ask of her. She plays libero in club, is setting for us, has hit outside. She is a jack of all trades."
Nina Schuberth, a junior, set at Aurora Christian two seasons ago, so the transition has been smooth this fall.
"This year we have better outsides and middles," she said. "It's easier to set with better players. We worked really hard, came in for a lot of hours during the summer. Even though we're a young program it's growing really fast."
Coselman looks forward to his team getting tested at tournaments at IMSA and Huntley. His players said their initial goal was to beat Newark in regionals, but after the start to the season the Mustangs had he pulled them aside and said they needed to start thinking bigger.
"Are we ahead of schedule? Yeah, maybe," he said. "But I took the job at Yorkville Christian because I wanted to win. I'm competitive and the environment at our school creates that possibility. I knew we would be good."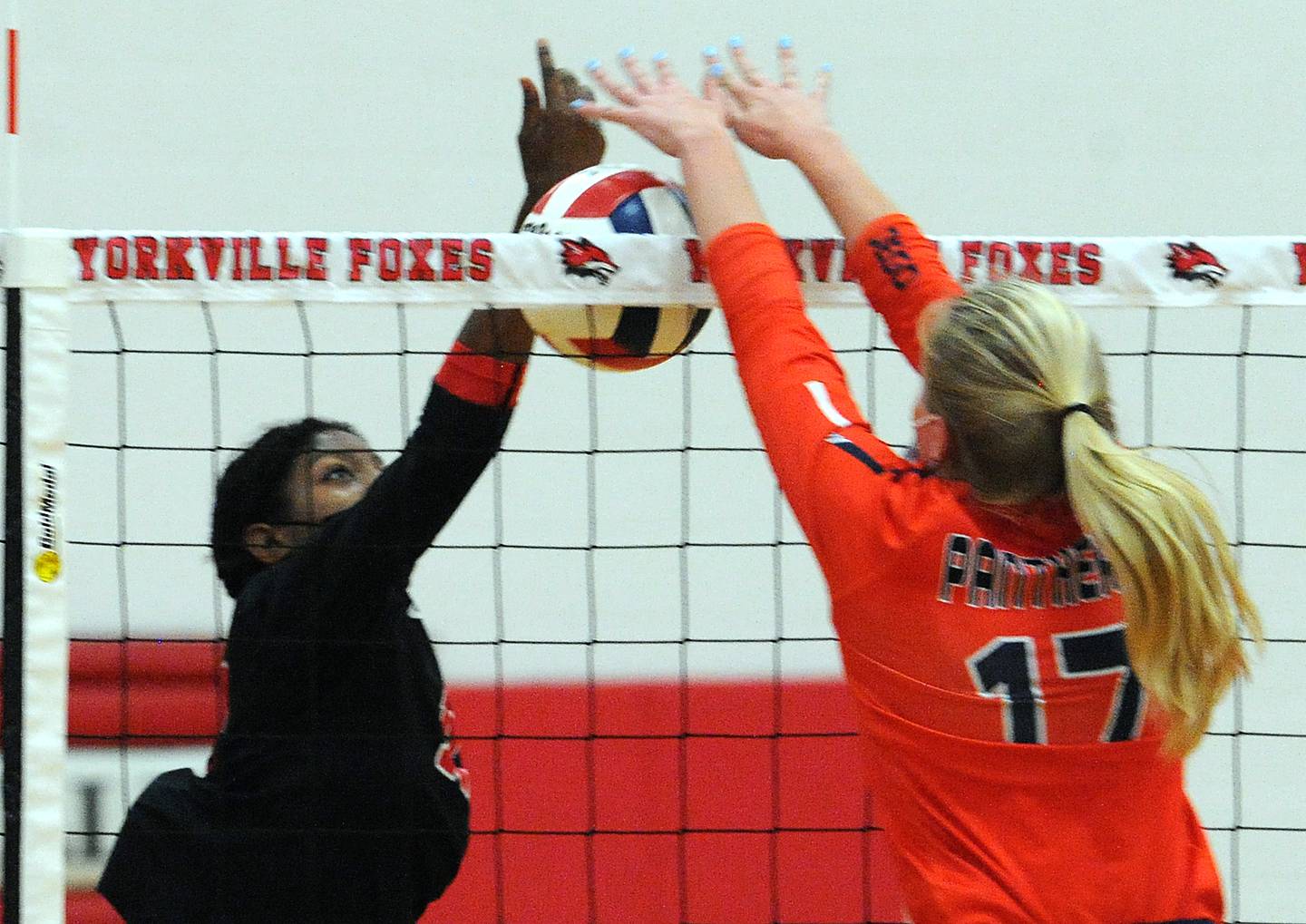 Foxes also off to fast start:
Is there something in the water in Yorkville?
Across town from Yorkville Christian, Yorkville High School is also off to a red-hot start, 12-1 after a win over La Salle-Peru.
What was a young group the last few years has blossomed under fourth-year head coach Lisa Molek, led by Canisius recruit Ella Bourque, fellow four-year varsity player Saige Avery and junior Keelyn Muell.
"It's all coming together from the efforts we've put in," Molek said. "The team is very cohesive this year and there are a lot of good connections happening between players. My kids put in the time during the offseason. As soon as they were able to get back in the gym, they hit the ground running."
The Foxes got a huge boost with the return of 5-foot-8 junior outside/right side Janelle Pye-Blacknard, who opted to play club in the spring when the seasons overlapped. Pye-Blacknard leads the Foxes in kills with 98 and also has 76 digs.
"Janelle playing this season is definitely a game-changer," Molek said. "Offensively she has provided us a ton. She has almost as many digs as our libero, and covers probably as much space. It's hard not to keep her on the floor."
That libero, senior Grace Lindgren, didn't play a ton in the spring, but Molek said has come out of her shell this season.
"She likes the positive and family atmosphere of high school volleyball; it's less pressure than the club game," Molek said. "She is passing well for us in serve receive and defense and brings a lot of energy."
Meanwhile, Molek has watched Bourque "grow up in front of our eyes" and has 82 kills, 58 digs and a team-high 170 assists.
"She always had beautiful hands for a setter, but her offense and defense has grown and it's on display this year," Molek said. "She is hitting out of system more than in the past. Grace is getting her the ball expecting her to score points."
Molek is ready to now see how her team stacks up in the Southwest Prairie Conference, as Yorkville has only played one league match coming into this week.
Minooka, who the Foxes play Thursday on the road, and Plainfield North figure to be two of the teams to beat.
"I think we're up there this year competing against some of the schools that we maybe didn't compete against in the past, and our program is continuing to grow. We've been successful at the younger levels as well," Molek said. "By this point in the season we had opportunities where we dropped the ball in the past. We haven't done that this year. I feel we have our eyes on the prize."
No Malone, no problem at Newark?: If anybody thought Newark would experience a huge drop-off with star hitter Madi Malone moving on to Wisconsin-Milwaukee, the early results indicate otherwise.
The Lady Norsemen dropped their first Little Ten Conference match since 2009 on Tuesday at Earlville with No. 1 hitter Megan Williams out in quarantine, but there's no shame in a 9-2 start.
Newark coach Tonya Grayson likes how her offense is spread around with Williams, lefty rightside hitter Grace Thrall and KJ Friestad in the middle. Grayson is very high on her sophomore setter, Lauren Ulrich. Kellie Snyder has stepped in as Newark's No. 2 middle.
"Offensively we're capable of scoring from anywhere along the net; defensively we have been pretty good," Grayson said. "We know where we're at, but we also know that for us to accomplish what we want to accomplish we have to keep chugging along every day."
Williams will miss her fourth match because of quarantine against Indian Creek Thursday, but Grayson will be glad to have her back this weekend at the Mt. Pulaski Tournament. The Lady Norsemen next week play at Moline, who handed Newark its only other loss back in August.
"I think this weekend will tell us a lot about where we're at," Grayson said. "We'll be playing some high-level matches. It's a good reality check. I'm looking forward to seeing where we fall."