OSWEGO – Maggie Lewandowski didn't need convincing that Oswego East's record last season probably didn't match its talent level.
The solution to the team realizing its potential?
Well, it starts with simply playing basketball, which the Wolves did plenty of this summer. Oswego East played close to 30 games in June, concluding with participation in the Oswego Shootout on June 30. That experience has Lewandowski, a rising junior guard, confident that the Wolves can take a leap from last season's 7-22 record.
"We had the pieces last year, we just didn't put it all together," Lewandowski said. "Hopefully this year we'll have the chemistry to do it. We're playing a lot, which helps. I think the girls are all stepping up and embracing their roles. We all have our spots to fill."
Lewandowski's spot is as the clear ringleader of the Wolves as she enters her third varsity season. Lewandowski, first off the bench as a freshman, averaged 12.1 points, four rebounds and three assists last season, her first as Oswego East's starting point guard.
With senior guard Cami Phillips transferring to the Example Academy prep school, Lewandowski clearly is the Wolves' holdover with the most experience.
"I expect a lot from her," Oswego East coach Abe Carretto said. "She will take it to the hoop in transition, and in our halfcourt offense. She has really got good at shooting quickly and getting up shots, it has really helped her game a lot offensively. When she is pushing the ball and we're getting up the court we do really well and hopefully she can continue to learn when to slow things down and get things under control."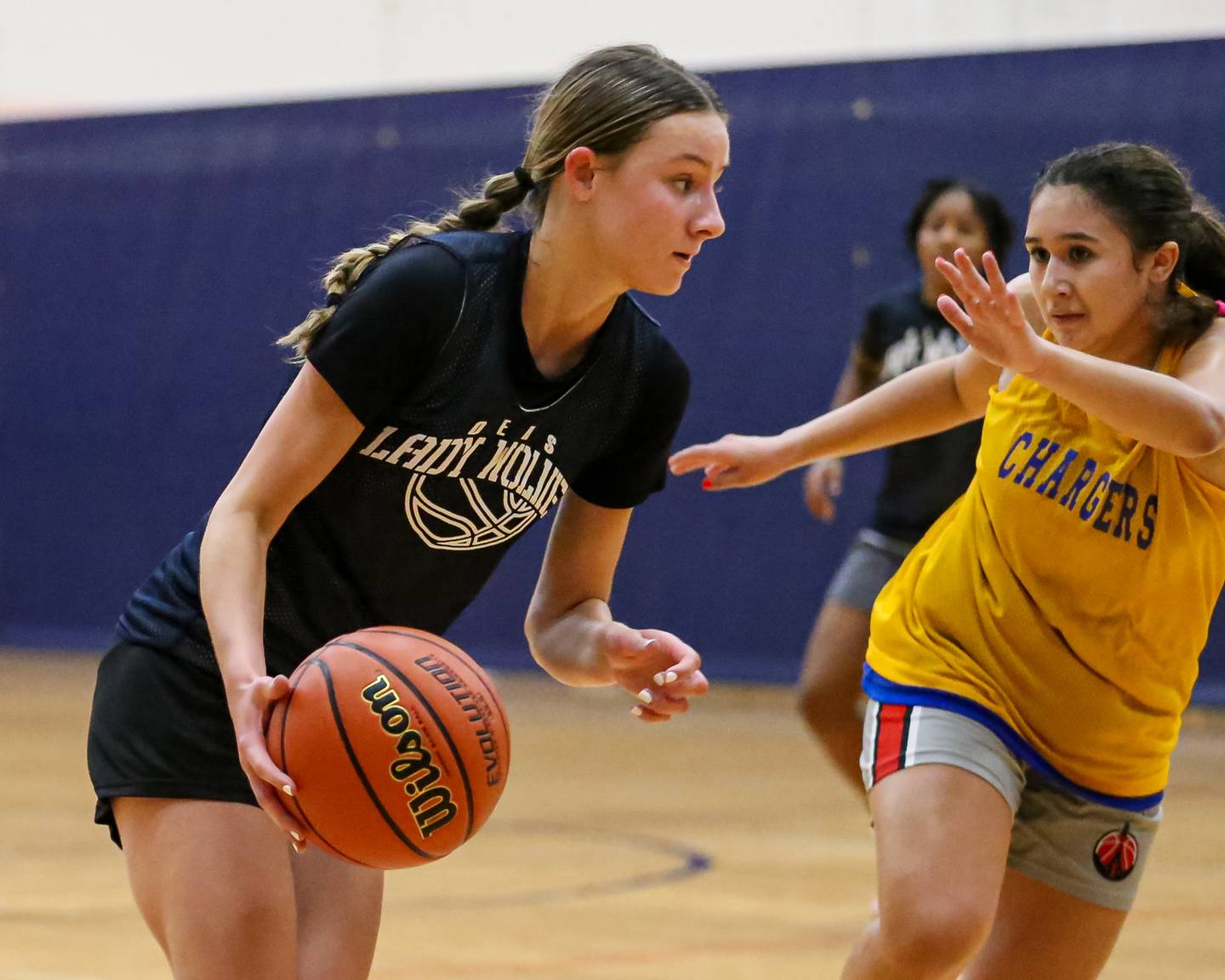 Lewandowski will lead the Wolves as their point guard, but Carretto has other girls who can handle the ball well.
Aubrey Lamberti, an athletic 5-foot-9-inch guard/forward, and Desiree Merritt are two girls who showed flashes of potential as freshmen. Carretto noted that the two sophomores seem to also have a strong connection on the court.
"Aubrey and Desiree work really well together," Carretto said. "Aubrey is scoring a lot more off of second-chance points and Desiree is pushing the ball. I think she is a little more confident in her offensive skills, putting in a ton of time. With the two of those we should have some other good scoring."
Oswego East went undefeated in the Geneva Summer League until the finals, a loss to Hampshire, went 2-2 at the Batavia Shootout and were 2-2 at Oak Lawn.
"I feel like it's been a good chance for us to work on our chemistry more than anything," Lewandowski said. "Obviously, we still have most of the same people back. It's a good way for us to get that good chemistry."
Lewandowski, who is playing with the Midwest Elite AAU team in July, has also spent mornings in the gym working out with her sister and trainers. She's also worked on the mental game of playing her position.
"This year I'm trying to get more open shots for my teammates, creating offensive looks and shots for them," Lewandowski said. "If it's a fast break I might take it myself, but if someone has a better shot I'll pass it up."
As a team, it's the most games Oswego East has played in a few years, and the group has done a ton of shooting, even after games.
Carretto said that all the Wolves' losses have been close, an experience he hopes they learn from going into the season with an eye toward flipping last season's results.
"That is why we are playing more this year," Carretto said. "They need to get some of these games in, and I need to see the things we need to work on once wintertime comes around, make those mistakes during summer. Last year, once we hit January, we played in a lot of close games. Hopefully we'll be able to finish some of those."