Kim Wensits has always said one has to turn negatives into positives.
If her Yorkville girls basketball team's most recent game is any indication, the Foxes appear to be doing just that.
The Foxes (5-14), like many teams, have dealt with a somewhat disjointed season due to COVID. Yorkville has had several kids get COVID, although fortunately none have become seriously sick. The Foxes showed up for the first practice after Christmas and only six girls were able to practice, with three out with COVID.
"It stinks, but in the long run it's the best thing for us," Wensits said.
The Foxes indeed responded with their best performance of the season Tuesday. Yorkville jumped out to a 19-8 lead after one quarter, and beat Romeoville 59-40, in the process handing the Spartans just their second conference loss.
Yorkville shot 47% on two-point field goals, 38% from behind the 3-point line and out-rebounded Romeoville 32-25.
"That's the best we have ever played," Wensits said. "It was unreal. We shot the lights out."
The Foxes carried over momentum from their previous game on Saturday, where they turned a two-point halftime deficit to Sandwich to a 51-31 win going away.
Abby Pool shared team-high scoring honors with Kenzie Phillips against Romeoville with 13 points, continuing her growth as a big part of the Foxes' rotation.
At the beginning of the season Pool was just getting six or seven minutes per game. Because of illnesses, Pool was thrust into a more prominent role – and has responded. She scored 13 points in a Christmas tournament game, and has scored 9 and 13 in Yorkville's last two games with the Foxes at full strength.
"She was feeling it, hitting walk-up threes. She was a confident shooter," Wensits said. "She is one that absolutely benefited from kids being out."
Wensits has also brought four kids up from JV to practice, and she considered it beneficial to start to learn the expectations she has for her team.
"We've a couple kids out with COVID here, a couple with injuries. It has allowed everyone on the team to play," Wensits said. "It's allowed kids to get experience, for me to get confidence in them and them confidence in themselves."
With a shell of Wensits' team unavailable post-Christmas, the ability to put schemes in place, install a ton of plays and work on defense was basically non-existent.
"That was challenging, but what do you do with six kids? You get shots up," Wensits said. "It's no surprise that we are shooting better."
Wensits has also been able to develop her team's depth. She had 10 girls on the bench Tuesday night, and nine of them played.
"It was nice to have a deep bench and there was no drop-off and energy stayed where it was at," Wensits said. "That is rare. We haven't had a bench that was that deep."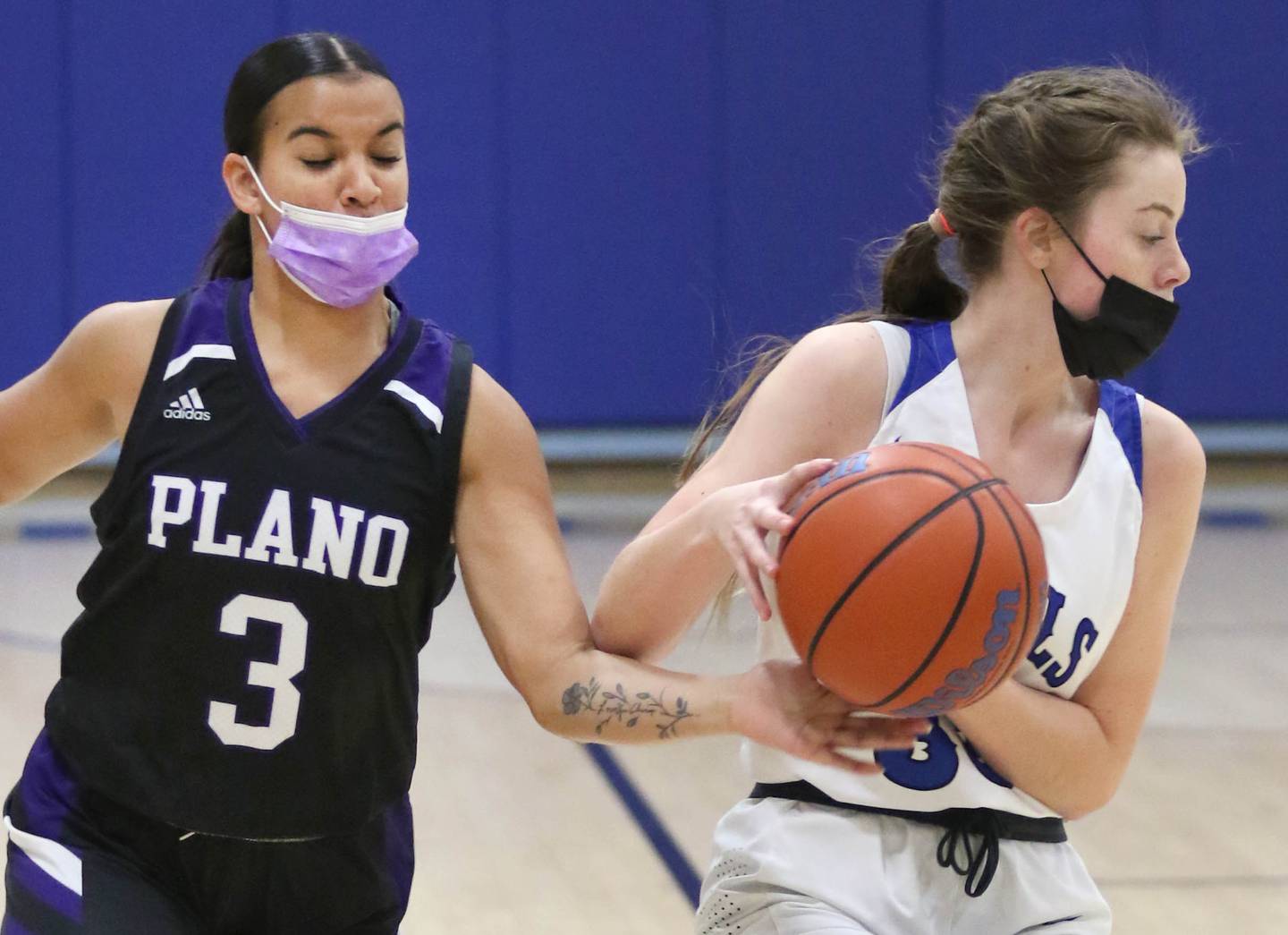 Plano's record day at Christmas tournament
Plano has had its share of ups and downs this season – but the Reapers finished things off at the Lisle Cage Classic Christmas tournament with a number of highs.
In the Reapers' 49-46 win over Westmont, three girls all set career highs in scoring. Ryssa Woodhouse scored 23 points and Alex Bishop and Josie Larson tallied 11 points apiece.
"Kind of a unique stat," Plano coach Dave Lay said. "With all of our injuries and COVID issues, some girls have been forced to step it up, and they really stepped up that day."
That wasn't all the individual achievements that day, as two school records were set.
Woodhouse made 12 free throws, matching two other girls for the most in a game in Plano program history. Additionally, Julianna Olivier pulled down 16 defensive rebounds – also tying a Reapers' record.
"For a team struggling to find it's way, it was kind of a special day," Lay said.
Little Ten tournament brackets set
The Little Ten has released the brackets for its conference tournament to be held Jan. 17-21 at Serena. Newark was awarded the No. 2 seed, but will not play No. 7 seed IMSA in a quarterfinal, instead automatically advancing to the semifinal set for Jan. 20. Serena earned the No. 1 seed, Indian Creek No. 3 and Hinckley-Big Rock No. 4.
The championship game is scheduled for 8 p.m. Jan. 21 at Serena.