BRISTOL – Michael Holmstrom first tried golf two years ago as a way to pass the time during the pandemic lockdown.
"I was at my neighbor's house and my buddy and I were like 'What do we want to do?' We were bored," Holmstrom said. "We had these little metal putter type things. My dad, he had clubs in the garage, and I started playing in the yard and I thought 'Let's go to a range and try it.' And ever since, I loved it."
Holmstrom has proven a natural.
The Oswego freshman this week shot the lowest score ever by a freshman at tryouts. And at Thursday's season-opening Panther Stableford tournament at Blackberry Oaks, Hohlstrom took fifth place individually to help lead Oswego to fourth place in the 19-team event.
"It was a lot of fun, great stuff, fun to perform decent out there, and a beautiful day," Hohlstrom said. "I didn't know what to expect but I was happy. I just want to play well in all of these tournaments. I'm here to play well."
He's off to a good start.
Hohlstrom shot an 84 the first day of tryouts, and a 79 on the second day.
Thursday's tournament provided a unique, fun start to the season playing by the Stableford scoring system. The Stableford awards points for the number of strokes taken on each hole in relation to par, rather than simply counting strokes, and rewards aggressive play. Golfers get one point for bogeys, two for par, four for birdies and eight for eagles, and aren't penalized for worse than bogeys.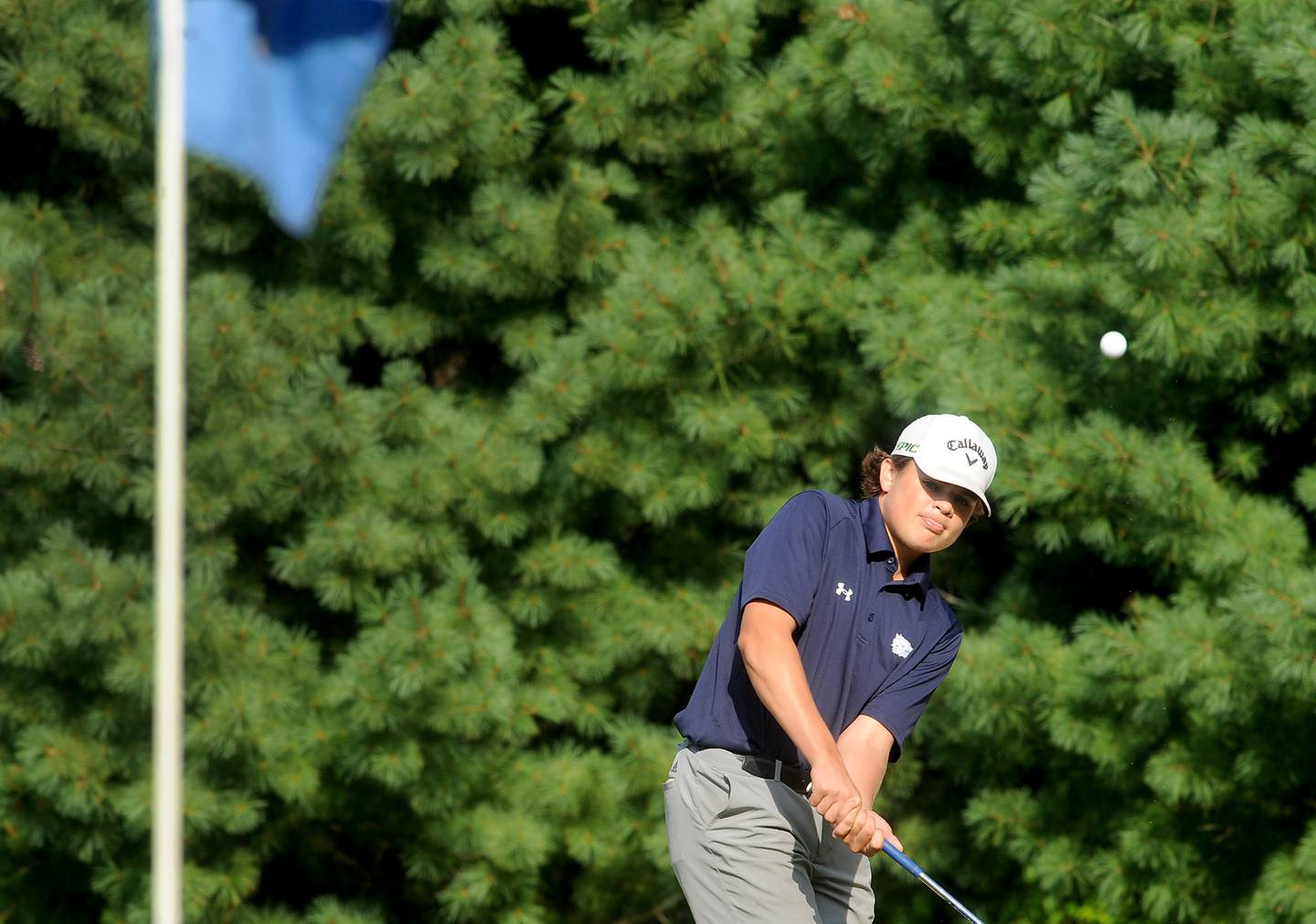 Hohlstrom scored 33 points to pace Oswego's team score of 117, which was behind only Waubonsie Valley (123), Naperville Central (120) and Plainfield North, which had the individual champion in Drew Czarnik. Oswego's Ty Ahrens scored 30 points, Brady Monahan 28 and Jack Wolcott 26.
Hohlstrom bounced back from two double bogeys to make a birdie putt off the green on No. 14.
"I really like this tournament because I can be aggressive anywhere on the course," Hohlmstrom said. "I can go for flags and if I don't get it, I just get bogey. The point system is fun for me."
Oswego East scored 98 points, led by junior Connor Banks' 33. The Wolves will have a new look this year after graduating standouts Gavin Hjelle, Camden Bonney and Michael Hugelier off last season's team that won the program's first-ever conference and regional titles.
Banks, who was on the JV team last season, tied for fifth at the Stableford.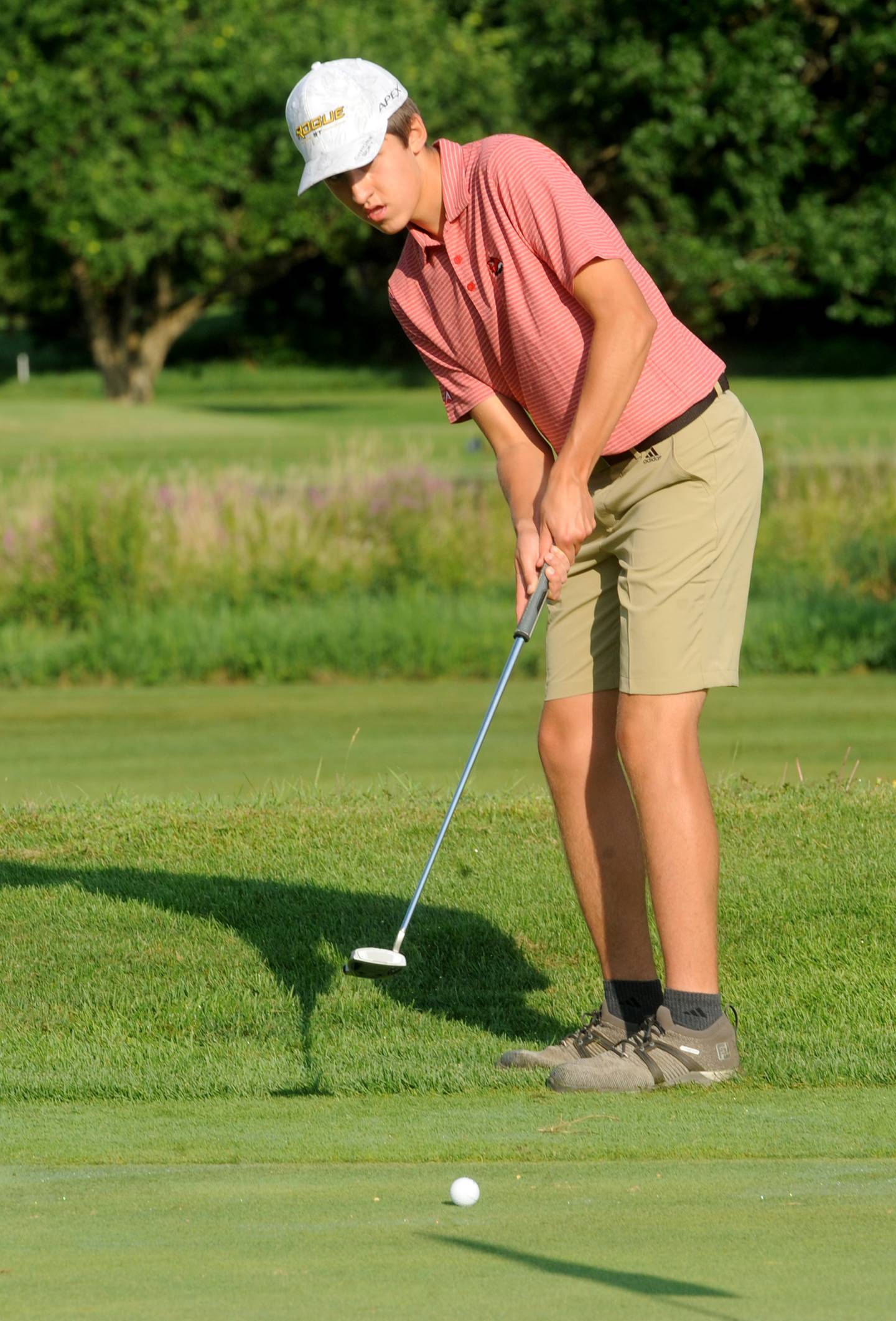 "It was pretty fun, kind of relaxing, not a lot of pressure," Banks said. "I've just been going to the range every day, playing a lot, trying to improve every single day. I worked on my driver a lot during the summer which has been really good recently."
Banks got off to a shaky start Thursday with a double on the first hole. But he got it going later, starting the back nine with back-to-back birdies. He shot 1-under on the back nine.
"I had a bad start, but I turned it around," he said. "I just stayed focused, focus on one shot at a time."
Fellow Oswego East junior Andy Lewis scored 24 points, Eric Lewis 21 and Ethan Gustafson 20.
Yorkville scored 88 points, paced by junior Justin Goebel's 29 points.
"I thought I played OK, made a few mistakes here and there, could have put some more points on the board but it is what it is," Goebel said. "I'm pleased with my score. I felt good about the par 5s. The wind was helping. You could get to the green in two most of the time, good holes to score."