Alex Alfaro is unique among elite wrestlers in more ways than one.
He came to the sport late. And he also plays soccer.
Alfaro, a Sandwich senior, said he frequently elicits surprised reactions from those hearing about his unusual sports pairing.
"100%, I get that all the time," Alfaro said. "I'm one of the bigger kids on the soccer team. I didn't realize how much of a difference people look sports-wise, how your physique looks. I get comments on why I don't play football but honestly I had to choose soccer because of the conditioning. We run miles every day. It prepares me for wrestling."
That preparation has clearly paid dividends.
Alfaro is 32-1, and ranked No. 1 in the state in the Class 1A 182-pound weight class. His lone loss came to Marmion's Jack Lesher, ranked No. 3 in Class 3A. Alfaro was one of four Sandwich conference champs last weekend as the Indians won the team title at the Interstate Eight Conference meet.
It's hard to believe now that Alfaro was reluctant to try wrestling at a younger age, but it's true. In a twist, it took soccer for him to gravitate toward wrestling.
"I did do wrestling one year during fifth grade but honestly I didn't like it because I was getting beat up," Alfaro said. "I wasn't the skinniest kid. I was one of the chubby ones and the running didn't suit me. Later on I was in soccer and the soccer coaches in high school were also the wrestling coaches. Every year they said you should consider joining wrestling. They kept bugging me and finally I said you know what, I'll give it a shot. Ever since I got back I fell in love with it."
The once chubby kid in middle school got bigger and stronger. Alfaro considered trying basketball in eighth grade but the wrestling coaches convinced him to change course.
"I have to be grateful for them, pushing me to do it," Alfaro said.
Alfaro has clearly taken to the sport.
He opened eyes as a sophomore sectional qualifier. He made it again last year, but in both seasons he came a win away from state, losing in the sectional blood round.
"He hasn't been wrestling for very long, but it's kind of clicked for him," Sandwich coach Derek Jones said. "He still doesn't have a super wide array of techniques but what he does he does very well."
He's also dedicated, perhaps fueled by near misses the last two years.
Alfaro wakes up every day at 4 a.m. to get in the gym before school, and then lifts after afternoon practices.
"You have to tell yourself, 'What would a state champion do?'" Alfaro said. "It's hard but you have to do what you have to do to be one of the best."
The work is evident in an improved wrestler.
"He is such a strong kid and he's a gym rat," Jones said. "He lifts after practice, before school 5-6 times a week. He's finally learned to not put himself in bad positions. He has figured that part out which has really helped him."
Alfaro routinely faced elite wrestlers in dual meets last season, which contributed to his exponential growth. A third-place finish at Barrington early this season in a predominantly Class 3A field was a good boost of confidence. Jones said that he never hears Alfaro talk about rankings, though.
"Honestly, I don't like to pay too much attention to it," said Alfaro, whose goal is to play college soccer. "I don't want the rankings getting too much into my head. That's not how I like to do things. I like to stay humble, pretend everyone is my skill level and try my best to get the win."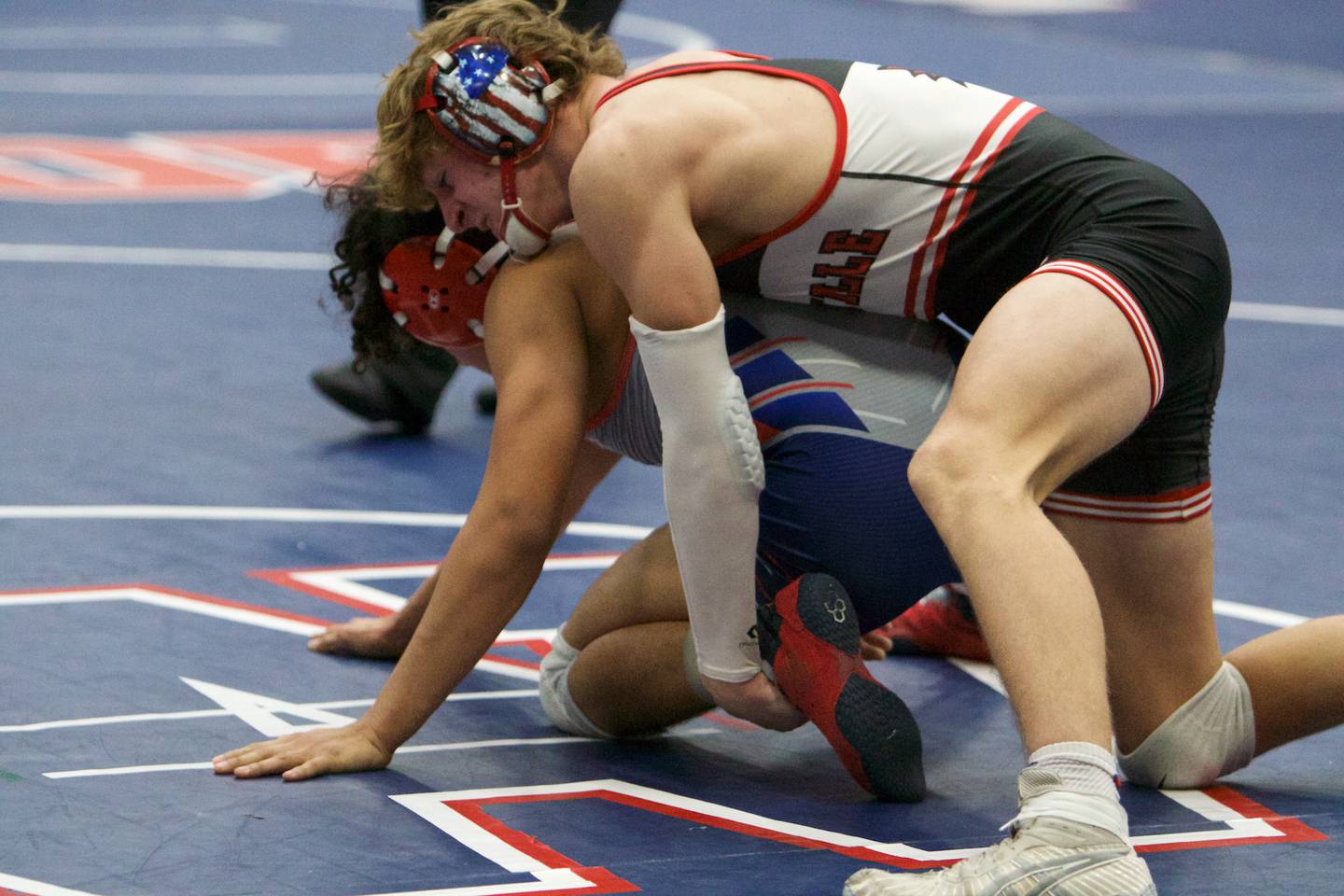 Yorkville's Zook flips script
Yorkville had 12 wrestlers reach the semifinals, seven of them make the championship match with three champs in taking the Southwest Prairie Conference team title last weekend.
A highlight came at 152 pounds, where Yorkville freshmen Luke Zook beat West Aurora senior Moses Quintana to avenge a loss from earlier in the season.
"[Quintana] is a tough guy, I think he was ranked seventh, I think it was 6-2 the first time, rode him pretty hard and kind of ran out of steam," Yorkville coach Jake Oster said. "Luke did a really good job adjusting and kind of being a little conservative. Luke is tough to score on, tough to get away from, tough on top."
In a weight class dominated by juniors and seniors in the rankings, Zook is an outlier as a freshman.
"It took him a little time to get adjusted to high school coming in at a bigger weight, 152," Oster said. "He is used to being the big strong guy in middle school. Trying to do that wrestling juniors and seniors in high school doesn't always go your way. He took some losses earlier in the season but is figuring things out and looking good."
Also taking conference titles was Yorkville sophomore Ben Alvarez, who beat Joliet West senior Bryan McCoy 7-2 in the 220-pound final and sophomore Jack Ferguson, who beat Plainfield South sophomore Rudy Silva 8-2 at 113 pounds.
"Ben wrestled him at the Barrington tournament, won 3-2 in an ultimate tiebreaker – the kid is big and strong and we really couldn't do anything on our feet the last time, it was all escapes," Oster said. "A big point of emphasis with Ben was working on his feet and attacking more. We have seen a lot of strides with him.
"Jack was wrestling Silva, he's been in the top 10 for most of the year. Jack wrestled hard – he is scrappy, he was ready for that match. We had seen Silva before and we had a good idea of how he will approach the match and game-planned for it. He was tough on top and hard to score on. He was able to keep it close and pull away at the end. He got a takedown toward the end of the match to put it out of reach."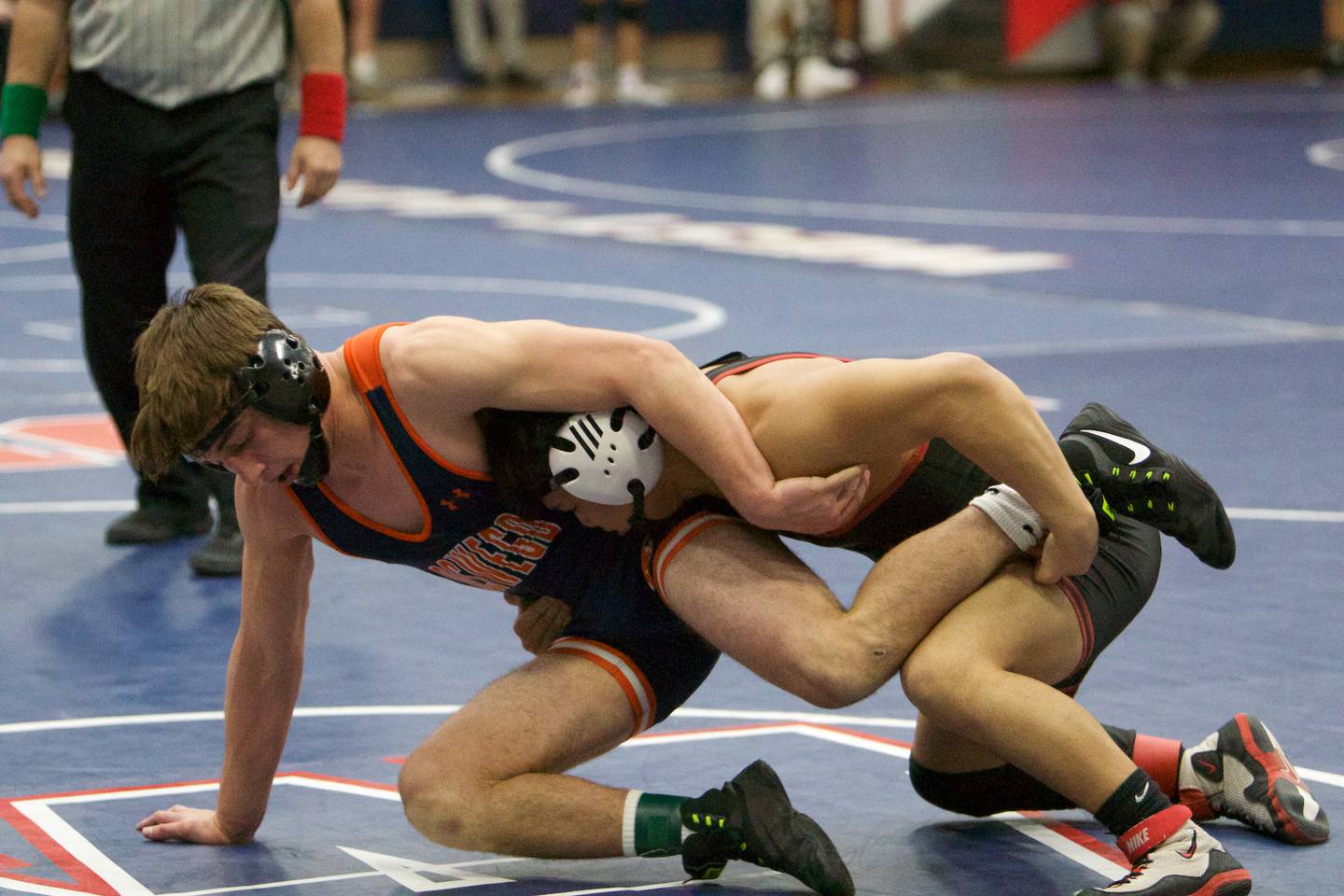 Oswego finishes strong at SPC
Oswego's top finisher at conference came from A.J. Johnson, who took second place at 160 pounds to Plainfield North's sixth-ranked Jared Gumila.
"A.J., the last time he wrestled Jared got pinned. The goal was to keep it competitive and give himself a chance to win. He closed the gap quite a bit," Oswego coach Steven Templin said. "He's improving every time out. The goal is to close the gap each time and eventually catch him."
Templin was pleased to see how several of his wrestlers responded to semifinal losses. Oswego's Brayden Swanson (113), Ryan Goddard (120), Logan Guerero (126), Joey Griffin (152) and Cruz Ibarra (182) all bounced back to win third-place matches.
"That is a big thing we focus on, is we bounce back from a loss to finish with a win," Templin said. "I'm proud of the guys. They faced some adversity. They were able to bounce back both mentally and physically.