OSWEGO – Patrick Robinson attacked the rim with authority all night Friday.
He didn't alter his approach with the game on the line.
Oswego East's 6-foot-5 senior drove hard to the left side of the lane and scored the go-ahead basket at the rim with six seconds left. The Wolves then weathered a last-second 3-point attempt from Joliet West freshman Jeremiah Fears for a thrilling 59-57 win in a Southwest Prairie Conference crossover.
"Get the ball, get to the rim, draw a foul, see if there is a dump pass, just make the right play," said Robinson, a Missouri-St. Louis recruit who scored 10 of his game-high 21 points in the fourth quarter. "I feel like I did that."
Joliet West (9-9, 5-3 SPC) had tied the score at 57 with 25 seconds left, Toby Onyekonwu kicking to Justus McNair for McNair's third 3-pointer of the second half.
Oswego East (20-1, 9-0) called a timeout, and with just under 15 seconds left got it to Robinson for a clear-out at the top of the key. He made a jab step, then bullied his way down the left side of the paint before laying in the game-winner with his left hand.
Robinson, and the whole Wolves team for that matter, showed no hesitancy all night going hard to the basket against a Joliet West team that is smaller than in years past, with just one starter taller than 6-foot-1. Robinson scored Oswego East's last three baskets.
"Coach always emphasizes to get the best shot. Our main focus is to get to the basket and get layups," said Robinson, who was 7-for-8 shooting in the second half. "For sure, I definitely did feel that I could finish over their guys."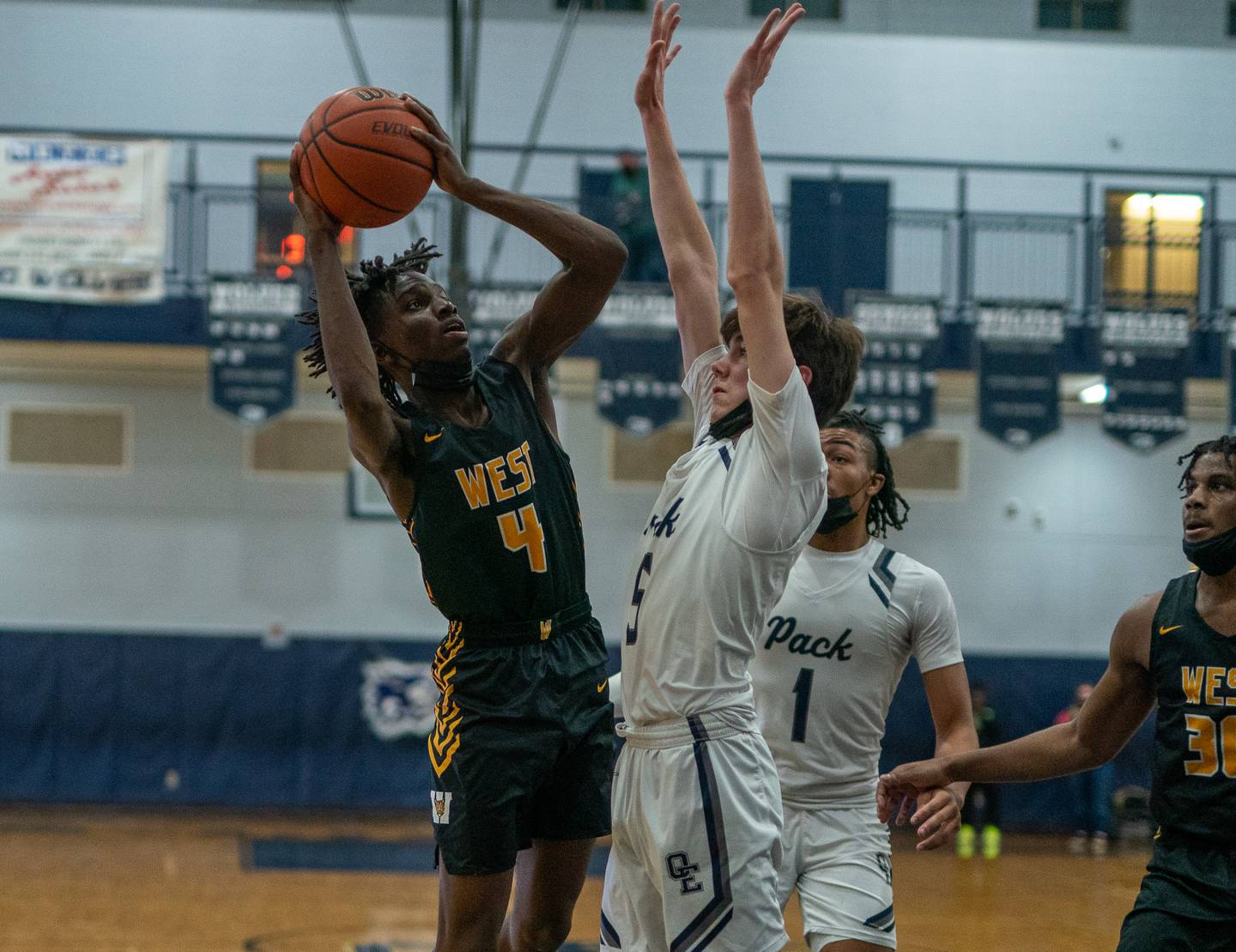 Joliet West coach Jeremy Kreiger wasn't at all surprised to see the ball go to Robinson for a clear-out, but would have liked to see his young team take one of the two fouls they had to give.
Kreiger was granted a timeout with 3.9 seconds left after Robinson's shot, and in a full-court scramble Fears front-rimmed a 3-point heave as time expired.
"In the timeout we said that there was two options they'd go to. I was saying they'd go to mid-post catch for Pat," Kreiger said, "but what we said is understanding the foul game and that's where youth shot us in the foot. We said if he gets too comfortable, waste a foul. Unfortunately we let him get comfortable, one jab step and he made the big play.
"The way they attacked the basket speaks to the lack of size we have to protect the rim. We could have been better on help side, but credit to them for knowing what their strong suit is."
DeVon Oregon added 14 points, 10 in the first half, and Mekhi Lowery 10 points, 11 rebounds and five steals for Oswego East, which swept home games this week with two of the other top teams in the Wolves' sectional, Bolingbrook and Joliet West.
"This was a great win," Lowery said. "It means a lot, but we have to keep going. They are one of the best teams in our conference besides us. We had to come out focused and get the win."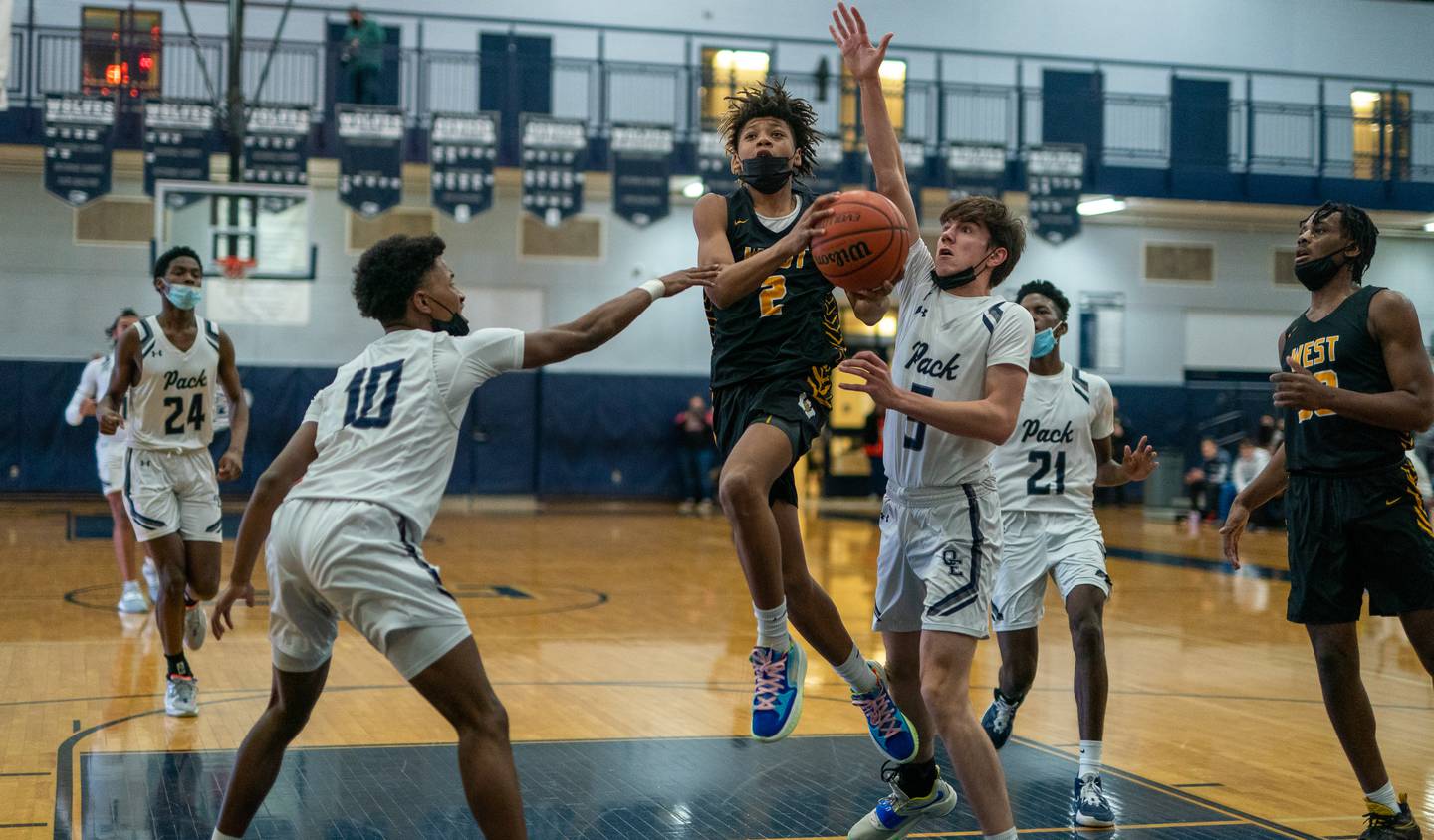 McNair scored 16 points, Fears 13 and Aaron Brown 10 for Joliet West, overcoming a relatively quiet night for Onyekonwu. The transfer from Plainfield East had scored 33 and 36 points in his first two games since becoming eligible, but managed only eight points Friday on 1-for-10 shooting and sat for much of the second quarter with foul trouble.
Fears scored nine of his 13 in the third quarter to spark the Tigers' comeback, with a spectacular spinning drive through the lane and scoop shot the highlight. The Tigers, who trailed by nine points in the second quarter and seven in the third, scored the last six points of the third quarter to take a 45-44 lead to the fourth.
The Tigers are still without 6-foot-2 junior Jayden Martin, who was averaging 15 points on the season but is currently out with a knee injury and expected to see a doctor Saturday.
"They're a different team than they were a couple weeks ago," Oswego East coach Ryan Velasquez said. "[Onyekonwu] adds so much more to what they're trying to do. Proud of our effort tonight. They showed a lot of resilience tonight."