KJ Vasser said it was time to look in the mirror.
Vasser and Yorkville Christian have played an absolute gauntlet of a schedule this season. It has led to some uneven results for a team with sky-high expectations. The low point, perhaps, was a 44-point loss to Chaminade (Mo.) at the Highland Shootout last Saturday.
"We had to look in the mirror and really see the type of team we want to be," said Vasser, a senior guard. "We're halfway through the season. We realize that if we want to do what we said we want to do we have to make a change. We had to look in the mirror individually, and as a team."
72 hours later, they responded with their biggest win of the season.
Jaden Schutt scored 28 points, Vasser 21 and David Douglas Jr. and Brayden Long 12 each, as Yorkville Christian beat Orr 81-72 Tuesday in a matchup of the top-ranked teams in Class 1A and Class 2A.
The win over the two-time defending Class 2A state champs is arguably the biggest win in program history – and validation for this particular Yorkville Christian team.
"We needed that one," Yorkville Christian coach Aaron Sovern said. "The vultures were circling, so to speak, and kids are kids. They see stuff on social media. A lot of keyboard warriors in their mom's basement questioning who we are. It's human nature as kids when you're constantly beating your head against a wall. To beat a team like that is huge."
The Mustangs (11-9) made 15 3-pointers, led throughout the game – and played connected.
"My biggest takeaway is the kids played for each other," Sovern said. "We set decent screens, made the extra pass, instead of a good shot we got a great shot, something we quite honestly haven't done. We have kids who can make high degree of difficulty shots but if you can get a great shot, I'll take a chance with my guys."
Sovern said a challenge was thrown down at a film session Monday to take ownership of things, and to not "let it slip away" with eight weeks left in the season. Brutally honest but positive, the Mustangs clearly answered the call.
"We were able to play defense, we managed to get consecutive stops and played team basketball together," Vasser said. "Offensively, we were spread out. We won because we managed to play together."
The schedule hardly lightens up. Yorkville Christian on Saturday travels to play at Glenbrook South, currently ranked third in Class 4A. The Mustangs play Class 4A seventh-ranked New Trier at the "When Sides Collide" shootout Jan. 22 at Benet, and Class 4A second-ranked Kenwood the following Saturday at the Orr Shootout.
That's just fine with Vasser.
"It's been fun traveling and having to play top team after top team," he said. "I would much rather get the experience of playing a Glenbard West or Oswego East or Hyde Park, would much rather have those games than not. That will help us play high-level basketball in the future and mold us for the playoffs as well."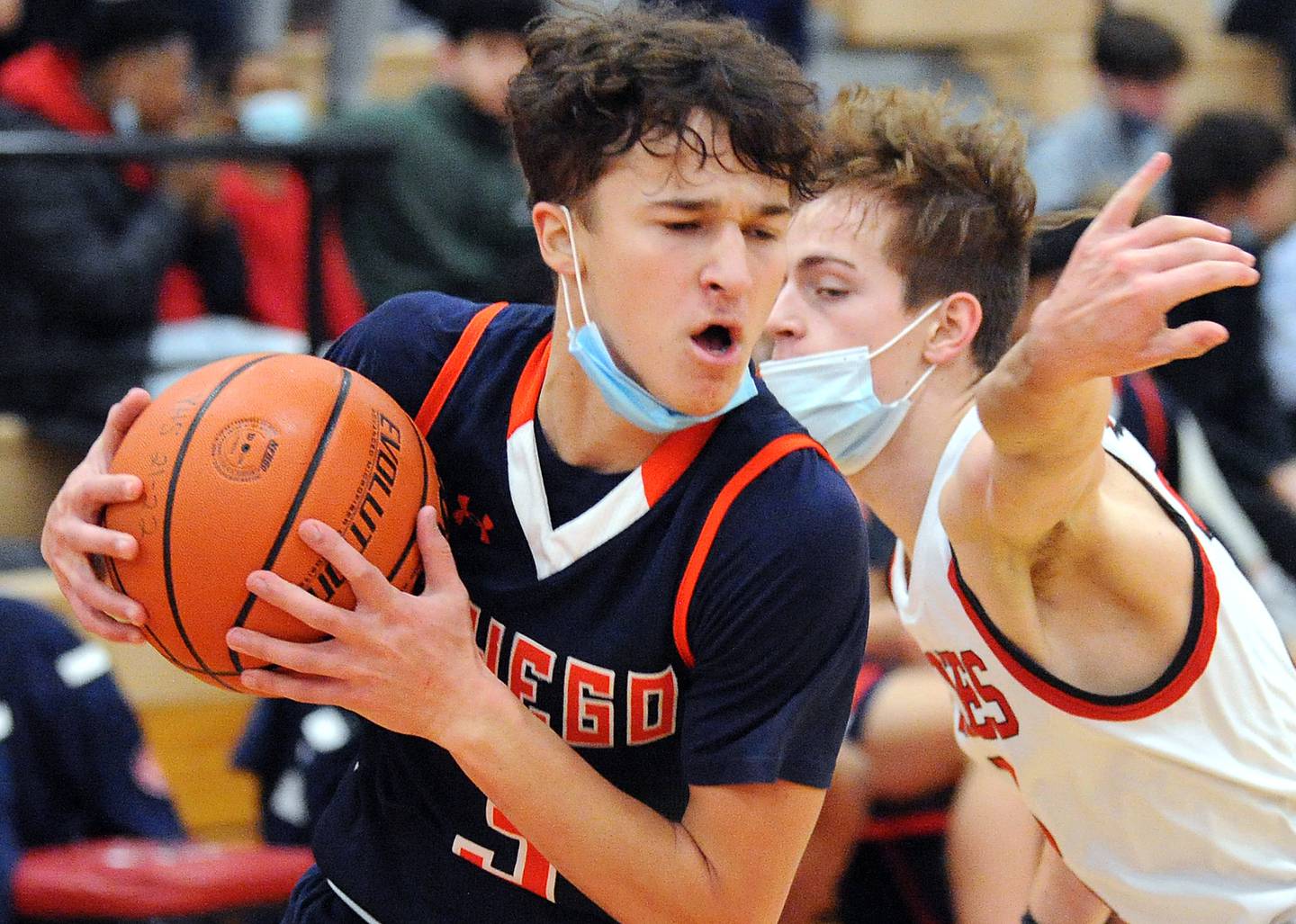 Oswego returns to court, gets win
Oswego was back in action Tuesday, after going 24 days without a game due to COVID protocols – and got back in the win column a day later.
The Panthers (4-9) bounced back from a tough 70-42 loss at Joliet West Tuesday to beat Metea Valley 67-64. Oswego coach Chad Pohlmann missed the games because of illness, but was able to watch the live stream of both.
"Good for the guys to get back on the court," said Pohlmann, who expected to return to practice Thursday. "Tuesday was a tough matchup not playing in a month and having to play a good Joliet West team. It was a five-point game at halftime and we ran out of gas. The rust showed."
With the NBA-like back-to-back, Oswego bounced back behind 19 points from Kyle Zeck and Max Niesman, 14 points from Jordan Brooks and 11 from Jeremiah Akin. Pohlmann said the Panthers got up by 10 points on three occasions and were able to hold off Metea.
"Young team, trying to manage situations, stay calm and that," Pohlmann said. "Metea made some remarkable shots to stay in it. We got some things to work on, especially defensively, but offensively we did pretty well, we were able to move the ball."
Oswego's busy week continues Friday against Plainfield South. Pohlmann said the Panthers were also able to get conference games with Romeoville and Plainfield Central postponed last week rescheduled.
"We want to be playing right now," he said. "We basically had a full month off, had a ton of practice. Our guys are itching to play. I like the resilience of our guys, staying in it, practicing with spirit and energy."
Jaden Schutt sets record, gets McDonald's nod
It was a good week for Yorkville Christian's Jaden Schutt, on and off the court. The senior guard and Duke recruit became the program's career leader in 3-point field goals with 289, passing former teammate Christian Sovern's 287. Schutt is also closing in on 2,000 career points.
Off the court, Schutt was nominated for the McDonald's All-American game. The top 24 boys and 24 girls selected to play in the McDonald's All American game will be revealed Tuesday, Jan. 25 on ESPN's "NBA Today" between 3-4 p.m. ET. The game will be played at Wintrust Arena in Chicago on March 29.