Jeffrey Behrends' first start this season hardly foreshadowed the dazzling spring to come.
Behrends, Oswego's senior left-handed pitcher, was touched for six runs in only two innings against Joliet Catholic Academy, a game the Panthers eventually won.
"After that, I had to not think about the big picture too much. I just had to trust myself, know that I'm better than that," Behrends said. "Just focus on the one start that day and take it from there."
Behrends ended up taking Oswego baseball where it hadn't gone in nearly his lifetime.
He pitched 39 straight scoreless innings, an Oswego program record. He pitched in seven of his team's 12 conference games. He didn't allow a run in any of them.
The icing on the cake came in Behrends' final conference start, a complete-game, six-hitter with seven strikeouts, a 1-0 pitcher's duel win over Minooka freshman Ryan Anderson that clinched a share of Oswego's first conference title since 2003 – the year Behrends was born.
"He singlehandedly won us conference," Oswego coach Joe Giarrante said. "Without him, we don't do it."
Behrends, the conference Pitcher of the Year and Player of the Year, ended up with a 5-0 record and a 1.33 ERA, with 47 strikeouts and only 11 walks allowed in 42 innings.
He did it with a demeanor that didn't allow him to get rattled, even in high-pressure moments. In the first game against Plainfield North this season, Behrends loaded the bases with nobody out, but promptly got out of it.
"He has that demeanor that it doesn't matter who is in the box; he is confident that he can get people out," Giarrante said. "He never shows emotions. You'd never know if he was down six runs or winning by a couple. He has that even-keeled temperament that goes a long way for pitchers."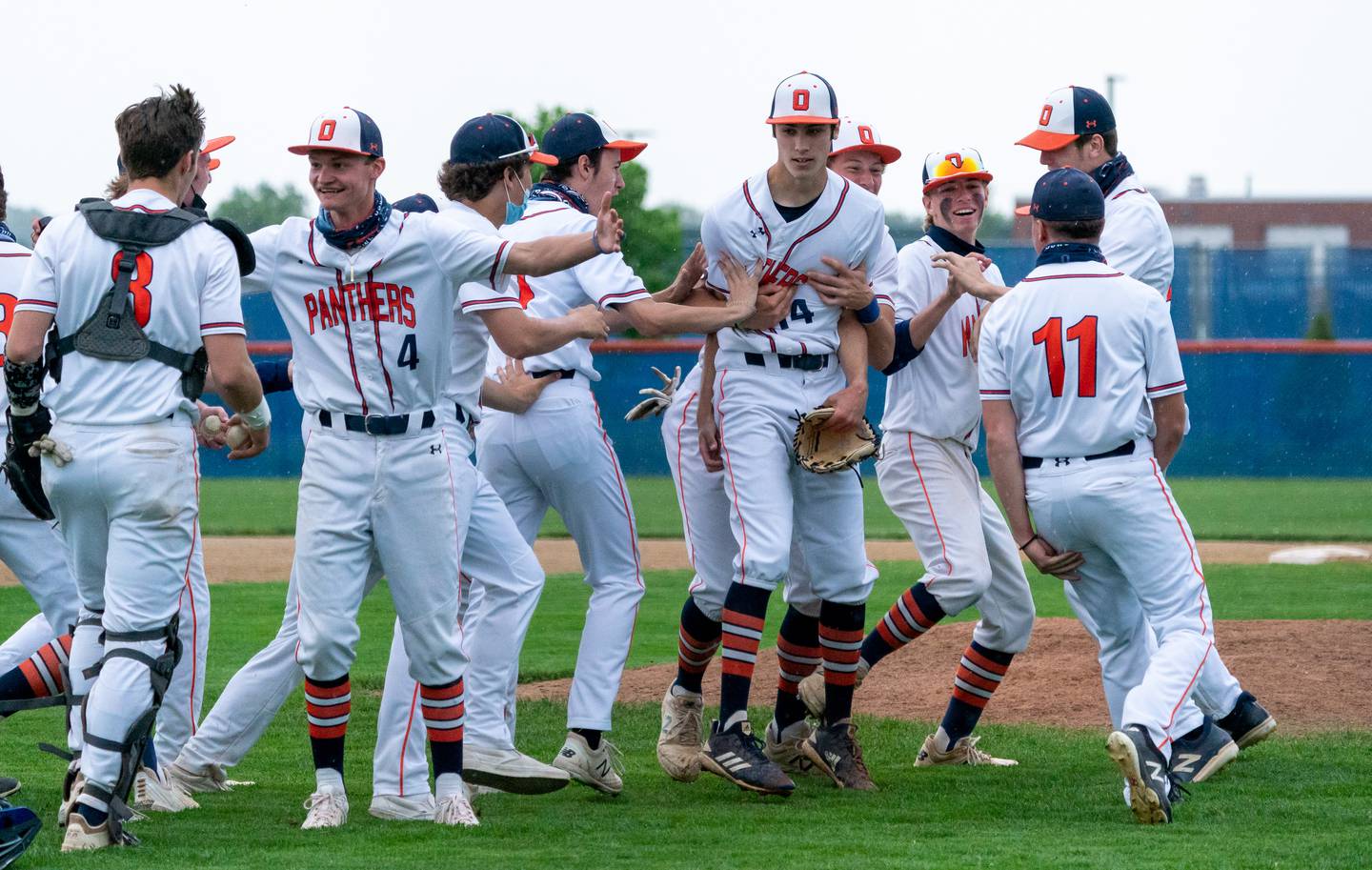 Giarrante saw signs of a promising pitcher who could spot every pitch Behrends' sophomore year in 2019, when Oswego's sophomore team – with the current seniors – went 25-6.
Behrends picked up some velocity between then and now, and Giarrante noticed how well the ball was coming out of his hand at open gyms in January.
Behrends may not be the hardest thrower around, but he gets great movement on his pitches.
"The ball looks like it's going one way and comes in on the hands," Giarrante said. "He worked extremely hard to master all of his pitches and throw them at any count. The amount of strikes that he got looking was just crazy. I just think he gets such good run on his fastball and he's not afraid to pitch inside to righties."
That ability seemed to baffle right-handed hitters leaning out over the plate and was an acquired skill.
"In years past, I'd only throw outside to hitters and I had trouble hitting the inside spot," said Behrends, who will play next year at Northeastern Colorado College. "I was just trying to not let hitters get comfortable, maybe throw inside and outside, different looks, showing something they're not used to."
Behrends enjoyed taking Oswego baseball to a place it wasn't used to, part of a senior class that was used to success throughout high school.
"This group of guys, we've been working hard together for a long time," Behrends said. "It was good to put it together, especially after not being able to play our junior year. We always knew that our class would be able to succeed at the varsity level."