YORKVILLE – Mia Natividad is ready to move past high school golf, and move on to her next challenge.
She is also determined to enjoy a big finish.
The Yorkville senior gets out of school at noon this school year, and typically goes to Fox Bend Golf Course to sharpen up her short game before practice. Natividad has a putting drill set up in her basement to hone her stroke.
Natividad on Thursday left a lasting impression at Whitetail Ridge Golf Club. On a cool, breezy day Natividad shot a 2-over par 73 for an eight-shot victory and her fourth straight Southwest Prairie Conference tournament championship.
Not a bad way to kick off the postseason for Natividad, a Toledo commit, who placed second at the Class 2A state tournament last year.
"For me, it kind of shows my progress throughout the years," Natividad said. "I know after winning this freshman year I felt all that pressure. This year I was just confident in myself. I've been in this position before and I felt it."
Minooka, led by individual runner-up Lauren McPhillips-Newcomb's 81, shot a 342 to beat out Joliet Township (349) for the team title. Defending tournament champ Oswego co-op (367), Plainfield North (367) and Yorkville (378) rounded out the top five.
Natividad, not entirely content with her body of work Thursday, noted that her putting wasn't the best, with small mistakes here and there. Her experience and talent shown through, though, with a steady round in less than perfect conditions.
Starting on the back nine, Natividad made the turn at 1-over, draining a long birdie putt on the 453-yard par 5 16th hole. She went on to make back-to-back birdies on the fifth and sixth holes, nearly knocking in her approach on the fifth from 96 yards for eagle.
"A lot of pars, was able to throw in a few birdies. It worked out," Natividad said. "[Winning it four times] is crazy. I can't believe I've done this three other times."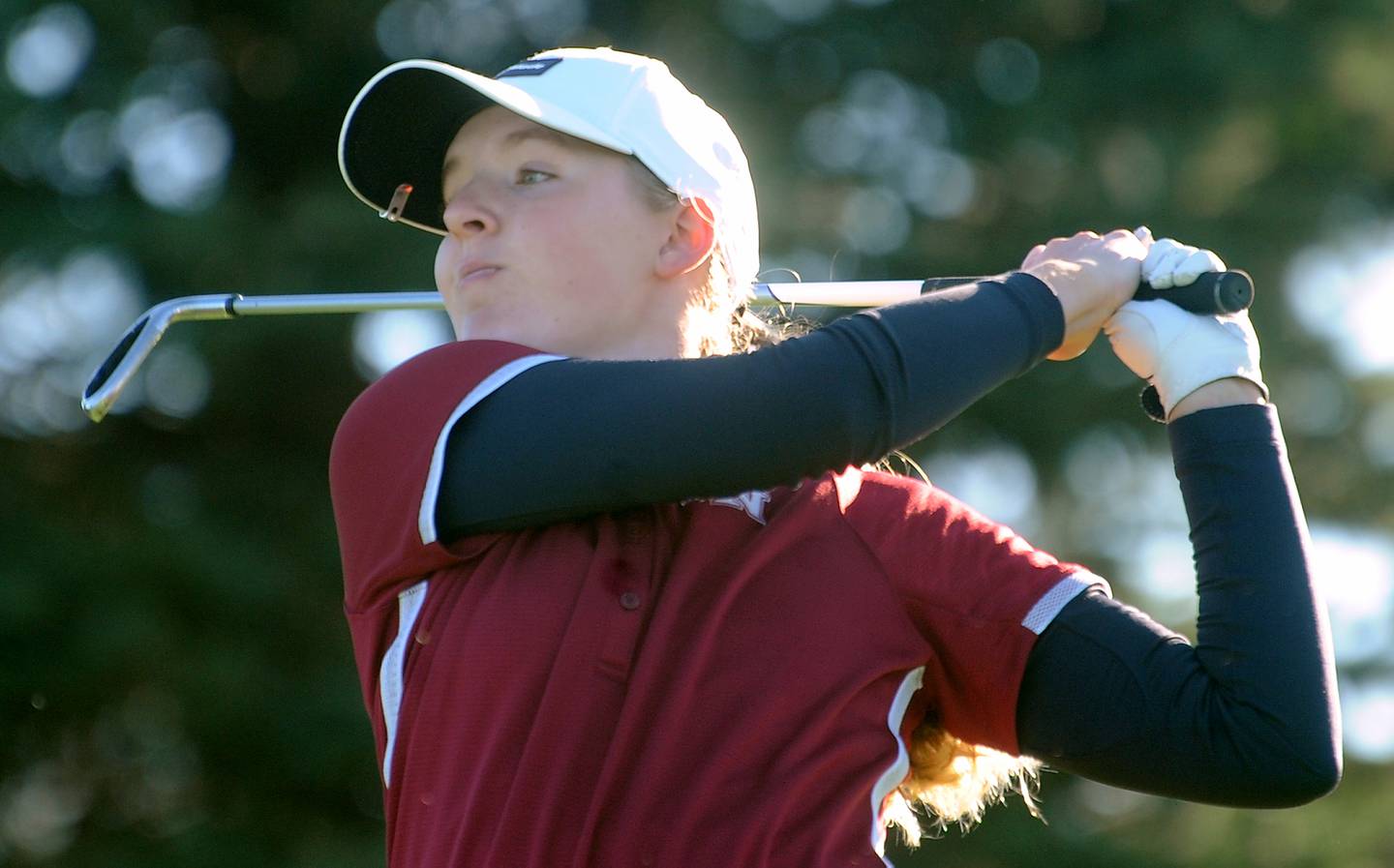 McPhillips-Newcomb shook off a rocky first nine Thursday where she shot 8-over with five bogeys and a triple. With a two-over on her second nine, highlighted by a perfect tee shot for birdie on the elevated par 3 fourth hole, McPhillips-Newcomb shot her season-best 18-hole score.
"Me and my dad like to use this phrase 'the warmup nine' when I'm playing 18. My front nine I get all the kinks out, but once I get to the back nine it's smooth sailing. It was very smooth sailing today," McPhillips-Newcomb said. "I brushed it off, said this was a new nine, my chance to redeem myself."
That redemption helped Minooka beat out Joliet Township for the second time this season. The Indians won the dual meet with Joliet on a fifth score tiebreaker. Katelyn Bucciarelli carded an 83, and Leona Trevino and Anna Maurice 89s for Minooka's other counting scores.
"Oh my God, we've always been neck and neck [with Joliet]," McPhillips-Newcomb said. "Feeling good for regionals after this."
Joliet junior Emily Smith sure was feeling good. Her 82, good for fourth place individually, was a career-best 18-hole score by a good 13 strokes.
"It's crazy. It doesn't feel real at all," Smith said. "This is the lowest I've shot by far. My mindset today was just being focused. I zoned everything out."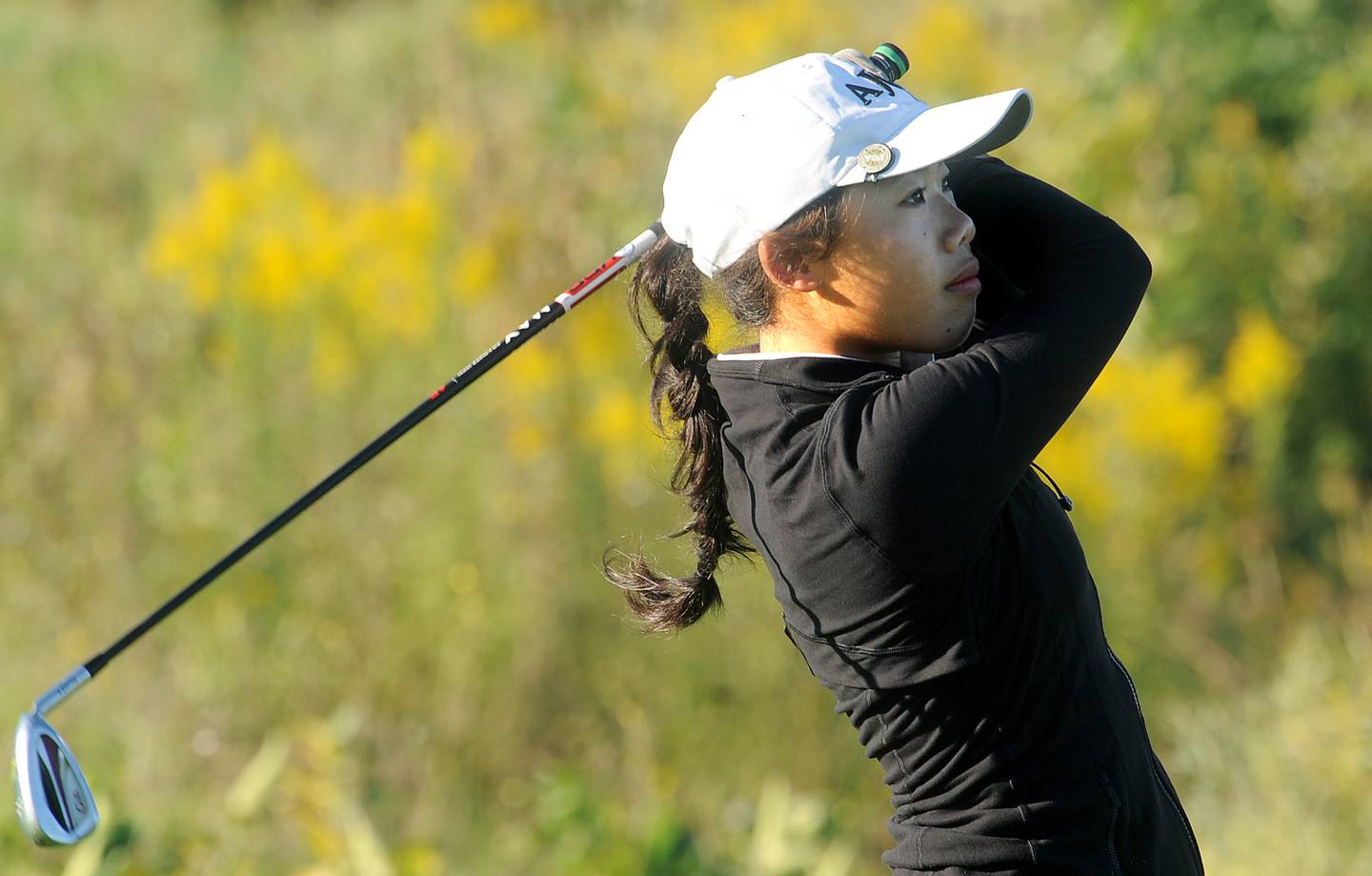 Smith only made one birdie, but it came on her first hole of the day and fueled a 3-over first nine that set the tone for her big day. Not even a double and triple on Smith's last two holes could wipe the smile off her face.
"Started off very strong, ended a little rocky. But that's OK," Smith said. "The fact that I birdied the first few holes helped a lot."
Oswego co-op junior Katelin Hong, who tied for third at conference last season, matched McPhillips-Newcomb with a score of 81. Hong, one of the first golfers on the course Thursday, battled through a 6-over on the first nine before putting it together with back-to-back birdies on the fifth and sixth holes.
"It was kind of hard today with the wind, really tough," Hong said. "I think everybody in my group was struggling but I made a couple birdies on the back nine that helped. I just had to stay focused and rely on my previous experience in picking clubs."
Minooka's Buccarelli was fifth, followed by Jamie Daniels (84) and McKenna Anderson (85) of Joliet.