YORKVILLE – Hunter Janeczko is the kind of kid who will keep fighting even after he gets his teeth knocked out.
Good luck in finding out if that's really true.
Janeczko and the Foxes were delivering the knockout punches on Thursday night, leading the Yorkville to an impressive 57-9 blowout victory over Oswego to win the Southwest Prairie Conference West Division crown.
[ Photos: Oswego vs. Yorkville wrestling ]
"We've got a nice young team, and they're talented and they know they're talented, and they go out and they wrestle hard," Foxes coach Jake Oster said. "They showed how good we are out there today. Oswego is good. They beat some good teams this year and we put it on them."
At 195 pounds, Janeczko's match was the sixth of the dual meet, but the first pin of the night. Ben Alvarez then followed at 220 and needed just 52 seconds to get his pin and Justin Wiesbrook made it three straight, earning his pin with 12.8 seconds remaining in the second period to give Yorkville a 31-3 advantage.
"Hunter and Ben are the anchors for our team," Oster said. "Up top, two hammers that just go out and scrap. Hunter is one tough son of a gun and the guy he wrestled is no slouch (Cruz Ibarra), ranked in the Top 10 and so are we. Hunter just went out and he'll never stop. He could get his teeth knocked out and he'll keep going."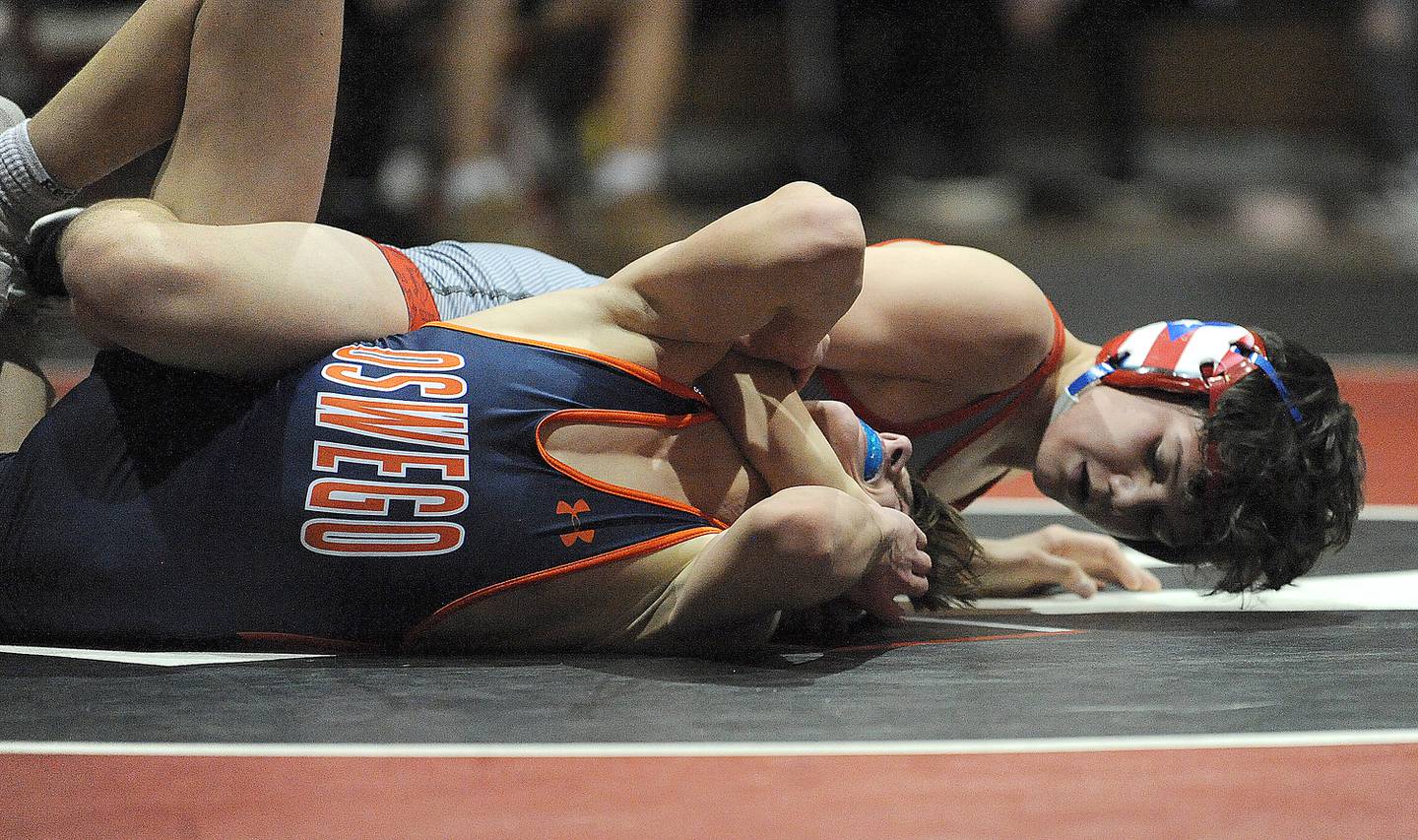 Alvarez could not have been better prepared for his match and with a large crowd on hand the Foxes were in complete control and dominant.
"Ben has those big move capabilities and we knew their guy loves going big and we were prepared for that," Oster said. "Back-to-back pins against two of their better guys kind of closed the door on them."
Sophomore Ray Cavey, just one of Yorkville's many super-talented underclassmen, beat Jonathan Theodor, 18-3, at 106.
"Those three (previous) matches when we got the three pins in a row got me super hyped up," Cavey said. "That momentum just kept the confidence up and then you go out and wrestle. At the beginning, it was close (10-3 through four matches), but we just kept beating them and then Hunter got the momentum going and Ben (Alvarez) and (Justin) Wiesbrook pinned their kids,I tech-falled my kid and Jack Ferguson pinned his kid and it was over."
Ferguson needed just under a minute to beat his opponent while Dom Coronado needed just 16 seconds to win at 126 pounds.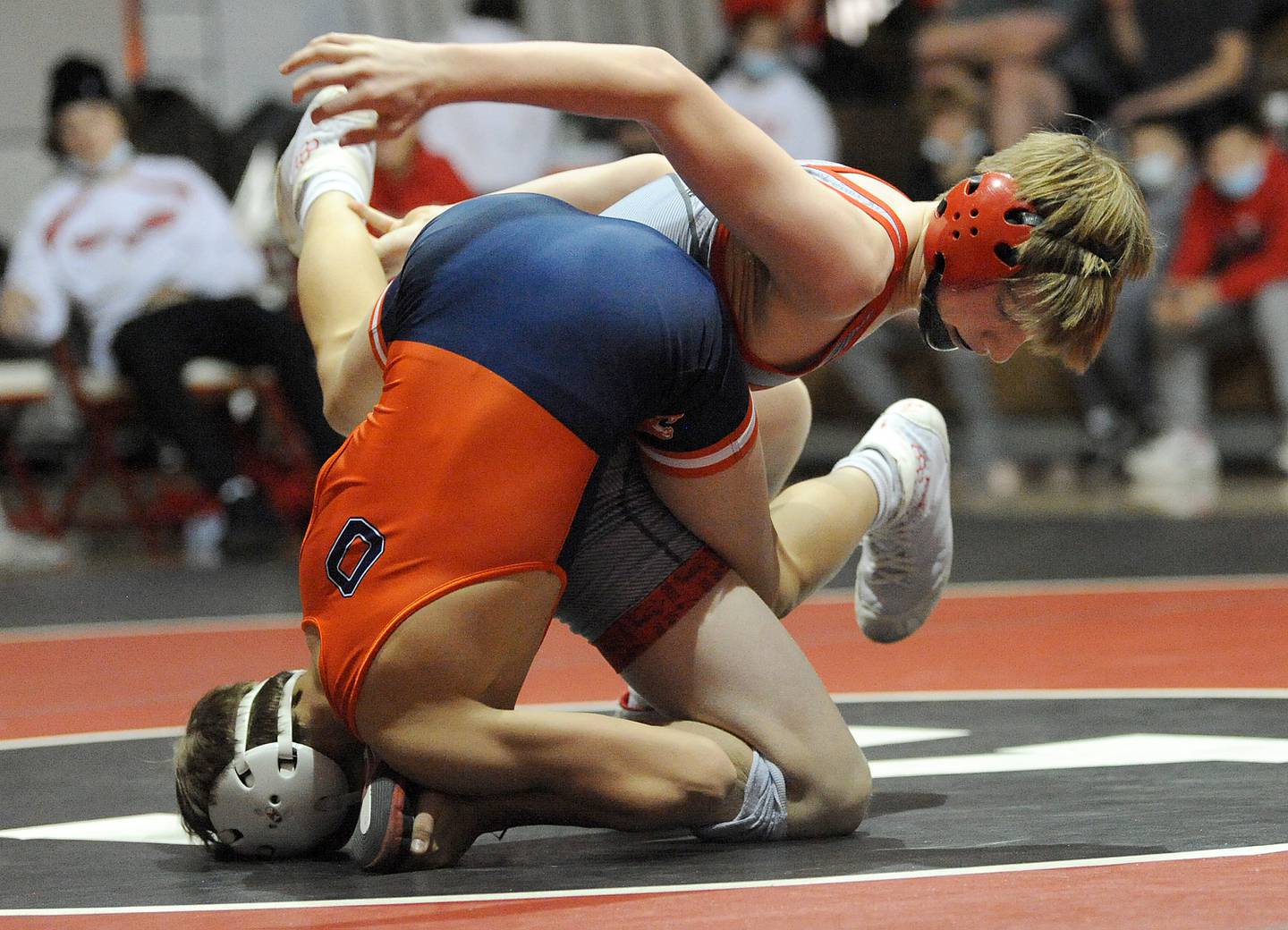 Freshman Ryder Janeczko was not to be outdone by his older brother Hunter, as he also won by pin at 132 pounds.
"He actually started wrestling a lot younger (age 4) than I did (age 10)," Hunter Janeczko said. "This was the biggest crowd we've had for the whole season and our team is finally healthy. This was the first time having our real lineup and it felt nice."
Yorkville's Dominic Recchia (120) Sebastian Westphal (145), Luke Zook (152), Brody Williams (170) and Kayden Kleckner (182) also were victorious. Williams blanked his opponent 9-0 and Kleckner held off Isaiah Logan, 8-6.
Oswego senior Aidan O'Meara registered a pin at 138 pounds to give the Panthers just their second win of the night to finish the dual. A.J. Johnson won at 160 pounds, winning one of the tightest matches, 5-4.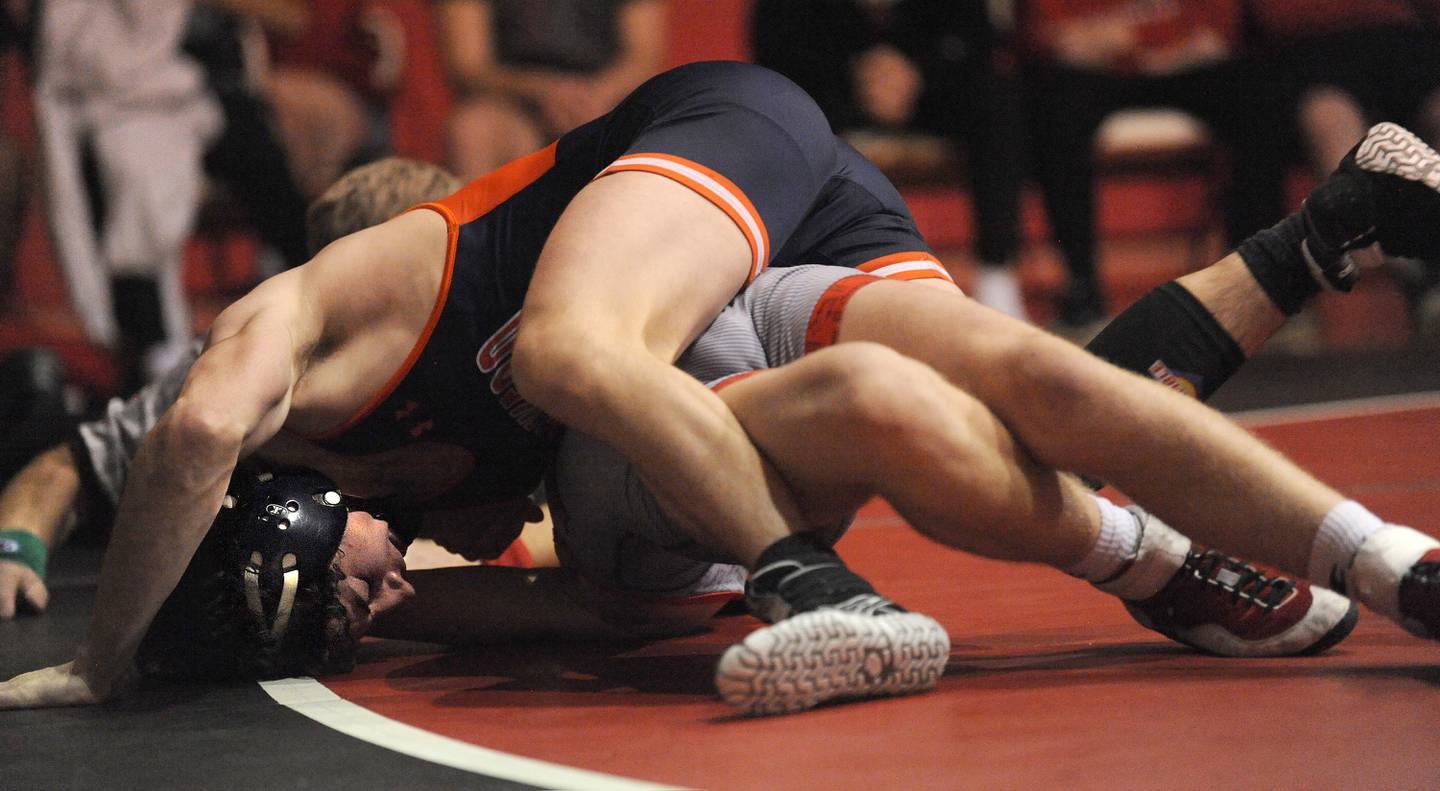 O'Meara, who finished off Cameron Peach in the last second of the first period, said the Panthers are better than they score showed.
"We've had good energy, but I don't think this was a good representation of what we can do," O'Meara said. "It's still cool to get out under the lights, but not like this."
Certainly the Foxes had a lot to do with the Panthers not getting desired results.
"You can't argue pins and that's what it came down to," O'Meara said. "It's just the bonus points that really kill you. It's really about coming together and making sure you don't have a weakest link and staying strong from top to bottom."
It's all about getting better for both teams.
"My coach told me not to go out there with a mindset just to win, but go out to get better," O'Meara said. "So when you look back at film you can see a good representation of how you wrestle, and how you wrestle in the practice room can be very different. Wrestle your best and as long as you give 100% that's what matters."
The Foxes could bring home some hardware from the state's biggest stage when all is said and done this season as well as upcoming years.
"We're not satisfied with winning a conference title, we've got more goals," Oster said. "Our regional is in a couple of weeks and we're looking to get a team to state and taking home a trophy. We haven't had one of those since 2012, so it's been 10 years and I think this is a team capable of doing it. We just got to get clicking at the right time. Right now we're looking good, wrestling well and now we just got to keep it going."