The wrestling season is underway. Here are previews of teams from around the Kendall County area.
Oswego
Coach: Steve Templin (first season).
Last season: 11-8 in duals.
Top returners: Ryan Goddard, sr., 120; Logan Guerrero, sr., 126; Aidan O'Meara, sr., 138; Joey Griffin, so., 152; Andrew Johnson, sr., 160; Cruz Ibarra, jr., 195.
Top newcomers: Brayden Swanson, fr., 113; Isaiah Logan, fr., 182.
Worth noting: Templin, in his fifth year as a coach in the Oswego program, is serving as head coach this season with Andrew Cook taking a leave of absence. The Panthers graduated just three seniors from last season's varsity lineup, so it's a pretty experienced group coming back. In the last full season, Oswego won a regional championship in 2020, the program's first regional title in 30 years. Ibarra, currently ranked seventh by the Illinois Wrestling Coaches and Officials Association (IWCOA), is one of five returning sectional qualifiers after going 18-2 last season. Guerrero, 17-8 last season, is a three-time sectional qualifier. Other sectional qualifiers back are Goddard, 16-11 last season, O'Meara, 16-10 last season, and Griffin, 14-9 last season. Johnson went 14-3 last season. Oswego placed fifth at the Conant Invitational this past weekend. With the additions of freshmen Swanson and Logan, the Panthers look to contend for conference and regional titles.
Sandwich
Coach: Derek Jones (third season).
Last season: 18-8 dual record
Top returners: Ashlyn Strenz, so., 106 pounds ; Kadin Kern, so., 120; Miles Corder, so., 126; Evan Reilly, sr., 138; Nolan Bobee, jr., 145; Aidan Linden, sr., 152; Sammy Dale, sr., 170; Alex Alfaro, sr., 182; Connor Holly, sr., 195/220; Kaiden Gustafson, sr, 195/220; Jaime Serrano, sr., 220/285.
Top newcomers: Anthony Sparti, sr., 113; Lashaun Glenn, so., 126; Evan Fraser, sr., 132; Sy Smith, so., 132/138; Gabe Galvan, jr., 145/152.
Worth noting: The Indians have 10 starters remaining from the 2019-20 team that won a regional championship, with only two starters gone from the spring season. Sandwich also brought back two starters from two years ago. The team took third in their IWCOA Regional in the spring behind Dakota and Lena-Winslow. Reilly, a 30-2 IWCOA state qualifier in the spring, is back to anchor the Indians' lineup. Sandwich has seven sectional qualifiers returning including Reilly, Kern (17-10 last season), Corder (14-3 last season), Bobee (16-8 last season), Linden (23-2 last season), Alfaro (21-7 last season), Holly (8-5 last season) and Gustafson (11-13 last season). Sparti went 22-12 in the 2019-2020 season and Fraser 7-7. Glenn was an IESA state qualifier in 2019-2020. Sandwich took 18th at the Moore/Prettyman Invitational in Barrington over the weekend. Alfaro was third in his weight class, Linden fourth, Reilly seventh and Dale ninth.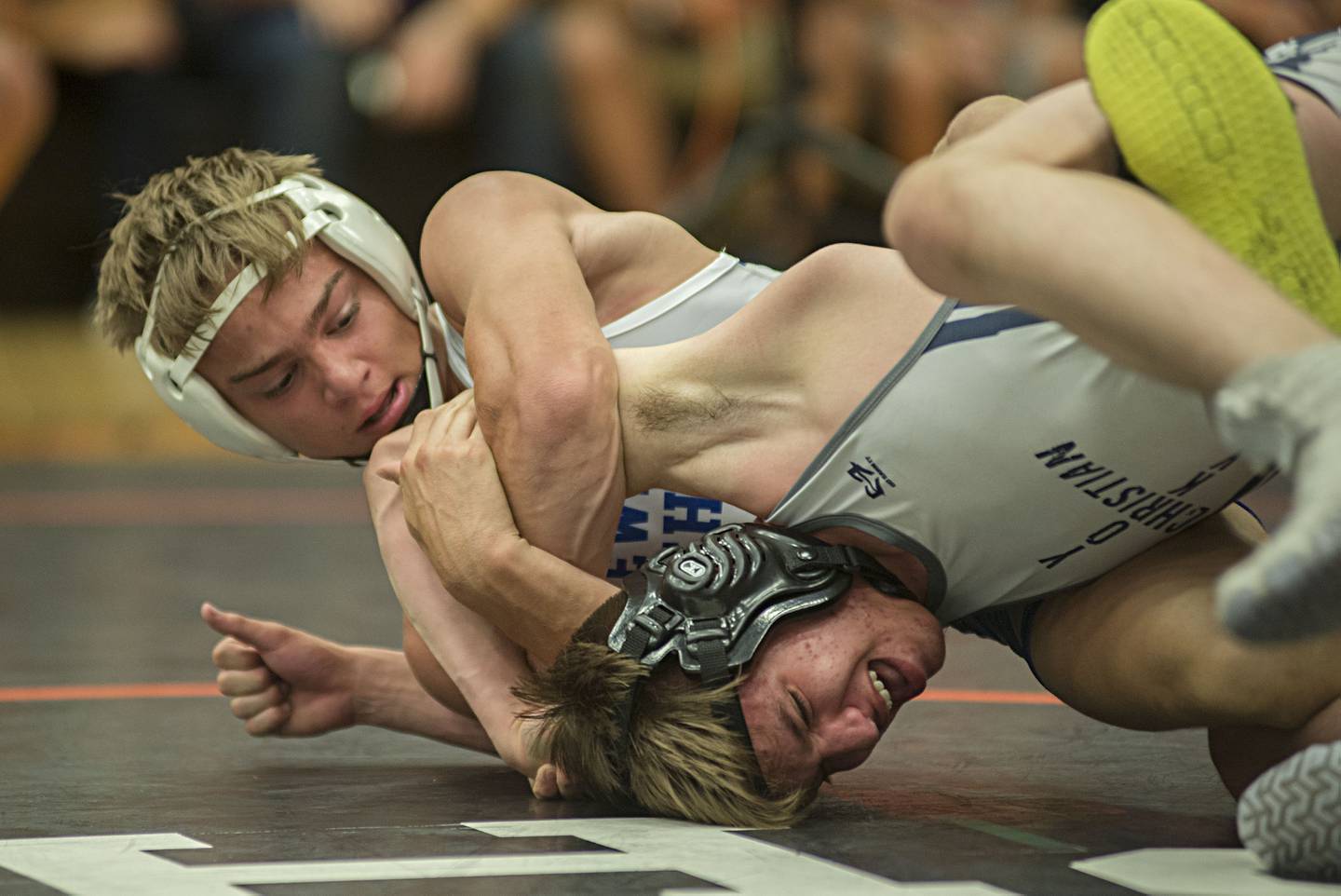 Yorkville
Coach: Jake Oster (sixth season).
Last season: 10-14 dual record.
Top returners: Dom Coronado, so., 126; Hunter Janeczko, jr., 195; Ben Alvarez, so., 220.
Top newcomers: Raymond Cavey, so., 106; Jack Ferguson, fr., 113; Luke Zook, fr., 152.
Worth noting: This is Oster's 10th season overall as coach at Yorkville. The Foxes will have a very young team that could have over half the lineup made up of freshmen and sophomores. That said, they are quite experienced having wrestled with youth and middle school teams. Yorkville placed sixth at the Moore-Prettyman Invitational at Barrington this past weekend with seven placers. Coronado, 26-7 last season; Janeczko, 25-10 last season; and Alvarez, 15-8 last season, are all returning state qualifiers. Cavey, a transfer from Yorkville Christian, was a fresh-soph state placer as a freshman. Ferguson and Zook were both IKWF state placers last season.
Yorkville Christian
Coach: Mike Vester (fourth season).
Last season: 13-3 in duals.
Top returners: Isaac Bourge, sr., 113; Derek Torza, jr., 152; Tyler Martinez, jr., 160; Michael Esquivel, sr., 285; Jackson Gillen, jr., 170; Noah Dial, jr., 120; Braulio Flores, sr.
Top newcomers: Aiden Larsen, fr., 106; Jeremy Loomis, jr.; Chris Durbin, jr.
Worth noting: The Mustangs returned five qualifiers from last season's IWCOA state tournament: Bourge, Torza, Martinez, Esquivel and Ty Edwards, although Edwards was injured in the preseason and will miss this season. Martinez took third at IWCOA state and was an All-American at Fargo Nationals over the summer. Equivel was fifth at state in the spring. Bourge is a two-time state qualifier, and Torza returns at the same weight he qualified for state at last season. Gillen and Dial carried undefeated records into sectionals last season but missed making it to state so they will have plenty of motivation to get to Champaign. Braulio Flores, a senior and 2020 state qualifier – one match from medaling – while at Sandwich returns to the mat after sitting his junior season and could make a deep run in the state tournament. Loomis and Durbin, both sectional qualifiers as freshmen, are back after missing the spring season with injuries. In the first week of the season Yorkville Christian went 7-1, beating Class 2A eighth-ranked ranked Geneseo, losing a close dual to Class 2A third-ranked Deerfield and taking fourth out of 18 teams at the DeRousse Invitational in Antioch.
Editor's Note: Oswego East and Plano did not provide preview information.