Zach Sato had made peace with the possibility that he could have no senior wrestling season because of COVID-19, even with unfinished business gnawing at him.
Sato came a win away from his first state meet as a junior at Oswego last year, losing in the blood round at sectionals. The 100-win career milestone was another marker that required a senior season.
He realized both, and then some.
Sato took fifth place at 145 pounds in the Class 3A bracket at the Illinois Wrestling Coaches and Officials Association state tournament held this past Saturday at the Bank of Springfield Center.
The IWCOA filled the void of a state series after the IHSA announced that it would hold a regular season, but not a postseason because of the pandemic.
"In one word, it was a blessing," said Sato, who will wrestle collegiately at the University of Wisconsin-Eau Claire. "It was probably the best way my career could have ended. I'm grateful that we even had a state tournament and that things aligned at the right time."
Also placing at state from the area was Yorkville Christian's Ty Edwards, second at Class 1A 106 pounds, and Mustangs' teammates Michael Esquivel, fifth at heavyweight and Tyler Martinez, third at 160.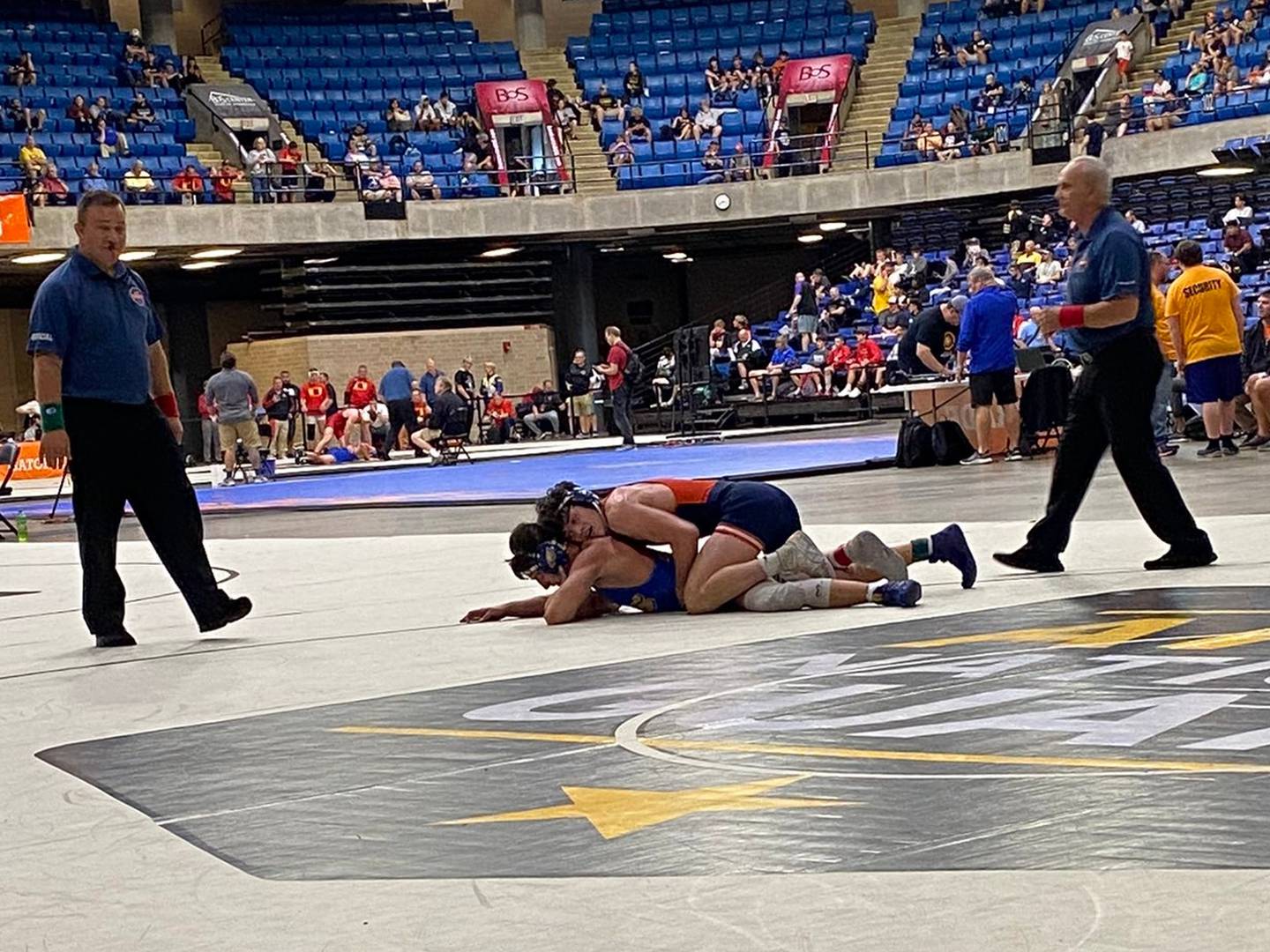 Sato pinned Lyons Township's Paul Cozzi in his first match at state for his 100th career win. He then lost to eventual state champion Ethan Stiles of Homewood-Flossmoor, the second of a grueling day of six matches in Springfield. Sato came back from losing a decision to Neuqua Valley's Bryce Boumans to win a 6-1 decision over Addison Trail's Jake Matthews in his last high school match.
"A lot of times people end on a loss," Sato said. "I was very grateful to end up with a win."
It was a fitting climax to a dominant season that saw Sato win all but one match before regionals by pin, major decision or technical fall. His only losses were to Stiles and Boumans, who finished third at state.
"His expectation, along with ours, was to win a state title, and it wasn't out of the question," Oswego coach Andrew Cook said. "When it's all said and done, very happy with where he finished. He had a dominant year and it was awesome to see. He put in the work day in and day out."
Sato wrestled close to 15 matches on varsity as a freshman, and was a sectional alternate as a sophomore. Last year he was part of the Oswego team's first regional championship in 29 years in qualifying for sectionals.
"I was just grateful to be there at state, but I knew I couldn't be satisfied with that; that is the danger with the state tournament for wrestlers sometimes," Sato said. "I focused on staying hungry and set my sights on the podium."
It's been a whirlwind of emotions for wrestlers, like Sato in the last year, with the uncertainty that there would even be a season. Then the wrestling season was moved from the winter to late spring, without a state series.
Sato didn't stop putting in the work, going to SPAR Wrestling Academy in St. Charles four times a week during the height of quarantine.
"The last couple months, there was so much uncertainty, but I just wanted to stay in shape, to be ready for the opportunity," Sato said.
His personal achievements were in a sense bittersweet within the context of the team.
Fellow Oswego senior wrestler Cole Pradel tore his ACL during football, and another senior, Luke Barron, was injured before the season. A third senior, Manny Gonzalez, hurt his shoulder the second week.
But the Panthers persevered to finish fourth in conference, and at super regionals. Six individuals qualified for sectionals – Ryan Goddard (106 pounds), Logan Guerrero (126), Aidan O'Meara (132), Sato at 145, Joey Griffin at 160 and Cruz Ibarra at 195. Heavyweight Michael Sturm also made sectionals, but didn't get to wrestle there after rolling his ankle.
"It was the story of our season. We had injuries, but the kids battled," Cook said. "We had kids who wrestled, and wrestled and played baseball at the same time or wrestled and ran track. They'd come in at 6 a.m. and then have baseball practice in the afternoon, but they put in the work. They wanted to compete and wanted to compete well. It was awesome."