OSWEGO - Motorists who frequent Wolf's Crossing Road in Oswego will have to find alternate routes starting next month as contractors for the village begin a $10.2 million project to widen a section of the road and construct a roundabout at the intersection of Harvey Road near Oswego East High School.
"We're excited to launch this key infrastructure project to improve safety and help relieve congestion on Wolf's Crossing," Village President Troy Parlier said in a statement. "We're proud that we were able to use grants and impact fees to fund a major portion of this first phase and ease the burden on our residents."
The improvements will include the widening of Wolf's Crossing Road to four lanes from east of the entrance to Oswego East High School to east of Devoe Drive along with the installation of the roundabout.
"We're excited to launch this key infrastructure project to improve safety and help relieve congestion on Wolf's Crossing Road."

—  Troy Parlier, Oswego village president
Construction will start April 3 with the closure of Wolf's Crossing Road between Harvey Road and Route 30 for work at the intersection of Devoe Drive and Wolf's Crossing. Devoe Drive at Wolf's Crossing will be closed until approximately the end of May.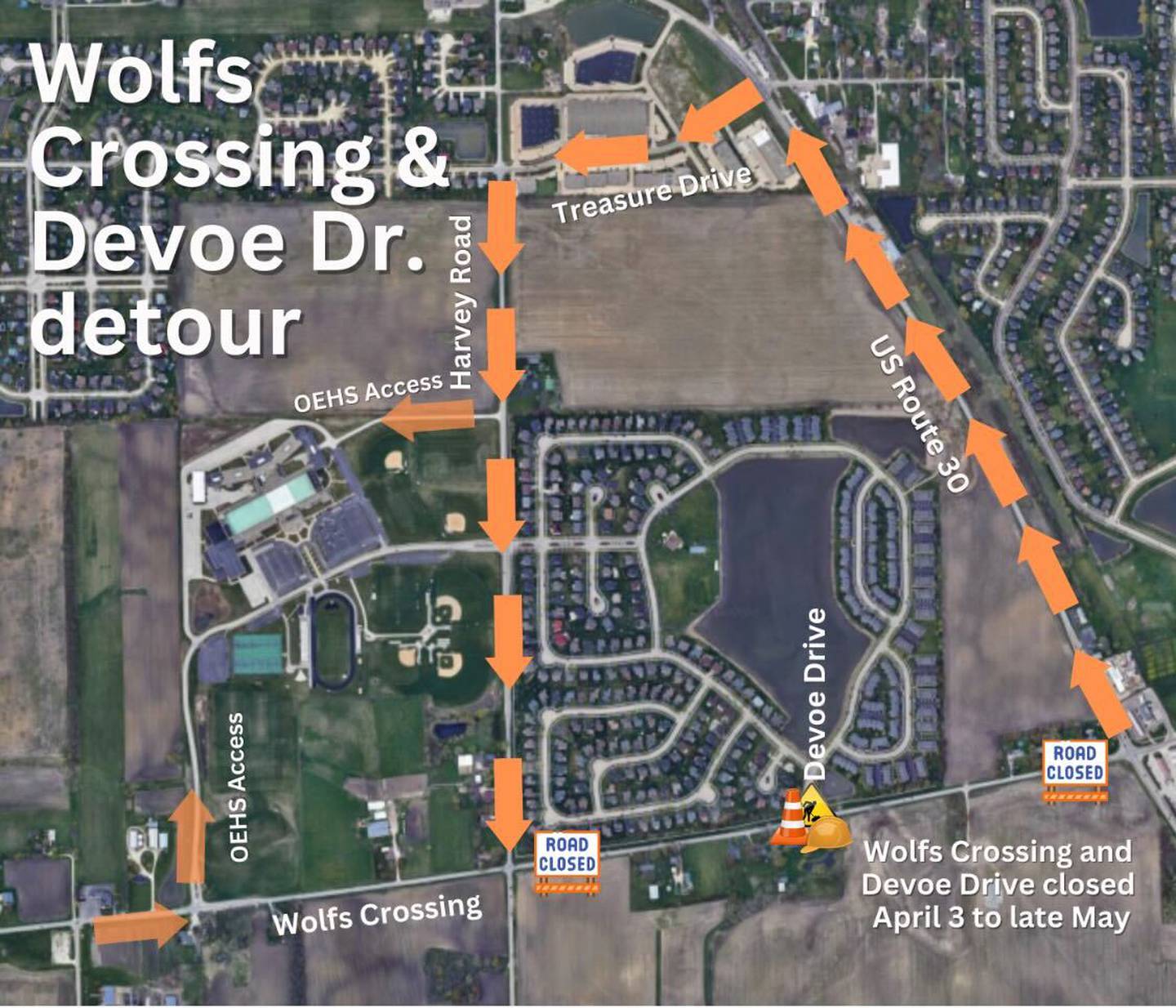 Detours will be posted along the route. Construction updates and detour information can be found on the village's website. Residents can also get updates by signing up for traffic alerts through the village's email bulletin, according to the village.
Additional closures around Wolf's Crossing Road and Harvey Road are expected to begin after the school year ends in late May.
Construction will continue until the project is completed at the end of November.
According to the statement, village officials have closely coordinated the project with Oswego East High School administrators to minimize impacts while also recognizing the goal to complete the construction in one season.
The project comprises the first phase of a multi-phase project spanning several years to widen and improve Wolf's Crossing Road from Route 34 east in Oswego to Eola Road in Aurora.
Nearly half of the $10.2 million first phase project cost comes from federal and state grant funds. The village did not increase or impose any new taxes or incur any additional debt to fund the project. Developer impact fees will fund a portion of the project.
To mark the start of construction, the village host a groundbreaking ceremony at 10:15 a.m. April 3 at the intersection of Wolf's Crossing Road and Devoe Drive.