ST. CHARLES – Madi Reeves apparently doesn't need much motivation when she steps into the circle.
Maintaining the rare ability to completely control the tempo of a game from the circle is just fine.
Reeves, a Yorkville senior pitcher, already has a commitment to Miami (Ohio) locked up for her future. Last season, she posted a sterling 18-4 record and struck out 249 batters.
She can add another 18 strikeouts to her career after a sparkling 4-0 complete game victory over St. Charles East on March 22.
Reeves' bid for a perfect game was spoiled with one out in the fifth inning by Saints freshman Hayden Sujack's single, but the Yorkville standout bounced back with two consecutive strikeouts. The only other hit allowed by Reeves, who issued no walks, was a single by Brianna Risley in the sixth.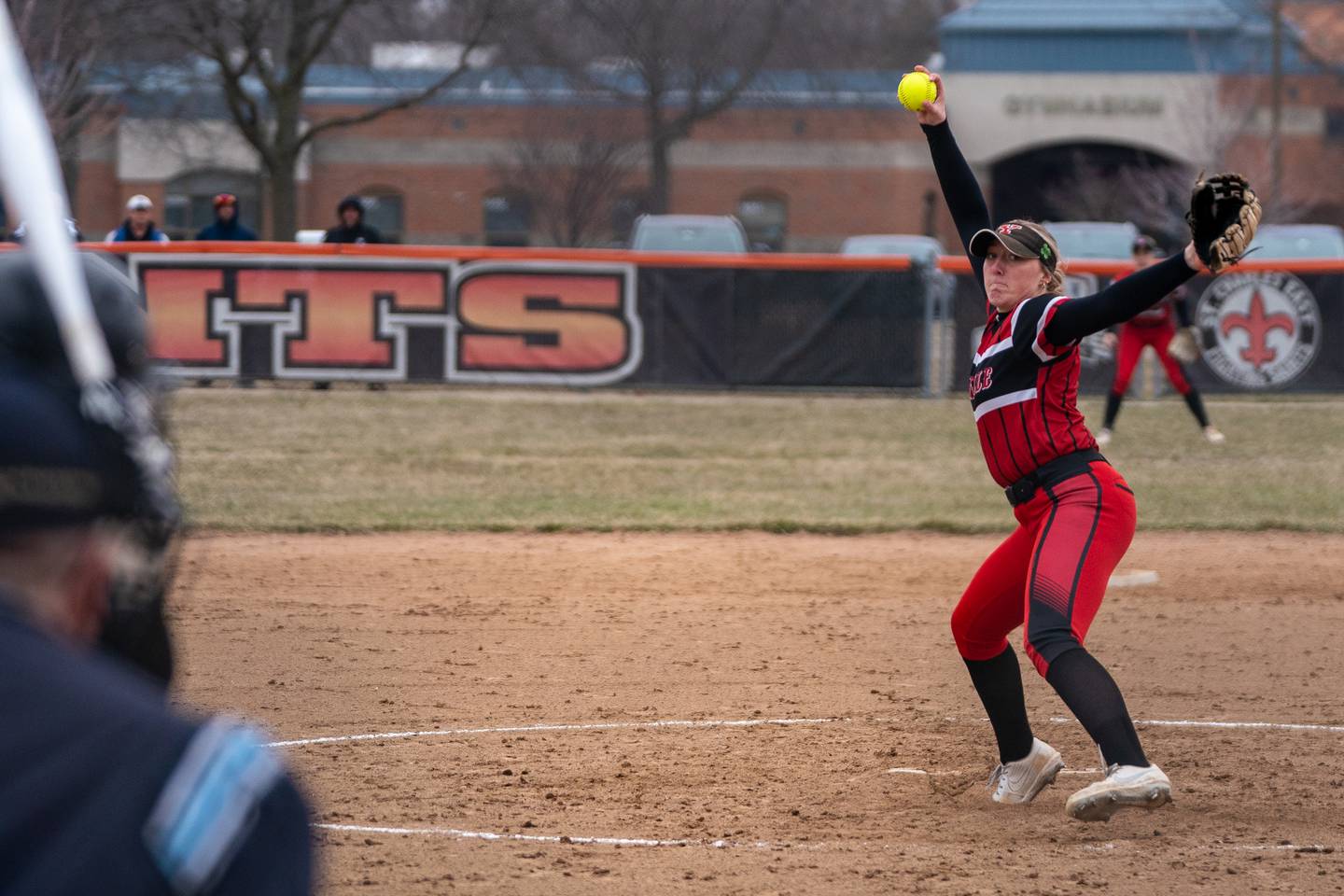 "I think year after year I just have goals I can set higher and higher for myself," Reeves said. "Being able to control – I love my teammates – but I have the tempo of the game, so I think that makes me keep going that I have that control."
Reeves, whose career high for strikeouts in a game is 20, struck out the side in four of her seven innings, three of them in order.
"I think every year she brings something different [as she grows as a pitcher], especially with the dynamic of the team," Foxes coach Jory Regnier said of Reeves. "Now she's a senior and she's a leader and stepped into that role. I think what comes with that [is] that leadership comes with even more control [in the circle]. Even as a sophomore, she came in and dominated with her speed. I just don't think people were expecting it.
"And now people know of her. And know who she is. Now she has to have more of that mature approach to control the game and every at-bat in order to be as good because people are preparing for her. In order for her to prepare back, she has to be in control the whole time and know how she's going to approach every batter."
Reeves and St. Charles East junior Grace Hautzinger went toe-to-toe. The two combined for 15 strikeouts into the fourth inning. Both had no-hitters going at that point.
Yorkville (3-0) broke up the scoreless duel in the fourth.
Yorkville freshman catcher Kayla Kersting reached on a leadoff bunt single and Sara Ebner followed with a double. After Katlyn Schrader struck out, Regan Bishop poked an RBI bunt single for a 1-0 Foxes lead. The Saints rebounded with a double play to end the threat.
The Foxes added a run on an RBI groundout by Jensen Krantz in the fifth for a 2-0 lead, and later added insurance runs thanks to back-to-back solo home runs from Kersting and Ebner in the sixth for a 4-0 advantage.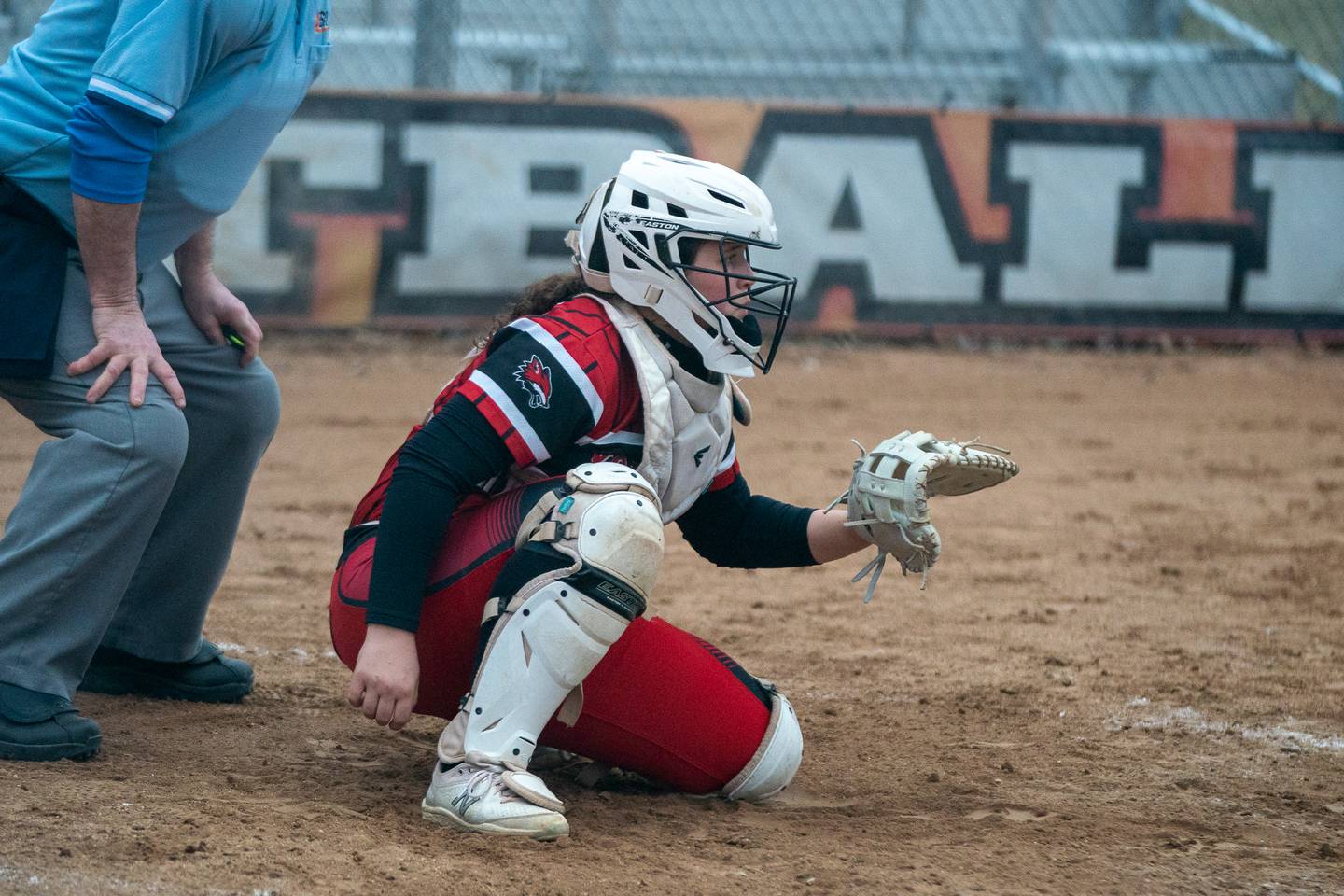 "She does a phenomenal job behind the plate," Regnier said of Kersting, whose homer was the second of her young high school career. "And if Madi misses a pitch, she misses it low. She throws hard. Kayla is just so stoic and she's just a solid kid. She's very smart and she understands the game. She understands what she needs to do behind the plate to make the dynamic work and she does an excellent job."
Hautzinger struck out 12 and scattered six hits and one walk for the Saints (1-1).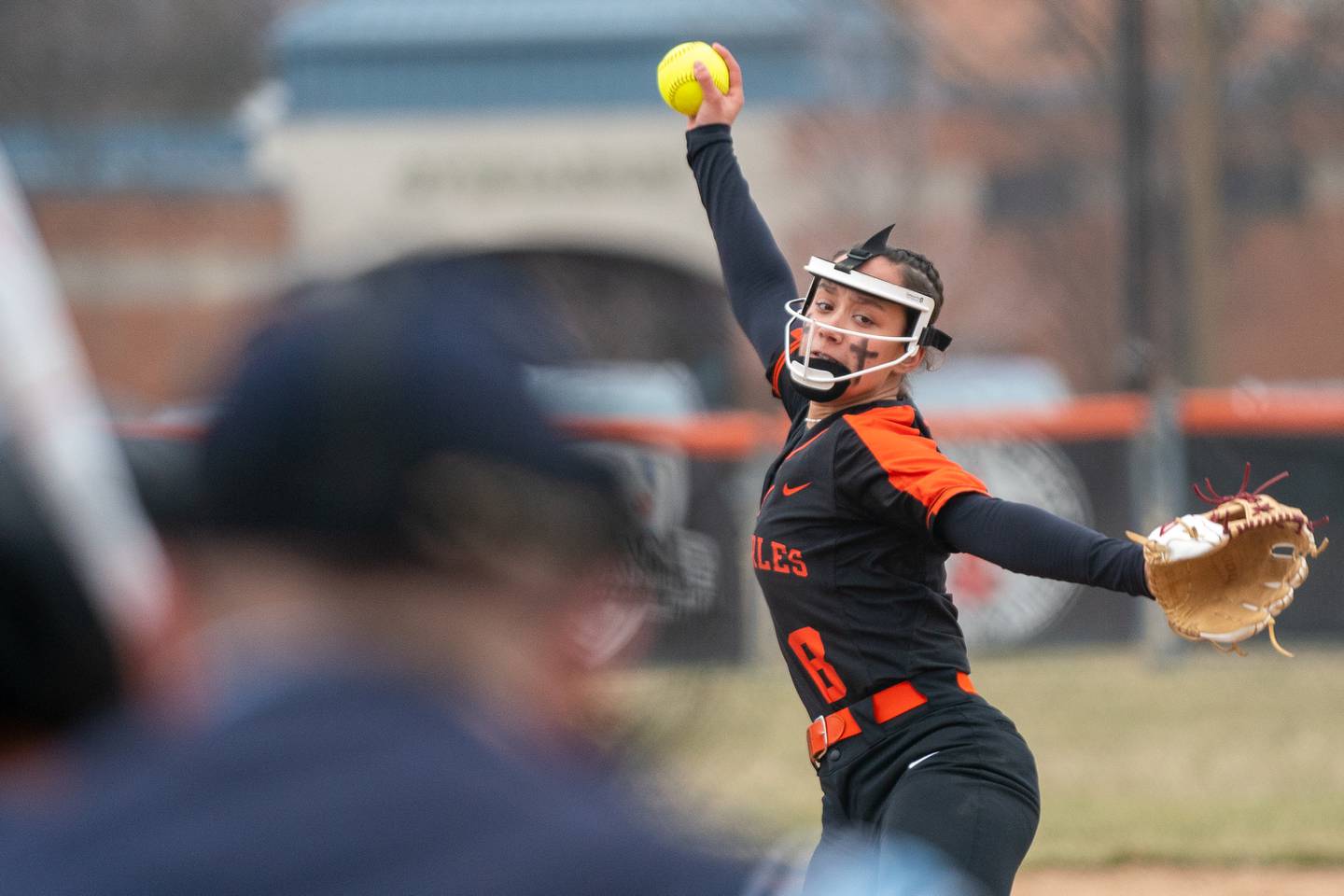 "[Reeves] does throw a changeup because she throws hard," Saints coach Jarod Gutesha said. "It was great for our kids to see her early on here and we'll build from that. The energy in our dugout was great. Our kids were competing to the very end. It's one of those things – yes, she is a top-level pitcher – where if you go down, sometimes that can be deflating even if it's one or two runs. We were down four and it didn't feel any different than it was 0-0. Our kids were awesome on the bench and supporting each other.
"That's Grace. Grace can hit her spots. Grace throws hard and can make the ball move, so she did a great job and I couldn't be happier with the way she battled. ... It was a good, well-played ballgame between, I think, two of the [better teams in the area]."