At a young age, Mekhi Lowery was urged to shoot more by his dad and AAU coach even if his team won.
But that was not his personal DNA.
Lowery, even going back to his early days of AAU, prioritized winning above all else. Oswego East's 6-foot-7 senior guard can impact the game in a myriad of ways, but winning remains his singular concern.
"I just have always been a win-first player, never an individual and I don't really know where that has come from," Lowery said. "My dad or coach would urge me to shoot more, but I just wanted to win."
Lowery's individual stats, specifically his scoring, do not jump off the page. But he is impossible to miss on the court. An elite defender versatile enough to hound guards at halfcourt, or guard a 6-foot-10 Big Ten recruit in his team's biggest game, Lowery was the linchpin of a Wolves' defense that held six opponents to 35 points or fewer. He broke Oswego East's all-time rebounding record, as a guard. Lowery is a crafty scorer in the lane, and an explosive athlete at the rim.
And he wins.
It's no coincidence that the two best seasons in Oswego East history occurred on Lowery's watch. The Wolves followed up a record-breaking 33-2 season his junior year by going 30-6 this season, going unbeaten in the Southwest Prairie Conference for the second straight season and won the first sectional championship in school history. And then they gave eventual Class 4A champ Moline its toughest challenge in the playoffs, leading into the fourth quarter of a 59-55 supersectional loss.
Lowery, a Towson University recruit named SPC West MVP, first team All-State by IBCA and honorable mention All-State by AP, averaged 12.6 points, 9 rebounds, 3 assists, 2.8 deflections and 2.1 steals per game for a team that had four starters averaging from 9 to 12 points. Leading Oswego East to a 73-11 record in three varsity seasons, Lowery is the Record Newspapers Player of the Year.
"He is just very unselfish," Oswego East coach Ryan Velasquez said. "He cares about winning so much. He will do anything for the team to win and he has proved that the last two years. We had guys who cared about each other this year, and Mekhi led the way. He was a catalyst who took us to places where our program has never been before."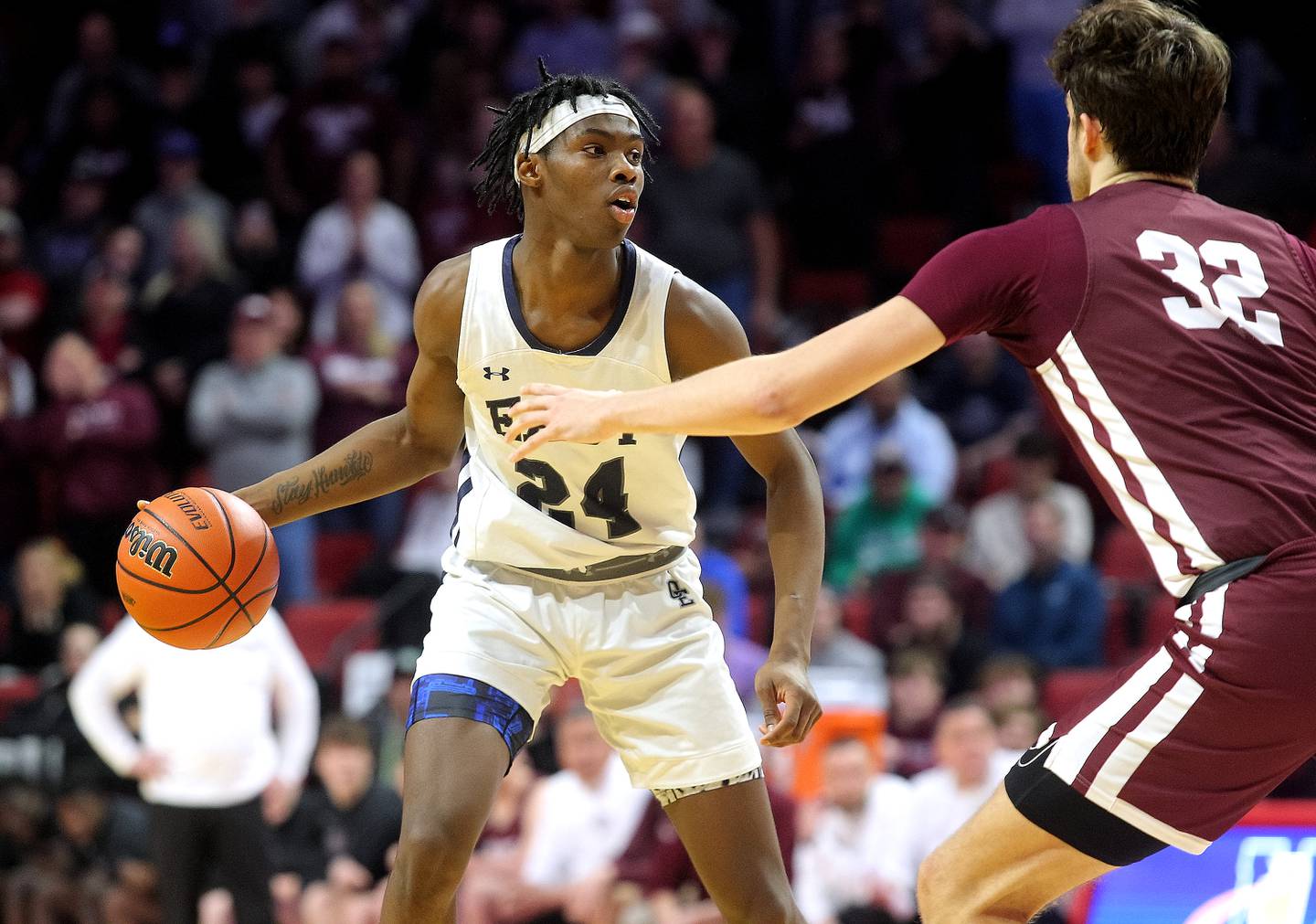 Oswego East this season had the potential for greatness, but it was a work in progress. The Wolves graduated three starters, program cornerstones, from a 33-win team. Two impact transfers, Bryce Shoto and Jehvion Starwood, needed to find their niche. Holdovers like Ryan Johnson took on expanded roles.
Lowery led them forward.
The Wolves won consistently throughout the year, and played their best basketball in the season's stretch run. They beat West Aurora for a fourth time in a regional final, then avenged last year's sectional final loss to Bolingbrook with a stirring overtime win in the sectional semifinal. And then they beat highly-touted Joliet West for a second time to win the sectional.
Lowery saved one of his best performances for last. He had 20 points, nine rebounds, five assists and three steals in a supersectional loss to Moline.
"What we did this year was special," Lowery said. "Many people didn't think we were going to be as good as last year. I feel like we exceeded expectations. It was definitely a new role for me this year being a leader but I knew once those seniors left I'd have that leadership role. I take great pride in being a leader, and leading by example for the team every game and every practice."
Lowery has always taken great pride in his defense.
He said the genesis of that came at a young age, where he made up for not being as gifted offensively as others by excelling at the defensive end. As his offensive game filled out, Lowery continued to make his defense a hallmark. Velasquez this season called Lowery the best defender in the state. He even drew a comparison to ex-Bulls star Scottie Pippen for his versatile talents, particularly on defense.
"It starts with getting in stance, sprinting back and being active, and he will use his voice on the defensive end," Velasquez said. "He goes and attacks the basketball. His athleticism is off the charts and he uses that athleticism to be an elite defender. He is not afraid to attack rebounds high above the rim and his length and athleticism gives teams fits defensively."
Lowery's dad, Telly, played basketball at Proviso West, and at a junior college in Tennessee. He introduced Mekhi to different sports. His parents, Kesha and Telly, provide a strong support network for both basketball and academics.
He counted other influences, too, in molding his game.
"Just from growing up watching long guards like Kevin Durant and Brandon Ingram and Scottie Barnes just become more and more prevalent in today's game," Lowery said. "I like to compare and model myself after those types of players and try to play like them."
Lowery believes the next step in the evolution of his game is to develop a more consistent outside shot, and more body strength. He's already on that path. When Lowery came in to Oswego East as a freshman, Velasquez knew he was getting a good player. But he wasn't 6-foot-7 yet, and Lowery didn't have the 6-foot-11 wingspan he does now. He's still lanky, but Lowery has put on significant muscle even since his junior year.
"He grew into that leader that we anticipated he would grow into," Velasquez said. "He led with his actions on the court. He is elite at defense, elite at rebounding, he can impact the game in so many different ways and he he could score the basketball when we needed it. He's just a great teammate, well-liked by everybody. He's just going to get better and better."
Not overly flashy, not demanding attention come his way, Lowery just plays the game the right way.
"He just plays basketball," Velasquez said. "He doesn't need to do anything that is uncharacteristic of himself. He just lets his basketball do the talking for him. He just goes about his business. He knows what it takes to get better, he puts the time in the gym. What makes his game special is he puts others in front of himself. His is grateful for everything he has received and doesn't take anything for granted."