PEORIA – As Sandwich freshman Sunny Weber stood in a tent ready to buy an IHSA State Cross County sweatshirt and sweatpants, her chattering teeth and shivering body told part of the story of Saturday's final meet at a rainy, windy and cold Detweiler Park.
The rest of the story was the sensational performance the ninth-grader produced in her first trip to the biggest stage of the season.
Coming off regional and sectional championships, Weber wrapped up an amazing freshman season with a runner-up finish in the Class 1A final, crossing the muddy finish line in 17 minutes, 26.38 seconds, trailing only champion Mabry Bruhn (17:08.43), a senior from Monticello.
"I was hoping to get a top five, but I really wasn't sure I could do it," Weber said. "I wasn't really nervous up until we got into the line right before the start. It was a little overwhelming, but once we got going, I guess all that went away. I felt really good the entire race, but when the rain started it was a struggle.
"Regardless of what place I ended up getting, there was one girl, and I don't want to say who, I really wanted to beat today and I did, so that was really happy about that. I was also really happy to pass another girl right at the end who I'd been chasing nearly the entire race."
Sandwich as a team placed 21st with 477 points, while Tolono Unity won the title with 84.
Following Weber for the Indians were Emily Urbanski (79th, 19:44.31), Joanna Rivera (108th, 20:00.82), Erin Lissman (213th, 22:23.74), Karlee Henkins (247th, 24:20,65), Emma White (253rd, 25:27.96) and Ashlyn Strenz (255th, 26:20.15).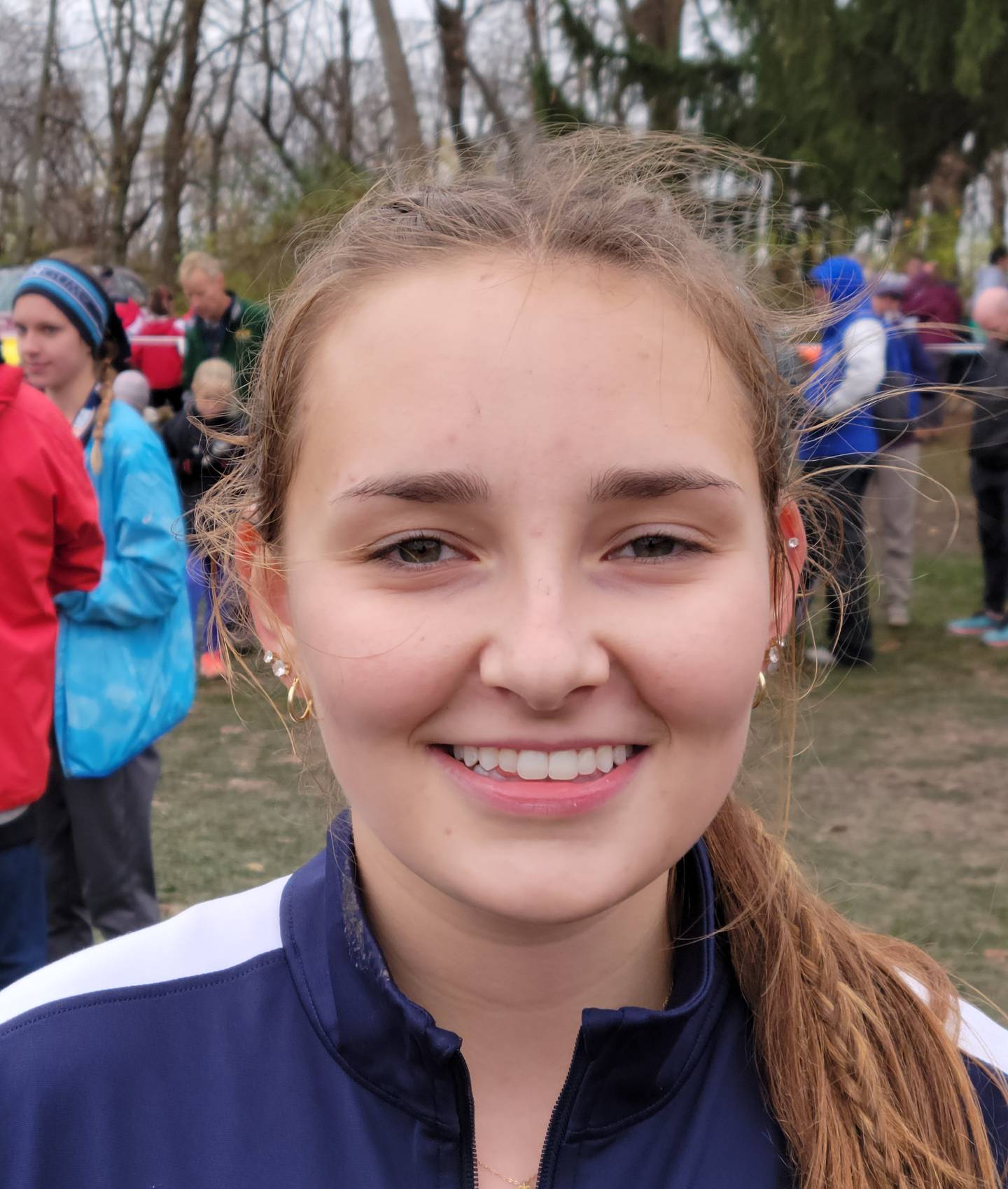 In the girls 3A race, Oswego senior Audra Soderlind, who finished 15th as a junior, placed 19th in 18:03.83 to earn herself a second state medal.
"I was coming off an all-state race here last year, but I knew things were going to be a lot tougher today with the course conditions," Soderlind said. "It was hard to find a comfortable lane to run in at times because parts of the course were just mud and nothing else. I ran most of the race in the group right behind the leader and there were times where I wanted to make a move but then thought about if I was going to be able to stay on my feet or not. I was able to pick off a couple of runners that were in front of me the final part of the race, so I'm happy about that.
"I knew I wanted to hang with the girls from York and Prospect with the thought of they were going to be towards the front of the pack. But really as the race went on, it was more about running my own race at my pace and see what happens.
"I knew towards the end I was in the top 25, so then it was just a matter of staying on my feet."
The Panthers finished 21st as a team with 491 points, Yorkville (353) ninth and Oswego East (444) 18th, behind champion Prospect (39).
Following Soderlind for Oswego were Kelly Wong (110th, 19:22.77), Addison Richter (166th, 20:02.11), Lucy Cler (167th, 20:02.73), Ryan Jednachowski (178th, 20:13.05), Sophia Marasco (218th, 21:31.46) and Samantha Ventura (228th, 22:02.11).
For Yorkville, Sophia Keeler led the way with a 63rd-place mark in 18:55.85, followed by Katie Melzer (73rd, 19:04.92), Lucy Anderson (101st, 19:19.92), Makenna Edwards (116th, 19:27.92), Allegra Triner (117th, 19:29.69), Ashley Schraeder (174th, 20:09.02) and Emma Jasutis (179th, 20:13.16).
Morgan Dick paced Oswego East with a 38th-place finish in 18:33.83, followed by Sydney Williams (106th, 19:21.23), Angeles Mendoza (132nd, 19:38.48), Josslyn Gaona (147th, 19:47.94), Olivia Van Denend (162nd, 19:59.65), Monica Lopez (164th, 20:01.21) and Meghan Johnson (168th, 20:03.63).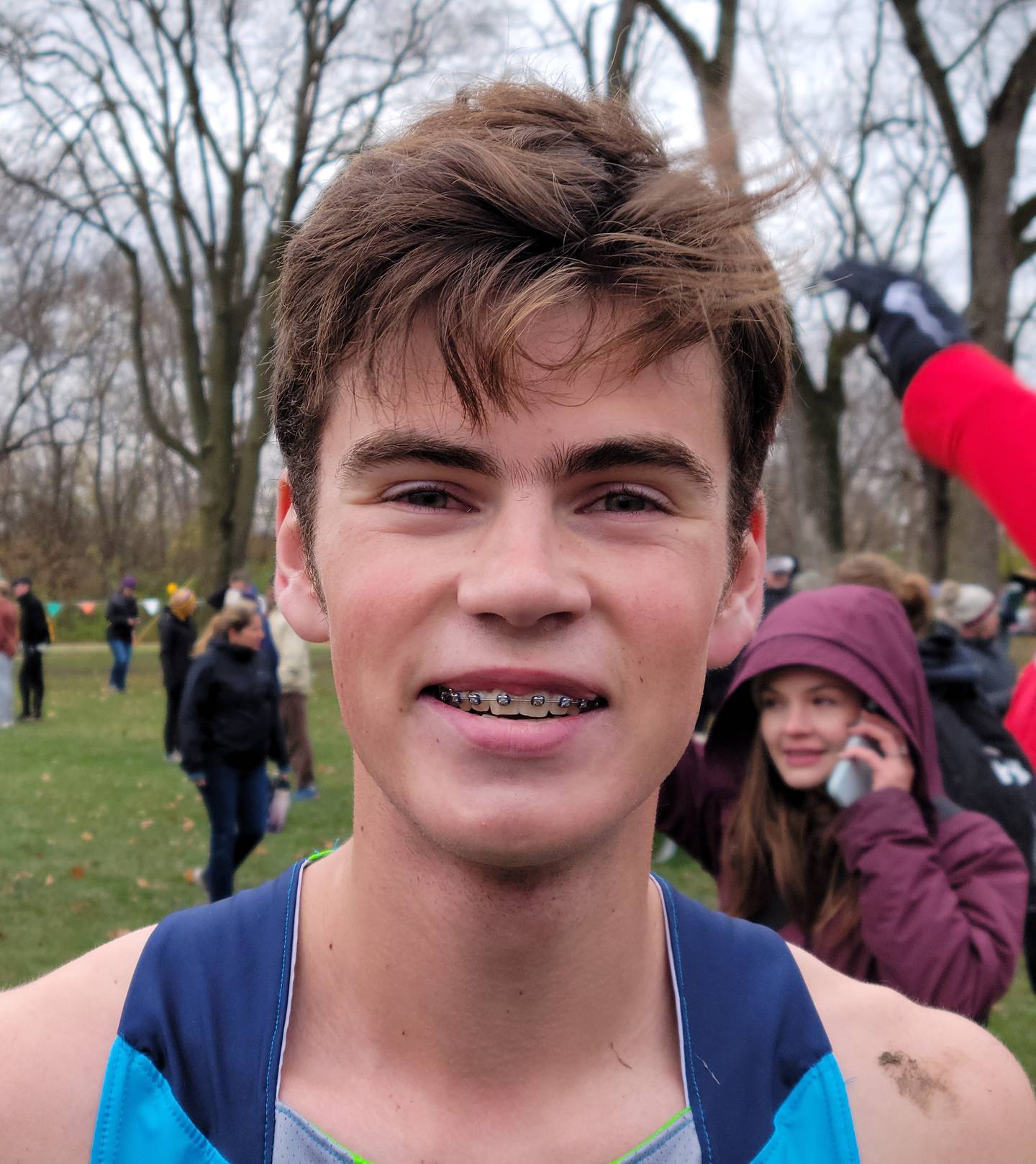 In the 3A boys race, Oswego East senior Parker Nold bettered his placement two spots from a year ago finishing eighth in a time of 15:06.20.
"I was hoping to break the all-time school record coming into today, but the way the conditions were there was no way that was happening. I had to switch my goal over to wanting to finish better than my 10th place finish last year," Nold said. "The group I was in, there was a lot of passing back and forth throughout the race, but I was able to gain a spot of two towards the end so that was great.
"This was a great way to finish things out my senior season. With everything going on today with the weather and the course I'm really happy with how I ran today."
Oswego East (389) placed 15th as a team, ahead of Yorkville (22nd, 535) and Oswego (25th, 570). Plainfield South won the event with 88 points.
Behind Nold for the Wolves were Nicholas Goduto (100th, 16:09.23), Dhairya Trivedi (116th, 16:16.12), Jacob Lanzara (126th, 16:22.17), Jack Schultz (134th, 16:22.17), Noel Velasquez (144th, 16:24.11) and Carter Pankiewicz (213th, 17:02.03).
For Yorkville, Owen Horeni was 51st in 15:47.36, followed by Jake Younger (104th, 16:11.86), Ryan Rotramel (141st, 16:23.45), Ben Whaley (155th, 16:26.45), Brody Greyer (208th, 16:57.08), Ben Kieffer (219th, 17:07.48) and Adam Klemm (229th, 17:43.28).
Oswego's Matt Padilla (15:42.70) and Brady Nelson (15:46.12) finsihed 44th and 49th, respectively, followed by Brodey Skipworth (160th, 16:27.25), Alan Mindock (215th, 17:03.45), Andrew Shroba (227th, 17:32.01), Mitchell Bucher (230th, 17:44.52) and Adam Kararo (232nd, 17:57.25).