David Douglas Jr. stayed focused on the moment.
The Yorkville Christian senior guard was the main target by a pair of fans sitting in the first two rows on the final day of the 19th Annual Riverside-Brookfield Summer Shootout. The Mustangs were in the midst of a physical and spirited game against Michele Clark near the end of the 72-team, three-day shootout June 19.
Douglas maintained a steely demeanor despite remarks about his game and being overrated. He did receive a technical foul as part of a double technical also called on a Clark player.
"I think that's my first [technical], but maybe I got one in AAU," Douglas said.
Douglas kept playing his game, staying true to his work ethnic and showcasing his evolving two-way game.
Douglas, who has an offer from Minnesota Duluth, admitted it was a strange experience to be the focal point of an opposing team and fans.
"It was a very strange game, but I really liked the competition and playing against an aggressive team," Douglas said. "I'm playing a different role. It's a little different, but I'm used to it. I used to be the man on some of my AAU teams, in eighth grade. I'm getting back to it. I really don't hear the crowd. My parents say I'm so locked in. I just try and embrace it, so I can get better and encourage my teammates. It can be frustrating at times."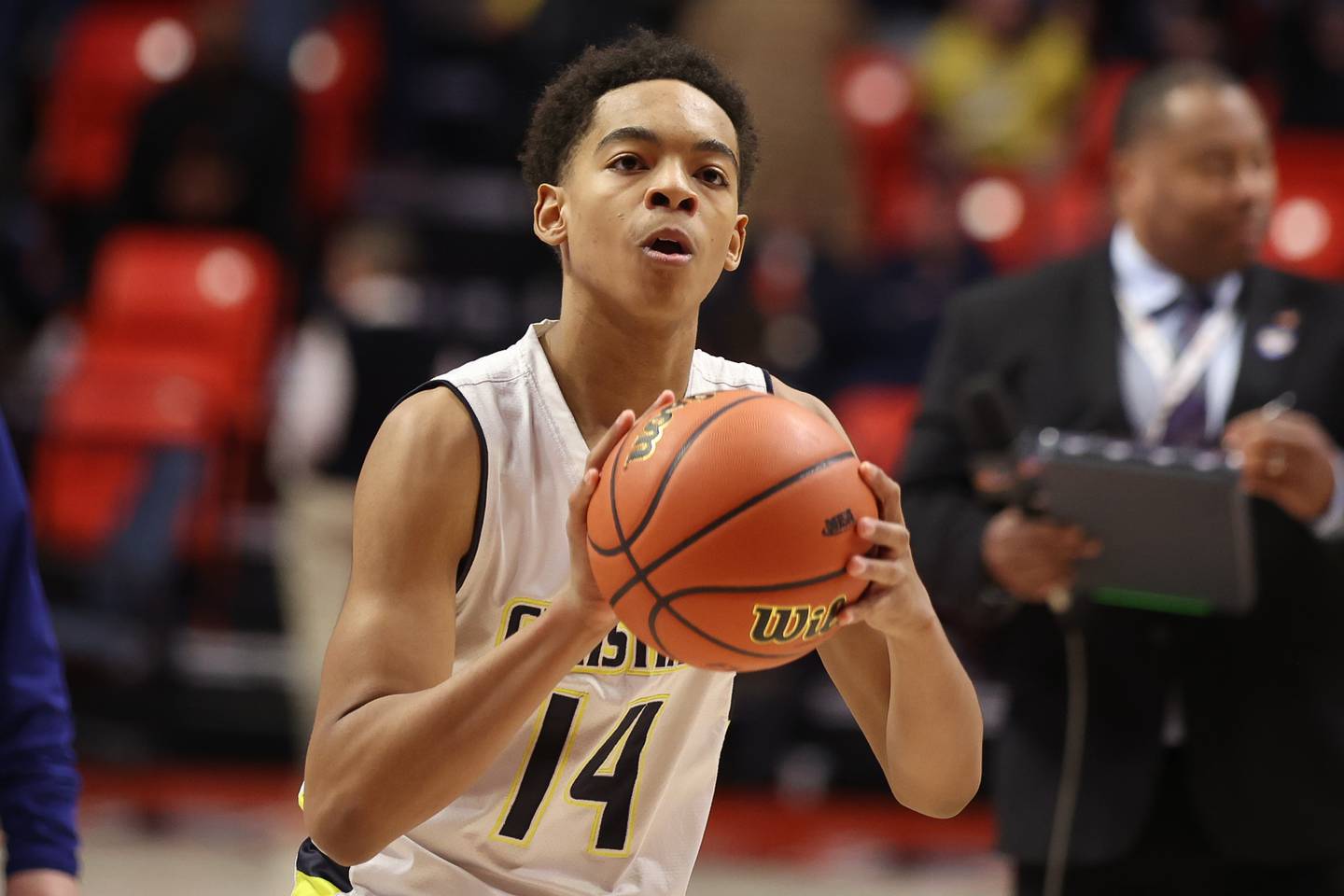 The 6-foot-4 Douglas is moving up the ranks this summer, adjusting to an increased role with increased attention as "The Man" on the Mustangs. He's suddenly the top target of opposing teams after Duke signee Jaden Schutt and K.J. Vasser played the leading role for the Mustangs' Class 1A state championship team.
"Last year, he was the fourth or fifth guy on everybody's scouting report, but now he is at the top," Yorkville Christian coach Aaron Sovern said. "It's different how you handle that role. People are not driving and kicking out to you. His game is developing. He extended his range, won the three-point contest downstate. His pullup game has really developed the last six months. He can get a defender off-balanced and stop and pop and finish at the rim. On backdoor plays, he's dunking."
Douglas displayed plenty of highlight reel plays last season, averaging 10.1 points, 3.3 rebounds and 1.7 assists. He made 50 3-pointers. Douglas said he gained valuable insight watching Schutt handle the pressure of leading a team and being a high-profile recruit.
"I'm trying to step into a leadership role," Douglas said. "We lost seven seniors and a couple of other guys. We played tough. Josiah [Mayes], Trey [Lombardo] and Brady [Sovern] are all back, but we have a very young team. I learned from Jaden to be a very hard worker, don't listen to the outside noise, whether it's good or bad, and to keep working and focus on your goal and your dream."
Sovern said Douglas is slated for a big senior season, especially after working tirelessly on his body and improving on the defensive end.
"He's a quiet leader, but now is being more focal and starting to embrace that process," Sovern said. "He hitting the weight room, and using his length to be a presence on the defensive end. He has one to two chase down blocks a game, demonstrating his developing athleticism."
Douglas said he's ready for the July AAU period and play against talented teams in the competitive circuit for Breakaway Basketball.
"I'm excited for a couple of the big events, like in Atlanta," he said. "We're going to be playing some tough competition. I feel very confident. I've been working hard in the weight room and seeing it pay off. I'm excited to go into the live period, to show coaches what I can do.
"My defense has improved. I know I can shoot and be a playmaker. It's going to be interesting. This will be the first time at the varsity level experiencing this. I want to keep everybody on the varsity team on the same page. We learned a lot [in June]. We're getting better as a team."