Kyle Clabough enjoyed one last glorious sunset to his high school career.
As Yorkville's senior returned from Charleston last month after winning his second consecutive Class 3A state shot put championship, he stopped to pose for a picture with his 2021 champion sign on the outskirts of town.
"It was pretty cool," Clabough said. "I've seen it before. Driving by, coach said 'Have you ever been up to your sign?' I stood by my sign, we got out, I wore my medal by the sign from last year."
Clabough's last high school throw was just as picture-perfect.
On his final high school attempt, Clabough uncorked a throw of 18.74 meters, surpassing the 18.14 of previous leader and eventual runner-up Paolo Gennarelli of St. Charles North.
"It was very stressful, but it's a pretty cool story to tell," said Clabough, who will throw collegiately at Wisconsin. "It's cool to say that my last high school competitive throw was the one that won me a state title. Happy to show that I'm a competitor, and not just a guy that dominates."
Clabough was, though, quite dominant.
Three years undefeated, a two-time state champion and a nominee for the national Gatorade Athlete of the Year, Kyle Clabough is the Record Newspapers boys track and field Athlete of the Year.
Yorkville first-year coach Matt Rodewald enjoyed having a front-row seat for such a dramatic ending to his star athlete's career.
"It was a storybook ending, Hollywood, as dramatic as it gets. It was just awesome to see it unfold," Rodewald said. "You had hoped for it, you had kind of expected it, but you just never know in high school sports. He was able to pull it off. It was the first time all year I saw a sigh of relief on his face."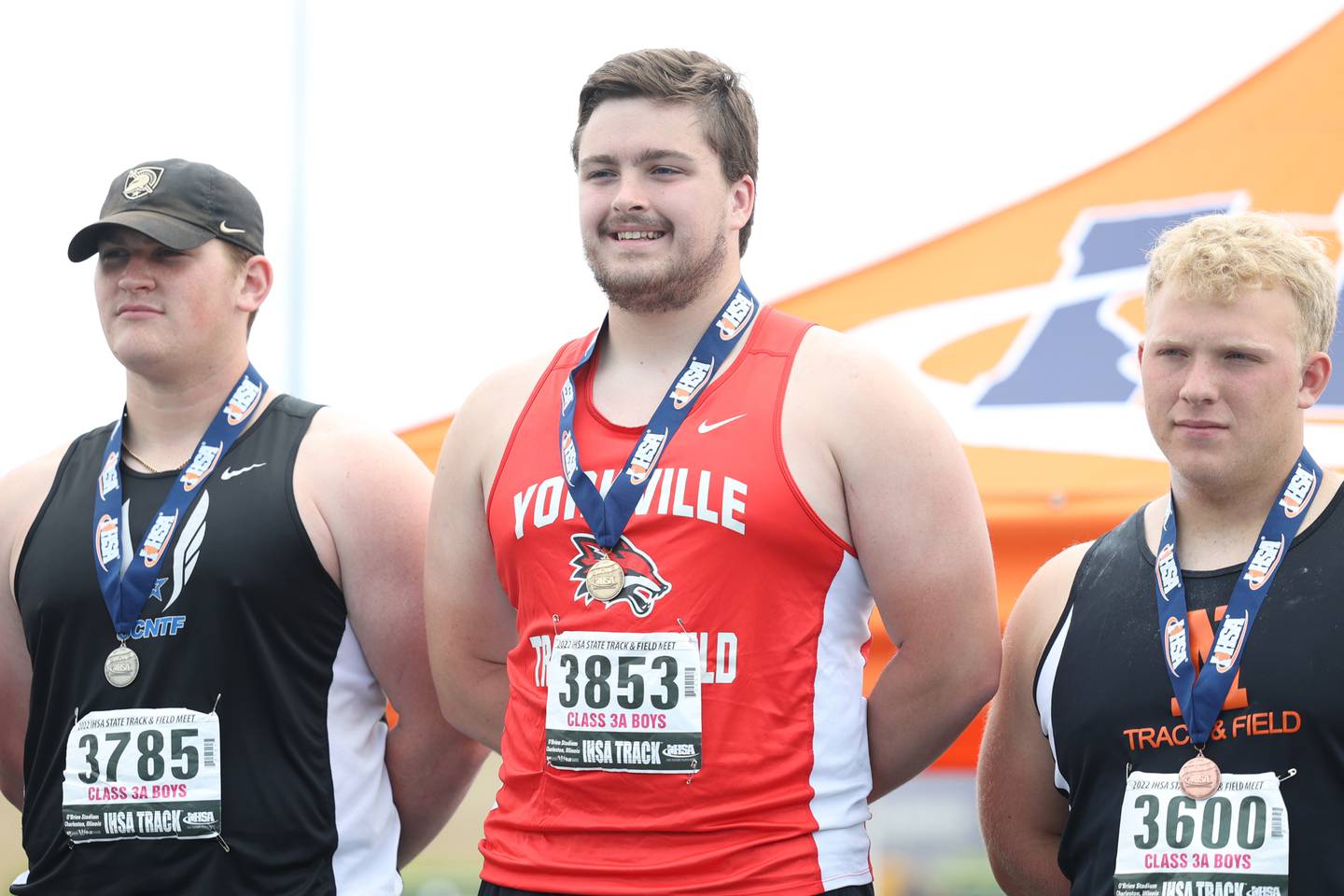 Clabough said he never actually hit the distances that he threw in practice, even at state. It was a source of frustration throughout the season.
Now that he can reflect on it, distance ultimately was put on the back burner behind finish.
"Looking back on it now, I did everything I possibly could," Clabough said. "Looking back, on the bright side, three years undefeated and two-time state champion. I can't be stuck on distance when I got that."
"It's that level of expectation that drives him to be good," Rodewald. "He's constantly focusing on getting better and getting better. At some point you have to say, we just have to go out and win. It's a comparison to the [Chicago Bulls] Last Dance. Those of us that lived the 1998 season, they were not that great. But nobody going is going to remember that season as a whole. Mentally, Kyle just figured out I just have to go out and win, and I don't care how. That kind of competitive spirit is what drives him to be the best he can be and is what will have him competing in the Big Ten."
It was Clabough's freshman year at Yorkville when he realized his potential.
He did shot put in middle school, and was decent. Middle school he started to practice his spin more. He went from throwing 42 feet with the eight-pound shot put to 52 feet with the 12-pound shot as a freshman.
"After the end of my freshman year, I thought this was what I'm going to try to do in college," Clabough said. "It took off from there."
The plan at Wisconsin is for Clabough to redshirt his freshman year, concentrate on lifting and fixing the technical problems he developed this year. He looks forward to getting into a strong strength training and nutrition program at Madison. He may compete in a few meets this summer so as not to go a full year without competing.
"The end goal is I want to hit 65 feet with the college shot," said Clabough, who plans to study business and supply chain management in Madison. "That's my goal. It's doable as long as I keep at it."