BLOOMINGTON – Natasha Markoutsis shook the hand of her opponent and official, had her right arm raised in victory then ran and leaped into the waiting arms of Yorkville wrestling coach Kevin Roth.
"I did it!" the Yorkville senior screamed in delight.
She sure did, and she made history.
With a pin of Collinsville's Taylor Dawson in the 125-pound championship match, Markoutsis became one of 11 champions crowned at the first-ever IHSA-sanctioned girls state wrestling meet.
Markoutsis, third in the IWCOA state tournament as a freshman and second as a junior, won all four of her matches at Grossinger Motors Arena by pin.
"This means the whole world to me," Markoutsis said. "To be here, a state tournament dedicated to just us girls. I don't think it's all settled in for me yet. It'll hit me later, I'm sure, but I'm over the moon about it right now."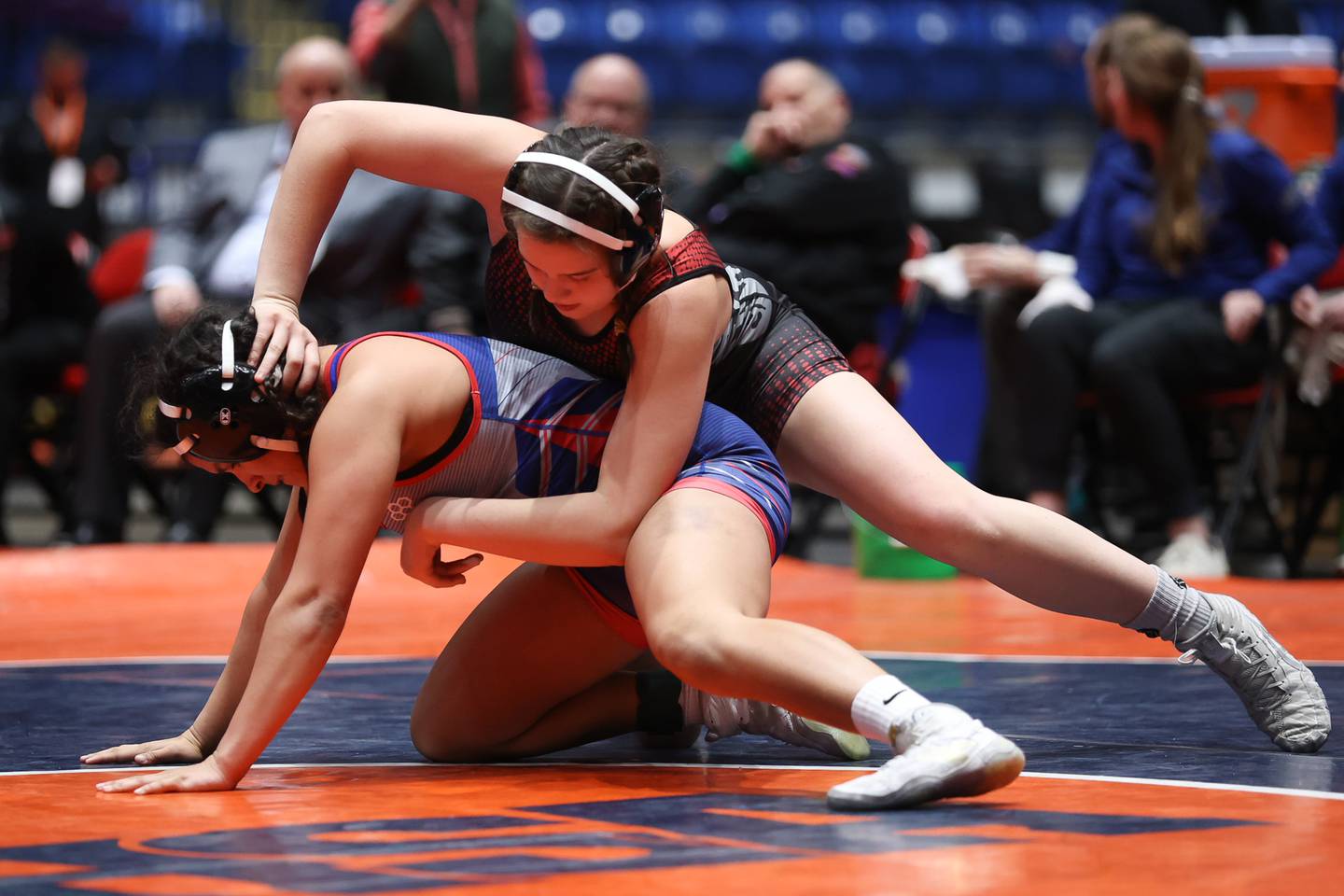 So was Batavia sophomore Sydney Perry, who capped off an undefeated season in dominant fashion in the first championship match of the day at 145 pounds.
Perry (25-0) pinned West Aurora's Dyani Rivera in 5 minutes, 20 seconds, her third pin of the weekend.
The day's championship matches started with the 145-pound weight class, making Perry officially the first girls state wrestling champion.
Perry, whose brother Tyler placed second at boys state a week ago for Marmion, led 6-3 after the first period, but put the match away with a takedown and near fall in the second for an 11-3 edge. She was up 15-4 when she got the pin to finish a perfect 25-0 on the season.
"To be the first girls state champion in history feels good," Perry said. "After seeing my brother last week and doing the same things, the Grand March and everything, it's just cool to be a part of this new sport and to compete at this level. …
"To see so many girls are here, to see how fast this is expanding, it's great to be a part of it all."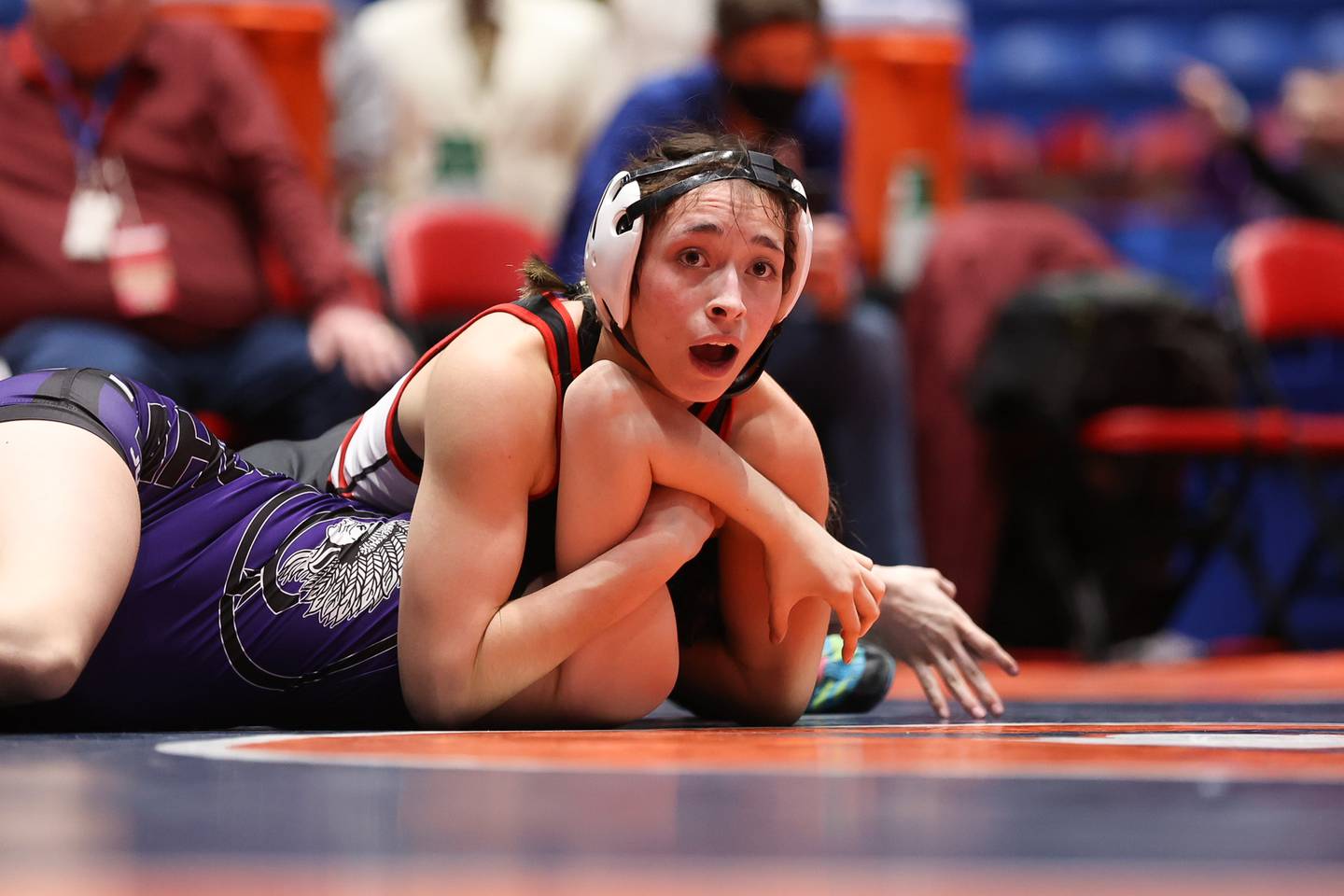 Markoutsis (34-1), whose only loss of the season came to 130-pound state champ Alexis Janiak of Plainfield South, was equally as impressive.
Her championship win came somewhat easily, as Markoutsis jumped to a 5-0 lead early in the second period before Dawson notched a three-point near fall to make it a match again. However, Markoutsis almost immediately got a reversal and led 7-3 when she got the pin at 2:47.
"I knew she was going to go for a cradle, so it went through my head that this is the last match of my senior year and I can't go out like that. I have to turn it around," Markoutsis said. "I just did what I know what to do. … I don't see it often, but know how to defend it, and it's stuck in my head. I was a little nervous, but I stuck to what I knew."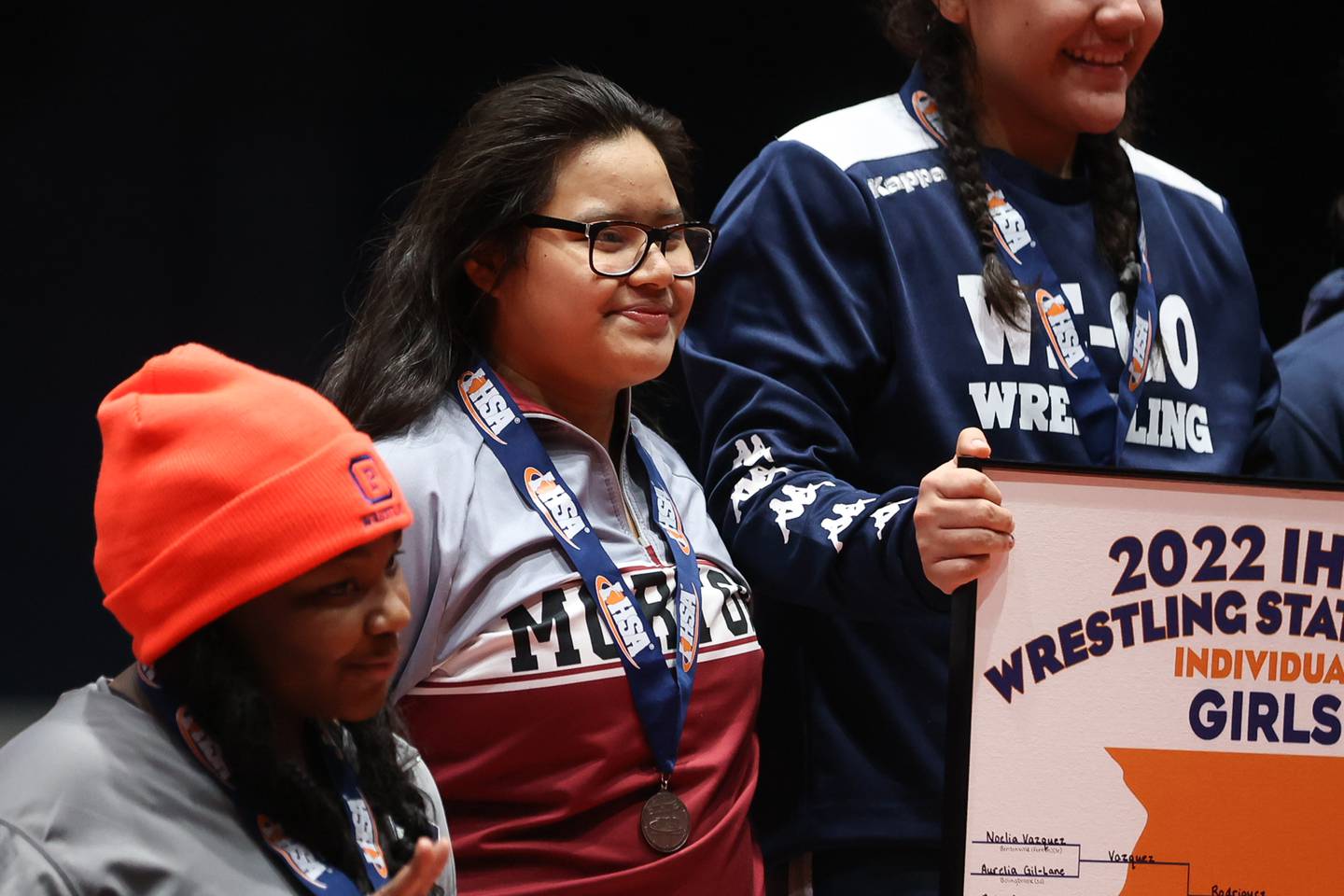 Placing second in the 190-pound class was Morton senior Diana Rodriguez. Against Jayden Huesca-Rodriguez of West Chicago, the Mustangs' standout got into trouble right off the bat, a takedown and back-to-back three-point near falls opening up a 10-0 first-period deficit.
She battled hard and made it through without a fall, losing a 15-2 decision to drop her mark to 18-6 on the year.
"I'm pleased with the medal, but more pleased that I didn't get pinned," she said with a chuckle. "I wasn't sure what to expect from her, but I did expect her to come out fighting. This is the state series, and you have to expect everyone to come out fighting. I just wanted to use every bit of energy I had to leave it all on the mat, and I'm satisfied I did that."
Yorkville sophomore Yami Aguirre (29-4) took fourth in the 115-pound bracket after advancing to the semifinals with two wins Friday.