This is the fifth in a five-part series on the national worker shortage and how it has impacted area businesses, health care facilities and local governments.
Kane County has long had problems attracting workers well before the pandemic.
The county is suffering from a worker shortage, but it may be more related to low wages than anything else.
At the Sept. 22 and Oct. 20 Public Health Committee meetings, Kane County Animal Control administrator Brett Youngsteadt reported the dearth of people applying for open positions.
The animal warden position has been posted for one year, Youngsteadt said at the September meeting.
"And we have received all of about six to seven applicants and part of that is due to salary," Youngsteadt said.
The pay rate for a full-time position is $13 to $14 an hour, and the part-time kennel position is $12 an hour, according to the county's website.
"We are just being crushed," Youngsteadt said. "Same thing for our part-time kennel assistants. We're flipping through really fast. Again, being paid $12 an hour when Chipotle and those places are paying $15 is very difficult for us. … We're just hurting to get positions filled and it is difficult to keep up with this market."
At the October meeting, Youngsteadt reported they interviewed three people, but still had no luck hiring anyone.
"The people we did have apply, with the experience we're looking for, heard the money and did not even come to the interview," Youngsteadt said. "So we are in the similar position where our pay is so low, we just can't bring in the qualified people we need in this county, or even the people we are willing to train, to take this position."
Health Department Interim Executive Director Kathy Fosser said at the October Public Health Committee meeting that they were waiting to fill positions for a public health nurse, a part-time receptionist and an inspector.
"We definitely have a need," Fosser said. "And that's why one of the goals in the strategic plan is to be doing a compensation study plan because we have to change our starting wages because we are not keeping up with the competition. The starting wages are from 2007. So we need to change that."
Board member Michelle Gumz, D-Aurora, echoed those sentiments.
"However, we keep dancing around the hot potato and that is retention. Our salaries are too low. That's the bottom line," Gumz said.
"And we keep talking about this in many different committees. It's over and over and over again. It's a hot potato but it is a big potato," Gumz said. "So retention is something that we really have to figure out. It doesn't grow on a tree. So we've got to figure out where to get it."
Early retirement
Jennifer McMahon, director of human resources for the city of St. Charles, said the city is experiencing a large influx of retirements these days. She said some of those retirements could have been brought on by the pandemic as people reevaluate their life choices.
"When you're talking about a municipality, the services we provide really make modern day society possible," she said. "Here in St. Charles, you have your electricity because of our employees. You have your wastewater taken away. You have clean water to drink. You're in trouble, you dial 911 and somebody shows up. There's no stopping or remote work with our work. We needed to make sure that we were doing our jobs so everybody else could work from home and do their job. It was a very challenging year and I think some people, if they were financially able to retire, they probably did it a little bit early. That is a lot of the impact we're seeing, more longer-term employees exiting the organization as a retiree."
In addition, some of them are leaving their jobs because there are so many positions open in the current job market.
"It is a great labor market, so people are having growth opportunities," McMahon said. "They could advance their career by going to another municipality that has an opening."
The city's turnover rate for full-time employees currently is about 6%, she said. McMahon said the labor shortage is particularly noticeable in certain fields.
"One really key one is wastewater treatment," she said. "If you look at some of the recruitment ads out for many municipalities, many of them are looking for utility managers or wastewater managers. That's an area that people aren't entering. Also building code inspection. That's a very hard area to recruit for along with police officers and firefighters/paramedics."
The city has about 26 part-time and full-time positions open, McMahon said. City staff is working on recruiting young people who want to start a career with St. Charles.
"We're trying to build partnerships with the St. Charles School District and the high schools, as well as colleges and trade schools and the Fox Valley Career Center and get them interested and thinking about municipal work," McMahon said. "And so we've been strategizing on putting together a program that can really reach out to young people and bring them in so we can have more of a longtime solution."
Where have all the employees gone?
At the Geneva Park District, staffing for the 375 children in the Kids Zone after-school program is so dire, Executive Director Sheavoun Lambillotte and Recreation Superintendent Nicole Vickers both take shifts.
"The most pressing area we need help with is before- and after-school care. … We cannot hire for before- and after-school programs," Lambillotte said. "We are detailing full-time staff to work over there. … I am so perplexed. I do not know where all our employees have gone. They were here a year and a half ago."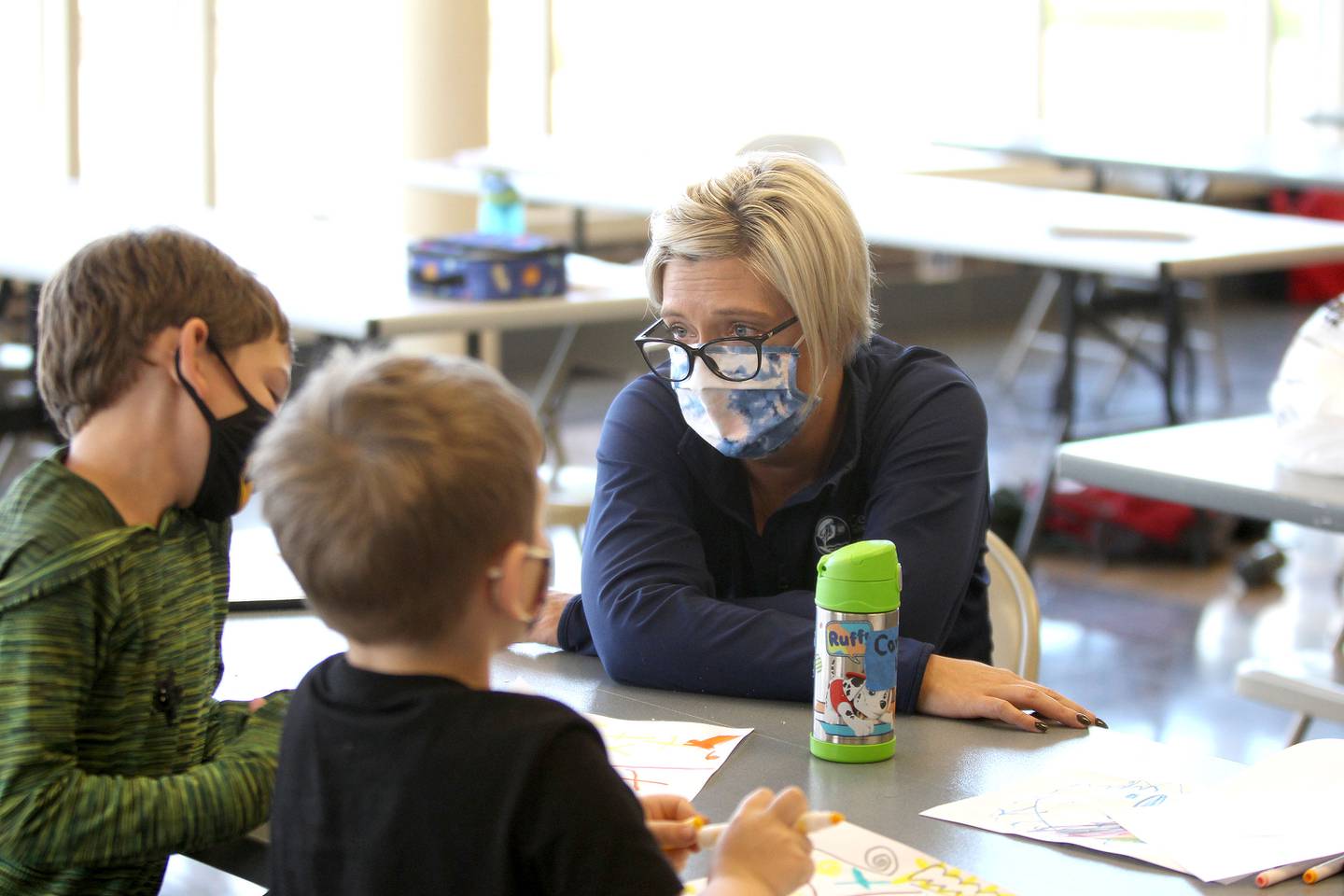 The children in the Kids Zone program are from kindergarten through fifth grade. The shift is from 2 to 6 p.m.
"The parents are still at work and the kids need after-school programs," Lambillotte said.
Geneva High School students can't do the after-school program because they get out 20 minutes after the elementary students' day is over. It's an advantage that the park districts in Batavia and St. Charles have as their high schoolers get out earlier, Lambillotte said.
The district is getting responses for some of its openings, but where it used to get 30 applicants, now it gets five.
"We have not escaped the lack of bodies in the labor pool. We have tried incentives. We increased the wage so we can compete at $15 a hour for a starting salary," Lambillotte said. "We are very competitive."
Volunteer shortage
CASA Kane County, a nonprofit that advocates for abused and neglected children who've been removed from their homes, is facing a shortage of volunteers and needs about 50 more to properly serve local children in need.
In an email, Natalie Bohner, outreach and mission associate, said CASA has seen a "dramatic" rise in abuse cases since the pandemic began.
"For the first time in the history of the organization, CASA is unable to pair a volunteer with each child in the system. CASA staff is working overtime to try to continue to serve each child in need," she said in the email. "CASA Kane County is working hard to spread awareness of its need, from disseminating flyers throughout businesses in Kane County to participating in radio interviews."
No benefits, no drivers
Connie von Keudell, who drives a school bus for Burlington Central District 301, said districts experiencing a bus driver shortage should consider offering benefits such as health insurance.
"The No. 1 question, 'Do you have benefits?' " von Keudell said is what potential bus drivers consider. "A little health insurance would attract more bus drivers."
Another aspect is how drivers are treated, von Keudell said.
"Bus drivers are the red-headed stepchildren of the school district, but 85% of kids – how they get to school – is on a bus," von Keudell said.
As a bus instructor for the Kane County Regional Office of Education, von Keudell said she does both the initial and continuing training for drivers.
"I get a good pulse around Kane," von Keudell said, regarding the work climate for bus drivers.