Local artist Alison Balcanoff is inspired by nature.
Her latest collection of unframed works, "Dappled Light," was specifically inspired by tree canopies.
"During COVID, I was taking these really long bike rides down the Great Western Trail with my kids in tow," Balcanoff said. "Watching the shadows on the path in front of me resonated for some reason. That kind of played out in my work. The shadows from the tree canopies above is just such a beautiful thing found in nature and I've always tried to focus on that experience in my work."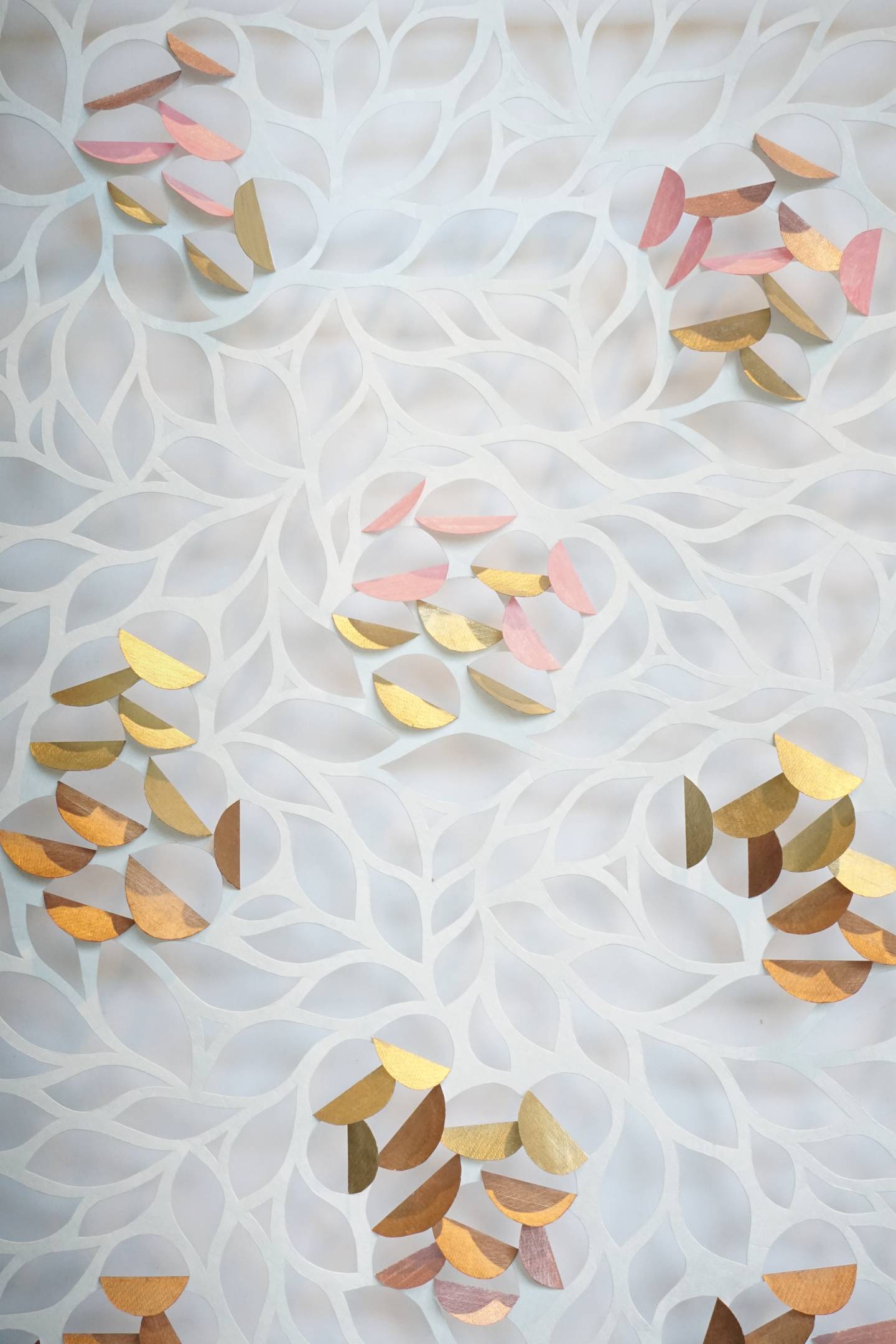 The "Dappled Light" series will be released on Cyber Monday, with special pricing offered to subscribers of Balcanoff's newsletter. Pieces will be available through email via alisonbalcanoff.com or by direct message on Instagram @AlisonBalcanoffArt.
The "Dappled Light" series consists of 12 unframed works measuring 8 1⁄4″ x 12 3⁄4″. Each piece uses oil-based paint and permanent marker on hand-cut Tyvek.
Balcanoff was the first director of the St. Charles Arts Council, a nonprofit organization whose mission is to promote the arts, creativity and culture in our community. She left the position in 2019 to prepare for the birth of her second child.
The pandemic gave her the time to return to her artwork.
"I ended up being home all the time and art was something that I could get back into from home," she said. "And also it was a real outlet for me. It was something that I could do for myself. I'm probably more motivated now at this stage of life than I was fresh out of college. It feels really good to be back at it."
Most of her work is paper based.
"I do a lot of cutting or burning or folding paper," Balcanoff said. "What comes out of it is like a three-dimensional drawing. A lot of it plays with shadows. This series still plays with shadows quite a lot, but it also really celebrates light as well. I'm really inspired by the natural world, natural formations and patterning on a micro and macro scale."
Color also finds its way into her "Dappled Light" series.
"A lot of my work has traditionally been minimal color palette," Balcanoff said. "A lot of it just uses the white of the paper to kind of focus on shadows created by the work. In this series, I'm using color and kind of playing with light and shadow systems found in nature."
Her two children also have influenced her work.
"You are going to look at the world differently when you're a mom and you're out playing with your kids," Balcanoff said. "It kind of opens my eyes anew to the world when I'm looking through their eyes and discovering it the way that they are. I like to think that also plays into my work and my studio practice."
More information is available on Balcanoff's website, alisonbalcanoff.com.