BATAVIA - A couple from Kenya cut a ribbon to become Batavia's first Habitat for Humanity family on Nov. 20.
Janice Owino and George Bikeri cut the ribbon with Habitat board chair Steve McCormick. The ribbon cutting culminated a dedication ceremony attended by Habitat and government officials, volunteers and friends on the driveway of the home at Wilson Street and Independence Drive.
Volunteers, future homeowners and Habitat officials broke ground for the project, Habitat's 68th in the Fox Valley. in October 2020, Rev. Jeff Barrett, Habitat CEO and pastor at Genesis Community Church in Montgomery, emceed the program.
Speakers at the event included McCormick, president of First Centennial Mortgage of Aurora, which contributed $175,000 to the project; Cynthia Kieckhefer, president of Batavia Woman's Club; State Rep. Maura Hirschauer; Jim Cannella, Orange Home Services; and Lisa Farley, Accurate Door.
"We value the work Habitat does in the community by providing housing for people in need," McCormick said in a news release. "Partnering with them is a natural extension for us since we work to help people obtain housing every day."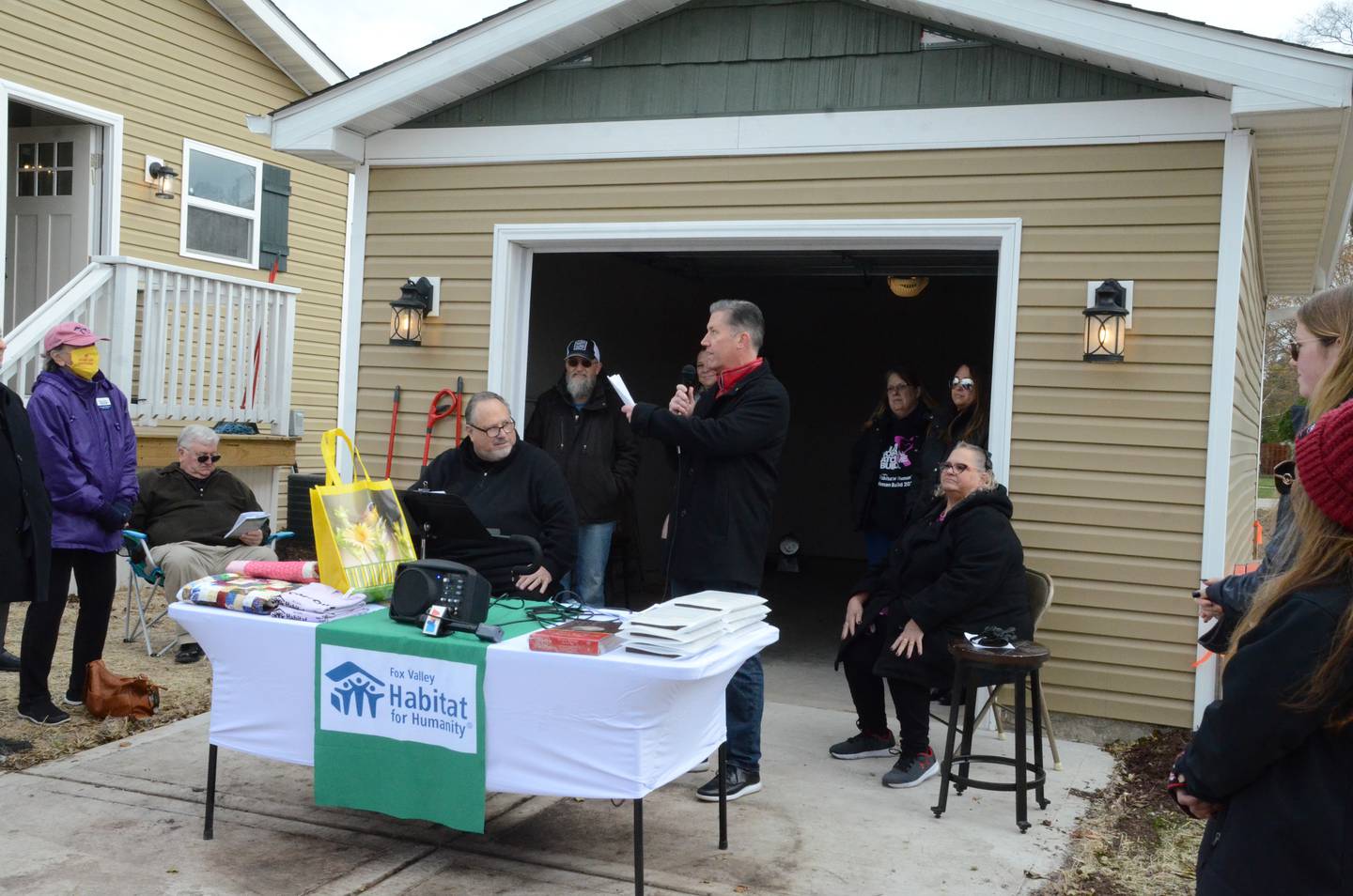 Owino thanked the Fox Valley Habitat for Humanity for its efforts.
"We are forever grateful that you selected and believed in us to become homeowners," Owino said. "We are truly blessed to start our new life and family together in this beautiful home. It's such a happy ending."
Volunteers recognized with individual plaques were Builders' Club members Steve Ferrin, Kevin Hennessy, Dave Hummel, John Lear, Gene Oliphant, Mark Smudde, Bob Whitney and Walter Woods.
Habitat for Humanity International began in 1976 as a grassroots effort. Families and individuals in need of a hand up, partner with Habitat for Humanity to build or improve a place they can call home.
Through financial support, volunteering or adding a voice to support affordable housing, everyone can help families achieve the strength, stability, and self-reliance families need to build better lives for themselves.
For more information, call 630-206-5038 or go to foxvalleyhabitat.org.