Editor's note: This is the second in a five-part series on the national worker shortage and how it has impacted area businesses, health care facilities and local governments.
The hospitality industry arguably took the biggest immediate hit for workers when the COVID-19 pandemic struck as many eateries were closed by Gov. JB Pritzker's order to shut down indoor dining across the state.
Indoor capacity at local retail and grocery stores were limited for months.
In the wake of the shutdown, many employees lost their jobs. Many still have not returned once restaurants and retail began to fully reopen.
Michael Anastasio, owner of Fiora's in Geneva, said his restaurant is feeling the negative effects of the labor shortage. While the restaurant used to be open for lunch and dinner five days a week before the pandemic, it's now down to four nights a week just for dinner.
Even though wages have increased by 30% to 60%, that has not solved the problem, Anastasio said.
"Because there's not enough workers, we cannot get more workers. And the workers we do have, work more – but not a lot more," Anastasio said. "The restaurant business – even before COVID – ran on pretty narrow margins. Not having enough staff to bring in a lot of people is a challenging economic prospect. I don't blame some of the workers for not coming in. They do not want to face the risks of COVID right now or the uncertainties and decide to leave the business. But God bless the ones coming in."
The other challenge is increased food costs, but menu prices don't always reflect that, he said.
"It takes a while for those prices to change and the consumer expects a relatively competitive price," Anastasio said. "That's what I've heard from other restaurants and at our restaurant. What I'm hearing is true."
Michael Olesen, owner of Stockholm's Restaurant & Brewery, said he retained his serving staff during the pandemic, but now could use some help in the kitchen.
Lindsey De Los Santos, co-owner of Sergio's Cantina, said her business rebounded after the shutdown, but is still struggling with not having enough staff.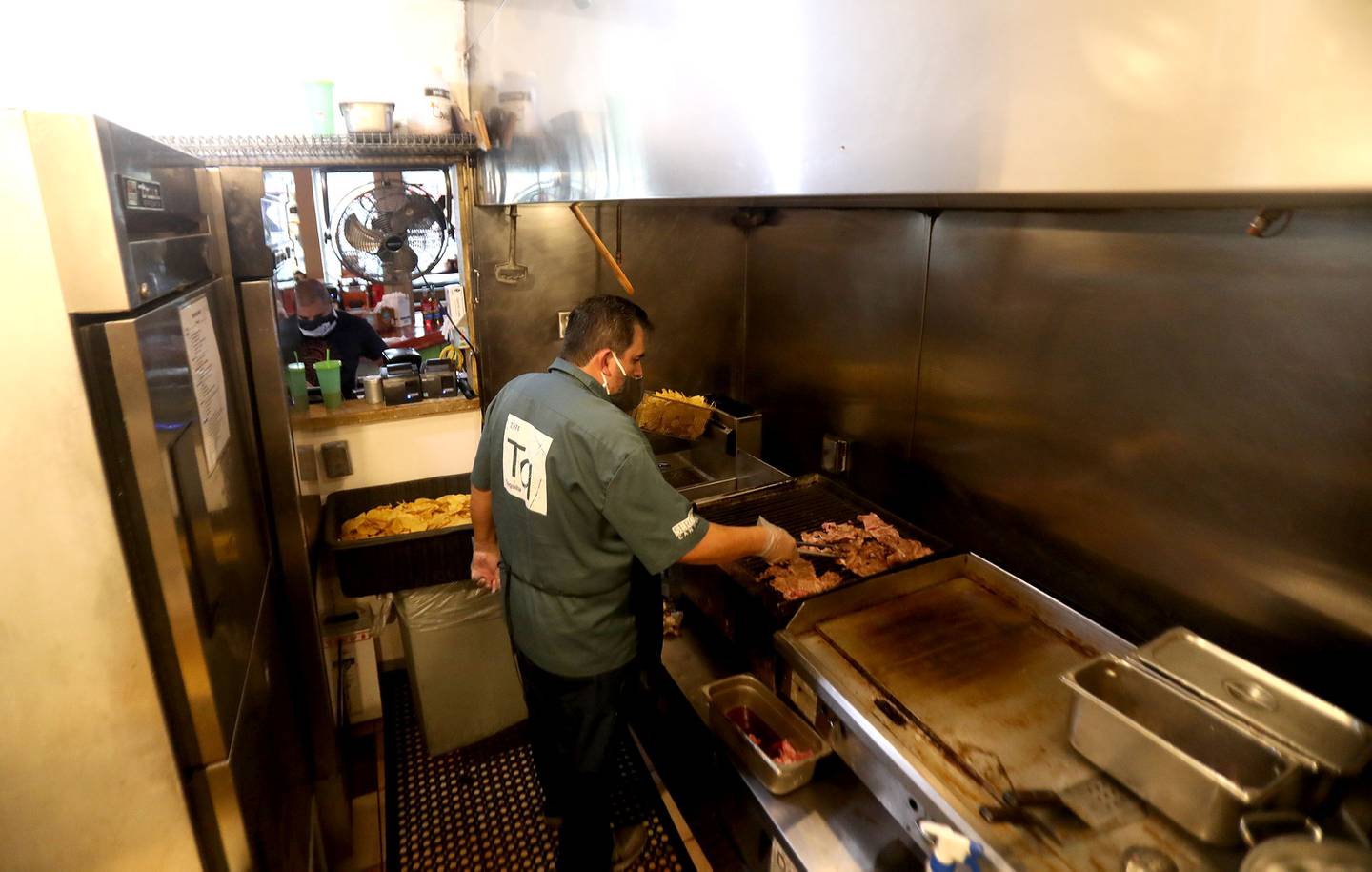 Sergio's is closed on Sundays now, and then randomly closed a few nights a week because of a lack of staff, she said.
"We are having a heck of a time finding cooks and servers," De Los Santos said. "We have only two servers when normally we have six. We are down to one cook and Sergio (her husband) is in the kitchen cooking. It's been pretty rough. The staff that we have are spread pretty thin, but I think customers ... are aware and understanding. Some are patient and some are not aware of the shortage right now."
Fewer workers, fewer hours
Margaret Perreault, president and CEO of the Batavia Chamber of Commerce, said she believes retail stores and restaurants were the hardest hit during the pandemic.
"Following the lockdown and once capacity restrictions were lifted, we were hopeful that we would see employees return to their previous positions [in the hospitality industry]," she said in an email. "But that has not happened. Workers in this market are taking the opportunity to look for a better job. Restaurants and retailers are getting by with fewer workers, longer waits and reduced service. Service is being greatly impacted. Sadly, customers are commenting online about a decline in quality, customer service and the attitude of the wait staff at some locations."
Restaurants adjusted hours to accommodate for the lack of staff, which business owners say negatively affects their bottom line, Perreault said.
"Taco Bell has a sign on their restaurant saying their hours may be unpredictable because they are at the mercy of their employees," she said. "Workers are being reserved for the more profitable dinner shift. They have had to close for lunch or turn away dinner parties and events that would be lucrative, but they do not have the employees to cover them. Restaurants and retailers have razor-thin margins, so this situation is a critical issue to resolve."
Changing practices to attract more workers
The owners of The Graceful Ordinary restaurant, which recently opened along the Fox River in downtown St. Charles, put new practices in place aimed at attracting more workers. Chris Curren, a noted Chicago chef, is the restaurant's executive chef/owner and his wife, Megan, serves as the restaurant's event sales manager. The couple live in Hampshire.
"It's definitely been more difficult than it has been in the past," Megan Curren said. "COVID changed a lot of things, this being one of them."
Some of the restaurant's new practices Curren believes are overdue in the restaurant industry.
"We're trying to address some of those issues that have always been there," she said. "We feel now is the time to kind of reevaluate and figure out new ways to do things and start the change in the industry."
For one, the couple has decided it will close the restaurant on some major holidays.
"We've both worked in restaurants where we've been open on major holidays and we've worked in restaurants that have been closed on major holidays," Chris Curren said. "And I think it just comes down to the individual restaurant. There are some that are very successful doing holidays and being open for those days and there are some that might not be as busy on those days. For us, it's important that we be with our families on holidays and we want our staff to have the same opportunity."
The couple also is working with an outside company to provide team members with assistance in finding mental health support services and recognizing the signs of mental health issues both in themselves and others.
"It's something that our industry has slowly started to recognize as an issue," Megan Curren said. "If anything, the pandemic has exacerbated it. There's always been an issue with mental health and substance abuse within the restaurant and bar industry. With the long hours that you work and the intense environment, there are a lot of people who turn to not so healthy ways of releasing that stress."
Buy it now or it may be gone
The worker shortage also is hitting retailers and everything connected to retail.
Ask Michael Simon, owner of The Little Traveler, 404 S. Third St., Geneva.
"Every business I know in every part of the market is dramatically impacted by supply chain issues right now, including Little Traveler," Simon said in an email. "We are telling people who are shopping to get their holiday gifts now when they see something they like, since there's a good chance we won't have that item when they come back later looking for it. That's pretty much the mantra for everyone I know in retail right now."
Things delaying deliveries are myriad, including backups at ports, a shortage of truck drivers to deliver goods and a shortage of raw materials for parts.
"One example is one of our suppliers of jams and jellies, made domestically, was delayed in delivering for several weeks because the metal lids for their jars are made abroad and they weren't getting them in on a timely basis," Simon's email said. "I need to have a repair done to my car. The body shop gave me an estimate, and I asked when they'll have them part it. The guy said, 'It may be tomorrow, it may be two months from now. I never know nowadays.'"
Tired of being the 'mask police'
Through no fault of his own, Simon lost a longtime employee, Janice Loran, who will not return to work.
Loran, 62, a Sugar Grove resident, had worked part time at The Little Traveler for years. Now, she left and will not go back.
The reasons?
For one, she was tired of being the "mask police" at the store for people who did not want to observe the statewide indoor mask mandate.
Another reason was that though she and her family were fully vaccinated, she got a breakthrough COVID-19 infection at the end of August and she spread it to a family member. She didn't get gravely ill, but she said she worried about catching another breakthrough infection.
"Moving forward for this winter, staying healthy and protecting myself and everyone around me – I thought the best way to do this is limit my exposure to the general public," Loran said. "When you work in retail, you are exposed to a lot of people."
And in her experience, sometimes the public does not want to respect the mask mandate, she said.
"They come into the store, no mask, they don't use sanitizer. They go throughout the store, touching merchandise," Loran said. "It was how crazy people were, being incredibly rude and the things they said to us. … I experienced people being very nasty."
Loran said the vast majority of shoppers thanked them and also were outraged at some people who were rude to employees. She said she chose not to go back to work so she could stay healthy.
Loran added she was lucky to be in a position where working at the store was not her only income.
"A lot of people – this is their only job, their livelihood," Loran said. "I was lucky I could do this."