Elburn Village President Jeff Walter's message to people attending a rally Sunday was that residents and businesses should be deciding how best to deal with the continuing COVID-19 pandemic, not state government.
"I think it was last spring when the governor's original executive order expired – the one that legally he can only have for 90 days – we told him, 'Thanks, but no thanks. Our folks are going to do what they need to do for themselves and their families,' " Walter told the audience.
He told those in attendance at the rally to "stop being the silent majority and start being the vocal majority."
Kane County has now seen 66,333 total cases of the virus and 853 people have died, according to the Illinois Department of Public Health. Those are the most current numbers.
The rally Sunday was held at the Evergreen Valley Farm in Campton Hills owned by Neal and Tracy Anderson. Neal Anderson owns Luau Coffee in Campton Hills.
After Pritzker last year approved an order requiring businesses, schools and day care facilities to make "reasonable efforts" to ensure that patrons and employees wear face coverings when they cannot maintain a six-foot distance from others, Luau Coffee initiated a no-mask policy. Hand-written signs posted on the front and back of the business had stated: "Notice – This is a mask-free environment. Enter at your own risk."
"I talk to people every day at the coffee shop," Anderson said Sunday. "There's way more people out there like us than people realize. Just keep talking to people … People are so tired of what's going on. So don't be afraid to talk to people and remind them about their freedom."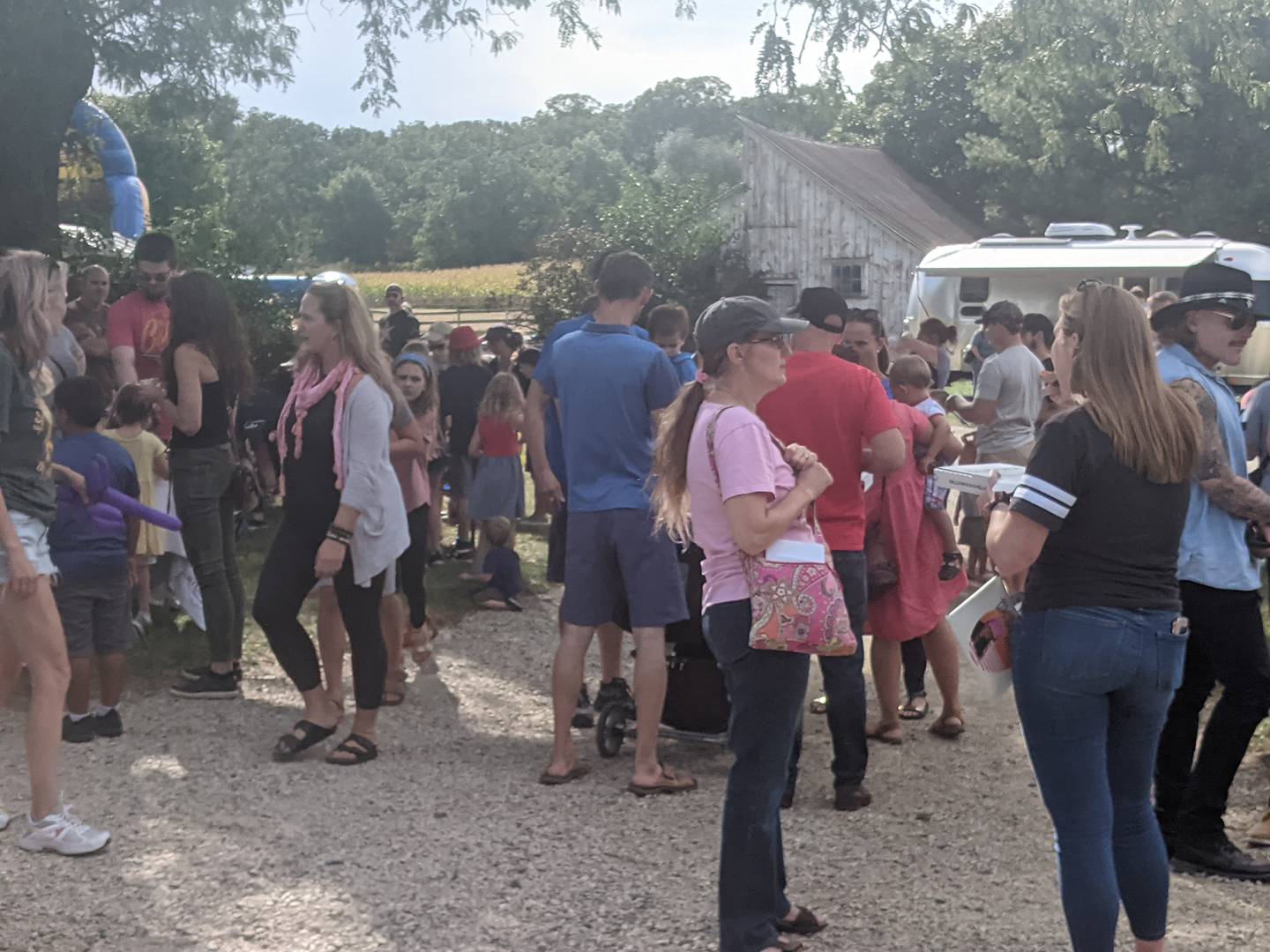 The rally included several speakers, including David Foss, a chiropractor who owns Elburn-based Vital Wellness Center.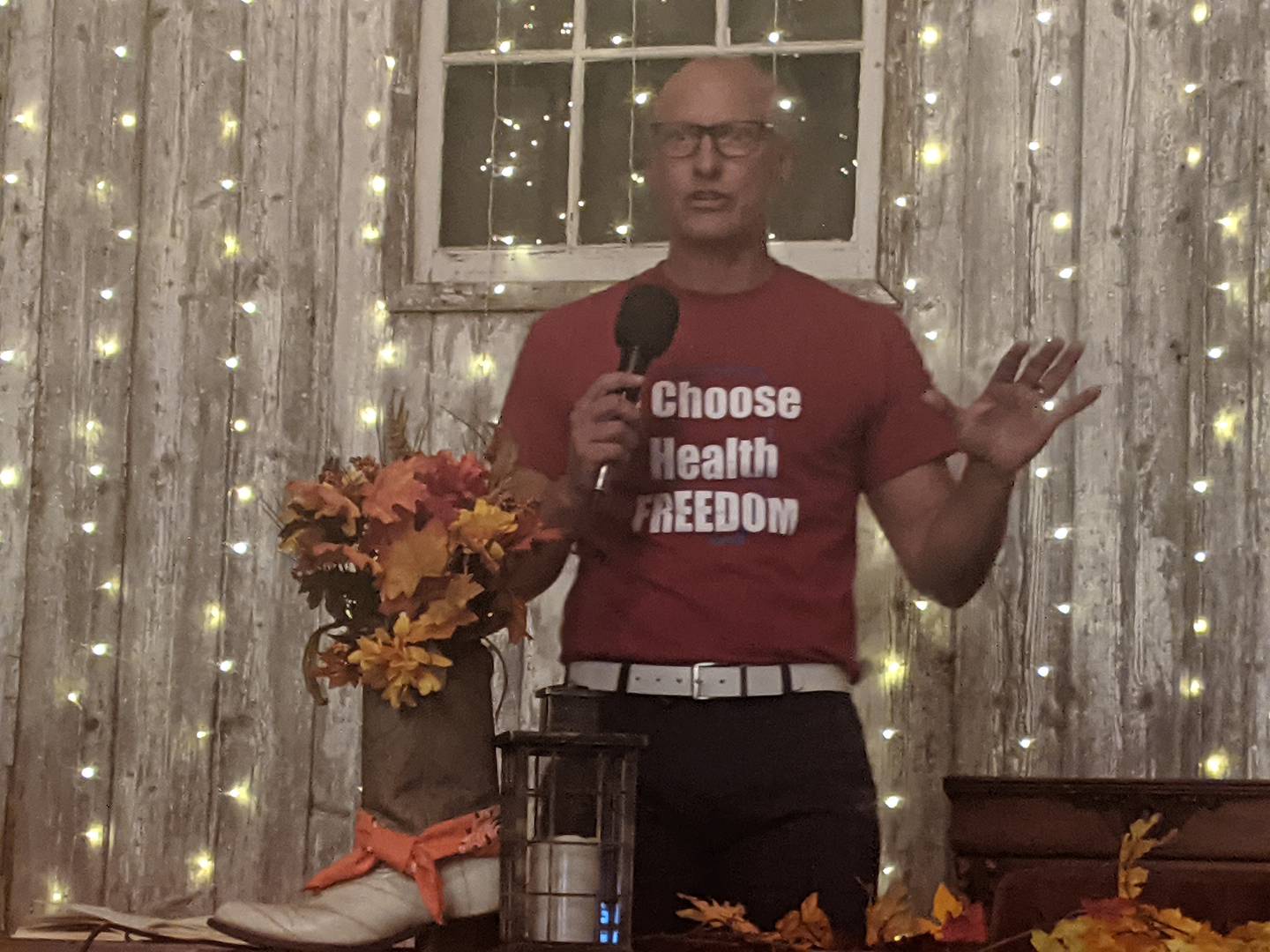 Foss told the crowd to "just say no" to the measures that have been put in place to slow the spread of COVID-19, such as masks.
"We say 'no' when we go into the store, we say 'no' when we go to the doctor, we just say 'no,' " Foss said. 'We say 'no' to our boss. Because here's the thing. Your boss, your teachers and your doctors don't own you. They don't control your body. You just say 'no.' You don't comply."
Foss said he knows the impact that COVID-19 has had on the world.
"It's real," he said. "It's a virus and there are a lot of people that are affected. It has caused deaths."
But he said he thinks there has been too much focus on the virus and not enough on what people can do to get and stay healthy, such as eating well.
Republican Niki Conforti, who is running for Congress in the 6th District, also spoke at the rally.
"How many of you feel that the country is going in the wrong direction?" she asked the crowd. "How many of you feel that our communities are less safe today than they were a year ago?"
Conforti told those in the crowd that she was "concerned for our kids and our grandkids. I want them to have the same liberties and freedoms that we have enjoyed. And right now, I'm not so sure."