Kelly Miller's sign caught the attention of drivers crossing the Main Street bridge in St. Charles Sunday afternoon.
"Milk bones not bullets. Justice for Ludwig," the sign read.
Miller was one of about 65 people participating in a Justice for Ludwig vigil along the bridge. The vigil was organized after Kane County State's Attorney Jamie Mosser announced this past week that no criminal charges will be filed against the man who shot his neighbor's dog in Wayne last month.
Hal Phipps, husband of Wayne Village President Eileen Phipps, shot Joe Petit's dog, Ludwig, on Aug. 10, officials said. The two are neighbors on Pearson Drive in Wayne.
Phipps said the dog was behaving aggressively towards him on his property while Petit said Ludwig and Philotimo were chasing sticks in the river when he was shot, according to officials.
Miller said she can't imagine Ludwig being aggressive.
"My mother actually used to work for Joe Petit and she worked in his home for his company," said Miller, of DeKalb. "And so she was spending every day with Ludwig and Philo. So she knew the dog very well. When she found out about it, she was absolutely heartbroken. I had met the dogs once or twice and I've never met sweeter dogs in my life. So it was just heart wrenching. I can't believe something like this could happen to a dog as wonderful as Ludwig."
Miller's mother, Terri Barnett, worked for Petit's company, Petit Brothers Sealcoating and Asphalt Repair, last summer. She was his office manager.
"His dogs were my co-workers," Barnett said. "Ludwig was a sweet dog. I never saw him snarl or growl at anybody."
She is upset that no charges were filed against Hal Phipps.
"Those dogs loved to play in the river," Barnett said. "I was there five to six days a week. I was with those dogs a lot."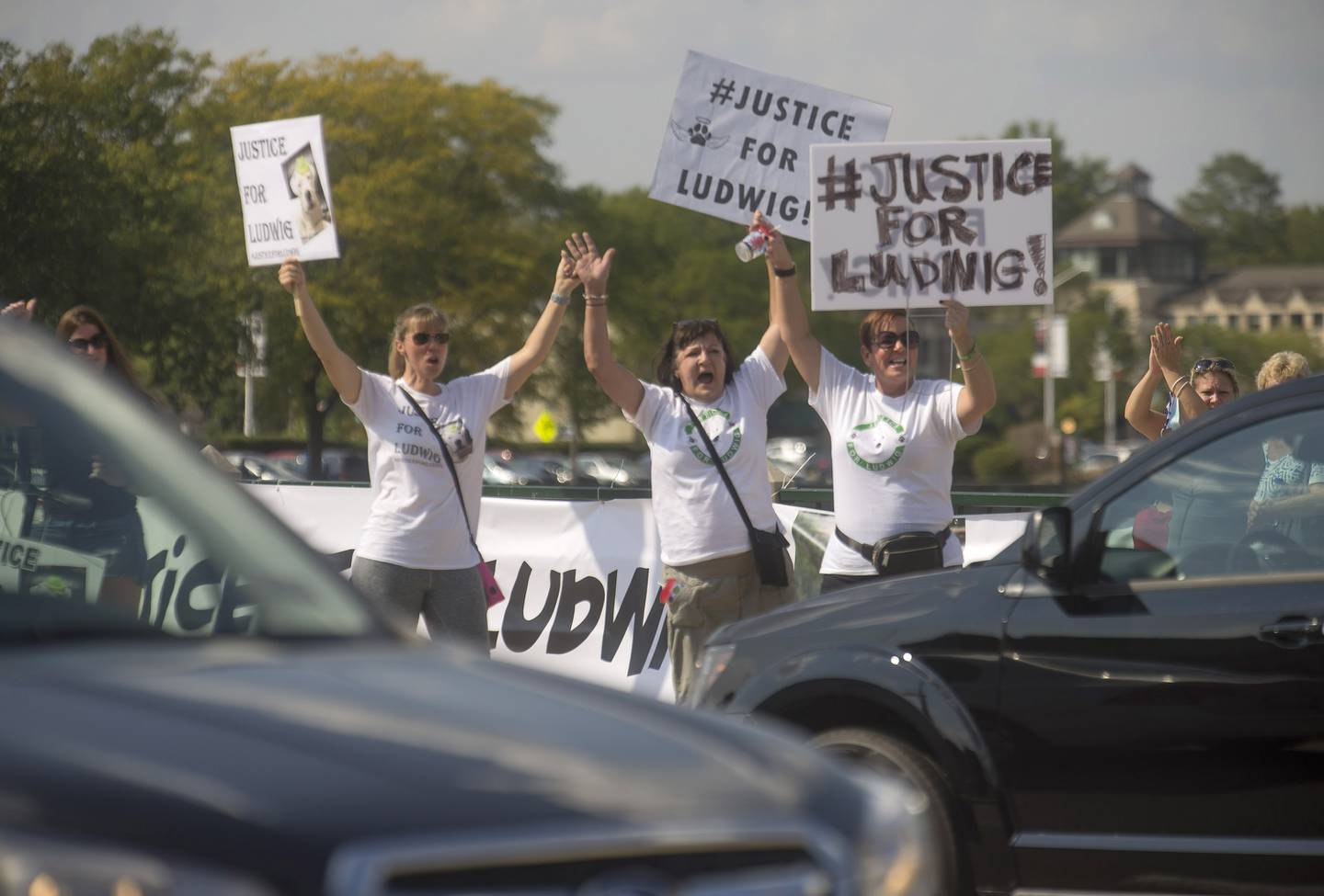 During a news conference on Sept. 15, Mosser and Kane County Sheriff Ron Hain detailed the investigation and how the evidence showed no charges were justified.
"He shot Ludwig out of fear for his life," Mosser said of Hal Phipps, who lives next door to Joe Petit, owner of Ludwig and a second dog, Philotimo, on Pearson Drive. Their backyards face the Fox River.
Mosser said their decision had nothing to do with politics, Eileen Phipps' position in Wayne, nor on the Justice for Ludwig movement, but only on the facts of the evidence.
"I can only decide a case based on the law and the facts that are before me," Mosser said. "I have to do so in a fair and ethical way. And the facts and the relevant law in this case show that I cannot charge Mr. Phipps as a result of the shooting."
Hal Phipps has a valid FOID card and is legally allowed to carry it on his own property, Hain said.
The video evidence of Petit's own home surveillance shows that both dogs went onto Phipps' property. The dogs had attacked Phipps one month earlier, Hain said, so Phipps began carrying a loaded .38 handgun while doing yard work out of fear of Petit's dogs.
"Hal Phipps was doing yard work close to the river on his property when two of his neighbors' dogs – one being the same one that allegedly attacked him approximately one month earlier – came onto his property and were approaching him aggressively and growling at him from what he estimated was 10 feet away," Hain said. "The dog was also blocking his pathway from the edge of Mr. Phipps' property back to his house."
St. Charles resident Cyndi Freed-Hayes was one of the organizers of Sunday's vigil. Freed-Hayes said she is surprised that Hal Phipps is not facing any charges.
"Even though things didn't go the way we would have liked them to, we're still standing behind Joe and his family," Freed-Hayes said. "We want to let him know that the community is still behind him."
Freed-Hayes said that Ludwig was unjustly shot.
"We don't feel like anybody should have that right," she said.
She owns two rescue dogs.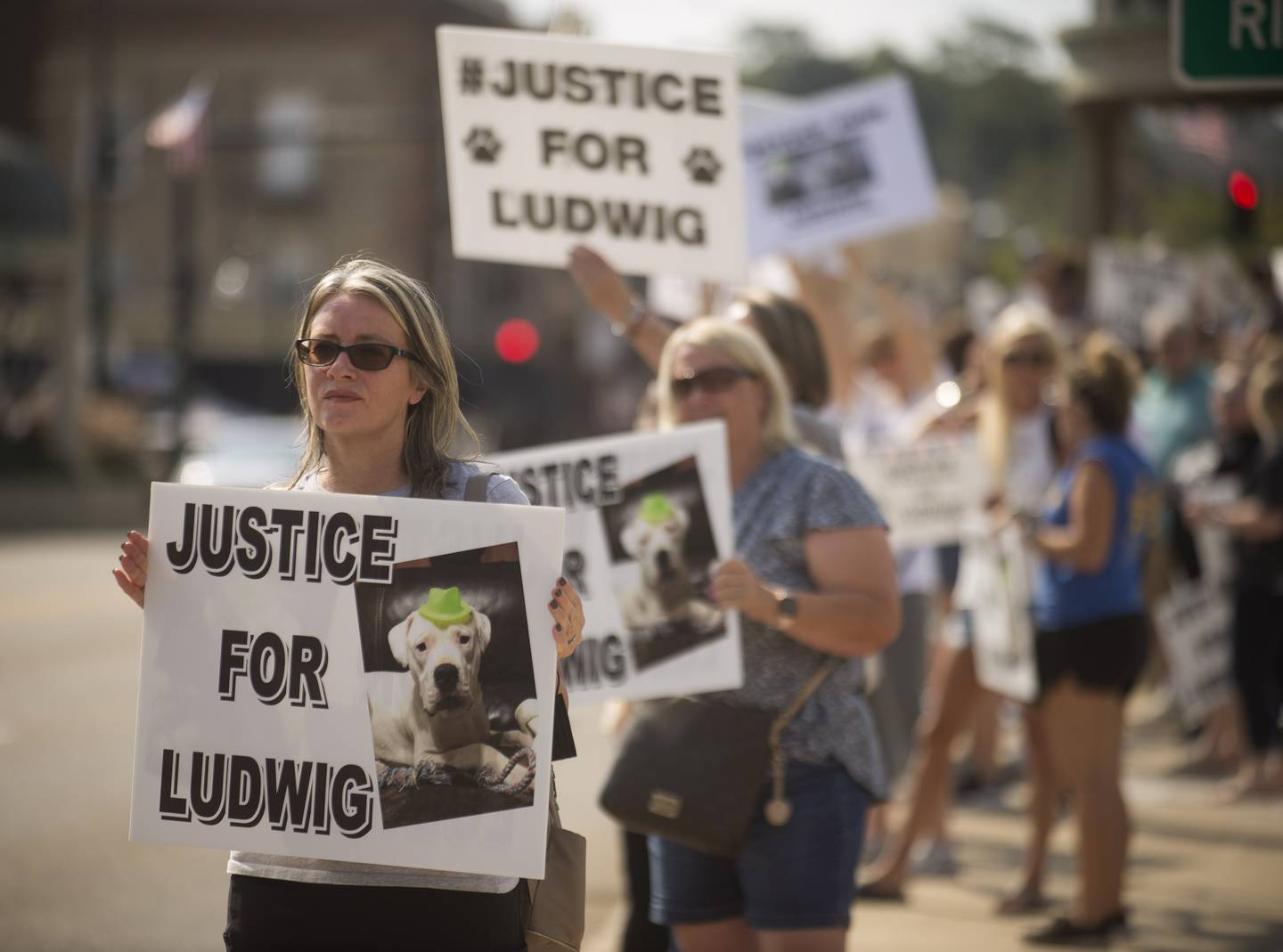 Rachelle Stasiak-Best of Kingston has been making and selling Justice for Ludwig car decals and yard signs. All the funds being raised go to Petit.
"Watching the video, I could see absolutely no vicious intent of the dog," she said. "I saw no reason for the dog to be shot and I love animals. I've got four dogs, four cats and four kids."
Petit, who attended the vigil, said he was happy to see the support.
"I'm grateful," he said. "I'm totally appreciative. I bless them all."
He was taken aback by the news there would be no charges filed against Hal Phipps and was disappointed by what Mosser said during the press conference. Petit would not comment on whether he plans to take any legal action.
"Ludwig should not have died, absolutely not," Petit said.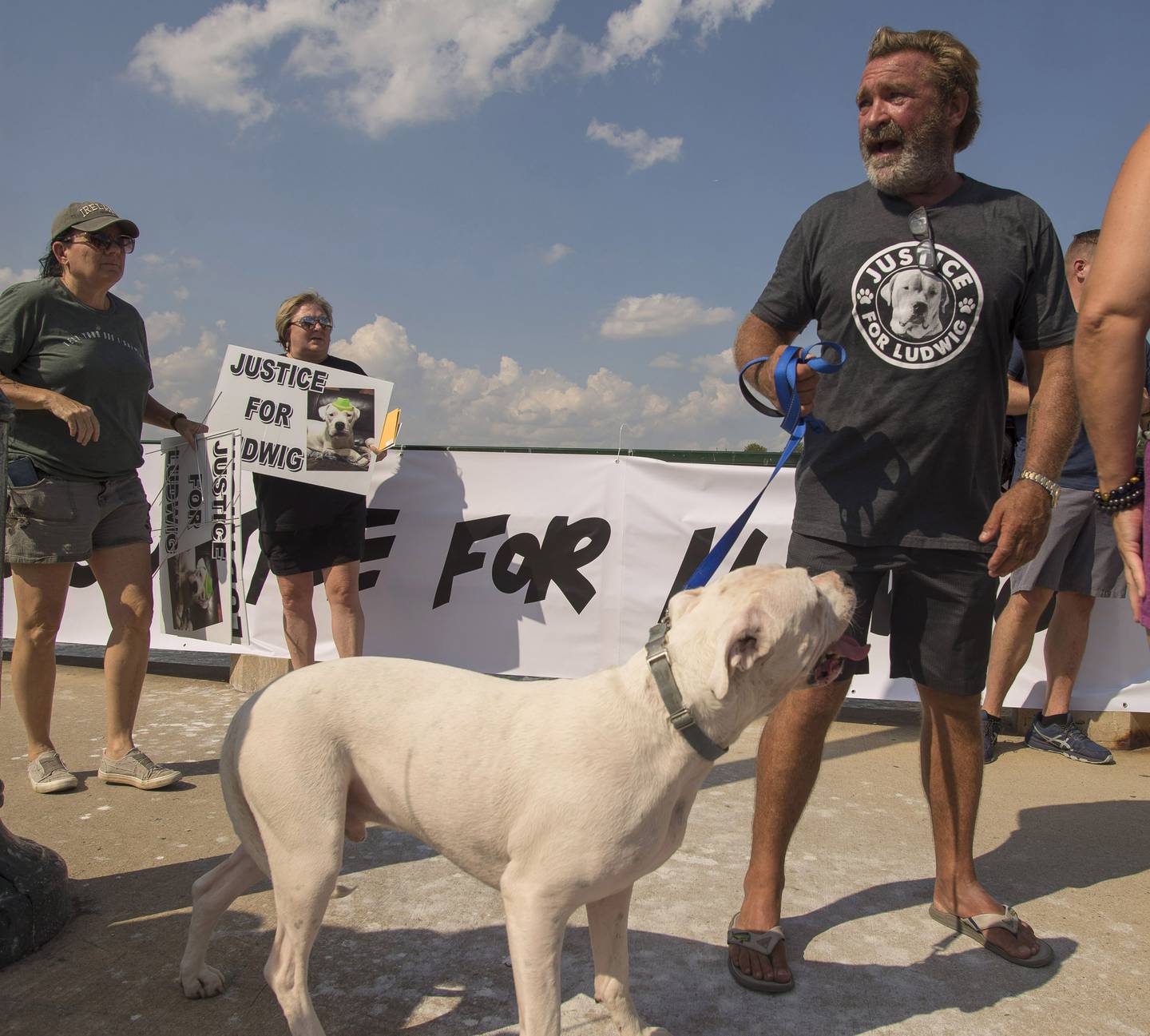 Petit said he is worried about Philotimo, who was Ludwig's littermate.
"He's having a hard time coping," he said. "They've never been apart."