AURORA – Abortion rights providers and legislators met in front of Planned Parenthood Aurora Health Center Tuesday morning to criticize the new Texas law that bans abortions after six weeks and to promote a federal law that would affirm abortion rights.
Gov. JB Pritzker, U.S. Reps. Bill Foster, D-Naperville, Lauren Underwood, D-Naperville and Raja Krishnamoorthi, D-Schaumburg, flanked by Planned Parenthood Illinois CEO Jennifer Welch and Clementina Gomez, the health center manager of the Aurora facility, also praised Illinois as a safe-haven for women's reproductive rights.
But they also noted that two days after the Texas Senate Bill 8 was passed, women from Texas came to the Aurora clinic for abortions.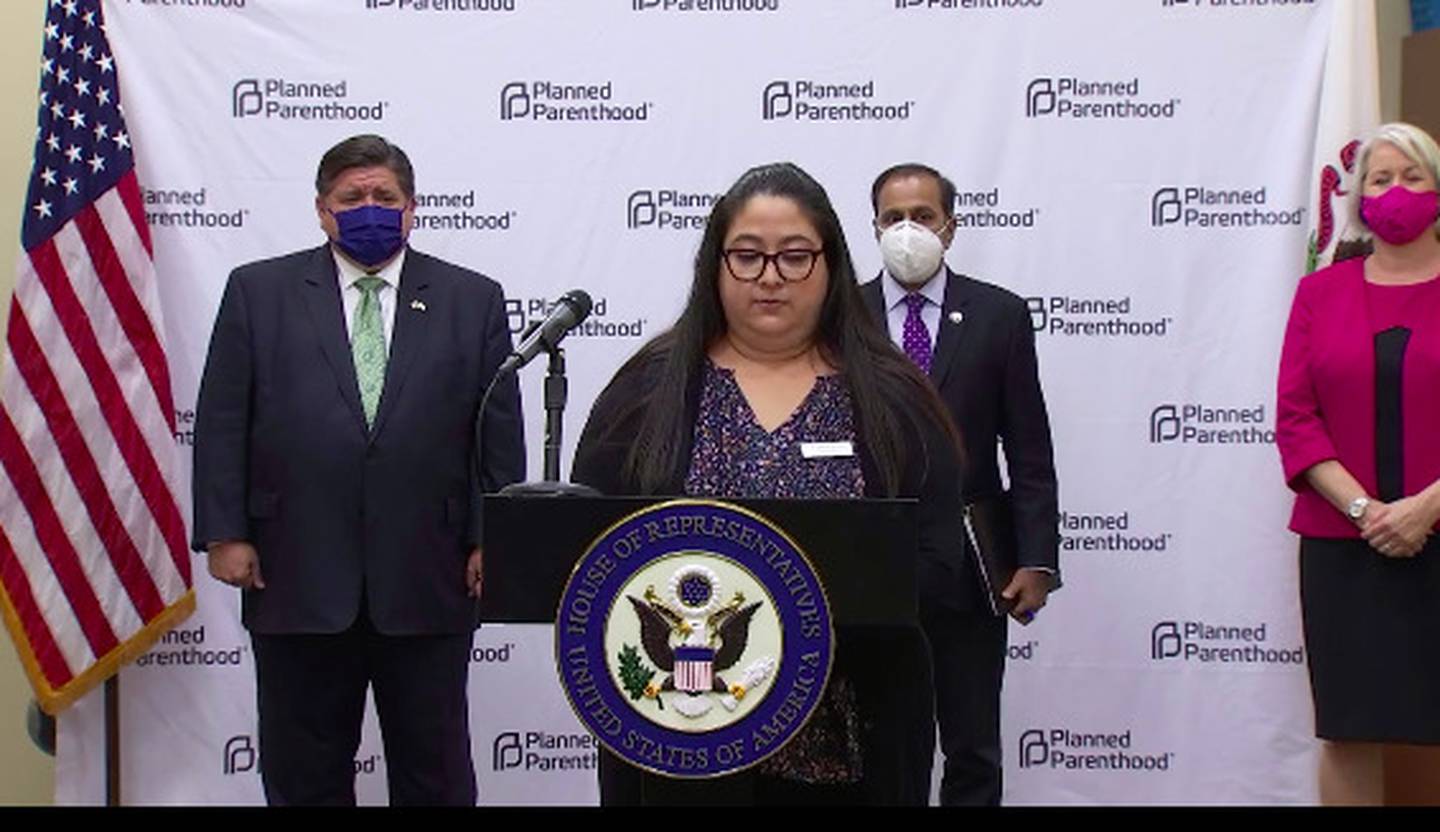 "In Aurora, we routinely have patients who travel from Indiana, Wisconsin – both of which have mandatory waiting periods or force patients to attend two appointments when most abortion procedures only require one," Gomez said. "Patients … have been forced to travel long distances because the states where they live have enacted medically unnecessary barriers to abortion care."
Welch said the Texas law is unconstitutional, and that banning abortions after six weeks "is earlier than most people know they're even pregnant."
The law allows anyone who helps a woman get an abortion to be sued, Welch said.
"A neighbor, an abusive ex, a partner, a stranger, anyone in the state … can collect $10,000 for reporting the helper," Welch said. "This sweeping Texas law sets a legal precedent, creating a new path for our neighbor states to enact extreme abortion bans, too."
And because the U.S. Supreme Court let the Texas law stand, Welch said they were expecting similar laws to be passed in other states across the country.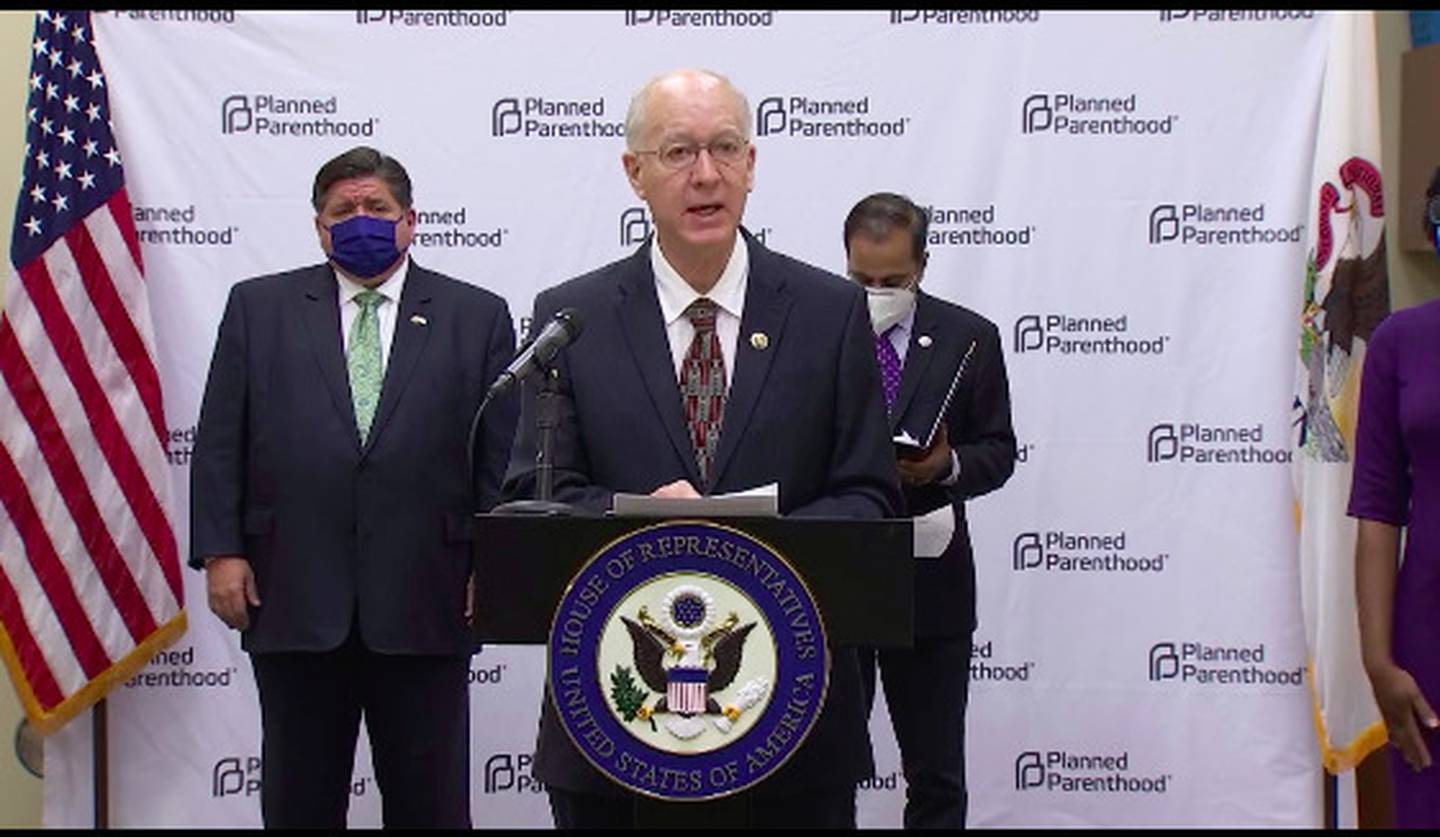 "When laws target abortion providers like Planned Parenthood, it decreases access to other essential and life-saving care, such as cancer screenings, (sexually transmitted infections) testing and treatment, gender affirming hormone therapy and other essential reproductive and sexual health care," Welch said.
In 2019, when the governor signed the state's Reproductive Health Act into law, it reinforced that abortion would remain legal in Illinois, even if Roe v. Wade is dismantled or overturned, Welch said.
The right to access care
Pritzker said no one should have to cross state lines to see a doctor and called the Texas law one of "the latest extremist attacks on reproductive health."
"We stand together today because the dystopian reality that we feared in 2019 is closer to reality today," Pritzker said. "In Illinois, we want our residents to have the right to access basic health care, family planning and the freedom to make their own choices."
Pritzker and the lawmakers all promoted Women's Health Protection Act, now being considered in the House, which would protect women's reproductive rights.
"The most important thing about abortion – if you need one, if you want one – you shouldn't have to turn to horrific obstructive or expensive methods to get it, period," Pritzker said. "I will fight to my last breath to keep this recent Texas abomination from infecting our state."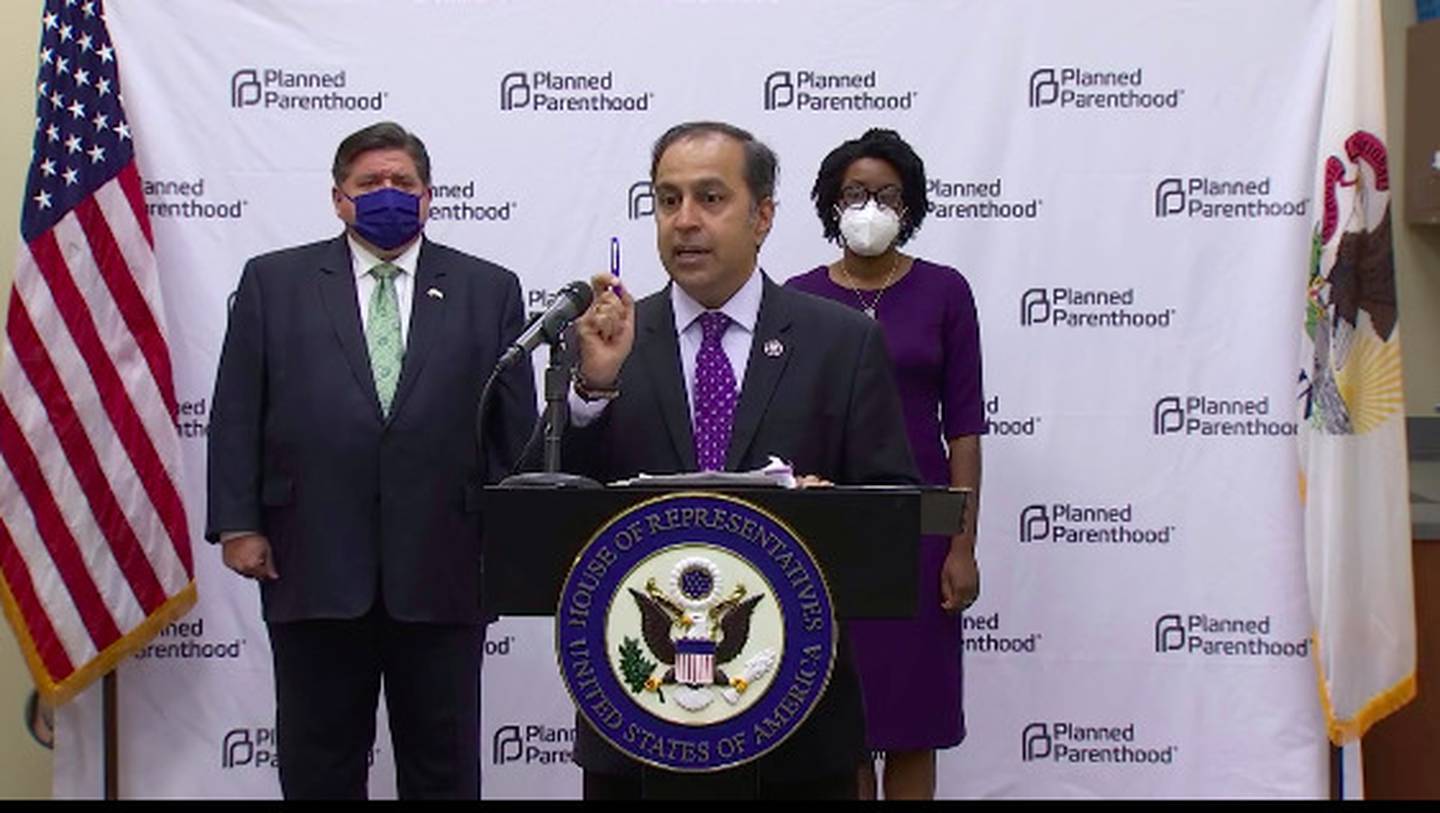 Foster said abortion providers risk their lives to continue providing care – even in the face of coordinated attacks on Planned Parenthood, as happened in 2015. The Aurora facility had an arson attack that year, he said.
Foster said he wanted to make clear that, the "Illinois Democratic leadership will always protect your reproductive freedoms from politicians who want to control it whether they are in Springfield or Washington D.C."
Foster said the Planned Parenthood facility in Aurora also provides breast cancer screenings, comprehensive sex education, Telehealth services and contraception.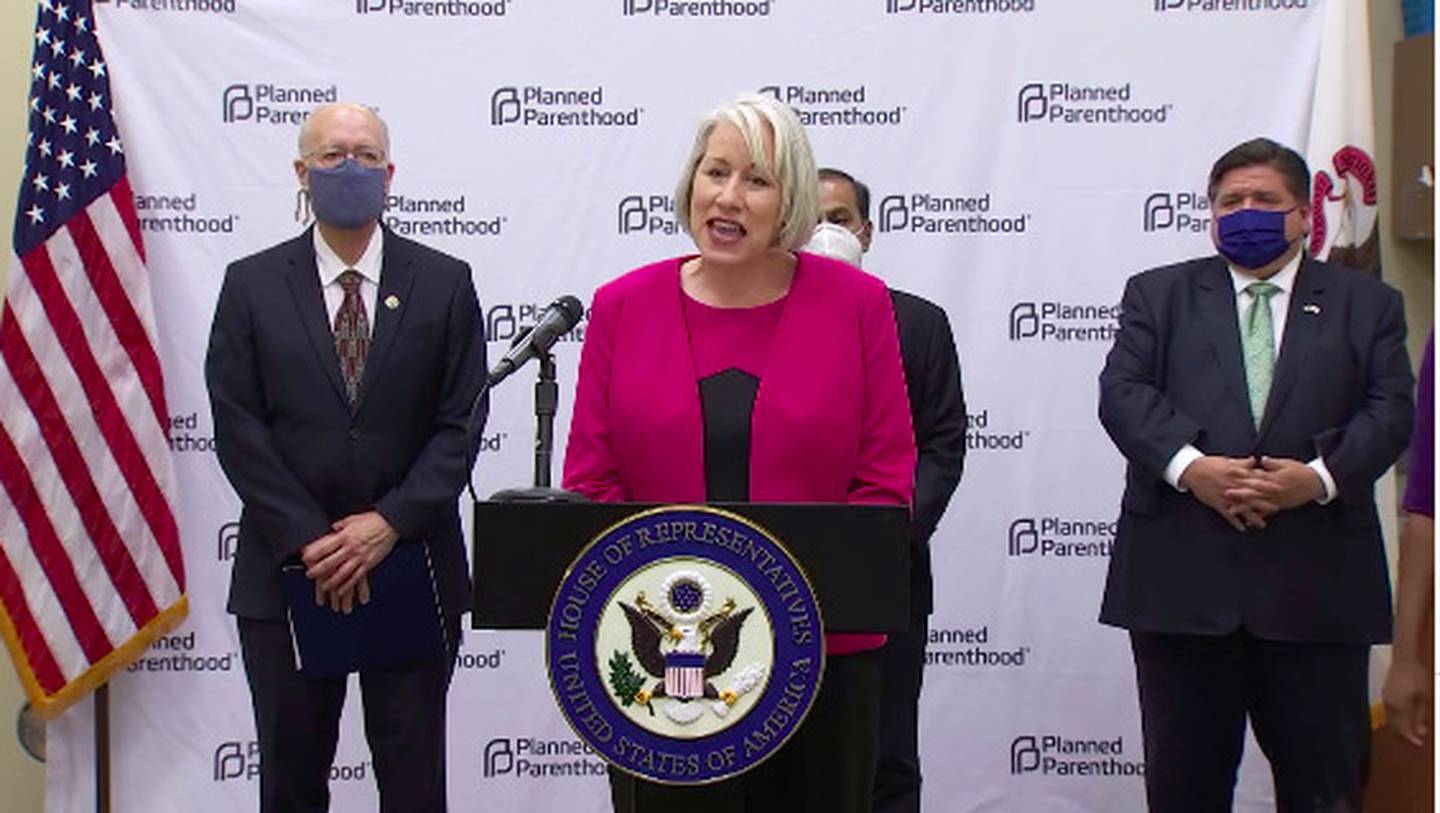 "With or without insurance, people have a chance to go to see a doctor to get their questions answered truthfully," Foster said. "So to the staff of Planned Parenthood – again thank you. We have your back and we appreciate all that you do and for all the lives you have transformed in our community through the work that you do."
Women's Health Protection Act
Calling the Texas law a "near total ban on abortion," Underwood said it impacts nearly 7 million women of reproductive age and "their freedom to make personal decisions with those they love and trust."
"And the Supreme Court's radical decision to let the Texas law go into effect, puts tens of millions more women at risk for losing this constitutionally protected freedom and access to care," Underwood said. "That's why Congress must take action now."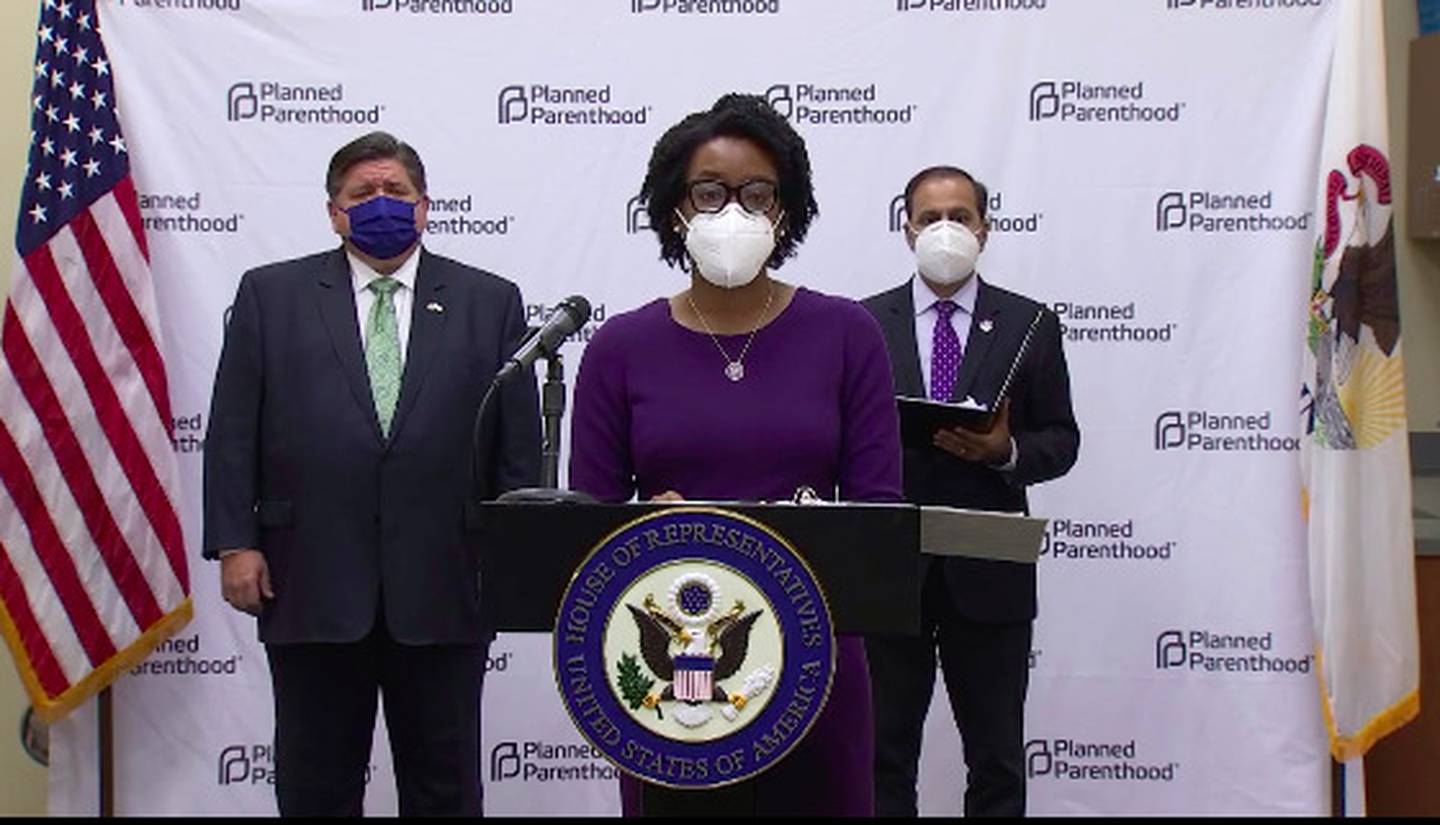 The Women's Health Protection Act, of which Underwood is a co-sponsor, would protect abortion providers and their patients, "from medically unnecessary restrictions like waiting periods, biased counseling, two-trip requirements and mandatory ultrasounds that impede access to abortion care," Underwood said.
Krishnamoorthi minced no words about the Texas law, saying, "SB 8 is an abomination."
"It is clearly unconstitutional because it contravenes Roe V. Wade and the constitutionally enshrined right of a woman to choose," Krishnamoorthi said.
"The constitution is not a buffet style menu where a state can pick and choose the rights it uphold and the ones it denies," Krishnamoorthi said. "A woman's right to choose – like all constitutional rights – are inherent in every individual's rights, regardless of where they live and regardless of the enforcement mechanism – every Texan, every American has these rights."
Krishnamoorthi also called on corporations to speak out against the Texas law.
"They need to stand with us," Krishnamoorthi said. "Because there are no blurry lines here with regard to this radical, cruel, inhumane and unconstitutional law, SB 8. You're either with us and women – or you are against us."
Right to Life lauds Texas bill
In a news release, Illinois Right To Life Executive Director Amy Gehrke praised the Texas law and the U.S. Supreme Court for allowing it to stand.
"This is a historic moment in our nation, as it is the first time since 1973 that preborn babies who have not yet reached viability are legally protected from abortion," Gehrke stated in the release. "We hope this will embolden other states to pass similar laws. Here in Illinois, because of the Reproductive Health Act signed into law in 2019, protective laws like the Texas (law) are virtually impossible to pass."
Gehrke derided Illinois' support for abortion rights an "opportunity to further brand Illinois as the 'abortion Mecca' of the Midwest."
Because the high court is currently considering another pre-viability prohibition in a Louisiana case, its "decision to permit Texas's pre-viability abortion ban suggests the Court might be preparing to strike down Roe v. Wade's viability standard," the release stated.