BATAVIA – As a beloved priest's last day approaches on Wednesday, Holy Cross Catholic Church parishioners are volunteering in shifts to stand outside the church and rectory around the clock to guard him from forcible removal.
Rockford Diocese Bishop David Malloy ordered that June 15 would be Rev. James Parker's last day at the Batavia Township church where he has been pastor for seven years. The diocese issued a statement that priests are routinely reassigned.
In statements to parishioners, Parker has pledged not to leave his flock.
Parishioner Roxanne Malley stated in a text message that volunteers are "on watch to protect and pray for Fr. Parker."
"We are concerned that he could be forcibly removed against his will like [Cardinal Blase] Cupich tried to do in (a) Chicago case where (a) priest burned (a) pride flag," Malley's text stated.
Cupich removed a priest in 2018 after he burned a LGBTQ rainbow flag outside his northwest side church.
"Our sign up genius has hundreds of volunteers filling shifts around the clock," Malley's text message stated. "Tuesday is the big show down. Wednesday Fr's replacement is supposed to begin."
This latest move by parishioners follows a series of prayer vigils staged at the church and in Rockford at St. Peter Cathedral, and outside the diocese offices, seeking to stop Parker's removal – or at least to ensure that he has a new assignment.
Parishioners have said they are concerned that Parker would join the ranks of other priests sidelined in the Rockford Diocese, who are still being paid, but have no church or ministry assignment.
In assistance to Parker, supporters have raised $87,449 of a $100,000 goal on GiveSendGo.com, a Christian fundraising site, to aid in his living expenses and legal costs of fighting his removal, parishioners said.
They also started a Facebook group, We Stand with Fr. Parker with 1,700 members.
One of the postings advises parishioners to come to him so he does not have to leave the premises so there are no opportunities for the locks to be changed.
Parishioners have printed powder blue T-shirts with Parker's photo on them and are selling them, also to raise money for his defense fund.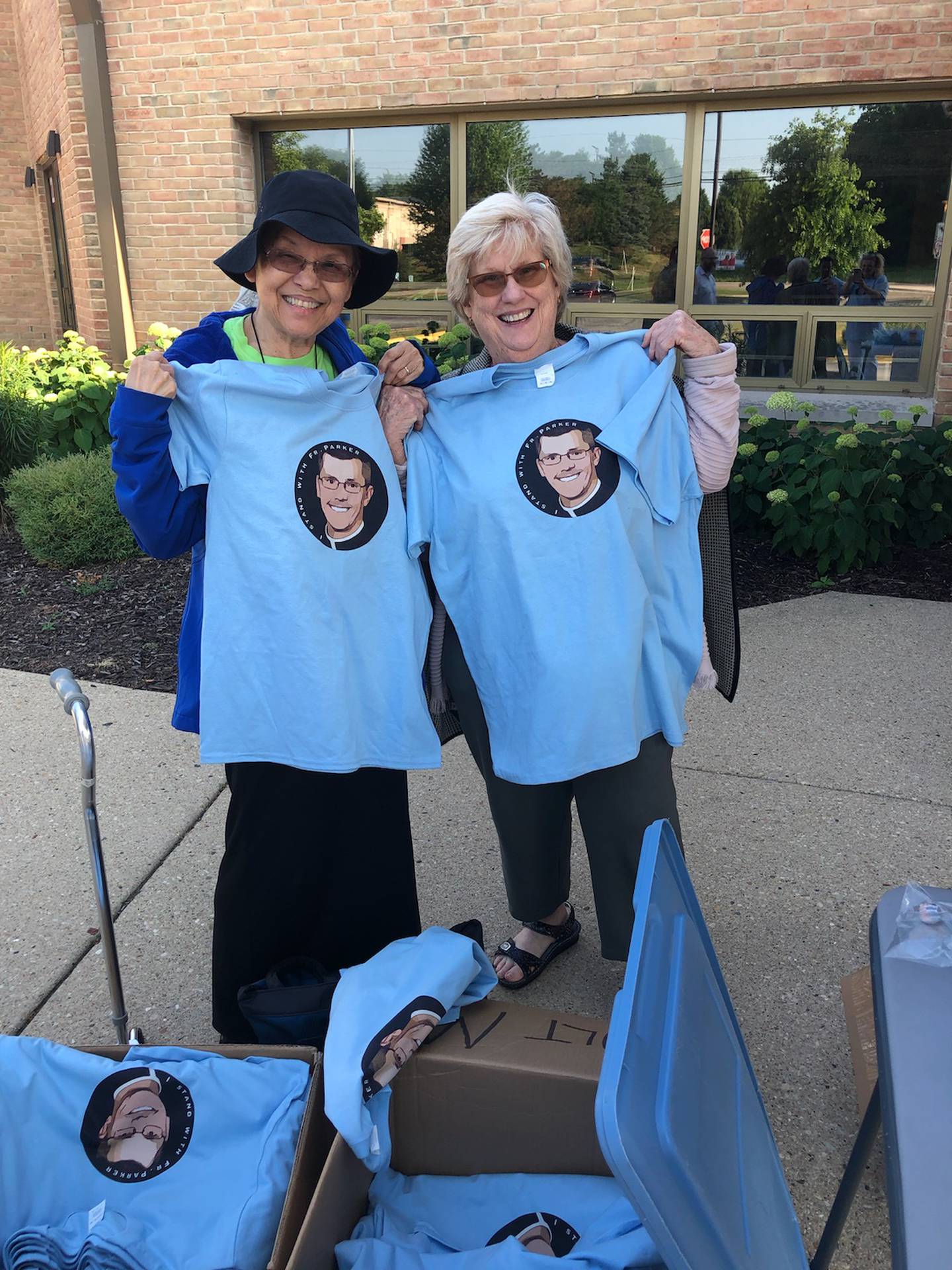 Adult sizes are $20, children's are $10.
Malley said they raised an additional $2,000 from selling the shirts to go towards Parker's legal costs.
Coalition for Canceled Priests is hosting a panel discussion at 7 p.m. June 24 at The Carlisle Banquet Hall, 435 E. Butterfield Road, Lombard.
The program, called "Breaking the Silence" will feature a child advocate attorney and other priests said to be "canceled" or otherwise sidelined by their bishops.
Questions may be submitted in advance at www.canceledpriests.org.
The cost is $20 per person with proceeds going to Parker's legal defense fund. Tickets are available online at www.canceledpriests.org.