GENEVA – Many residents of Chesapeake Commons and Fields of Geneva East subdivisions, and two aldermen, are in opposition to a 278,000-square-foot distribution facility – purported to be proposed by Amazon – for the southeast corner of Division Street and Kirk Road in Geneva.
The Geneva City Council will consider the application at its Oct. 18 meeting, which includes a public hearing for a 54-acre annexation, special use and zoning change from rural residential to light industrial, a special use and planned unit development. The applicant updated its petition Oct. 11.
On Sept. 23, the Geneva Planning and Zoning Commission did not approve one of the nine standards for a special use zoning, that the development would have "an adverse effect or change the character of the area," citing the noise and traffic they said would be generated by the facility. All nine standards are required to be approved for passage, so the application was rejected in whole.
Resident and alderman concerns include the secrecy of the applicant, noise, the volume of truck traffic – more than 500 truck trips every day – and whether the zoning being sought is correct for a warehouse distribution center.
But Mayor Kevin Burns said all these matters are to be discussed Monday.
"All issues relative to this matter scheduled for a public hearing Monday is best addressed at the public hearing and deliberated at the City Council – not in the media," Burns said.
Residents and 3rd Ward Aldermen Dean Kilburg and Becky Hruby, say they believe the applicant – listed as CHI Acquisitions LLP, an affiliate of Crow Holdings Industrial but is actually Amazon – is seeking the wrong zoning.
"Many of us who have done a couple months of hard research are – whether Amazon or anyone else is proposing on that particular parcel – are against our own ordinance," resident Michelle Rathman said. "It should be Industrial Zoning 2, not Industrial Zoning 1."
Hruby said the applicant's original filing sought a cross-dock distribution/sort facility, which would fall under a special use of the Industrial 2 Zoning.
"And then they changed (it) to office and distribution center and in the third submittal, changed it to 'substantially conforming development,'" Hruby said. "They are manipulating those words because the application itself didn't change.
"What I've learned in multiple meetings with staff is that zoning is open to interpretation and it's the applicant's lawyers that interpreted this to be (Industrial 1 Zoning)," Hruby said. "The cross docking proposal in (Industrial 2 Zoning) is not allowed in this proximity to homes – 1,000 feet to homes."
In an email, Kilburg wrote that according to various news reports, Amazon is converting passenger planes into a fleet of cargo jets. And if it gets the annexation and zoning it seeks, it would use the nearby DuPage Airport.
"The possibility of large jets landing and taking off over Fox Valley homes I'm sure wouldn't be very appealing," Kilburg's email stated.
"People will wake up and say, 'Who allowed this to happen?'" Kilburg said.
Kilburg also said the developer refused to address the public's questions in nine hours of testimony before the Planning and Zoning Commission.
"If you are going to annex 60 acres, you should answer questions," Kilburg said. "Their development has not been very transparent … to blow off legitimate questions as it relates to Geneva is inappropriate. All of Geneva and not just the Third Ward are entitled to answers."
In an email, resident David Walendziak wrote that the neighbors are not against truckers, warehouse distribution centers or Amazon.
"We are not the type of people that are of the mindset, 'not in my backyard.' … This project shouldn't be built next to any residential area, regardless of where it is," Walendziak's email stated. "The traffic, noise, pollution, safety and other issues will affect not only the immediate area, but the city in whole."
Hruby and Kilburg visited a 700,000-square-foot Amazon distribution center in Joliet to document how such a facility would operate.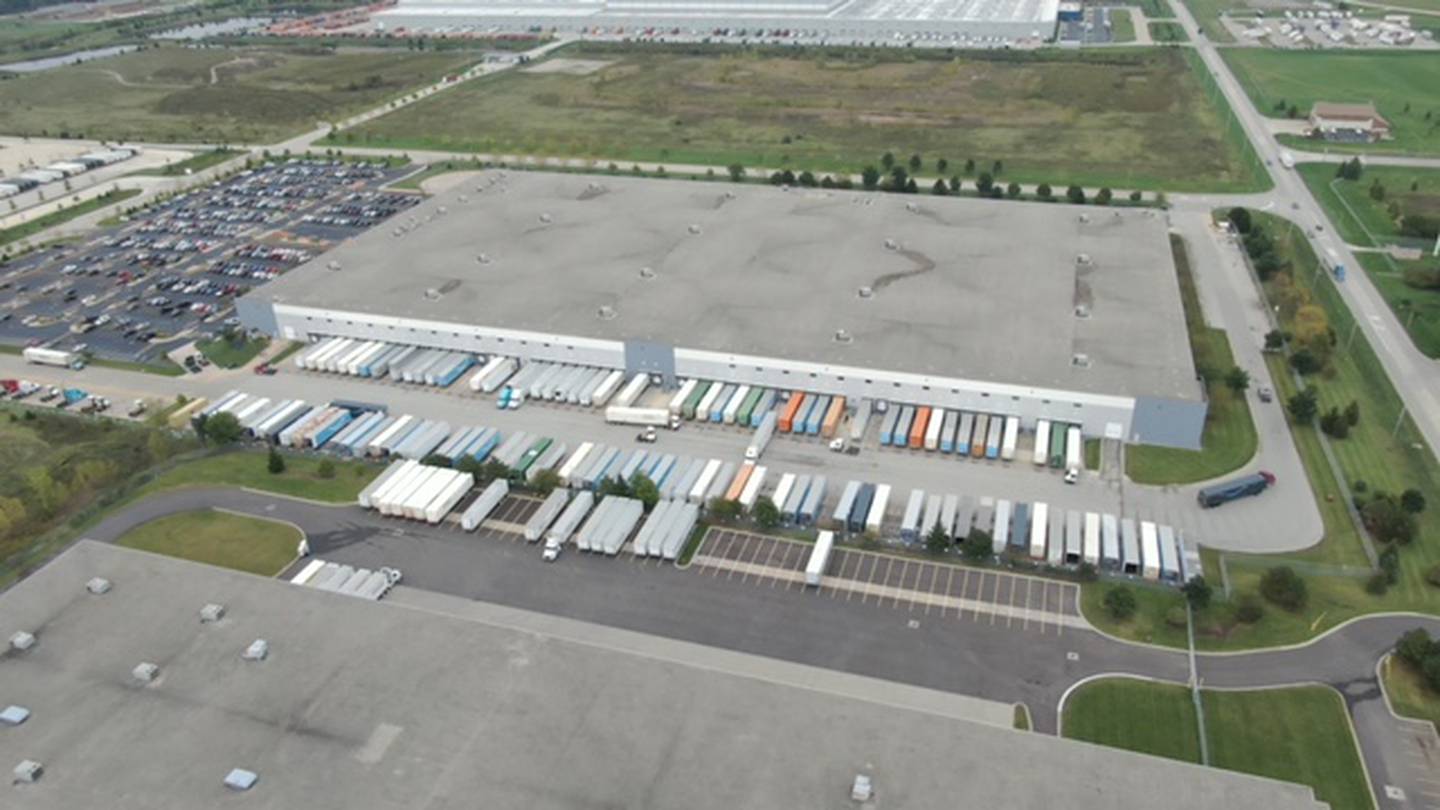 "We went there with the intention of getting photos to share the scale and perspective," Hruby said.
Though believed that the applicant was Amazon – without confirmation – the civil engineering company Jacob & Hefner included the Amazon logo, along with its building design template and email address on pages 270 and 271 of the Oct. 4 City Council agenda packet.
The project manager would not confirm it was Amazon. Neither would the attorney representing the listed developer, citing a non-disclosure agreement.
A message left with Crow Holdings was not returned. An email to Amazon's media hotline was not answered.
But Burns said Amazon's alleged role in the development "is irrelevant."
"The City Council's charge on Monday evening is to consider the testimony provided at the Planning and Zoning Commission, and to hear new testimony relevant to an agreement regarding only the land use," Burns said. "We are not permitted, under state law and city ordinance, to consider the end-user – irrespective of who that end user is. The end-user is immaterial because our charge, as clearly stated, is to consider the land use implication."