MAPLE PARK – The Kaneland District 302 Board of Education, In a 4-3 decision with President Teresa Witt as the tie-breaker, voted in the affirmative for the district's back to school plan that in-part includes making wearing masks, regardless of vaccination status, to be optional in the classroom.
The district's full in-person back to school learning plan, which included information on cleaning, cafeteria and other school day protocols was presented to the board at its meeting on July 26.
The plan includes the following measures: fully vaccinated students and staff don't need to wear masks while in school; those who are unvaccinated are "strongly encouraged," but not required.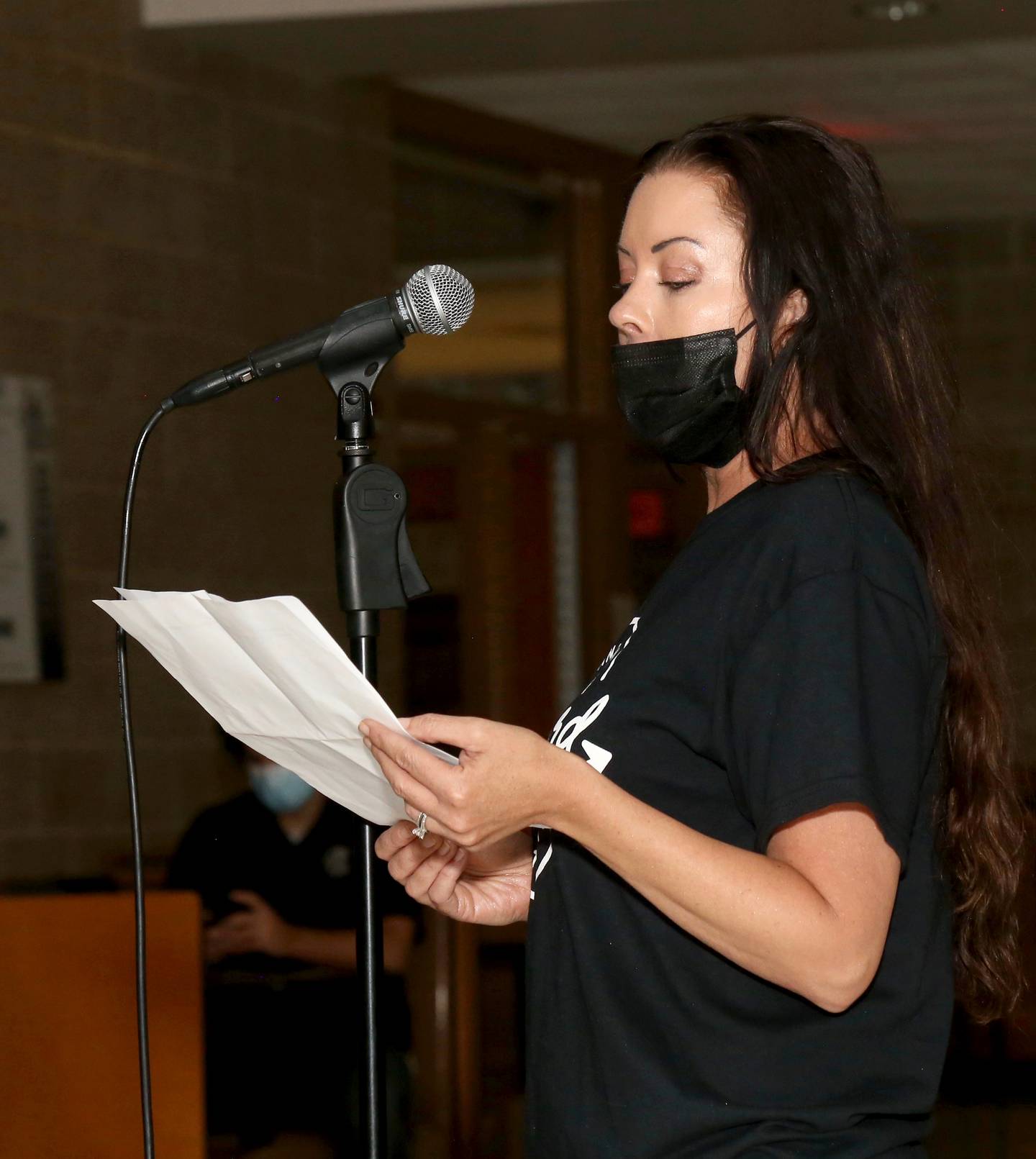 Those who are not vaccinated are also encouraged to participate in the state's SHIELD saliva-based testing program. Masks are also not required outdoors "unless specific crowded events would warrant mask-wearing"
However, regardless of vaccination status, all passengers on school busses will be required to wear facial masks. The previous passenger limit of 50 is also lifted.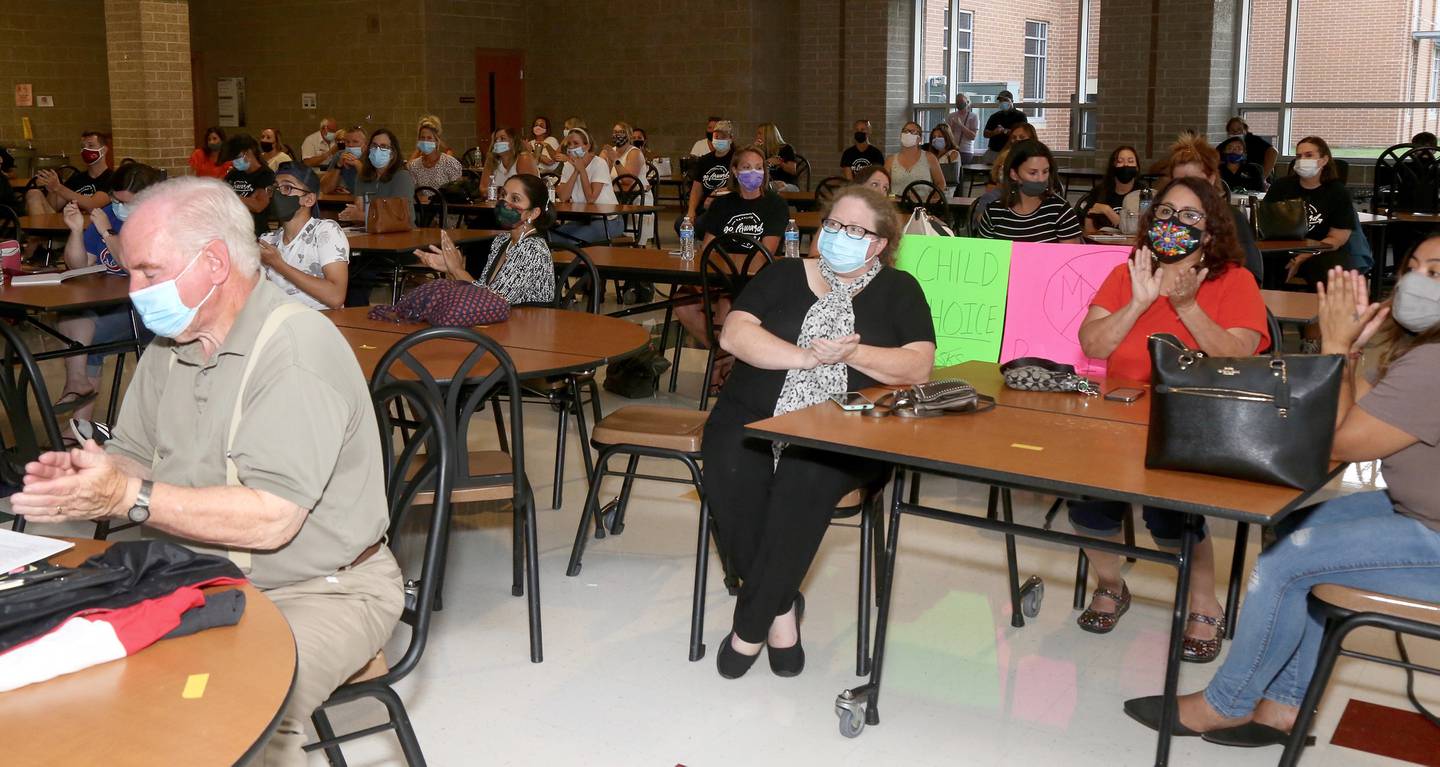 The district will also continuing monitoring state and county COVID metrics, and it "will pivot to additional layers of mitigations such as masks, when needed, based on the previously mentioned metrics of local health department guidance."
Board members Ryan Kerry, Addam Gonzales and Bob Mankivsky, along with Witt, voted to approve the plan.
Members Meg Junk, Aaron Lawler and Jennifer Simmons voted against the plan.
"…I envy people for [viewing] this as very easy. This is not easy for me at all," Witt prefaced before her pivotal vote. "However, I have certain personal feelings. But, I have faith in our school district. I have faith in our professionals. And, I believe we follow the guidance. I believe that the guidance has been followed in making this recommendation."
"So, I'm voting yes for the recommendation," Witt concluded before a vivacious round of applause from a portion of the audience.
The Kaneland school district joins St. Charles District 303 and Geneva District 304 in making wearing masks optional in school. Batavia District 101 has not yet announced details of its plan, and is expected to release that information soon.
The CDC recommends mask use while indoors for people who are not fully vaccinated, including teachers and staff. Masks are not mandated for the upcoming school year.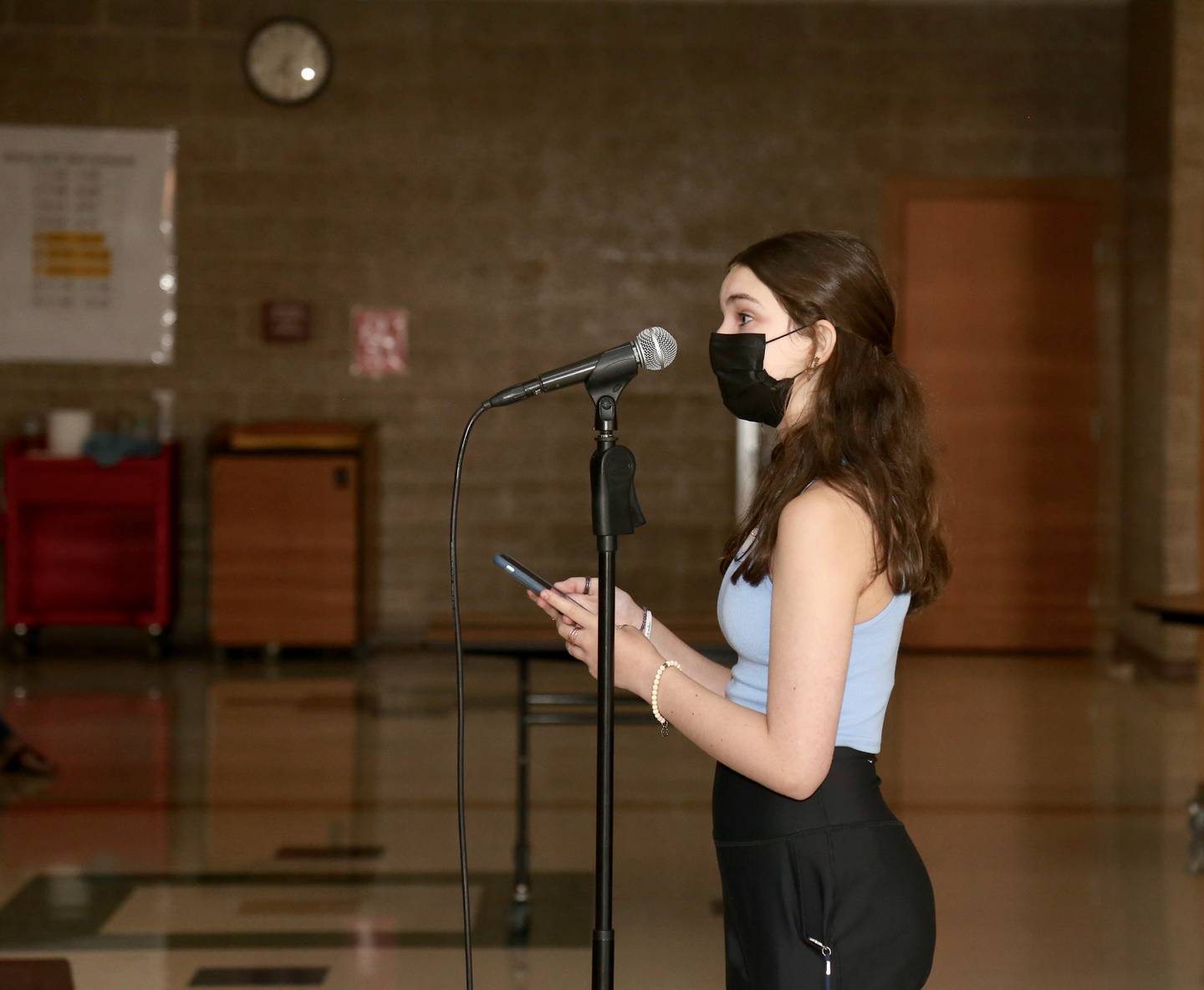 The Illinois Dept. of Public Health recently warned districts who opt not to require masks to consult with their health insurers.
"In addition to the health and safety reasons for following the CDC's guidance, school districts that decide not to follow the CDC's guidance should consult with their insurers regarding risk assumption and liability coverage. Insurers may be unwilling to cover liabilities created as a result of failure to adhere to public health guidance," the statement reads.
The American Academy of Pediatrics is also recommending all students, teachers and staff wear masks inside schools when classes resume.
"At the end of the day, for me, it's not that I'm against masks. But, I believe the guidance is recommending – and yes, we probably should wear masks – but it should be our choice," Gonzales said. "My wife and I made the choice that my daughter is going to wear a mask. And, we understand that there's a good chance she's going to be in a classroom where kids aren't wearing masks. But, for me, that's a teaching point for them; to allow them to adapt to an environment where maybe you don't have to follow. Maybe, you can a choice for your own," he continued before applause interrupted.
"At the end of the day, it's a recommendation; we should follow it," Gonzales continued. "But, I strongly believe that we shouldn't be forcing this on families."
Lawler responded, in part, "It makes sense to give parents these options, right?"
"But, here's the issue: We make public health choices all the time," Lawler continued. "And, when it comes to masking – if I understand it correctly, medical professionals – it's not my mask that saves me; it's your mask that helps me and my mask that helps you."
"The problem with this is: is that if we only let certain people mask, well, the irony is that the people who probably do need to wear the mask aren't going to, and the opposite will be true," Lawler continued. "That's where it becomes problematic…so, I totally understand your point…but, in this circumstance, my choice actually does impact your choice."
Several members of the public, both advocating for and against wearing facial masks, engaged in a lengthy public comment session before the board proceeded in a spirited two hour discussion surrounding the multifaceted matter.
All students will be returning to full in-person learning five days a week, and will no longer have to pre-certify health symptoms prior to attending school. Visitors, students and staff will not be able to enter school buildings if they're experiencing COVID-related symptoms.
Pre-pandemic school hours, schedules and personal locker usage will be restored. Daily cleaning will continue to be utilized, but the district will cease daily disinfecting.
"The disinfecting was shown not to be necessary [anymore] and it's not required. The daily cleaning was shown to be enough," District Associate Superintendent Julie-Ann Fuchs said.
The district will not be offering a remote option, whether for medical or personal choice. However, should a student be ordered to quarantine, a livestream is expected to be available.
Classrooms will primarily be spaced three feet apart for social distancing.
"It is important to note, in full transparency, that there may be some classrooms that are closer than three feet [for] learning spaces," said Patrick Raleigh, the district's Director of Educational Services for grades six through twelve. "We have already thought through at each building level what this looks like, this three foot social distance piece."
The full return to school presentation can be viewed here.