On Monday, an Elgin man who just days before Christmas lost his wife to COVID-19 after an unsuccessful bid to be treated with ivermectin, took his first steps since November.
Maria and Sebastian Abbinanti, the parents of three young boys, were admitted into a hospital intensive care unit at AMITA Health St. Joseph Hospital suffering the late stages of COVID-19 just before Thanksgiving.
Maria Abbinanti, 40, died Dec. 21 after a Kane County judge denied the request for an emergency temporary restraining order that would have required the hospital to administer the controversial drug ivermectin to her and her husband. A state appeals panel upheld that decision shortly after her death.
The case led to a vigil and rally outside the hospital and an outpouring of support for the Abbinanti family.
Ivermectin is not approved by the U.S. Food and Drug Administration for use in the treatment of COVID-19 patients. Prescribing ivermectin to treat the COVID-19 infection is prohibited by hospital policy, hospital attorneys argued.
The drug typically is prescribed for humans to treat head lice, stomach parasites and rosacea. There also is a formula of it that is prescribed to animals for stomach parasites, according to FDA.gov.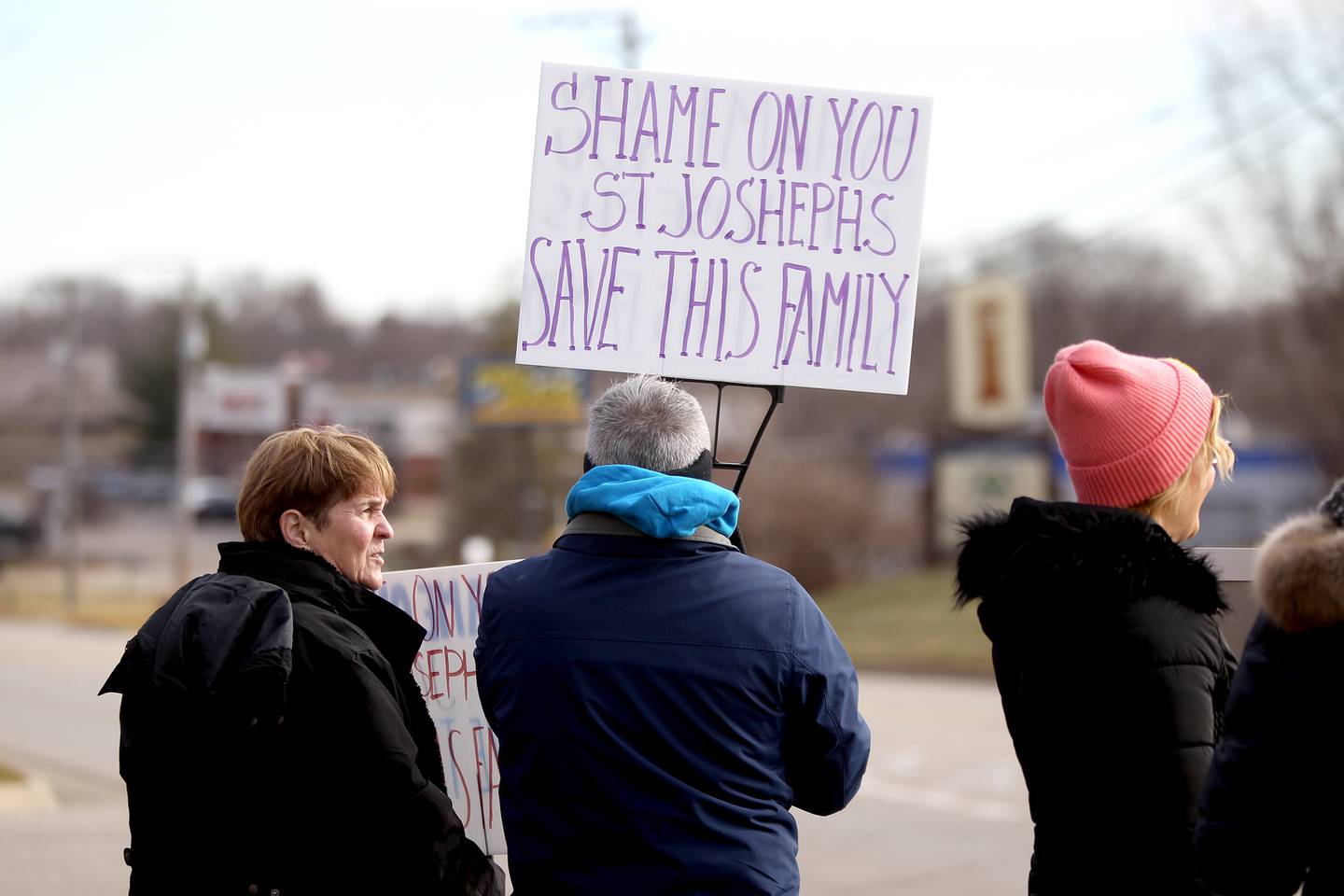 Sebastian Abbinanti still is not home and is unable to speak, but he's slowly improving, said Maria Faso, Maria Abbinanti's aunt and the family's spokesperson.
Faso hired Patrick Walsh, the attorney who fought for the couple to receive ivermectin. At the point the family hired the attorney, the couple was intubated and dependent on ventilators. All treatments had been exhausted and hospital staff had nothing left to try. They could only observe the couple who remained sedated, according to court filings.
Faso said Sebastian Abbinanti, who is a chef, is able to breathe on his own, has a tracheotomy and feeding tube, and has been moved into a rehabilitation center.
"He is getting better every day," Faso said. "We are being told it may be Easter before he [goes home]. The boys miss their mom but thankfully are able to FaceTime [with] Sebastian daily."
Faso said Christmas was tough on the children, who are 4, 9 and 12.
"They missed her," Faso said. "But everybody came together, family members, outsiders, strangers, neighbors, you name it. Everybody sent them gifts to the point [that] it was overwhelming."
Another gift came just last weekend when, for the first time since before Thanksgiving, the two older boys were able to visit their father in person and hug him. Because he still can't speak, no words were exchanged, but it was a "tearful reunion" where words were not needed to express how they felt, Faso said.
"A hug is worth a million words," Faso said.
On Monday, Faso reported that Sebastian Abbinanti "took a couple steps and looks great."
The boys are being cared for in their family home where both sets of grandparents, aunts and uncles are coming together to help.
Maria Abbinanti, who was married to Sebastian Abbinanti for about 15 years, was described as a "great, great person," "a loving and devoted mother and wife" and "a true light in this world-always smiling, happy, generous, kind," by family and friends.
Faso said Maria Abbinanti spent much of her life caring for her older brother, her only sibling, who lived with muscular dystrophy, a disease that ultimately led to his death about nine years ago.
A family friend set up a social media fundraiser with a goal of $75,000 to help the family. As of Tuesday, the fund earned $61,615.