CHARLESTON – Batavia senior Katrina Schlenker's final high school race ended in a hurry.
Naturally, it was typical of her stellar career, but this time it was because of an unrelenting second downpour of rain on Saturday afternoon at Eastern Illinois University. A rolling schedule for the state track meet was put into place after a two-hour delay in the early afternoon, but the threat of a second storm led to a chaotic closer to the three-class meet.
Competing in the rain, Schlenker concluded her track career at Batavia by running in the Class 3A 4x400-meter relay at O'Brien Stadium. She ran the anchor leg of Batavia's relay, which posted a time of 4 minutes, .55 seconds to collect a sixth-place medal. Schlenker, who placed second at sectionals in the 1,600 and 3,200, held off a late charge by Plainfield North and Lincoln-Way East's relay teams to secure a top-six placing for the Bulldogs.
In all, Schlenker, a Liberty recruit, added to her impressive list of medals by taking fourth place with a personal-best time of 10 minutes, 26.96 seconds in the 3,200. She finished ninth in the 1,600 (5:01.79).
"The two-mile definitely takes a lot out of your legs," Schlenker said of her busy weekend. "Running three events at state is hard on your body and mind. I had to focus on my faith."
Batavia's medal count also included an eighth-place showing by Meghann Hartmann in the high jump (1.62 meters) to go with two sixth-place efforts by the 4x100 relay (49.62) and the 4x200 relay (1:43.72). Megan Schulhof added an 11th-place finish in the pole vault (3.15).
Essie Newburn, who ran a leg in the 4x100 and 4x200 relays, joked the relays were bound to a certain number. Batavia's Izzy Taylor ran all three relays on the long and exhausting day.
"We were sixth across the board," Newburn said. "Six was our lucky number. It was a great experience."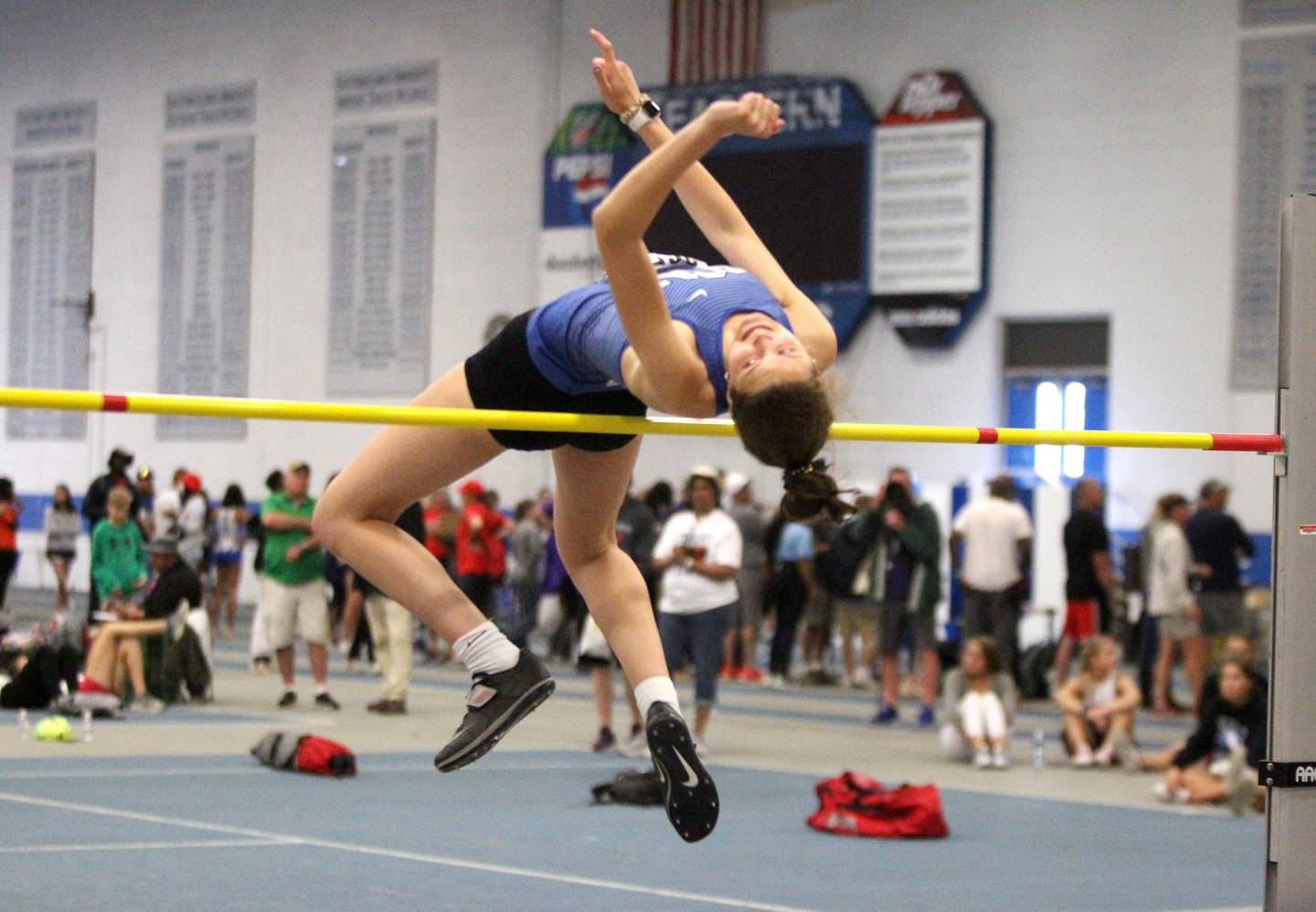 St. Charles East had a number of quality efforts on the track, including a fifth-place medal in the 4x800 in a time of 9:27.80. Katie Kempff took ninth in the high jump.
St. Charles North senior Natalie Buratczuk, an Eastern Michigan recruit, couldn't build on her solid prelim showing, finishing in fourth place in the high jump at 1.65 meters.
"I felt pretty good going into today, but I was little nervous how things would play out with jumping (Friday) because last year was my first time at state," Buratczuk said. "It was really interesting to see how I had to take care of myself, but I felt pretty good. The main goal was to get a personal record. It didn't matter where I placed. That didn't happen, but I felt pretty good to come out and place pretty well at my last meet."
Rosary senior Lianna Surtz had a stellar final day in Class 2A, taking fifth in the 1,600 (5:04.78) and sixth in the 3,200 (10:47.71).
Teammate Libby Saloga soared to a fourth-place medal in the pole vault (3.50).
Saloga, a junior, said she was thrilled to be competing after missing most of the season with an injury. She fell two spots on the medal podium after placing second in the pole vault last season, but she promises to come back strong next season.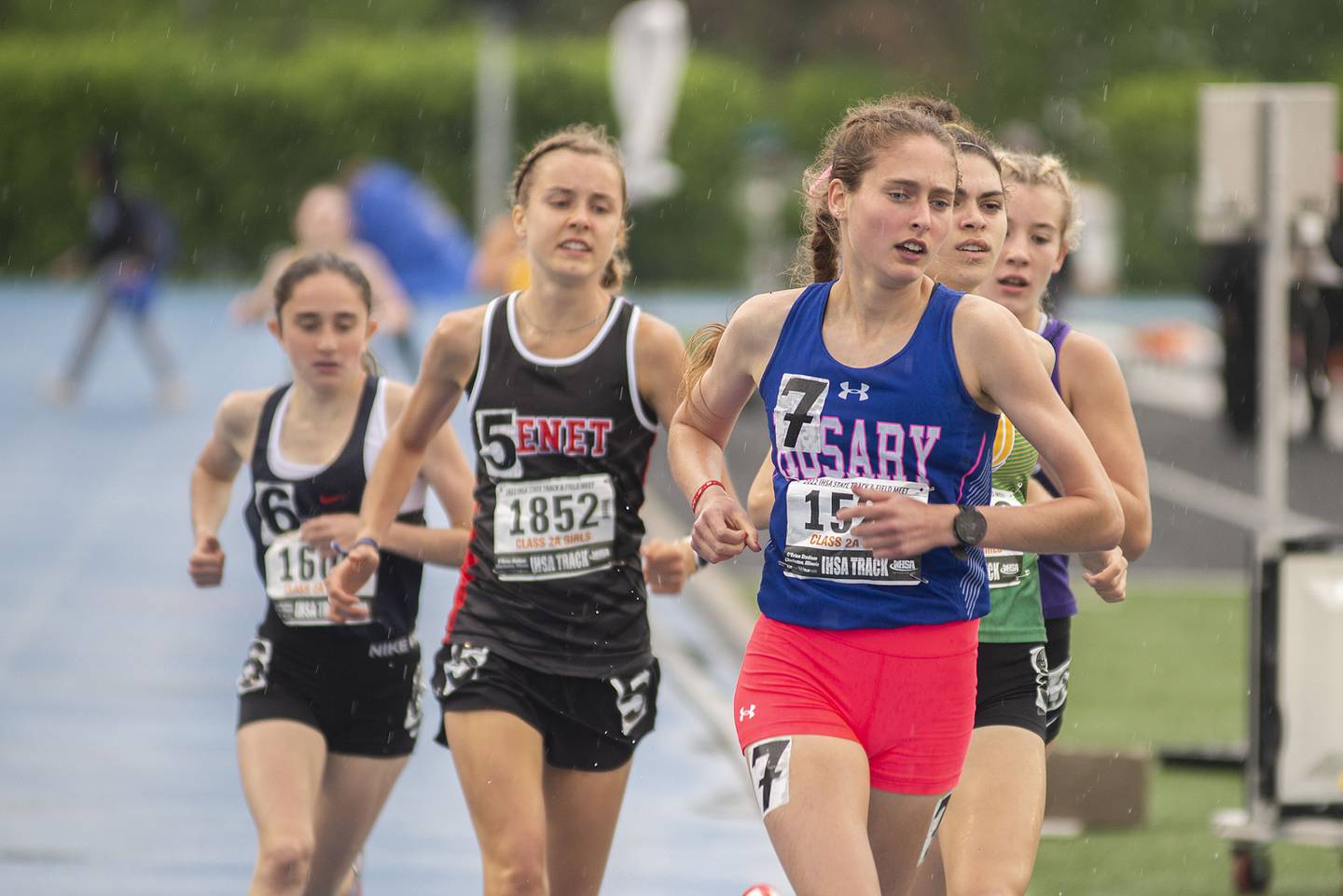 "I wasn't expecting too much, but I wanted a little more," Saloga said. "I was happy with how I'm jumping. My form was a lot better than last year. I had a good shot at 11-9, but didn't make it. I also injured my ankle today after I was done jumping, so this whole day has been going crazy. I definitely have more to give, but am grateful to be competing this season."
Kaneland junior Jessica Phillipp earned a third-place medal in the pole vault in her second trip to state.
"I came into this wanting to walk away with a medal, so I'm super proud of this since I wasn't expecting this," Phillipp said. "I left it all out there. I struggled with 11 feet and got it on my third attempt and after that I was more confident. I liked jumping indoors, too. Next year I have really high hopes for myself and will continue to work this summer and correct things. I'm so happy to jump in the 11s, and this whole experience was super fun. I got great support from my coaches and teammates."