POPLAR GROVE – Burlington Central's Maya Gusciora experienced a big swing of emotions after ending her round at Monday's Class 2A Belvidere Sectional by going bogey, bogey, double bogey.
Gusciora's rough finish put her in a three-golfer playoff for one of the last two spots to state. The Rockets senior regrouped from there, making par on the first playoff hole at Timber Pointe and earning her spot to the state tournament for the first time.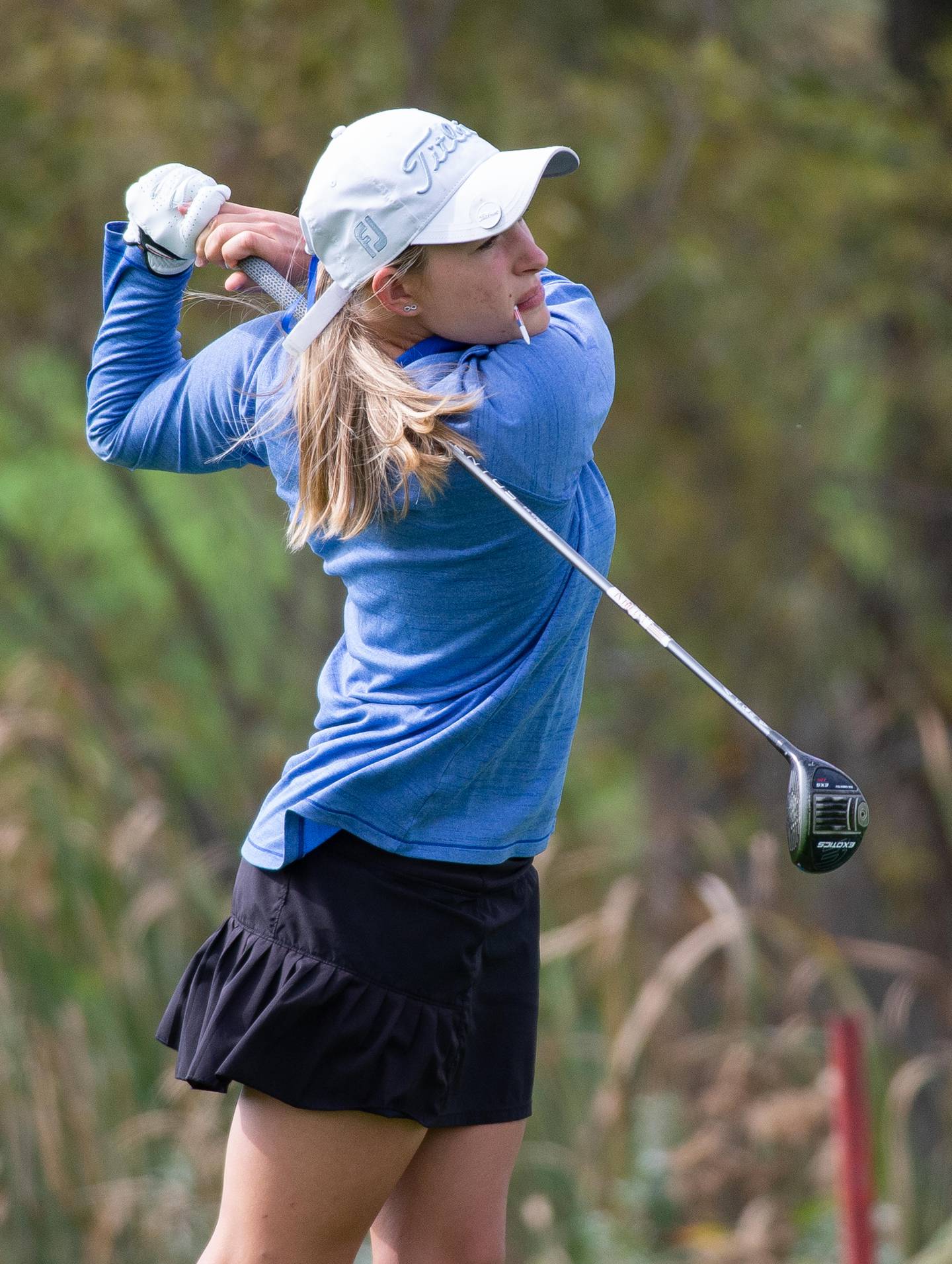 "Coming off the [18th] hole, I was like, 'Yeah, this is not going to make it,' " said Gusciora, who is the first girls golfer from Burlington to make it to state since Josie Kurosky in 2016. "I just started crying because I was doing so well, and those final three holes, I just couldn't finish.
"But I'm really excited to go. It's been a big goal of mine that I finally accomplished. I'm so happy."
Stevenson won the team title with a score of 296, defeating runner-up Barrington (316) by 20 shots. St. Charles East (346) grabbed the third and final state qualifying spot, defeating DuKane Conference rival St. Charles North on a fifth-score tiebreaker.
Stevenson junior Allie Santos earned medalist honors and was the only golfer to shoot under par with a 1-under-par 71. St. Charles North's Catie Nekola placed runner-up with a 73. Sycamore's Brianna Chamoun, Geneva's Reese Clark and Stevenson's Allyson Duan tied for third with 74s.
Stevenson had five of the top-12 scores overall.
Megan Lee (75) placed sixth for the Patriots, Emily Duan (76) tied for seventh and Chelsea She (77) tied for 11th but did not figure in the final team scoring.
Stevenson won the state championship in 2019. Last year there was no state tournament because of the pandemic.
Monday's sectional lasted almost nine hours from the start of the first tee time and was under rain for a large portion of it.
"I'm really proud of the girls to get through this weather and make it this far. We're almost there," Santos said. "It's been really tiring for all of us because we're only in school for two days this week. Going to the library for tutors, it's really really stressful and I'm happy that we can come out here and still do our best.
"It's really great to have a team like this. You don't see that very often. Hopefully, we have great weather and get the opportunity to defend our title."
Barrington, which shot 4-under as a team at regionals, will be making its fifth straight state appearance (not counting last year). The Fillies have taken runner-up the previous four times.
Senior Mara Janess led Barrington with a 76. The other counting scores were from Sophia Sulkar (78), Simran Singh (80), Leah Gaidos (82) and Sydney Terada (82).
Janess had a slow start but picked up the pace to finish strong. She made five birdies in her round and was 4-under on the back nine.
"I was all over the place," Janess said. "I couldn't get a lot to go my way on the front [nine], and then on the back, I gained a lot of confidence and things started dropping. It definitely made me feel a lot better.
"It means a lot to get to state, especially with this team, it's a pretty young team. For them to get this experience for their first state tournament is amazing and super exciting. And, for my senior year, it's definitely a great way to go out with a bang."
Nekola, a senior, is making her second state appearance. She went as a freshman and is excited to get one last opportunity. Nekola's round included an eagle on the par-5, No. 15.
"I hit one of my best drives of the day, then hit an OK shot and made a 25-footer that I made for eagle, which was incredible," Nekola said. "It saved my round a bit.
"I was striving for the team to go to state, but I knew it would be tricky. I plan on having my team out there with me [at state], and playing as best as I can for them. Coming back to state from my freshman year, it's going to be great. "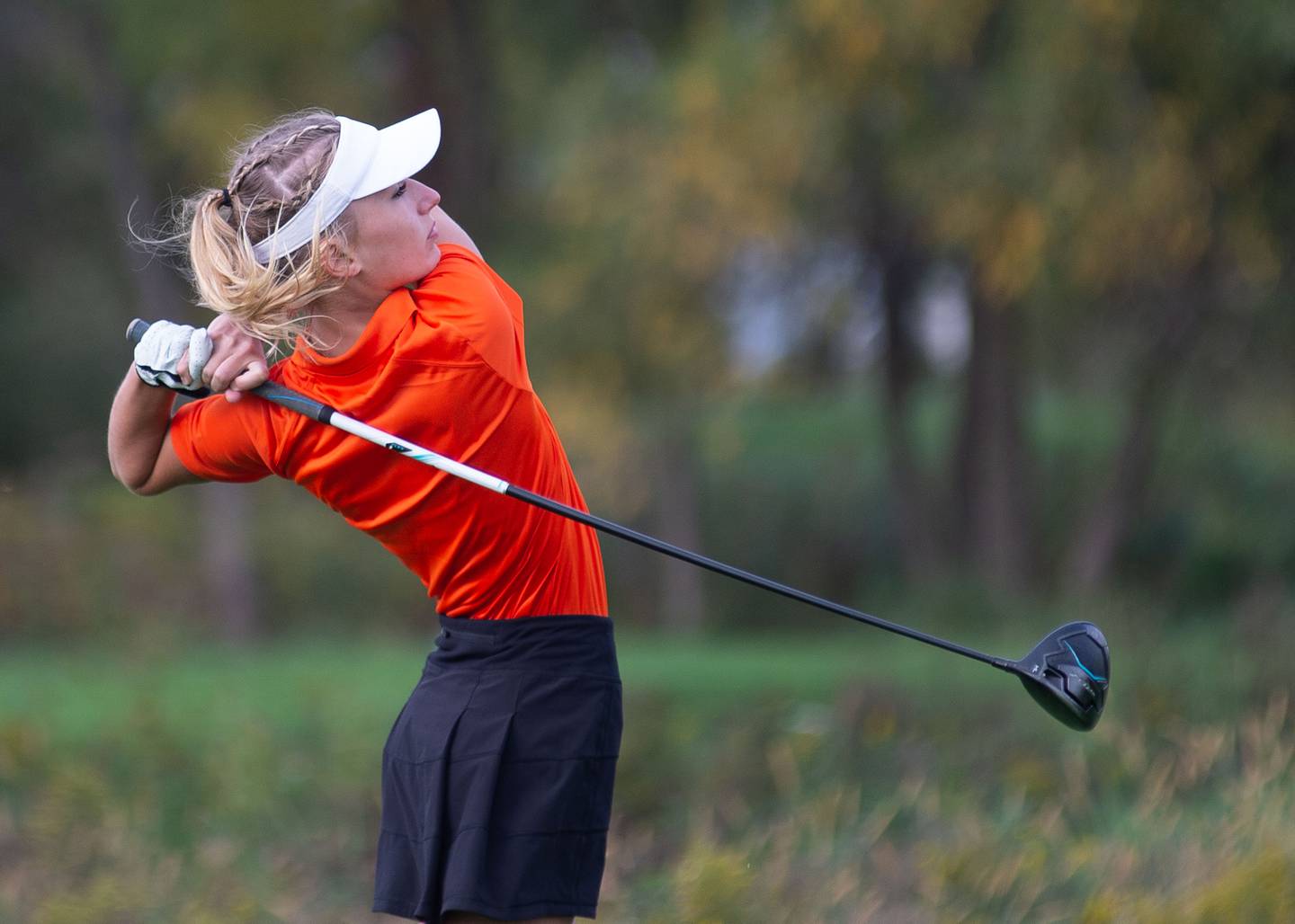 St. Charles East had to sweat out its third-place finish and was led by Emily Charles with an 84. The other three scores were from Ella Tassone (85), Allison Edgar (86) and Zoe Crane (91).
Abby Buechele's 92 was the fifth-score tiebreaker.
"I hoped it wouldn't come down to that, but it did," Charles said. "I guess this is our first time beating North in something that really matters. So we were super excited, it was crazy. We all started crying on the bus. We were all chewing our nails. Our No. 4, Zoe, she did insane today. She really picked it up for the team."
Kaneland junior Katharine Marshall tied for seventh with a 76 and will be making her first state appearance.
"It's been a goal of mine since my freshman year," Marshall said. "I'm excited. A lot of my friends made it, too, so I'm just excited to play there. I was definitely putting well. I hit a long putt on No. 7, I birdied it, and it really got me going.
"I'm hoping for a top 10, but just do the best I can do and take it one shot at a time."
Sterling senior Maddie Pink tied for 14th with a 79 and also qualified for the first time.
"My drives were straight and good, but I had some good shots into the green and just tapped in my pars when I had opportunities," Pink said. "This has been my goal since junior year. There wasn't a state last year, so I knew I would only have one chance to go to state."
Pink said she started playing golf as a freshman after she was cut from the tennis team.
"I was new to it and did not do well my freshman year," Pink said. "But my dad and I practiced a lot over the summer going into sophomore year, and I just fell in love with the game."
Clark is going to state for the second time after going as a sophomore.
"It's a big deal. Sophomore year, we went as a team and I didn't even play good at sectionals, so I didn't really feel like I was proud of going," Clark said. "I really wanted to go back. It's just a real fun tournament. You get to see a lot of people. Everyone is there that I know. It's just so much fun. It's so competitive and it's a good culmination to the year."
Chamoun is only a sophomore but will make her first state appearance. She made three birdies Monday.
"I really enjoyed today. The course wasn't that bad, even though it rained and poured a lot," she said. "I'm happy that I made it to state, I really wouldn't want it any other way. ... I think I can shoot a lot better than I shot today. Today was a great day, but I think I can do even better."
Vernon Hills junior Lexi Schulman is making her second state appearance after tying for seventh with a 76. She went as a freshman and took fifth. She said she is hoping to make a run at the title this season.
"I've played that course a bunch of times," Schulman said. "I think I know it well and I know the game plan for most of the holes, so I'm happy I can go again. Getting that experience as a freshman, I just remember walking off the course really proud of myself for getting top 5 as a freshman. It was really shocking."
Also qualifying as individuals not on advancing teams were Guilford's Kayla Sayyalinh (77), Lake Zurich's Emily Kaminsky (79) and Harlem's Reese Stovall (80).
McHenry's Madison Donovan was a shot away from the cut with an 81. Huntley's Aubrey Dingbaum shot an 82, Prairie Ridge's Elizabeth Tucker had an 83, and Crystal Lake Central co-op's Delaney Medlyn had an 87. DeKalb's Lexi Morrow also had an 87. Hampshire's Lily Farnam shot a 91.