ST. CHARLES – Ashley DiOrio needed just 17 words to best encapsulate the monumental impact of Lloyd Jones.
"It's that smiling face sitting in the front of the gym at your East girls basketball games," said DiOrio, a 2019 St. Charles East graduate.
To many in the St. Charles East community, Jones was known as a "super fan" – that dedicated person, win or lose, who could always be counted on to be there.
Jones, 87, died in February of natural causes.
In his memory, a custom-made stadium chair will be crafted and brought into the gym for every home game.
Nearby, an honorary plaque will be engraved and hung to let every fan and player know their super fan will always be there. The chair and plaque initiative was organized by DiOrio and 2015 East alum Katie Claussner. A GoFundMe organized for the effort raised more than $3,000.
"He's a face that will always be a part of St. Charles East's gym," DiOrio said. "I just always want his legacy and his importance to St. Charles East – and the whole St. Charles community – to be remembered."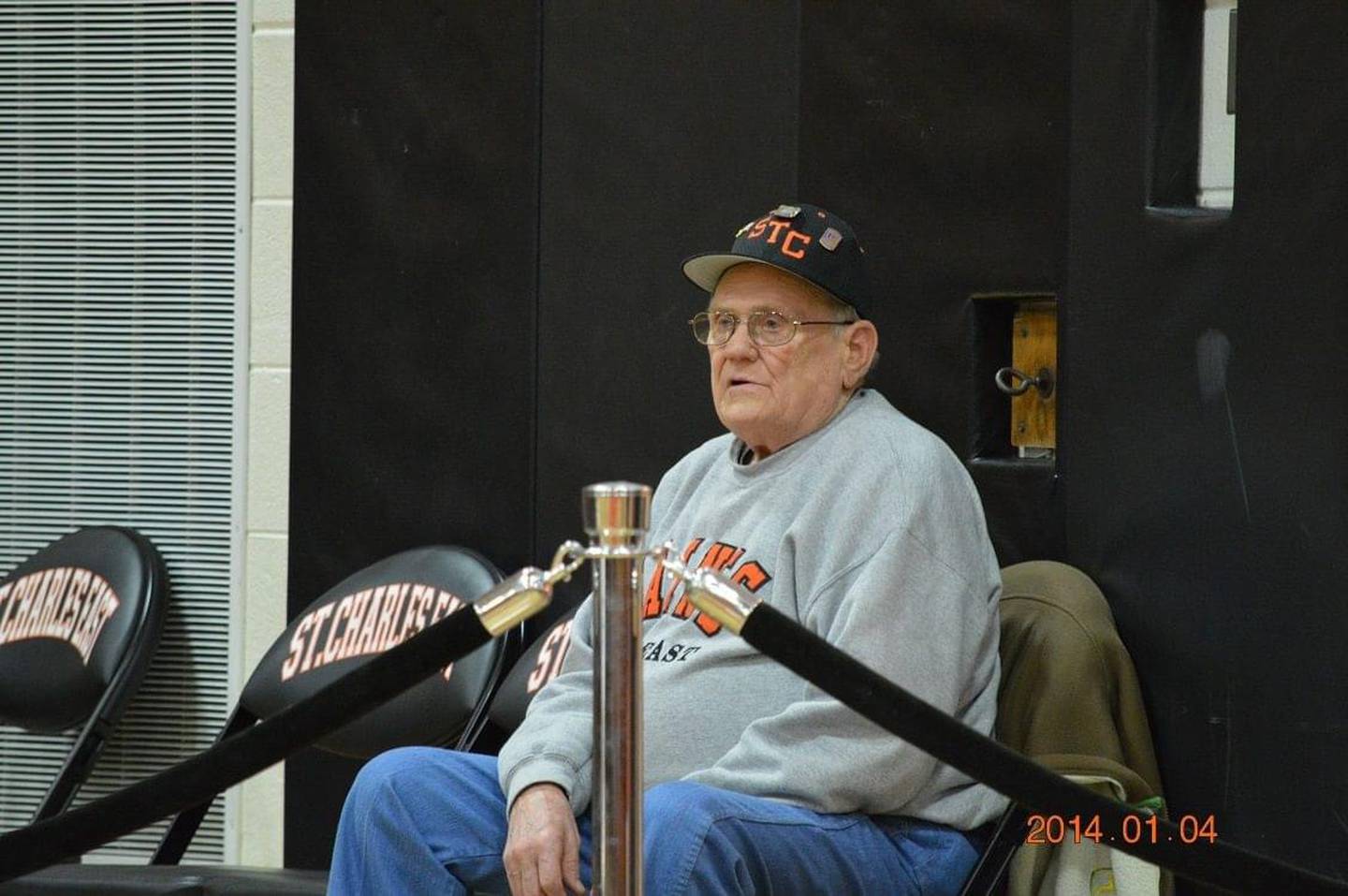 "In a world that's constantly changing, Lloyd was always a constant," Claussner said.
"He was just someone that if we looked in his signature spot, he was always there," Claussner continued. "He was someone who, even if we played the worst game that we possibly could've played, he was always smiling at the end of the game. He became someone that was so integral to our team. It was just a great thing to know he was always going to be there."
Born on a farm in 1933 in Fedora, South Dakota, Jones lived a giant of a life.
"He started driving when he was 6 years old," said his son, Glenn Jones. "They didn't have driver's licenses back then. You just drove, you know."
Jones served as a mechanic in the Army in Germany for two years during the Korean War.
Jones moved to St. Charles in the late 1950s and ran a vehicle service station on Third Street and Route 64 for four or five years.
He would walk across the street to a tavern called Back of the Yards, where he worked on the side as a bartender.
Jones married his wife, Wilma, in 1956 and they enjoyed nearly 50 years of marriage. They had three sons, Kyle, Terry and Glenn.
"Some of the best memories are kind of the days we were just hanging around doing nothing," Glenn Jones said.
After his wife died in 2005, Lloyd Jones' attendance at St. Charles East sporting events became a nightly staple.
"It's kind of crazy. He wasn't really a super big sports fan as far as that goes growing up," Glenn Jones said. "I think it was more the connection with the kids and how they appreciated him [being there].
"I think just being kind of an older guy that was retired that lost his wife, he just felt that connection with these kids," Jones continued. "They accepted him with open arms. They were inviting him to the girls teams' pizza parties and stuff like that."
Glenn Jones would see his dad about once a week during the years. He'd always get updates about how Lloyd's "girls" were doing good or if they were struggling.
Claussner's relationship with Jones blossomed beyond the court, with Jones eventually becoming a family friend.
Name a family party event and he was there.
"All the qualities that we'd say of him, he's just the nicest man," Claussner said. "He always put a smile on your face whenever you looked at him. That went beyond the court as well."
One moment will always stand out during her high school basketball career.
"Watching him hoist up the regional championship plaque in 2015," Claussner said. "He came out on the court, held up the plaque [and] we all gave him a big hug and took a picture with him.
"He was just so proud of us and those moments don't come often."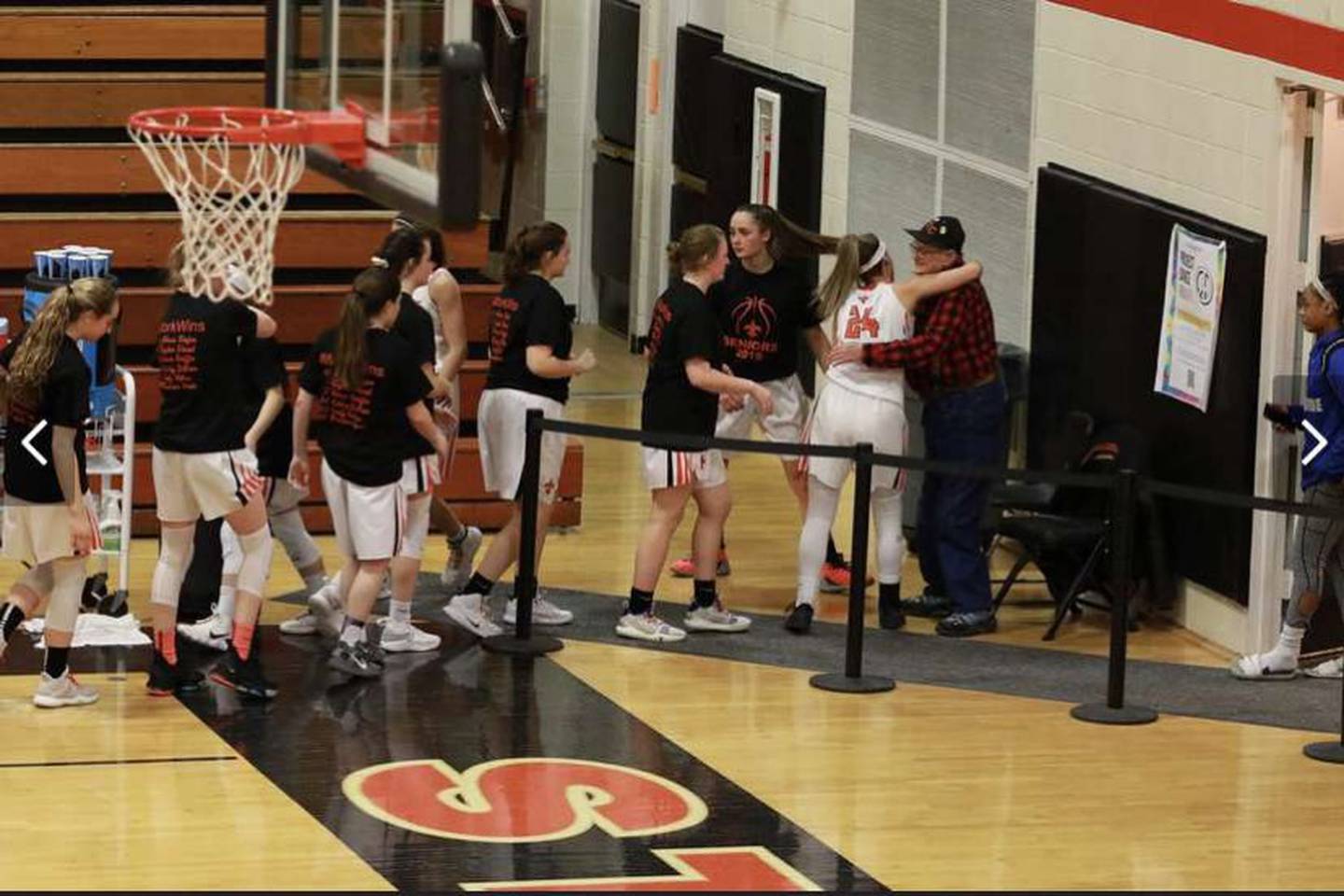 The tradition of bringing out Jones' chair before every game will be carried on by the school's girls basketball teams for years to come.
For their friend. Their everlasting smiling face in the stands.
But, most important, for Lloyd Glenn Jones.
Their super fan.