Micah Wilson always remembers who he's running for the last 100 meters of a given race.
His girlfriend, Megan, is battling advanced brain and spinal cancer. It returned after being in remission for 1 1/2 years in February. Wilson was days away from running his first track race of the season upon learning the news.
"It's something that's motivated me to work harder and race harder," said Wilson, a St. Charles East junior. "She's really special to me and she's been an inspiration to me this season.
"I've always struggled in races the last 100, 200 meters, letting people pass me and giving up," Wilson continued. "That's been the key to overcoming that. … I know she loves watching my races. I know that if she's fighting this hard, I can try to fight half as hard."
They've been friends since sixth grade and met in a local running club. Wilson and Megan began dating in March.
"She's the strongest girl I know," Wilson said. "If anyone can get through it, it's her."
Through it all, Wilson blazed to incredible heights on the track.
At the Class 3A sectional meet, Wilson raced to first in the 3,200-meter run and second in the 1,600-meter run.
At state, Wilson was the state champion in the 3,200-meter race with a finish of 9 minutes, 11.71 seconds.
In doing so, he became the first individual track state champion in Saints program history.
Megan was in the stands for both the sectional and state races.
Two weeks later, Wilson participated in the Nike Outdoor Nationals competition in Oregon. He placed second in the country for the 5,000-meter race with a time of 14:38.06.
Considering his dedication and personal accomplishments, Wilson is the Kane County Chronicle's 2021 Boys Track Athlete of the Year.
"She has been a key to my success," Wilson said. "She really got premier seating [at sectionals] because they got there early. When I ran across the line, I just got to see her. It was just really cool hearing her and seeing her."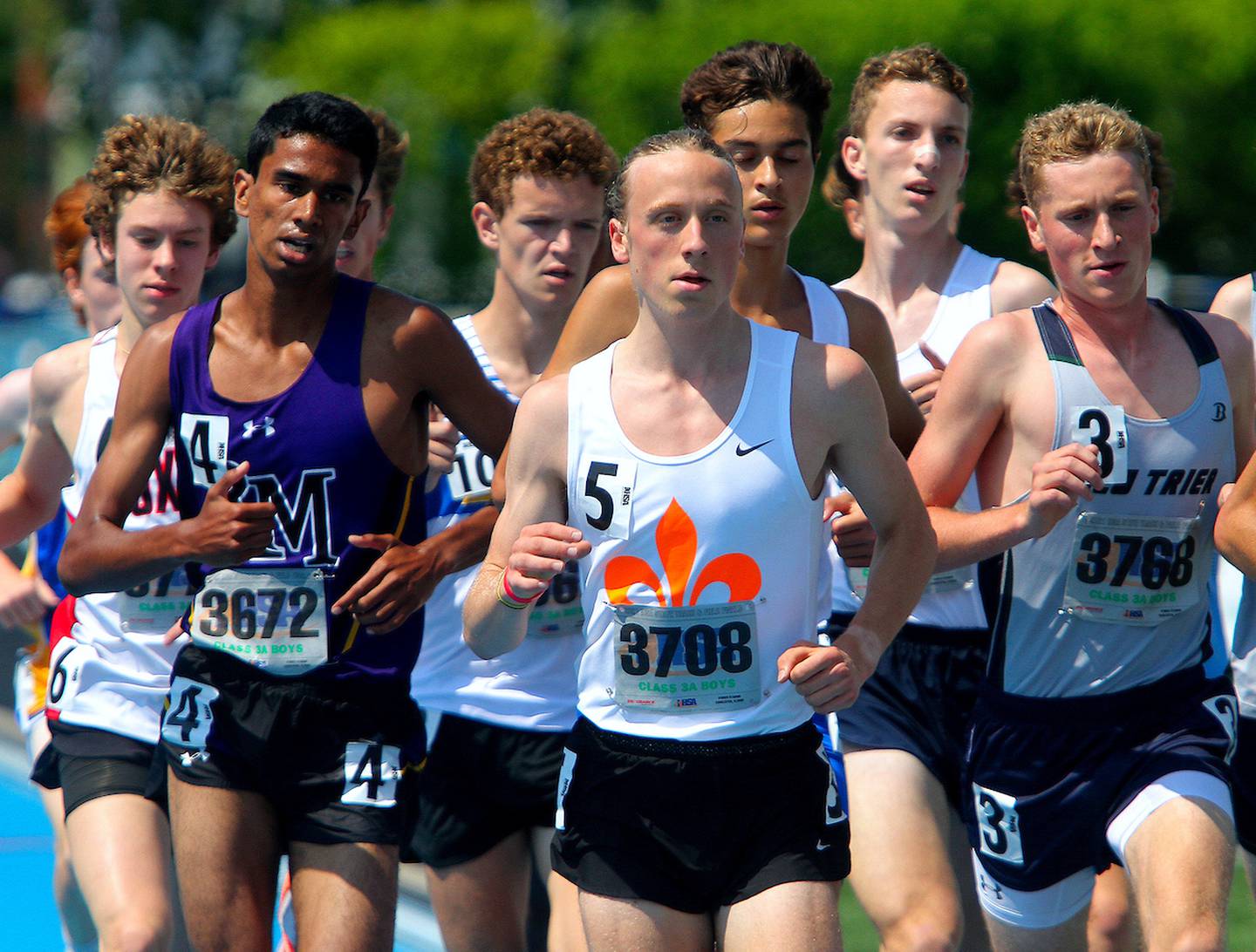 Wilson also wouldn't be the runner he is without St. Charles East coach Chris Bosworth at his side.
"Coach Bos is a great coach. He works us all really hard. With a little bit of talent and a lot of hard work, that's what's possible," Wilson said.
"First and foremost, I think [Wilson] is one of the most [coachable] athletes," Bosworth said. "He always looks for positive feedback from his workouts and his races. … He has really started to, I think, fully, fully buy into what we're doing and really understand how to race. He's a very knowledgeable, coachable kid.
"Not only is he fast, but he understands now how to ... race in big championship races," Bosworth continued. "He's been a team leader."
Bosworth said Wilson's goal since freshman year was to become a state champion.
"To write his path and his history in our program is something very special I think to him and to our program," Bosworth said. "To be a state champion and then to come back [for next season], it wasn't like he was a senior, won a state title and he goes off to college and then you don't see him again.
"To come back and to share that experience with the rest of his teammates is something very special," Bosworth continued. "Hopefully, it's going to transition to getting more kids to kind of want to strive to become like that."
Kane County Chronicle All-Area boys track and field team
Batavia: Anthony Bradley, Jalen Buckley, Casey Carlson, Jonah Fallon, Nick Fortino, Jacob Hohmann, Quintin Lowe, Scot Parker, Tyler Piron, Reese Wheatley
Burlington Central: Yusuf Baig, Jake Borman, Leighton Dietz, Javarius Foreman, Jacoby Haynes, John Huaracha, Nolan Milas, Marcus Price, Zac Schmidt
Geneva: Tim Archibald, Ben Calusinski, Roman Cramer
Kaneland: Ted Allen, Porter Conroy, Aidan Gatz
Marmion: Dan Coxworth
St. Francis: Shane Anderson, Jackson Gerard
St. Charles East: Matthew Connell, Liam Fronk, Connor Murphy, Luke Schildmeyer, Tyler Tobin, Micah Wilson, Joseph Xotla
St. Charles North: Cameron Conforti, Josh DiNatale, Josh Duncan, Max Galvan, Paolo Gennarelli, Joshua Kolodziej, Lucas Makishima