WHEATON – St. Francis baseball coach Tom Ciombor keeps a close eye on how TJ McMillen handles the athletic spotlight and the inevitable pressure that it brings.
Ciombor has been in those shoes.
McMillen, a junior at St. Francis, is navigating the recruiting trail for football. A 6-foot-3, 265-pound lineman, McMillen has received offers from all across the country to play football. Missouri, Penn State, Texas Tech and Arizona State are among those extending scholarships.
"I watch it very, very carefully," Ciombor said. "I keep a very close eye on it because there probably is not a day that he isn't asked a question [about it]. During baseball season, some of the offers were coming out on social media. … I watched it very carefully to see if it bothered him because I was fortunate enough [that] I went through it. I was very heavily recruited in baseball and football. I ended up choosing Missouri.
"I haven't seen or witnessed one negative thing with it," Ciombor continued. "He doesn't talk about [recruiting] unless he's asked."
McMillen helped lead the Spartans baseball team to conference, regional and sectional championships this spring. He led the team with a .485 batting average while slugging three home runs and driving in 25 runs.
"In our regional and sectionals, he had some very, very important visitors at North Central College. I think [Michigan coach Jim] Harbaugh and all these people wanted to meet with him," Ciombor said. "We were in the middle of games. … I had one eye on TJ, one eye on the clock and one eye on the scoreboard.
"I let him, I think twice, we had a big lead, and I let him go in the fifth or sixth inning," Ciombor continued. "Literally, I had to push him out of the dugout and go 'Dude, Jim Harbaugh is waiting for you. You've got to go!' Once again, it just tells you about his character. It's not about him when he's in the dugout or on the field. It's 'I want to be here for my teammates.' "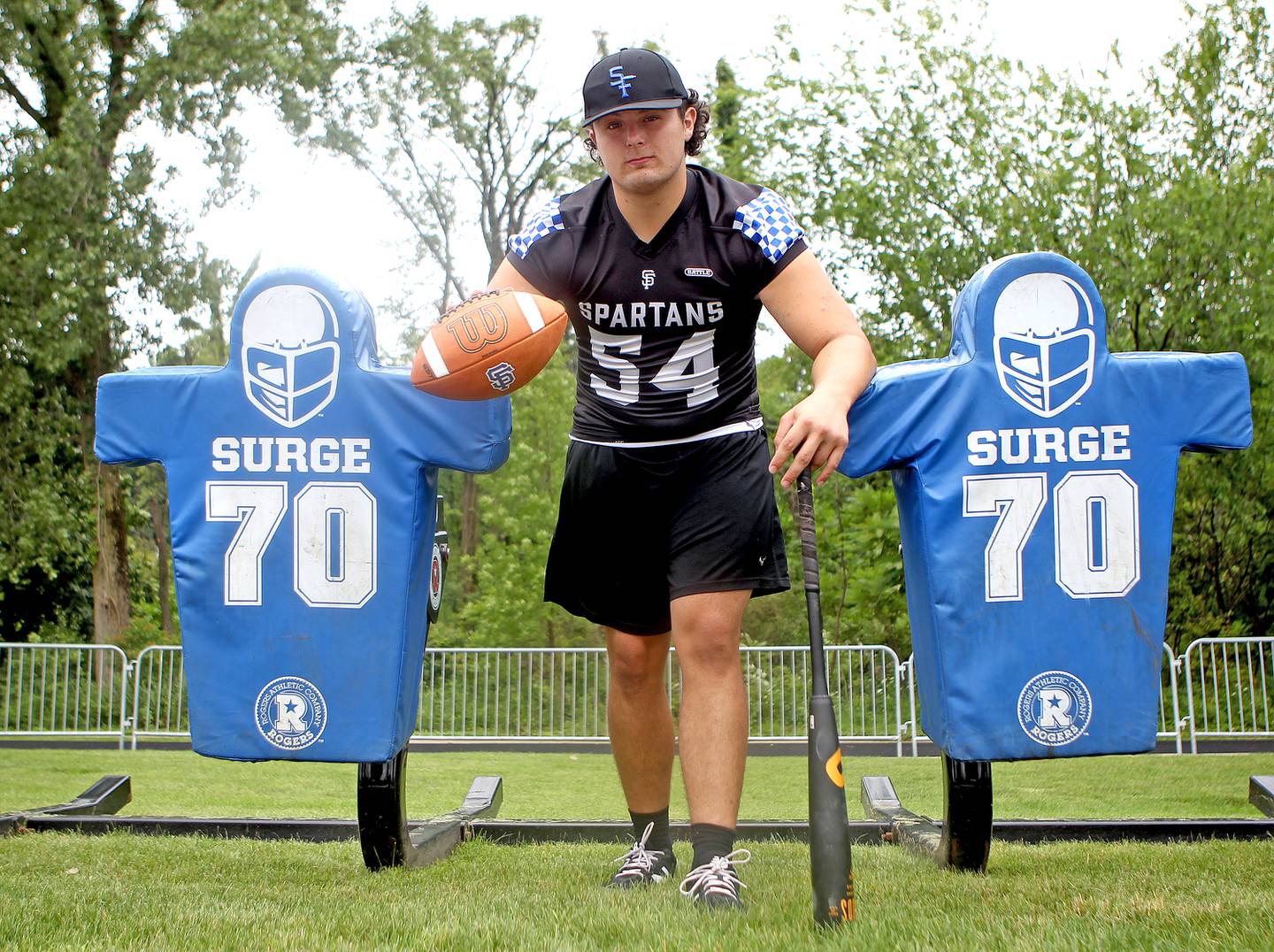 During the shortened spring football season, McMillen played both ways at offensive and defensive tackle. Playing in just three games because of injury, he still finished with 19 tackles, seven for loss, 4 1/2 sacks and 12 pancake blocks on offense. McMillen didn't allow a sack or a quarterback hit for the Spartans, who went undefeated.
Considering his outstanding accomplishments in both sports, his humility and rising athletic prominence, McMillen is the 2021 Kane County Chronicle Male Athlete of the Year.
"Nobody knows [this story]," Ciombor said. "We have a team group chat, and during when the [baseball] game is going on, TJ is either at football, meeting with people or on his way in the car and he's sending messages like 'That a boy', that type of stuff. He's totally engaged, and I didn't sense any of the pressure getting to him. … He's one of those 'come early, stay late' guys."
McMillen is the son of St. Francis football coach Bob McMillen, who was an Arena Football League Hall of Famer. TJ McMillen's older brother, Bobby, starred in high school at Naperville Central and went on to play college football at Iowa State.
"Coming from my family … we breathe, eat, sleep football. So once football hits, it's just straight competitive football. Nothing else," TJ McMillen said. "I enjoy looking up to my dad and my brother. Those two I've watched my entire life. Those two I look up to, and I look to be like them when I grow up."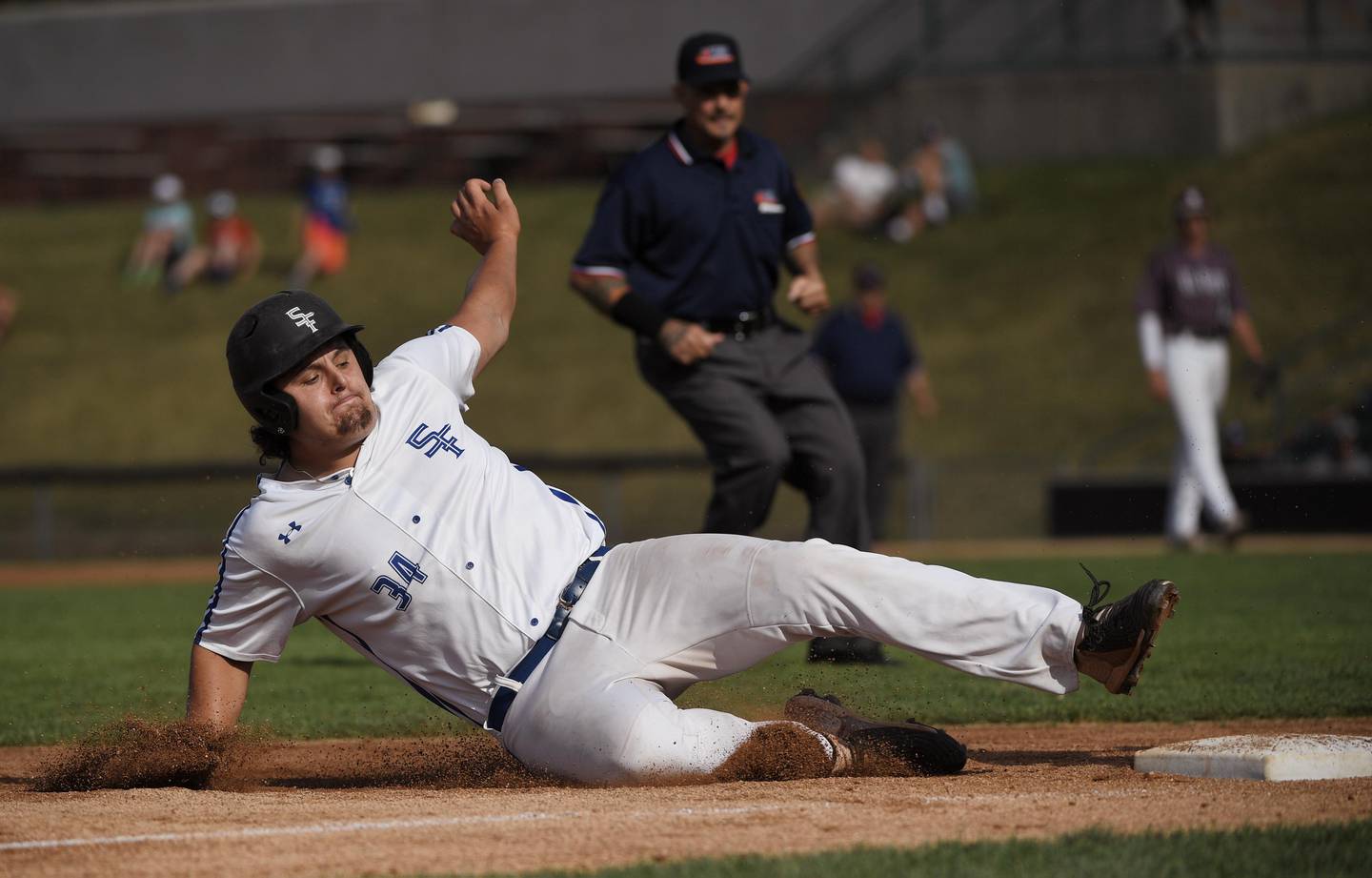 McMillen doesn't mind the extra attention that comes his way.
"I enjoy being in that little spotlight," he said, "because it's something that my brother and my dad worked up to get – not just themselves in that spotlight – but my dad worked to get Bobby, and now me, in that spotlight."
McMillen loves both football and baseball, but football, perhaps unsurprisingly, "definitely tops it a little bit."
"Sometimes football starts to be a job," McMillen said. "And it'll be a job that I hope to have the rest of my life because I love doing it.
"I love baseball, though, because I go out there and I have no pressure on me. I just go out there, have fun, hang out with buddies and just go play some baseball."