BARTLETT – Charlie Gilligan shuffled his feet up and down twice, shook his hands out and regripped his club before the crucial putt.
Gilligan, a Wheaton Warrenville South sophomore, was moments removed from being mere feet from acing his tee shot in a playoff round against St. Charles North junior Clay Heilman. The playoff determined medalist honors for the DuKane Conference meet hosted Sept. 20 at Bartlett Hills Golf Course.
Heilman, who led off the playoff, was about six feet or so behind Gilligan.
Gilligan, in his first varsity playoff, sank the putt on his second swing to prevail. Heilman's putt attempt lipped in and out of the hole seconds before Gilligan's shot.
"The last time I played that hole, I hit it about where [Heilman] hit it," Gilligan said. "I was just trying to replicate the same swing I made before. Obviously, I was shaking and sweating and a little nervous. I had never been in a playoff. ... I didn't hit it the best, but it actually worked out.
"I definitely was very nervous over the putt, but once I made it, it was kind of surreal. Everyone is jumping around and running up to me. It was awesome."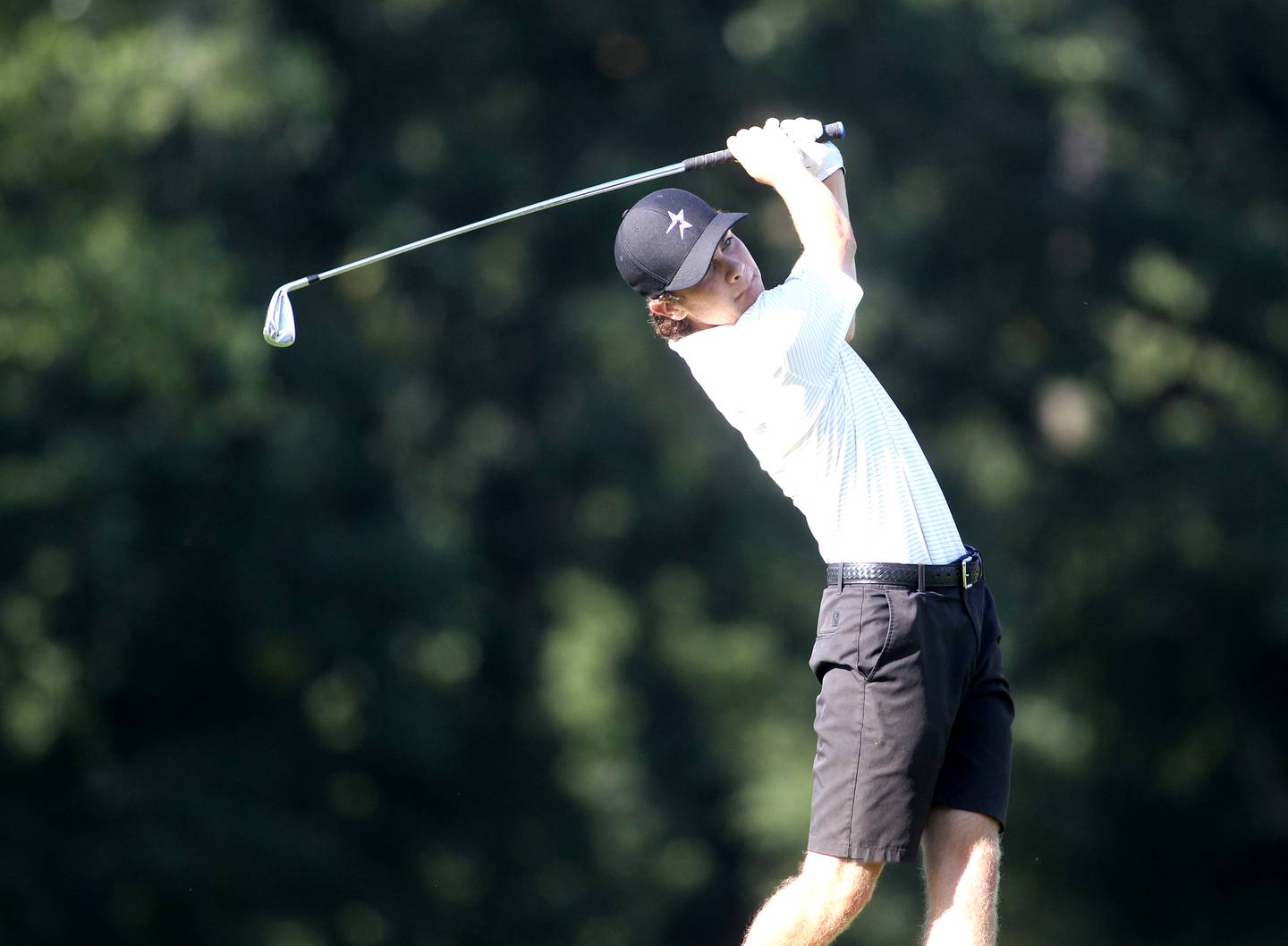 Heilman, for his part, was "feeling confident" about his first swing during his first-ever playoff.
"I was feeling it," Heilman said. "After [Gilligan] hit his [tee shot], I'm like, 'wow, that's impressive.' I gave him a handshake up there and [told him darn] good shot."
Geneva (314), with a four-shot win, captured its third consecutive conference title. St. Charles North (318), St. Charles East (319), Wheaton Warrenville South (321) and Wheaton North (324) rounded out the top five team scores.
Geneva senior Austin Frick (73) placed third. North Stars senior Mason Siegfried (73) took fourth. Batavia senior Gavin Newkirk (74) rounded out the top five individuals.
Heilman and Siegfried typically jockey for the top score for the North Stars, who also had scores from Aiden Rockwood (86), Keshav Gupta (87) and Jackson Spring (92).
Having Siegfried aboard evidently has helped push Heilman into becoming a more well-rounded golfer.
"I just know he's right on my tail," Heilman said. "It's a little friendly battle. [If] he's coming right behind me with a birdie, I've got to birdie the next and stay ahead of him."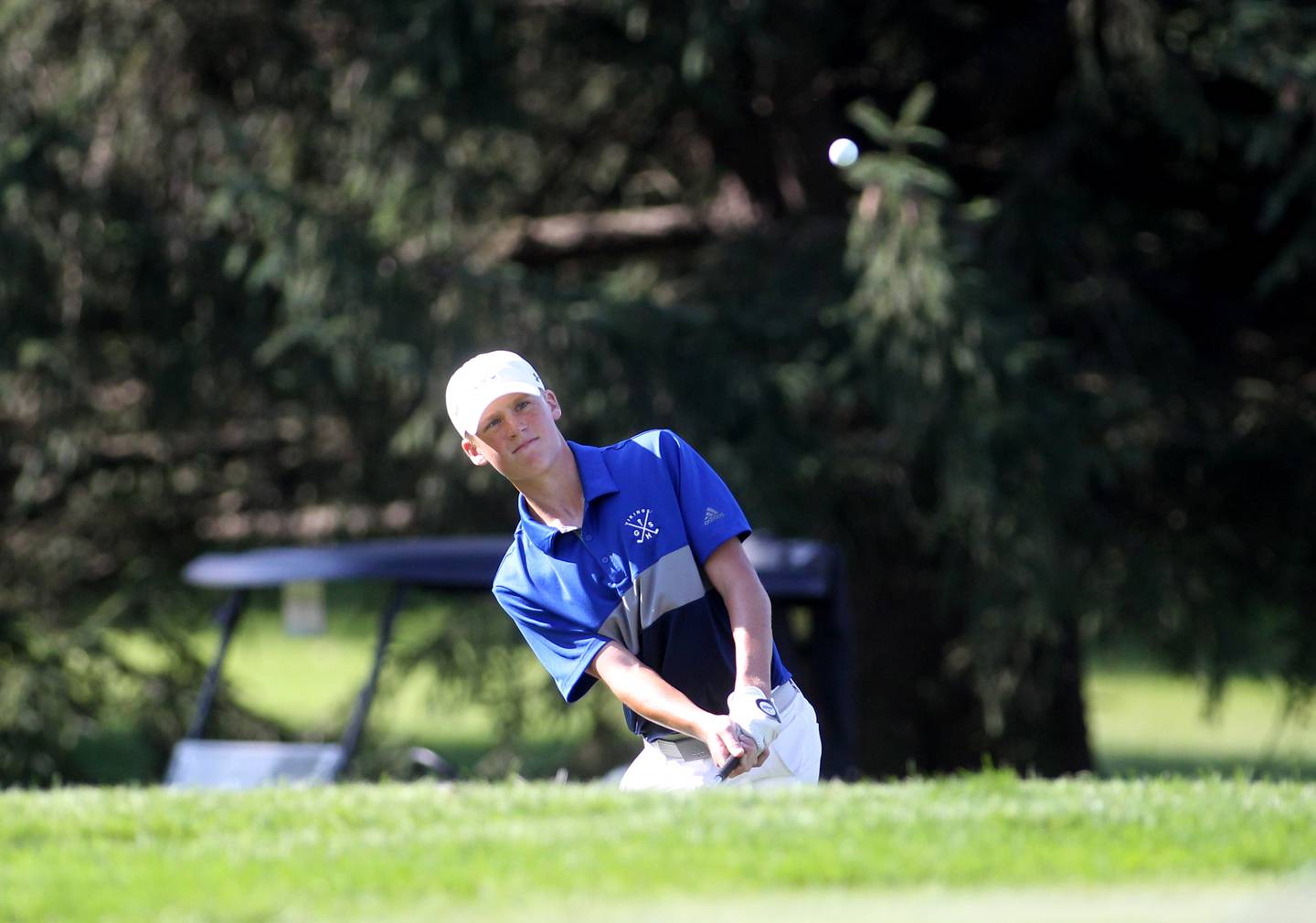 For Geneva, Tyler Quisling and Laksh Patel both added 80s, while Ryan O'Rourke and Jesse Balc chipped in 81s. Eli Sladkov (82), Matt Trimble (88) and Krish Shah (102) also competed for the Vikings.
"I like our team. We've got a lot of depth," Frick said. "Everyone can play because each day you've got a different person out there who is going to [put up a solid] number. That's what makes us good. If I have a bad day, I know someone else will step up and play well. That's why I think we're a good team this year and excited for the next couple of [weeks]."
St. Charles East freshman Anthony Solare (77) led the Saints. Ryan Tomaszewski (79), Sean Haggerty (81), Jack Evans (82) and Gavin Hunt (84) were the other top scorecards.
"In the beginning it was tough being a freshman on varsity, but I progressed throughout the season and learned how to play different golf courses," Solare said. "And I've just gotten better. I'd say about midway through [the season my confidence grew]. Some of the nine-hole matches, I remember we played Lake Park and I played pretty well. After that, I was just consistently swinging good and playing well."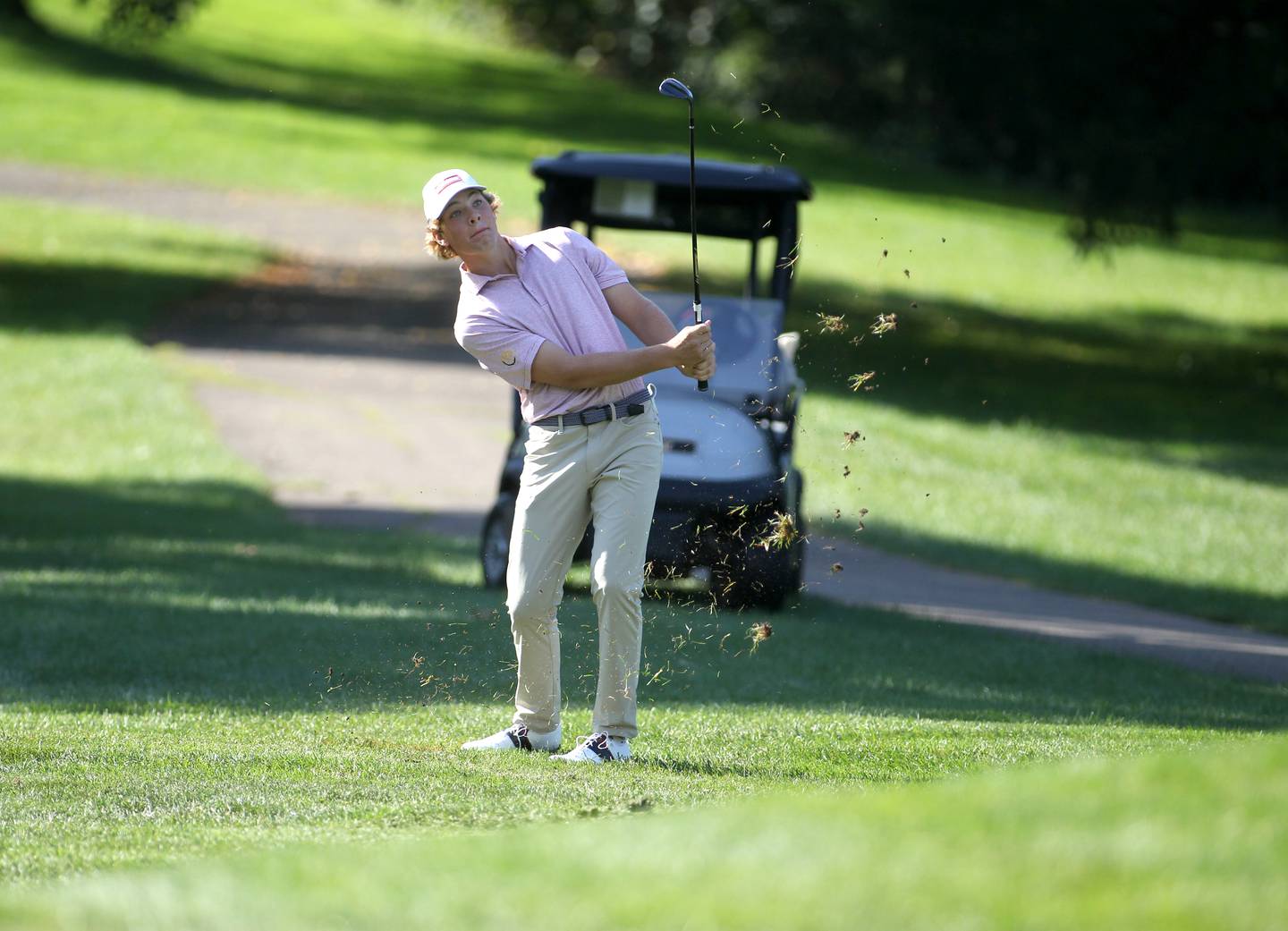 Newkirk, who has plans to make a return trip to the IHSA state tournament, was the medalist in two recent tournaments.
"Game has been coming together. I worked on my wedges a lot," Newkirk said. "I feel like I'm playing solid, keeping things going [and] just getting ready for postseason. It should be a good year.
"I kind of use invites, I guess, time for preparation to be ready [for the postseason]. I use it to get me ready for the real stuff."
Callan Fahey (82), Trey Harshbarger (83), Luke Webber (84) and Danny Gainor (87) were the top finishers for Wheaton Warrenville South.
Tommy Dracopoulos (80) took 10th individually for Wheaton North and was followed by Henry Brock (80), Mason Oleniczak (81) and Trey Hubner (83).
"This season, there's been a lot of ups and downs. I think the hardest thing about golf is to be consistent," Dracopoulos said. "There's been highs and lows and today [was] one of my better days. I enjoyed it out here. The course is in good shape and I think we played pretty well."