Winning the state cross country race is a goal that can be traced back to middle school for Micah Wilson.
Wilson, a St. Charles East senior, already had become the first individual track state champion in Saints program history last spring.
It's just another addition to a long list of the miles, accomplishments and milestones already accrued for one of the most decorated runners in St. Charles East history.
"I've been dreaming of crossing the line in first at cross country state since eighth grade, since I first knew what the course looked like," Wilson said. "I've been visualizing that on all my runs, all my workouts. That's been what I've been working towards not only this season, but last season and before. I've known I've wanted come out here, I've known I've had the ability."
Wilson realized that dream earlier this month in Peoria, as he clocked in at a blistering 14:11.18 pace, besting New Trier's Nick Falk's 14.14.11.
"It was such a special moment for it all to come true," Wilson said. "After last year, not getting the [IHSA-sanctioned] state meet and having that goal, that dream put on hold for a whole extra year I was extremely happy with how it happened...I'm so grateful for my family friends, everyone who supports me. My coaches, my teammates. They all mean so much to me."
It was a fitting conclusion to a season of firsts for Wilson, who will run collegiately at Wisconsin.
Wilson won the DuKane Conference championship – the third consecutive year a St. Charles East runner won the top spot at conference – took first at the regional hosted by St. Charles East and defended his sectional title en route to his final bow at state.
"He never lost sight of wanting the team to be matching his level. If you look at the [state] results, we didn't have the outcome that we wanted. But it wasn't the Micah Show," Saints cross country coach Chris Bosworth said. "It was more of the team-first and he was a big factor of that team. But it wasn't just like we [had] Micah and nobody else."
"That's something that I think is pretty special because with some high-level athletes, sometimes you normally get the selfish 'all about me'...that was further from the truth this year [with him]."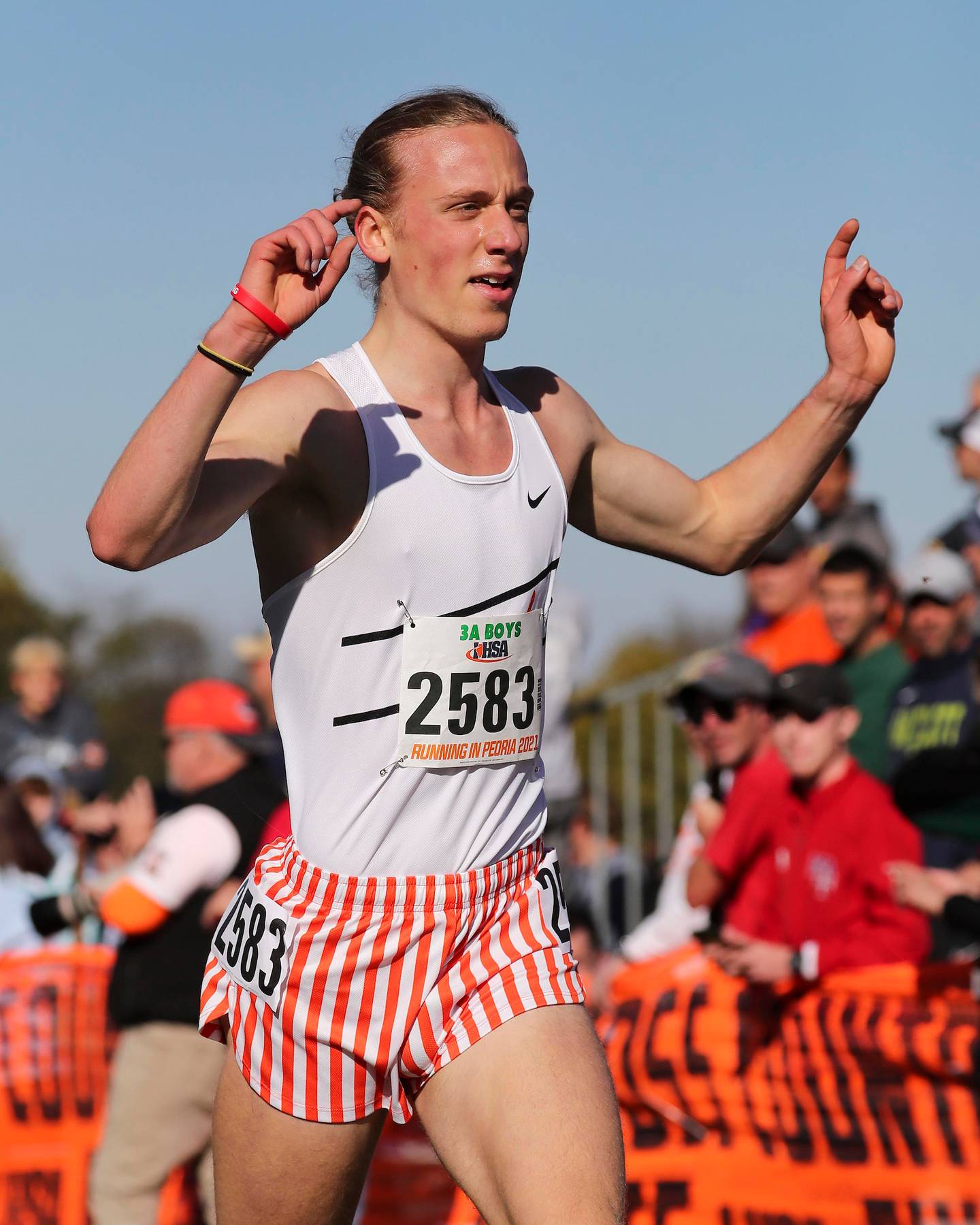 Wilson even fought through a bout with COVID-19 in the first week of October. Luckily for Wilson, he didn't have a race to prepare for during the week he missed because of it. Wilson returned for his DuKane Conference race and hardly missed a beat.
"I got really lucky with it," Wilson said. "I experienced symptoms when I had it; that was pretty bad. The week I had it, I only ran two miles [on my own]. Afterwards, I coughed so much I [threw up]. I didn't really have any symptoms afterwards. I was really lucky with that. I just feel like God had a plan for it."
"With the level of athlete that he is, a good chunk of these type of athletes – really any athlete – could've faltered missing a whole week of practice and having some residual setbacks with that," Bosworth said. "He never lost his focus. To be able to [continue to]win, I thought – he was sick and he was hacking up a lung [when he had it] – I was thinking: '...You might not be able to run away from these people now.'"
When Wilson returned, "he was pretty strong." The regional finish of 14:39.0 was a strong indication Wilson solidified he was back.
"The ability to not lose focus when he was sick was pretty influential in to him being able to get that win for him at the state meet," Bosworth said.
While Wilson has some national cross country meets and an upcoming track season to stay in shape for, he is looking forward to joining the Wisconsin running program next fall. He'll join former Saints and 2019 state cross country champion teammate Bob Liking in Madison.
"I'm so excited for it," Wilson said. "...just the things he's done this season [like winning the 2021 Big Ten Conference individual title and also helping the Badgers to the team championship]...I know I can be successful there. Bob's been really successful and the team is really successful."
"To run with Bob again – we won state in 2019 – we'll see what we can do again as teammates," Wilson continued.
Kane County Chronicle All-Area boys cross country team
Batavia: Quintin Lowe
Burlington Central: Yusuf Baig, sr.; Zac Schmidt, sr; Ryan Kries, so.
Geneva: Nathan Lehman, sr
Kaneland: Evan Nosek, fr; Christian Phillips, sr; Nolan Allen, sr; David Valkanov, so.; Trevor Neal, jr;
Marmion: Connor Carlson, so.; John Daffenberg, fr.
St. Charles East: Micah Wilson, sr; Jedidiah Wilson, so; Mitch Garcia, jr; Joey Xotla, sr; Lexton Rockwell, jr; Ethan Piercy, sr; Memphis Patterson, sr.
St. Francis: Sam Andrzejewski, jr.; Daniel O'Connell, jr; Andrew Hernandez, jr; Chris Covone, sr; Chris Spahn, sr; Charlie Coyle, so;
St. Charles North: Ryle Traub, sr.