A popular place for the cuisine of Thailand is VinoTHAI on the far east side of St. Charles off Route 64, just west of Kautz Road.
We dropped by early on a Friday evening and the restaurant's dining room quickly filled up, while a brisk carryout business kept the kitchen hopping.
We were shown to our seats at a white tablecloth-clad table with fresh roses in a sake container turned into a fun little vase.
The airy dining room had elements of Thai-inspired decor including elephant art. The sound of cocktails being shaken at the bar added a convivial touch, and neighboring tables sported mixed drinks with cheery little paper umbrellas.
The staff warmly greeted regulars, adding to the cozy ambience.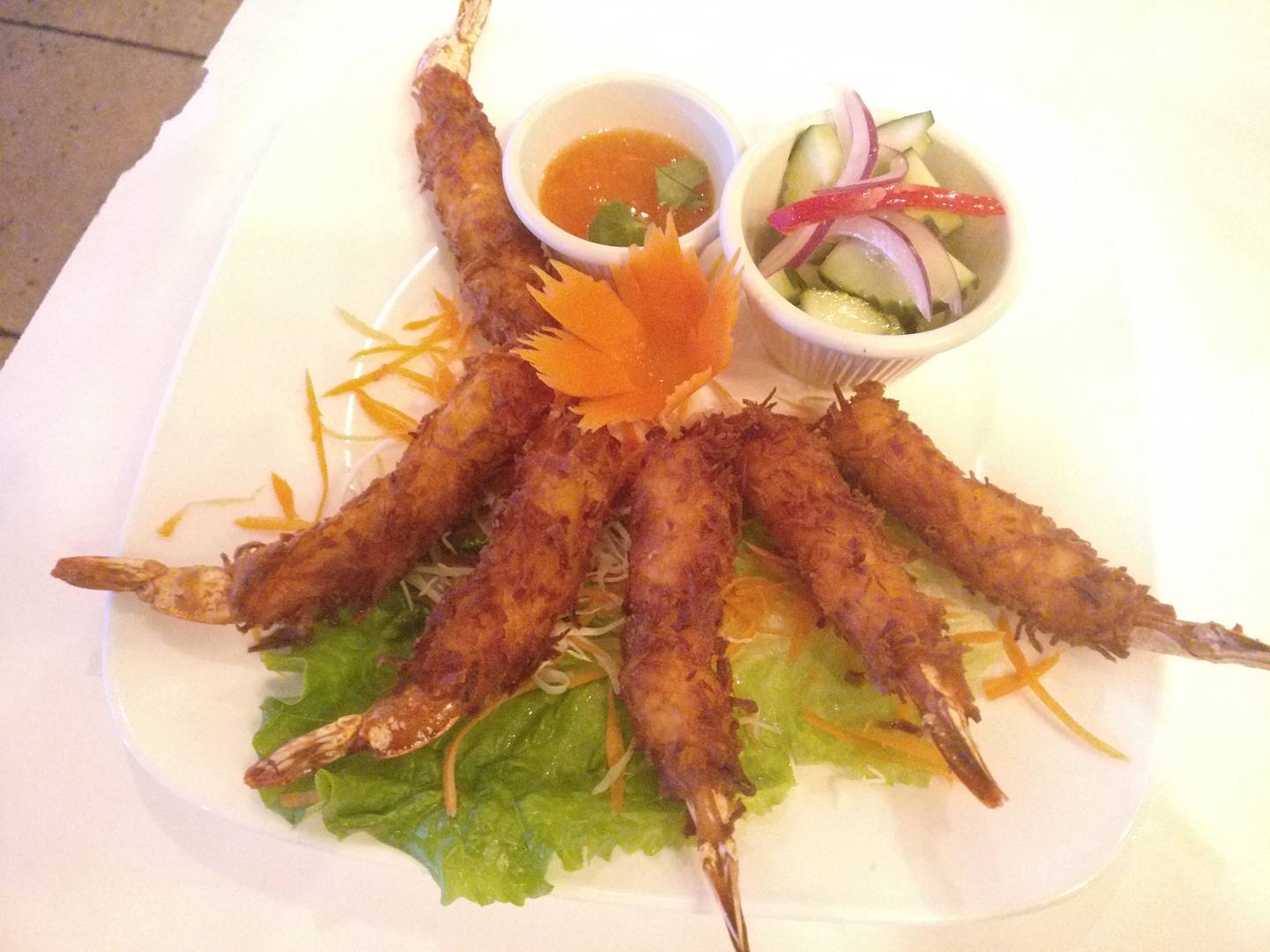 We began our meal with an appetizer of coconut shrimp, featuring six large, tail-on shrimp in a tempura breading rolled in coconut and served with cucumber salad and a mango chutney.
The batter was crunchy and flavorful with a hint of sugar, enhanced by the sweet and spicy chutney. The cucumber salad, with onion and red pepper in a delicious dressing, was a refreshing accompaniment. An eye-catching touch was the garnish of carrot fashioned into a flower with feathery petals.
Among the VinoTHAI specialties, the website highlights Golden Chicken, Crazy Noodle and Chicken Curry Fried Rice. My dining companion also eyed the menu's description of the tempting Pad Thai, featuring stir-fried thin rice noodles, egg, tofu, bean sprout, onion and crushed peanut with choice of meat in a homemade sweet and sour tamarind sauce.
He deliberated for a while, but switched gears and picked the Grilled Salmon with Crunchy Basil, prepared with a grilled salmon fillet glazed with mild sweet chili and topped with bell pepper and crunchy green basil, with jasmine rice on the side.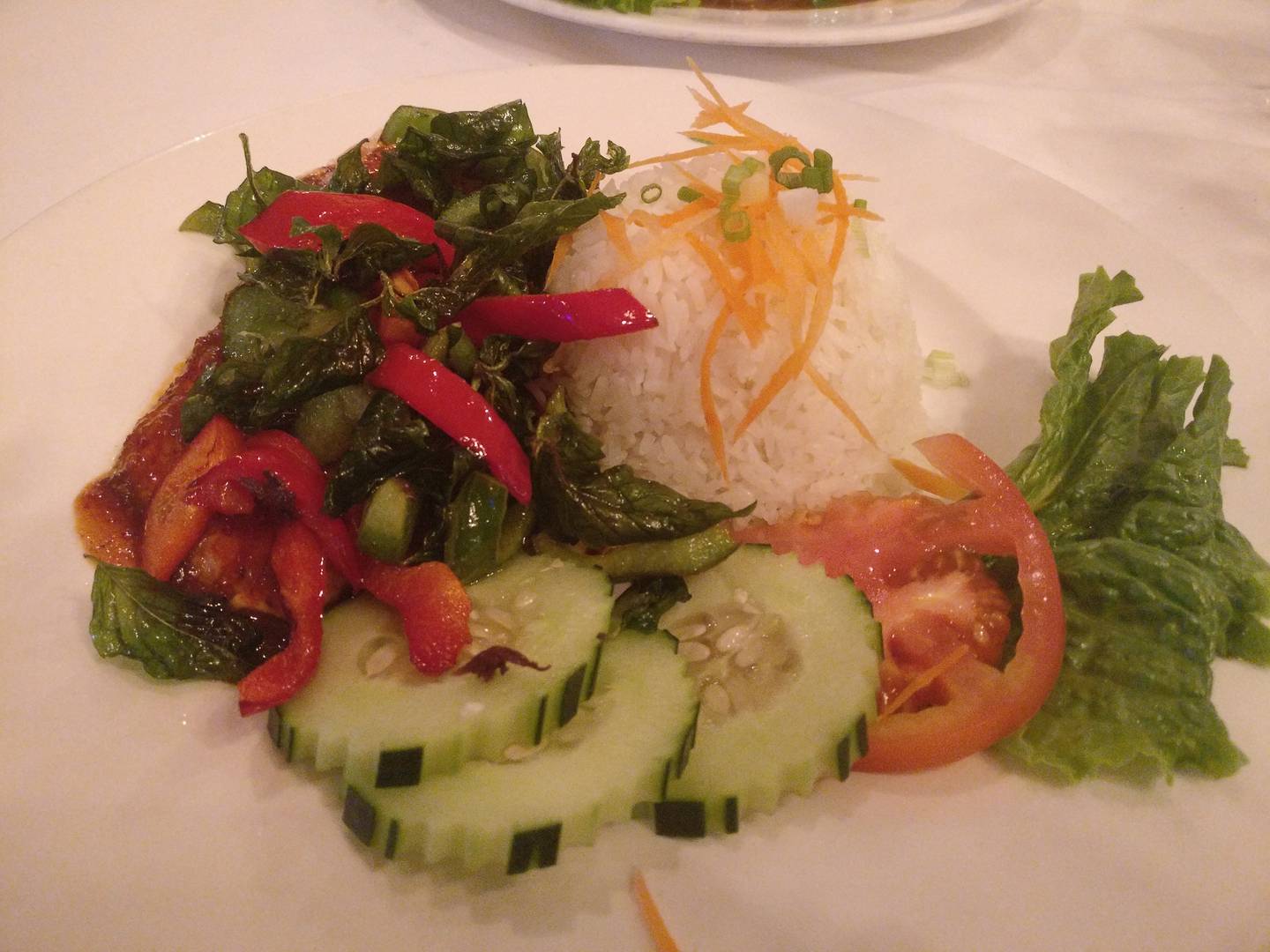 The large fillet was smothered in nicely grilled bell pepper and topped with crisped Thai basil that was milder in flavor than our homegrown.
I chose the Ginger Chicken, prepared with stir-fried chicken with fresh ginger, mushroom, pea pod, carrot, bell pepper and onion in a delicate sauce.
The dish tasted light, and the fresh vegetables had bright flavors, elevated by zesty ginger slices. The dish can be prepared with any choice of meat, seafood or tofu. After enjoying the tasty appetizer, shrimp sound like a great option for this dish on a future visit, along with sampling the signature curry dishes of Thailand.
We enjoyed our pleasant experience at VinoTHAI.
• The Mystery Diner is a newsroom employee at the Kane County Chronicle. The diner's identity is not revealed to the restaurant staff before or during the meal. If the Mystery Diner cannot recommend the establishment, we will not publish a review.
IF YOU GO
WHAT: VinoTHAI
WHERE: 3825 E. Main St., St. Charles
WHEN: 11 a.m. to 8:30 p.m. Wednesday and Thursday; 11 a.m. to 9:30 p.m. Friday; 3 to 9:30 p.m. Saturday; and noon to 8 p.m. Sunday
INFORMATION: 630-443-8461, vinothai.com