The Cooper's Hawk Winery & Restaurants in St. Charles, designed as a California wine country experience, just celebrated its fourth anniversary.
The mood was lively as we entered for lunch, passing by the strikingly long wine tasting bar with row upon row of wine bottles and an adjoining artisanal shop of wine-related products and accessories.
The team at the host station seated us in the dining room, a bright, contemporary space.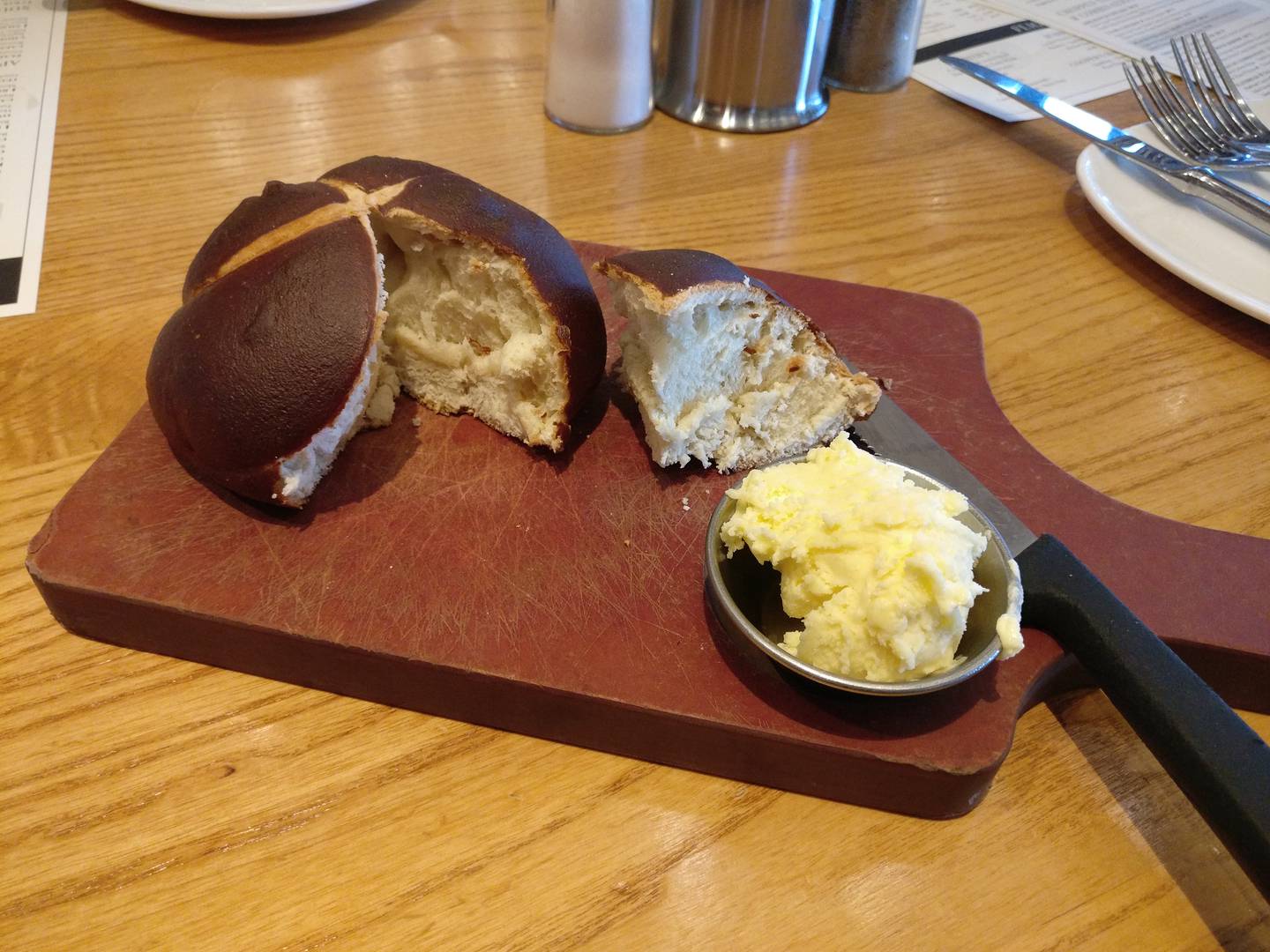 Our attentive server brought us a warm loaf of pretzel bread with whipped butter while we pondered the extensive menu, offering something for every taste. The restaurant is known for a scratch kitchen that features American dishes fused with international flavors.
We opened with an appetizer of the drunken shrimp, featuring five large bacon-wrapped shrimp with tequila lime butter sauce, and a spicy guacamole. The shrimp were perfectly prepared in this delicious starter.
You'll notice bin numbers next to each menu item, recommending wine pairings. The restaurant has a wide array of gluten-free dishes, and also highlights healthful options.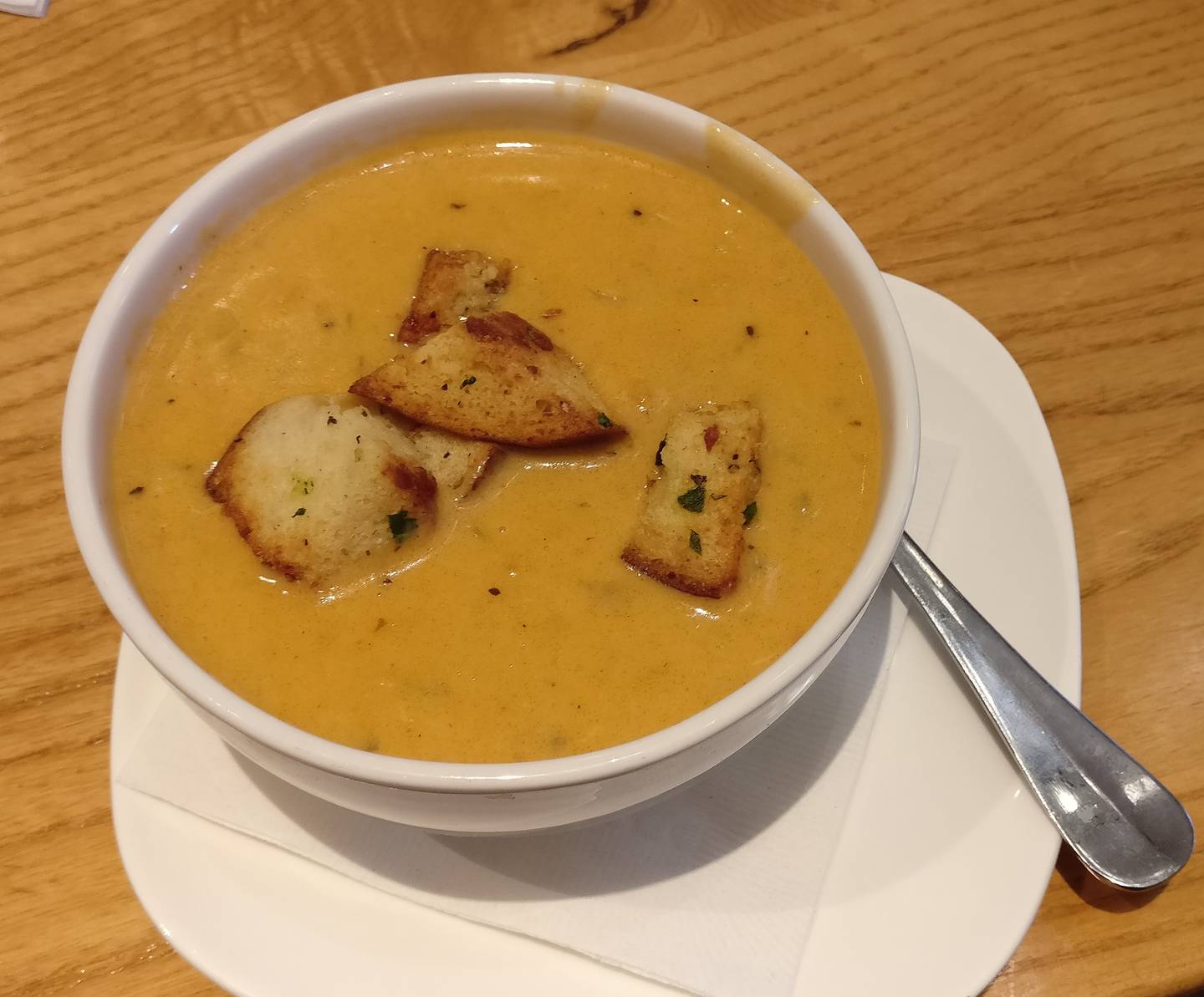 My bowl of the crab and lobster bisque was brimming with minced vegetables in a less rich take on the classic.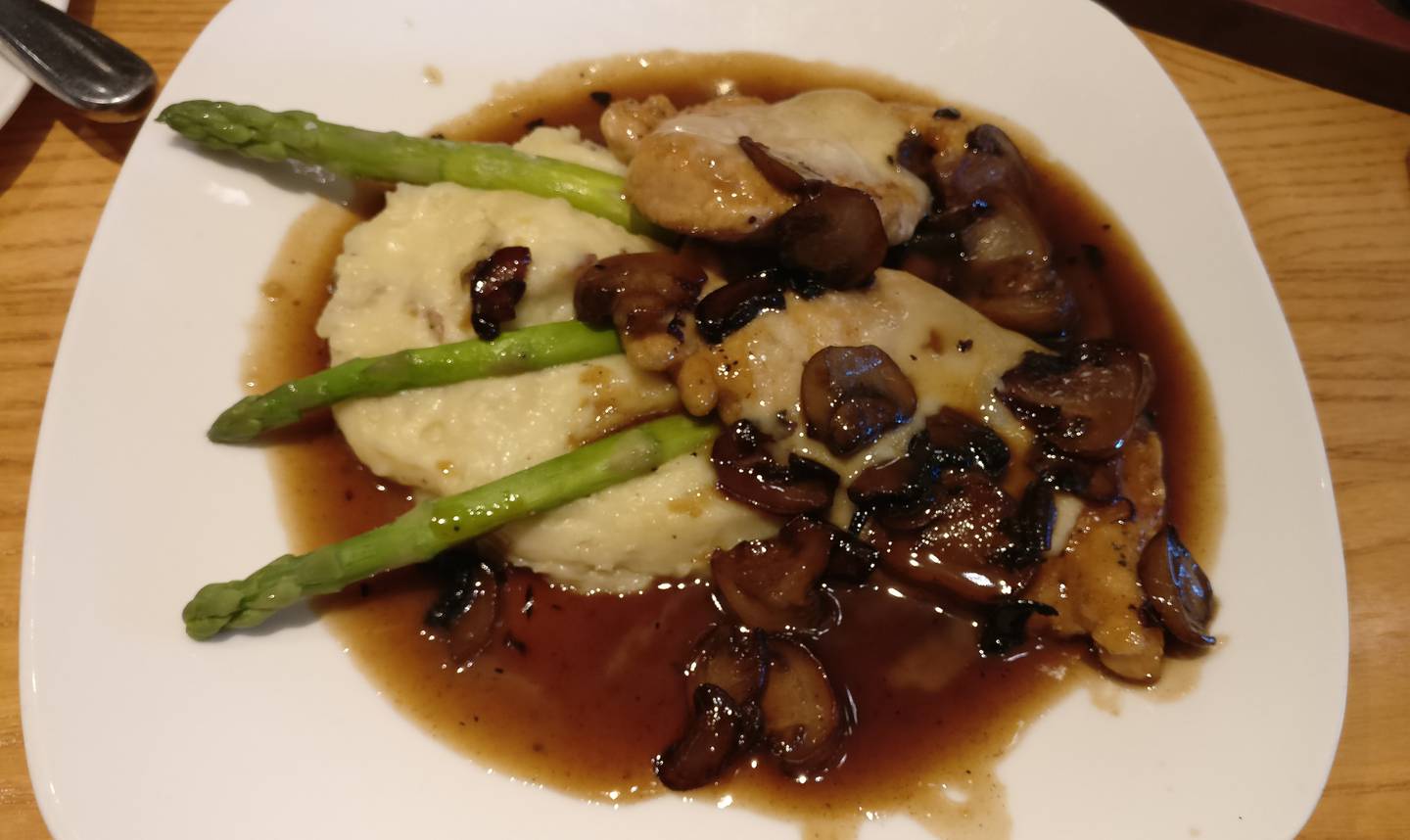 I ordered the luncheon portion of chicken Madeira, which arrived with lusciously caramelized mushrooms in a savory sauce atop tender chicken breast with a light topping of fontina cheese, accompanied by creamy mashed potatoes and al dente asparagus for appealing contrast.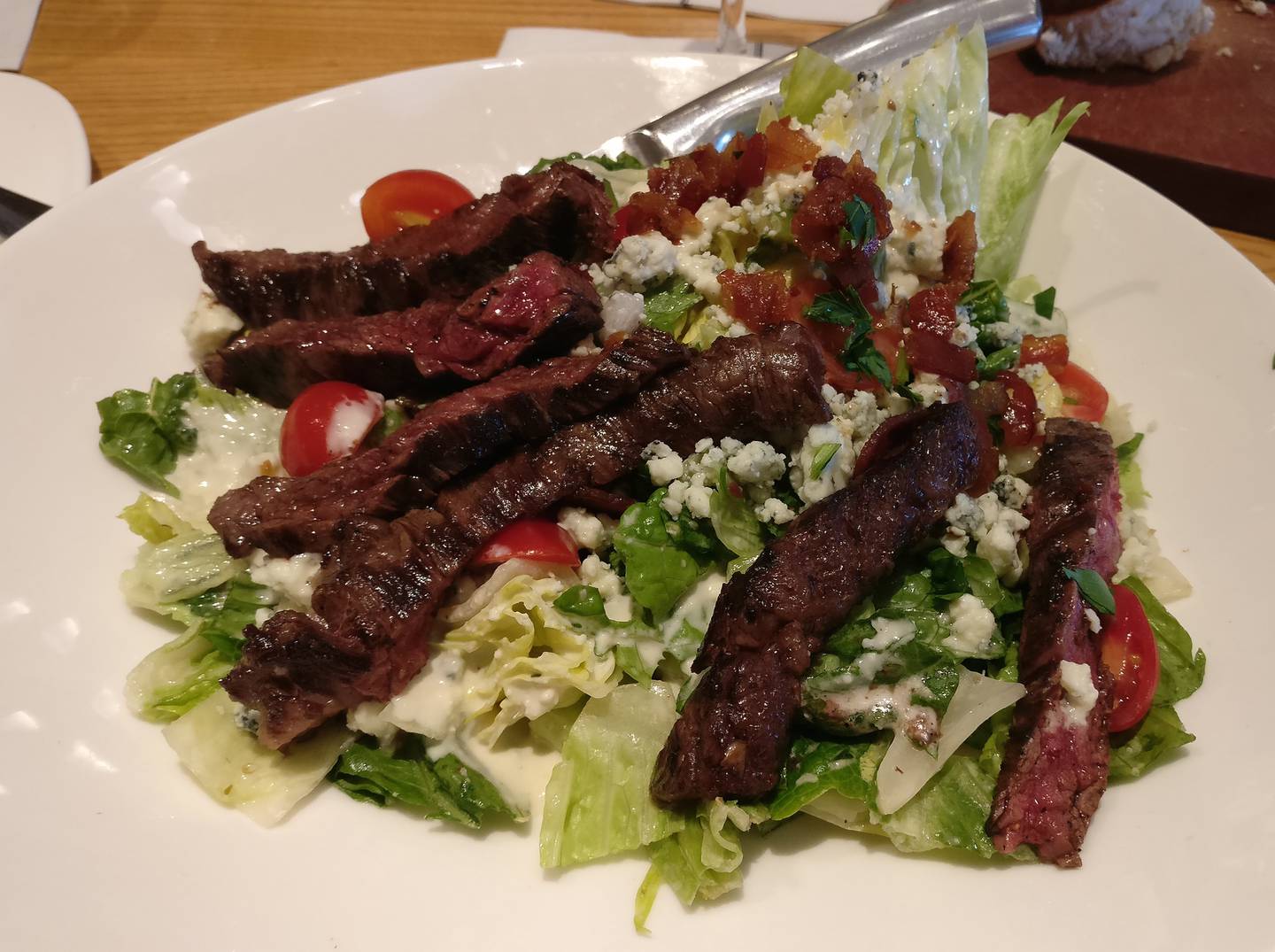 My dining companion chose the recommended blackened bleu skirt steak salad, combining applewood smoked bacon, bleu cheese, red onion, sweet grape tomatoes, Italian vinaigrette and bleu cheese dressing. The outstanding salad was generously topped with wide strips of grilled steak that were wonderfully flavorful and tender.
At a neighboring table, a couple refilled their wine glasses from a decanter. To add flair to its bottled reds served at table, the restaurant presents them in a proprietary decanter that's both spill-free and aerates the wine.
Wine tastings at the bar are a fun way to begin a visit. Cooper's Hawk brings domestic and international grapes to its winery in the western suburbs, and has won numerous awards.
Joined by a friend celebrating a birthday, we shared a nice bottle of the Cooper's Hawk Lux Sparkling made with the champenoise method. We capped the meal with a lovely cappuccino.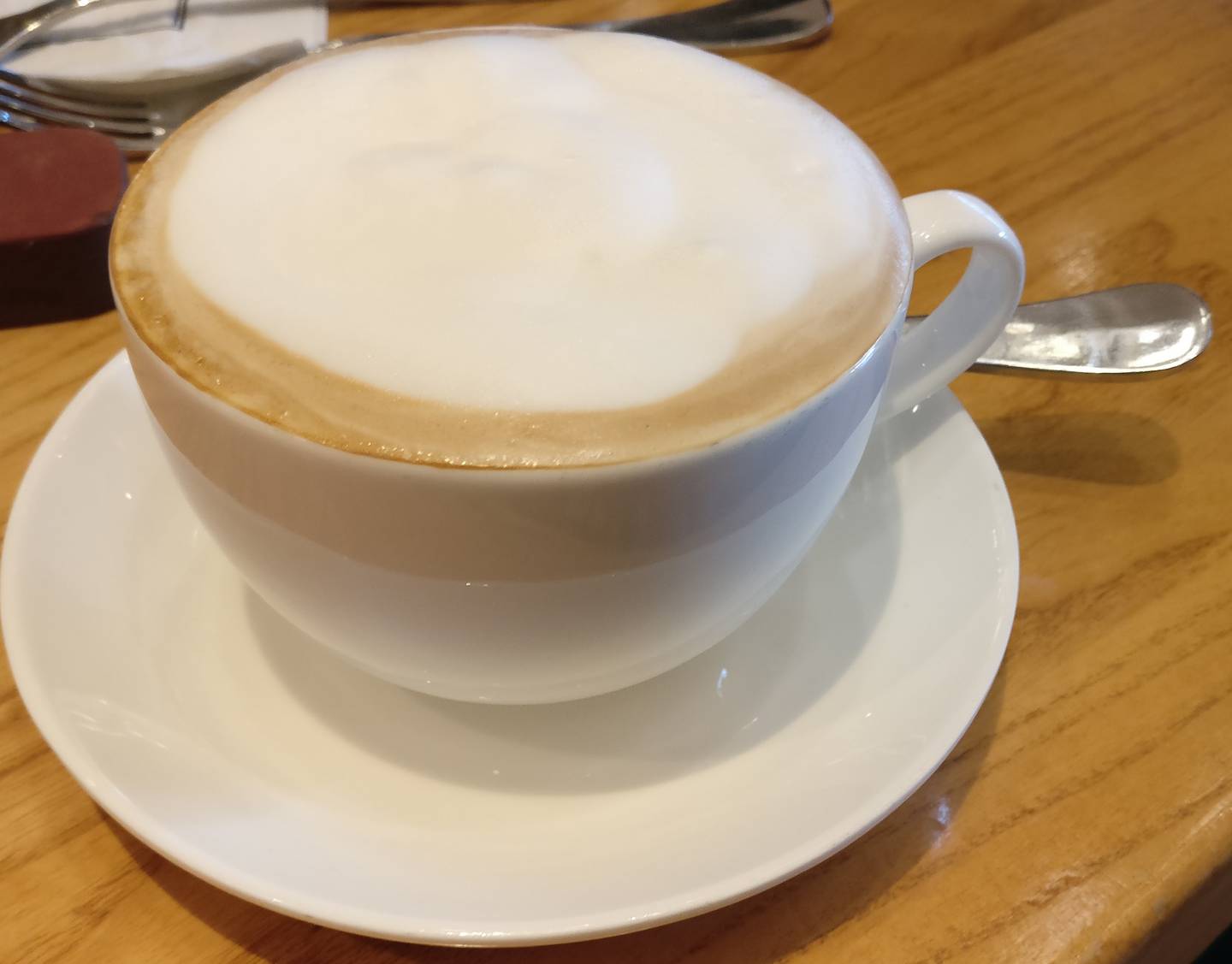 Around the corner is a full-service bar that also showcases craft beers and signature cocktails, and overlooks an outdoor patio with tables and umbrellas.
Another patio with a roof for shade, fans for cooling and heaters to stretch the season is off the main dining room, as are private occasion spaces.
Lots of pleasures wait to be uncorked at Cooper's Hawk.
• The Mystery Diner is a newsroom employee at the Kane County Chronicle. The diner's identity is not revealed to the restaurant staff before or during the meal. If the Mystery Diner cannot recommend the establishment, we will not publish a review.
IF YOU GO
WHAT: Cooper's Hawk Winery & Restaurants
WHERE: 3710 E. Main St., St. Charles, near former Charlestowne Mall
PHONE: 630-940-1000
INFORMATION: chwinery.com