HAMPSHIRE – It's difficult to imagine now, but five years ago, Drew Scharnowski wasn't exactly towering over competitors on the court.
Somewhere there's pictorial evidence of the 6-foot-9 Burlington Central senior forward as a scrawny 5-foot-11, 150-pounder as an eighth grader. His team had just won a tournament.
"[Future Central teammate] Matthew Lemon and I are standing next to each other," Scharnowski said March 13. "And we're the same exact height."
Ten inches taller and hundreds of basketball games later, Scharnowski leaves Central as one of the finest players in program history.
A Belmont University recruit, Scharnowski averaged 23.1 points, 8.6 rebounds, 3.1 assists and 2.4 blocks a game for the Rockets this season. Scharnowski was named First Team by the Illinois Basketball Coaches Association in Class 3A, eclipsed 1,000 career varsity points and led Central to a 29-6 record and its third consecutive Fox Valley Conference title.
Scharnowski, a four-year varsity player, is the 2022-23 Kane County Chronicle Boys Basketball Player of the Year.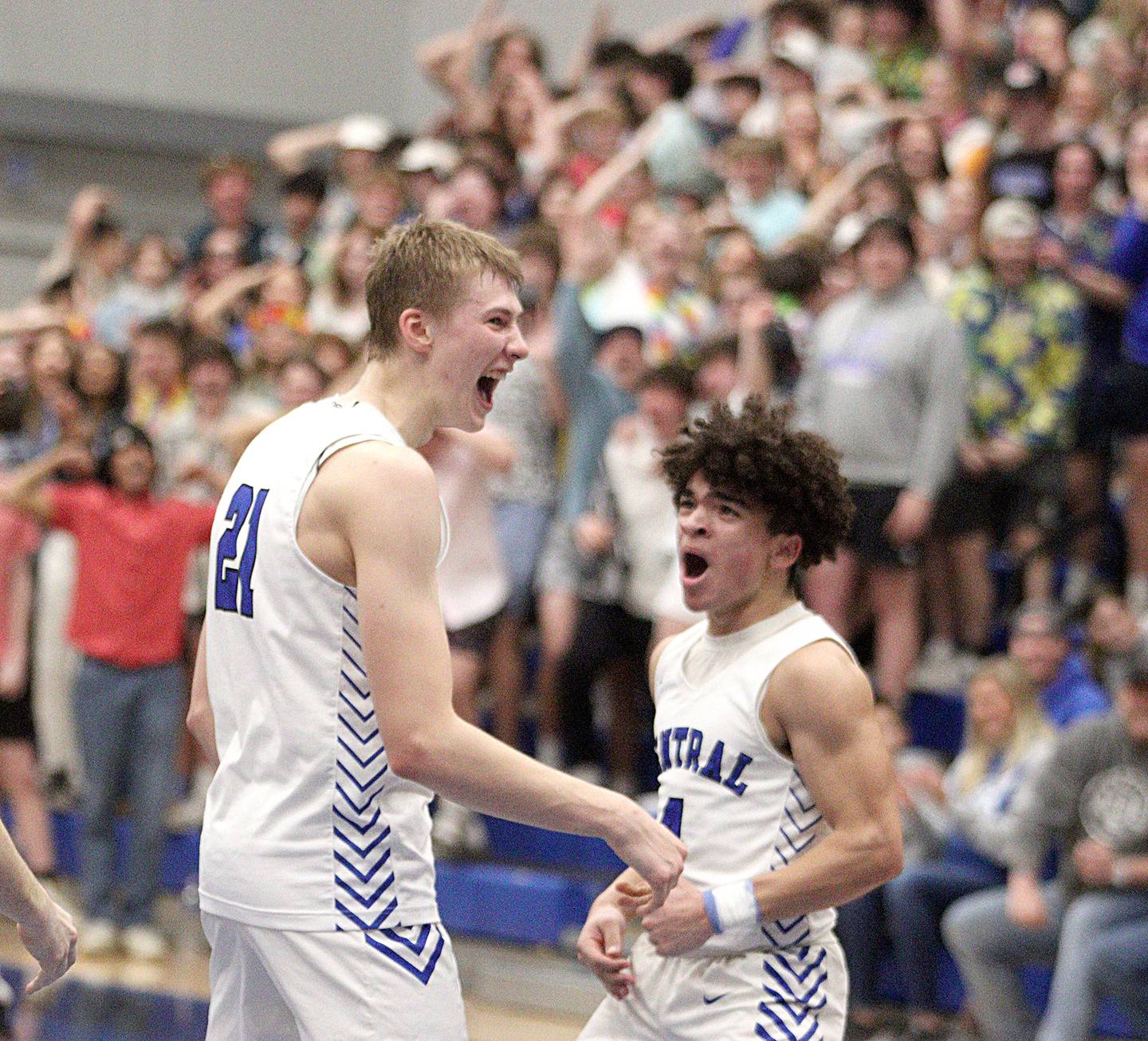 "It was just such a fun and learning experience," Scharnowski said. "I couldn't be more thankful to play in front of those fans and play for a great community. Coach [Brett] Porto took a chance on me freshman year when I was pretty small and I was this lanky little kid [with] no muscles. He really invested in me."
As a freshman, Scharnowski averaged less than two points and two rebounds. Learning alongside Josh Hudgens and Jake Lenschow helped pave the way toward future success.
"I remember when I was a freshman, I was like, 'Man, these guys are grown men. They're so huge.' Obviously, they were great players and they were having a great year. We were coming off the graduation of [standout Patrick] Mayfield and all the people doubted us, especially since it was our first year in the [FVC]. They stepped up, led the team and also took me under their wing, mentored me and showed me the ropes. I'm super appreciative of that."
The next season as a sophomore, Scharnowski's averages grew to six points and four rebounds a game. As a junior, they ballooned to 9.2 points and 6.5 rebounds a game while the Rockets blasted to their best record in school history at 31-4.
"I grew exponentially from my freshman season to my senior year and it was a ton of fun meeting a lot of great players, lot of good people who opened a lot of opportunities for me," Scharnowski said.
For his senior season, Scharnowski was now the undisputed star of the show. More important, he was the Rockets' leader.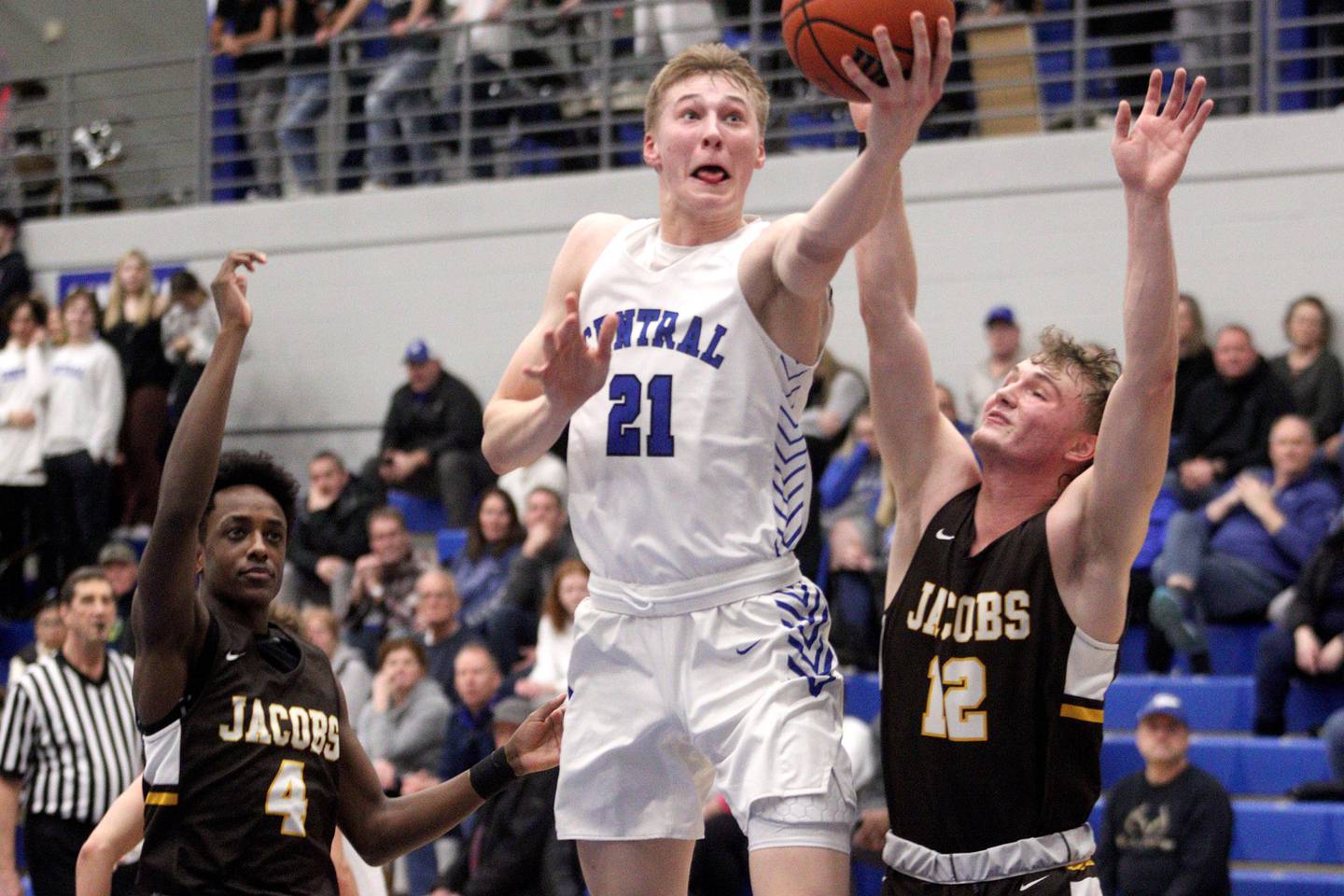 "I thought throughout the year, as he gained more confidence in his game, he gained more confidence in his leadership," Porto said. "Especially these last couple years, you talk about just a lead by example guy. He was always that, and then I think he found more vocal leadership at times to get his teammates pumped up or pick people up. He really improved on that and that's not easy for high school kids to do.
"Through the summer and through the early part of the year, it was learning how to be the main focal point offensively and defensively. As we were building other people around him and bringing other people along, that was different for him. It didn't matter if it was the last couple years at Central or learning to play [through AAU], he wasn't necessarily the first option."
Once those sets and pieces were in place, Scharnowski took off. Scharnowski shot 58% from the field, 35% from 3-point range and had 78 blocks.
Scharnowski's physical build – A seven-foot wing span and 30-inch vertical – isn't common on a high school basketball court.
"Not many coaches have [had a player with his build]," Porto said. "I've been doing it a long time and have been fortunate to coach a lot of guys who have gone on to play professionally, whether it's summer [league or whatever]. There are, frankly, not many people at the high school level that can move and do what he can do on a court at that age."
Above all, Scharnowski left the Rockets better than when he found them.
"[I'm most proud of] the whole team's willingness to come in each year and learn from our losses," Scharnowski said. "Put our nose to the grindstone and just get better. There's a lot of people who just wanted it. They wanted to get better. Coach Porto, coach [Ryan] Robinson, coach [Reed] Hunnicut deserve a ton of credit for just pushing us to do our best, open the weight room, open the gym so we can shoot."