ST. CHARLES – Brooke Carlson has learned, over time, to take the right shot and not just any shot.
Wherever those shots come – deep from beyond the arc, slashing and driving or elsewhere – they are paying off in momentous ways for the Batavia junior.
On Feb. 7, it was a career-high 42 points for Carlson in Batavia's 63-59 victory over St. Charles North to close the regular season.
"I definitely think [it's part of my progression as a player]," Carlson said. "I kind of ease more into [a game] and know when to take the right shot, not just the shot. Just getting space for myself and moving it for the team and them getting it back to me. It's been really good this season."
Carlson appeared destined for a career night from the opening tip. She scored 13 of Batavia's 14 points in the first quarter and 16 of their 20 by the halfway mark. By the end of three quarters, Carlson had 26 points, but plenty more in the tank to best her previous career-high of 32.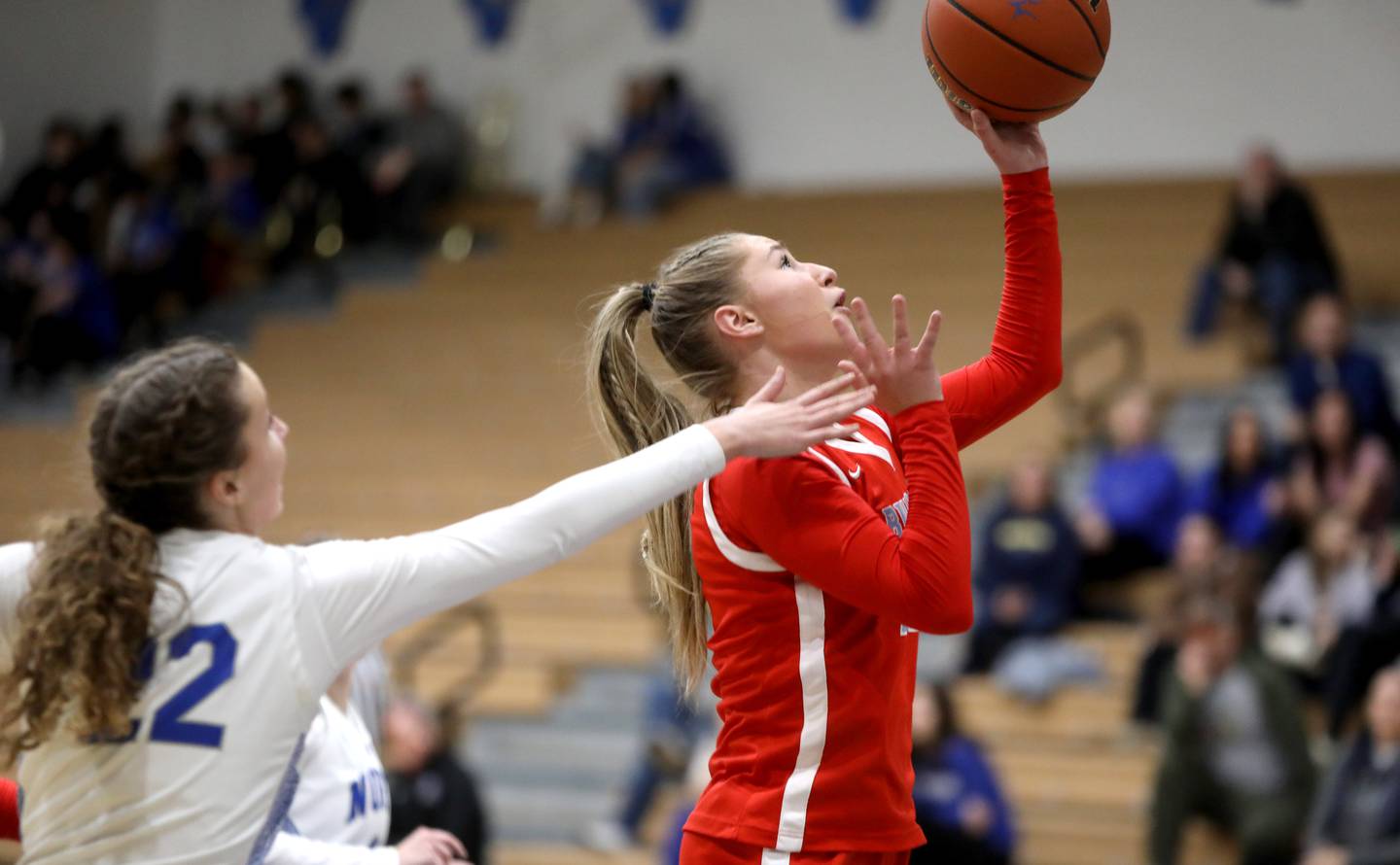 St. Charles North (24-6, 11-3 DuKane Conference) trailed 47-45 with 5:38 left in the fourth quarter, but Carlson helped stave off the North Stars' rally. Bulldogs guard Kylee Gehrt sank a 3-pointer and Carlson added a layup to eclipse 30 points with 4:33 remaining. North Stars guard Alyssa Hughes countered with a 3-pointer, but Carlson again had an answer with a layup for a 54-48 lead.
With two minutes left, North trailed by five. Hughes hit a 3-pointer with 27 seconds left to pull North to within 58-56, but Carlson hit four free throws to ice the game at 62-56. Julia Larson hit a desperation 3-pointer for the North Stars with six seconds left, and Carlson finished 1 of 2 at the line to clinch the win for Batavia.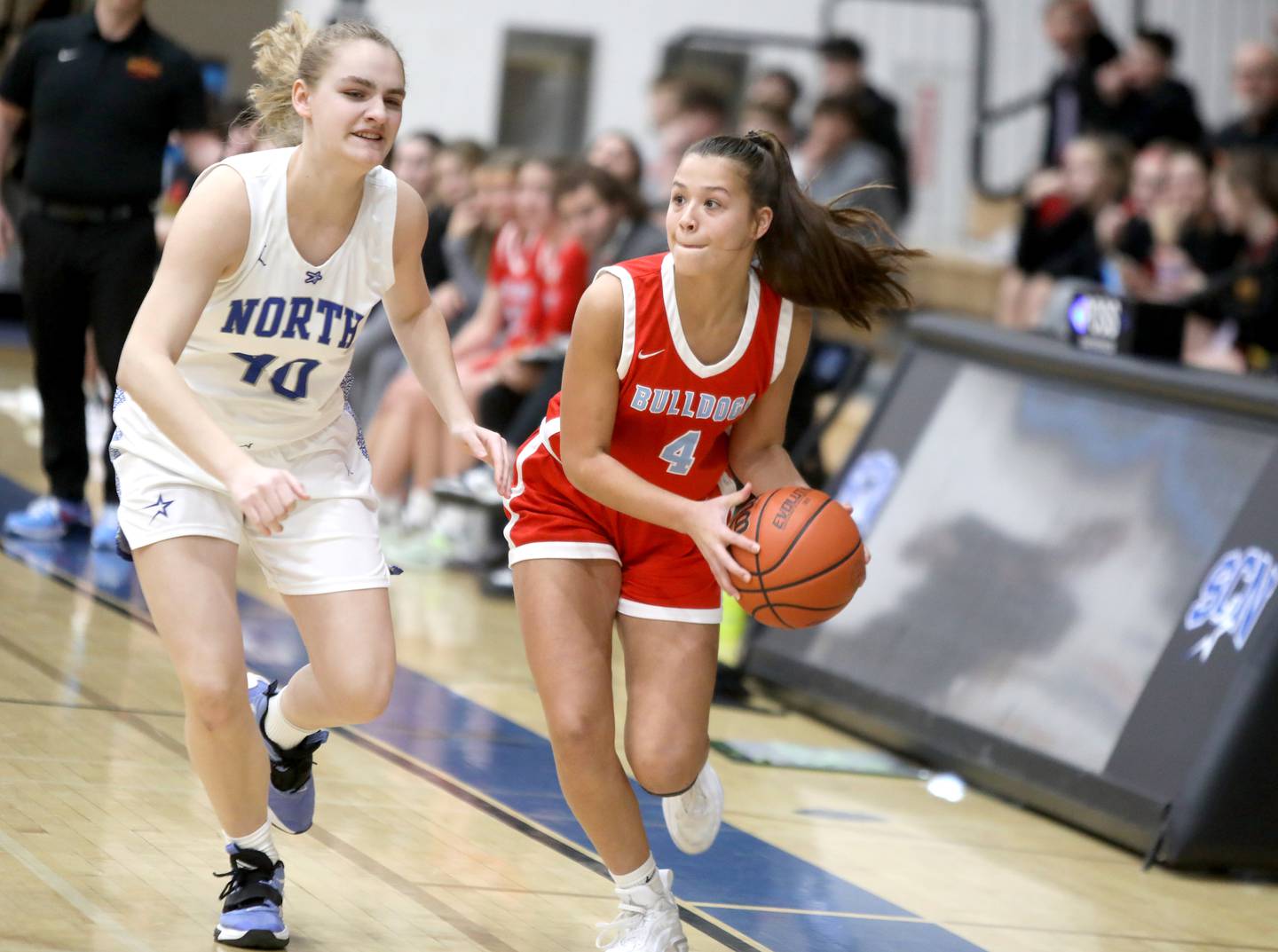 "She's just an amazing kid," Batavia coach Kevin Jensen said of Carlson. "She works so incredibly hard. She's strong as can be, explosive as can be. My job at this was don't screw it up and put her in spots where she gets to make good plays.
"The thing was, if you were watching and paying close attention, it wasn't like she was ... she didn't have to force shots. What was there, she took. When there was an opportunity to drive, she took it. When there's an open 3, she took it. But that's where she has progressed from each year. She's been more under control. She's made the extra pass when needed. She's gotten to the rack or hit the 3 when it's needed. That's some high-level stuff for me."
Gehrt scored 12 of her 13 points in the second half for Batavia (18-11, 10-4). Natalie Warner had six points and Addie Prewitt finished with two points.
"North is an outstanding team," Jensen said. "[Reagan] Sipla is having a monster year. Alyssa Hughes is having a monster year. Katrina [Stack] hit at least one or two 3s. You've got all these people who are shooting the ball, [have] great length [and] a lot of speed. It's tough to deal with them. We were trying to figure out [the] best lineup and best combination to take advantage of some certain spots in the zone. It helps when your best player goes for 42."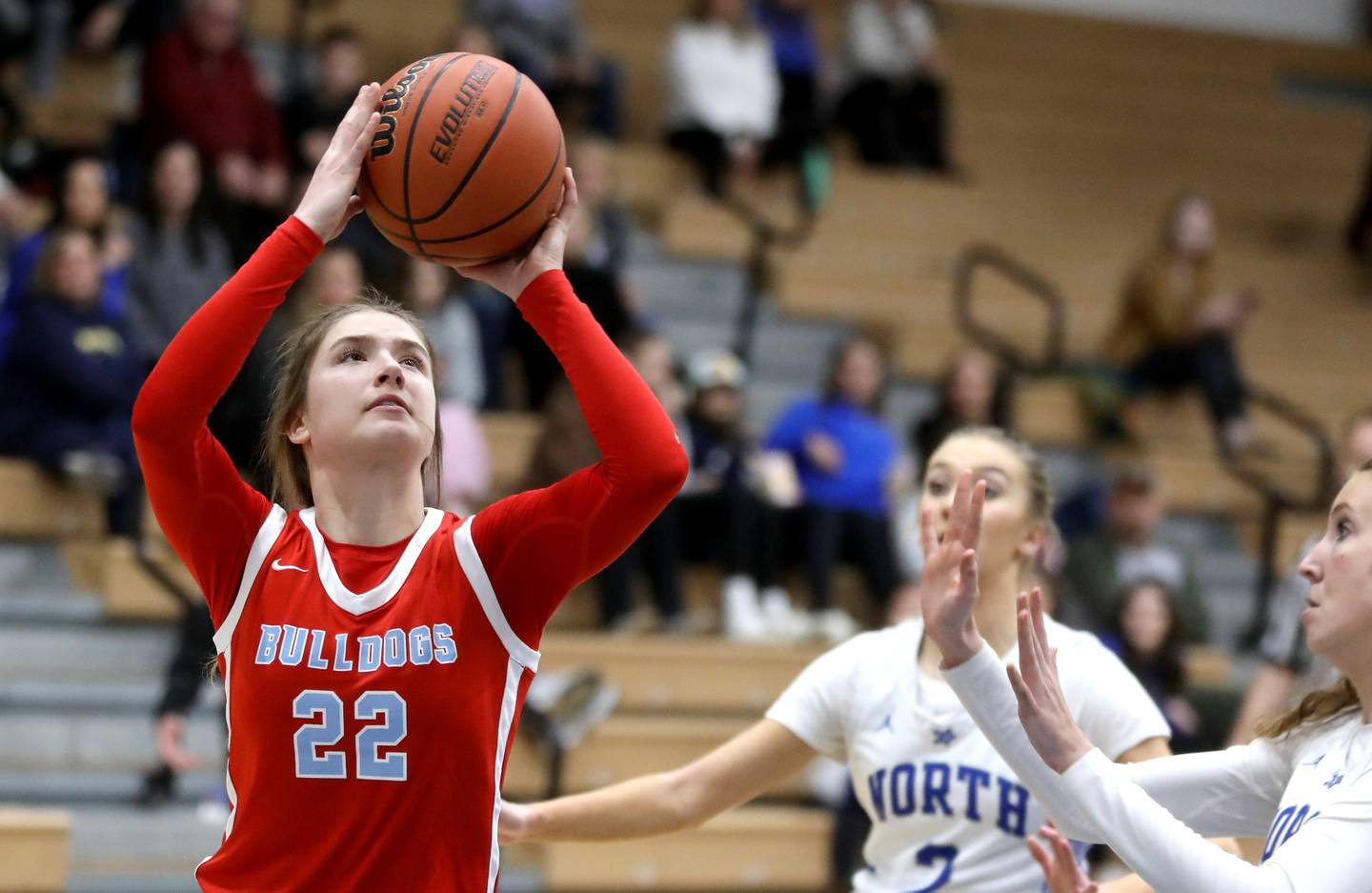 Hughes led the North Stars with 26 points. Sipla finished with 11 points and Laney Stark had eight points. Larson had eight points and two rebounds. Stack, despite foul trouble, had six rebounds and three points.
"Obviously, [Carlson] was shooting the ball very well from the outside. I thought we were closing out a little better in the second half," North Stars coach Mike Tomczak said. "That doesn't bother me as much. What bothers me is when she's able to dribble through five players on defense and no one steps up, we don't take the ball out of her hands or at least make somebody else beat us. So that was frustrating. But you tip your cap. She had a great night."