BATAVIA – Perhaps the ending was a bit of poetic justice.
Bella Lins and Leah Puttin, Batavia's incredible No. 1 doubles team, was competing at the Class 2A state meet against New Trier's Lucy Parrilli and Keri Rothenberg in the fifth round. They already lost 0-6 in the first set and were facing the increasing reality their illustrious careers were drawing to a close.
Lins backpedaled for a ball. Her feet weren't set.
"My ankle totally twisted and popped a bunch," Lins said. "At first, it was kind of funny. The timing, it was honestly kind of perfect, because we were losing no matter what. I totally fell and everyone thought I was crying, but I was just laughing because it was so funny."
Lins got up and played the final two points because she "was not going to forfeit" on her last game of her career. Lins later learned the injury was just a bad sprain.
"We lose; we gave each other a big hug," Puttin said. "...It was pretty ironic it was our last match. I'm really grateful we were able to play all of our games together without her tripping and falling. It was pretty funny. It probably distracted us from the fact it was our last one, but it was a great last moment to share with her out there."
Between the two of them, the laundry list of accomplishments, awards and memories are beyond plentiful.
Puttin and Lins are one of the most decorated doubles partners – and individuals – in Batavia program history.
Lins leaves as a four-time all-conference selection, two-time DuKane Conference champion in fourth and third doubles, a sectional champion, a two-time state qualifier and will graduate with the program record for longest win streak – an astonishing 50 matches.
Lins, a two-time team captain, has the fourth most varsity wins in program history (114) and leaves with a sterling 114-17 career record.
Puttin graduates as a three-time all-conference selection, the DuKane Conference champion in No. 1 doubles in 2019, a sectional champion and a three-time state qualifier. Puttin graduates with the program record for career varsity doubles wins (126) and overall wins (132). Her career record is 132-31.
As a doubles pair this year, they were 36-7 and 23-4 as juniors. Considering their stellar varsity careers, Puttin and Lins are named 2021 Kane County Chronicle girls tennis Co-Players of the Year.
"I'm really pleased with everything," Lins said. "I couldn't be happier with how my career went. I was really happy to get Leah to first place [at sectionals]. Obviously, we did good last season, but I think this season, we worked even harder and accomplished more."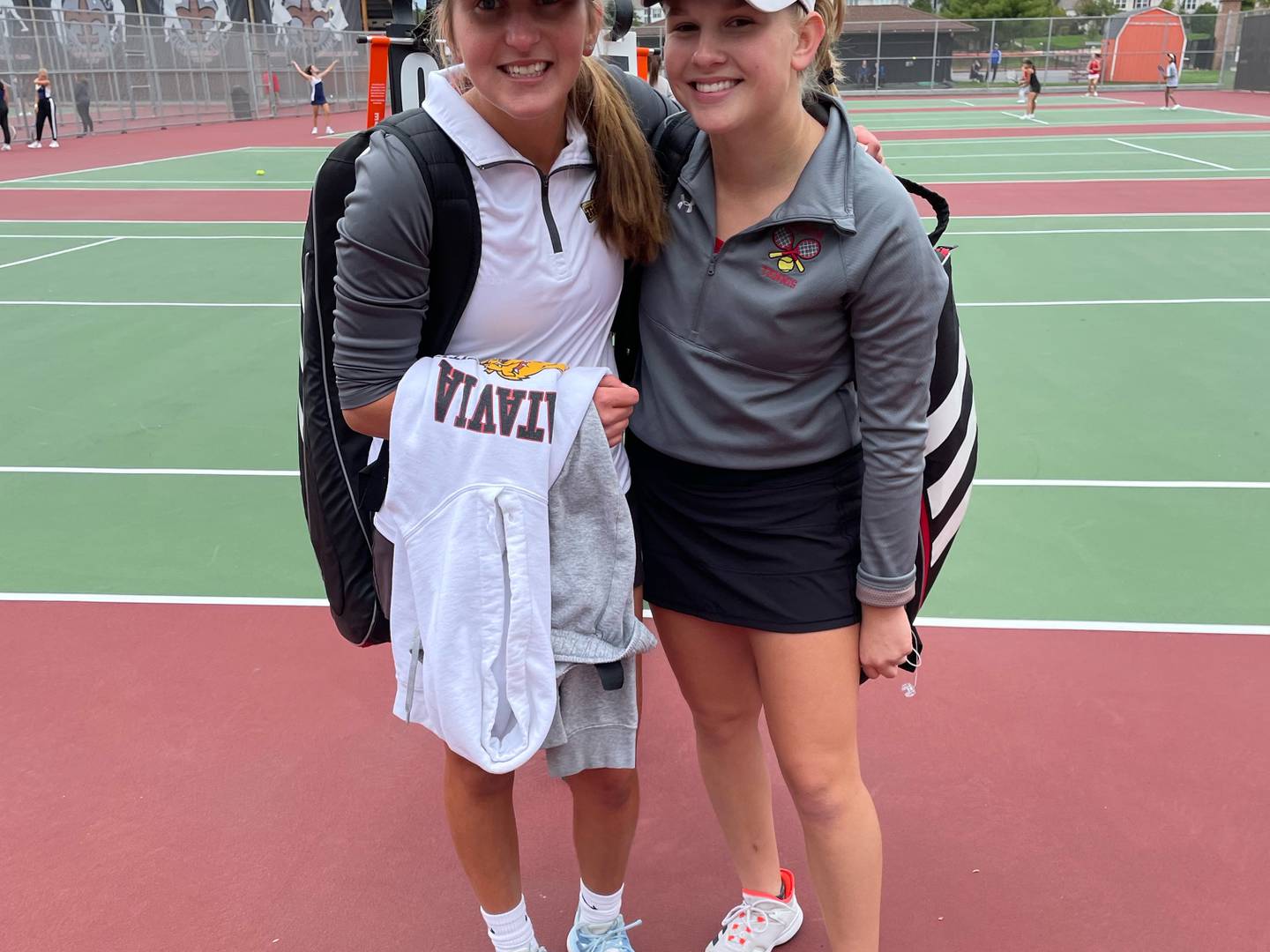 At the conference meet this season, Lins and Puttin were projected to win No. 1 doubles. They got third.
"It just kind of lifted us up and put us back in [to come] back even stronger for sectionals and state," Lins continued. "I think everything throughout the years happened for a reason."
"I think just ending our tennis career in such an awesome fashion: winning sectionals coming from behind and then having the great run at state , I think that just makes [it] really special for us," Puttin said. "I know the connection Bella and I have is going to go on forever and ever."
As a team, Batavia went 18-1 and 7-0 in conference. The Bulldogs won their first sectional title since 2011.
To Puttin, it's important with a high school sport – doesn't matter what it is – "that you enjoy the relationships just as much as you enjoy the sport itself."
"I wouldn't have had nearly as much fun if I didn't make so many amazing friends throughout the years," Puttin said. "Each year has been so different; lots of different personalities . I feel like our chemistry as a team has just been outstanding and that's why we've seen so much success both in partnerships, in singles players and other teammates that contribute."
Kane County Chronicle All-Area girls tennis team
Doubles: Bella Lins and Leah Puttin, Batavia, sr.; Caroline Donati (sr) Smita Dhar (jr), St. Charles East; Hailey Durso (sr) & Kelly Thoman (sr), Batavia; Audrey Jones (sr) & Kate Lauger (jr), St. Charles East; Elen Ryson (jr.) and Maddie Hoden (jr), St. Francis;
Singles: Dhruthi Daggubati, Batavia, jr.; Maddie Chaggaris, St. Charles North, so.; Allison Gizewicz, St. Charles North, so; Evelyn Taylor, Kaneland, sr