CHARLESTON — Burlington Central senior Jake Borman made a big splash in his first career trip to the state meet.
Borman, an Illinois State signee, tossed a mark of 16.64 meters on his final try to win the state shot put title. He finished fifth in the discus (47.48) at the Class 2A state meet on Friday at Eastern Illinois University.
Borman overcame a stomach flu to become the first shot put state champion in program history.
"I wasn't thinking and just worked on what I practiced and let it rip and wanted to go out on a good note," Borman said. "I wasn't feeling the best before the meet. Once I got there, I just tried to get after it. I only ate a few apple pieces."
Borman, also a standout football player, said he relied on his multi-sport background to get in the mindset to win the title on his final throw.
"I have a pretty good competitive side to me, and feel I can pull it out when I really need to," he said. "I didn't feel any pressure and just dug deep and got after it."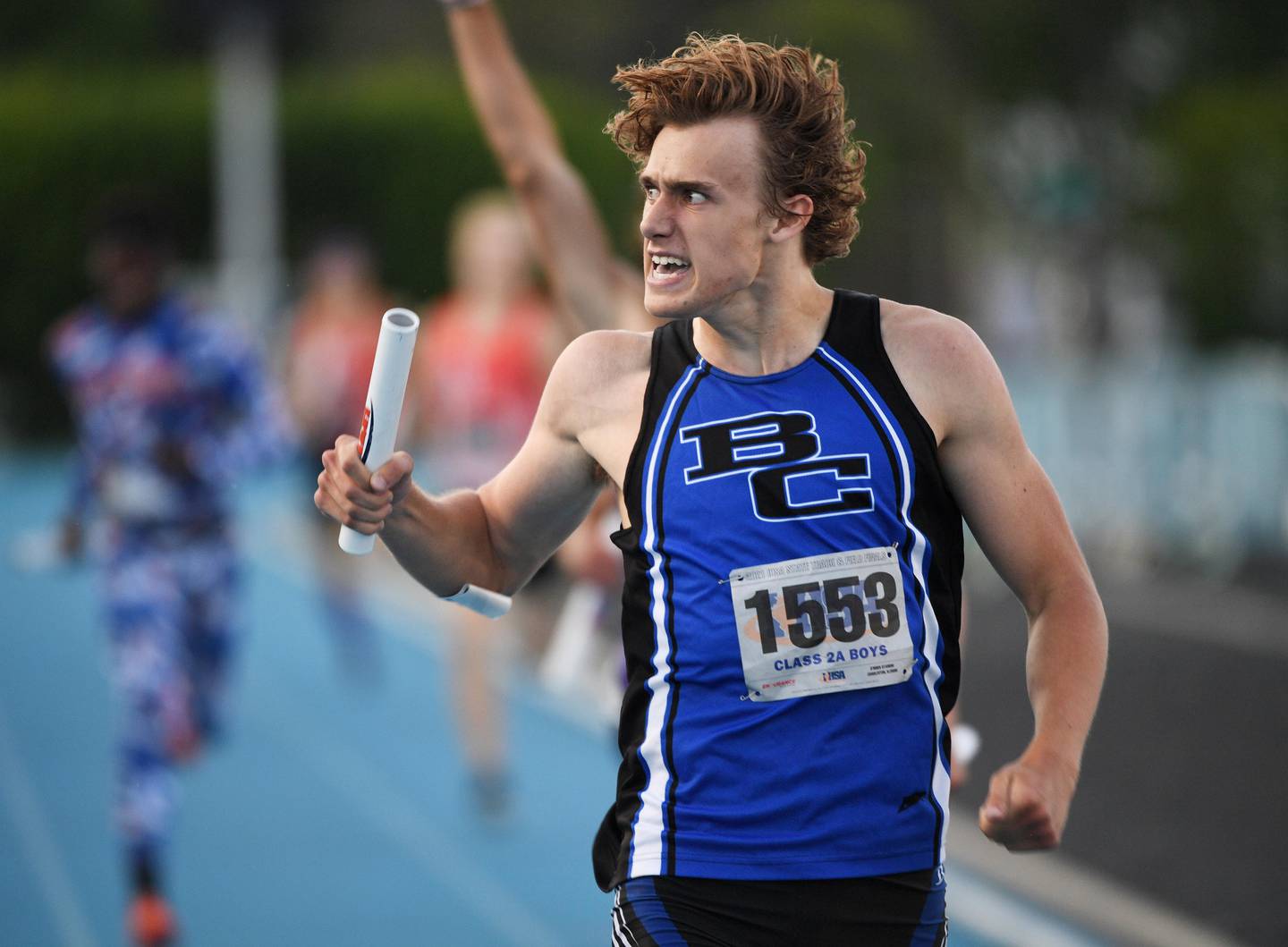 Burlington Central senior Zac Schmidt's strong running keyed his team's rise up the standings. He captured second place in the 400 with a personal record time of 49.42, and ran the anchor leg of BC's second-place effort in the 1,600 relay (3:25.50).
Burlington Central placed fifth as a team with 39 points.
"I just tried to run hard and give it my all since this (1,600) was the last race," Schmidt said. "We knew we had to do well, and to place second from the ninth lane is really special."
St. Francis senior Jackson Gerard experienced a long way between his two events on Friday, but he made sure to make his showing in the long jump a worthwhile event. In his first state appearance, Gerard started the long day off with a sixth-place medal in the long jump (6.83).
"It's kind of surreal to be down here at state since it's been a dream of mine since I was a little kid," Gerard said. "It's awesome being here. I felt good coming off the board and it was really good competition and I hit some good marks."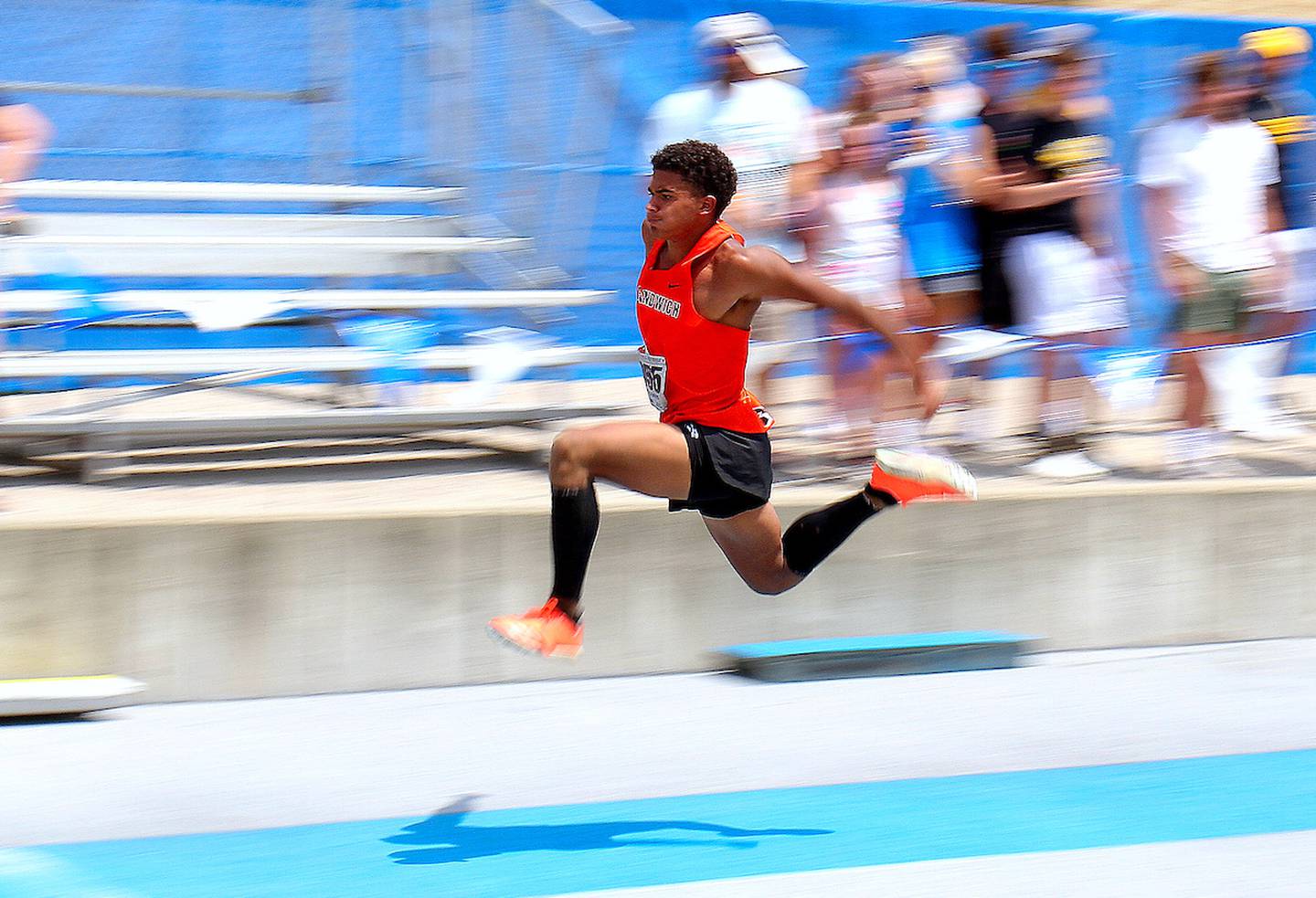 Sandwich senior Jayden Green was in constant motion throughout Friday's Class 2A boys state track and field meet.
With his three field events — long jump, high jump and triple jump — all clustered together in a two-hour period on a day with a 93-degree temperature and 16 mile per hour winds, Green combated the conditions by staying busy.
The one constant partner in Green's three field events — his eye-catching, one-gallon stainless steel Yeti jug.
"Between the long, triple and high, I just had to be mentally focused in every single one of them," Green said. "I knew it was going to be a hot day and be rough, so I had to hydrate, hydrate and hydrate."
Green's performance in his events mirrored the weather conditions. The South Dakota recruit was one of the standout performers in the first sessions, capturing the state championship in the triple jump with a personal-best leap of 14.57 meters on his final attempt.
Led by Green, the Indians set a new standard with a program-best in sixth-place finish in the team standings with 34.5 points.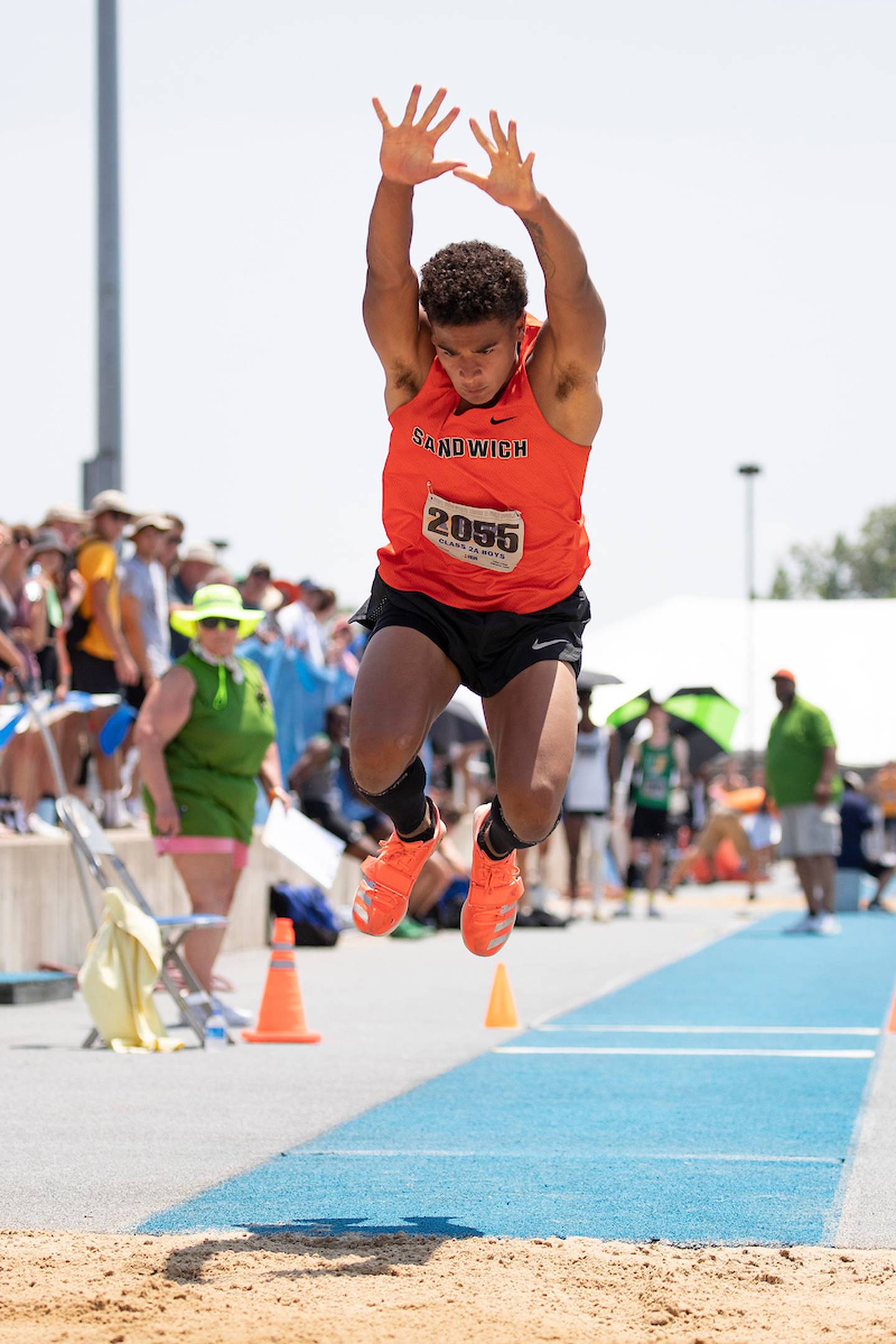 Green's strong showing in the three field events sparked the Indians.
Before attempting the triple jump, Green secured second-place in the long jump with a personal best leap of 6.93 meters and notched a seventh-place medal in the high jump (1.90 meters).
"It's all mental," he said. "You are tired, doesn't matter because you have to go out and do your thing. Definitely, placing higher than I was projected in the long jump, personal record by more than four inches. I had a really rough year with long jump, so to place second and being ranked I think seventh going into competition was awesome."
The running events were delayed until 5 p.m., allowing Green to focus on his three events until participating in the 800-meter relay in the evening.
He won the triple jump in grand fashion, raising his arms up in the air and yelling out 'I need something' to the growing group near the far pit before hitting his winning mark. Green is the third individual state champion in program history and first in the triple jump. He placed second in the triple jump during his sophomore year.
"On my last jump, I always like asking for a clap, but nobody wanted to give it to me, so I had to get angry and get it myself," he said. "I didn't get any help, so it was all me."
Sandwich senior Michael Marrs, an Eastern Illinois recruit, ended his career with third-place medals in the 100 (10.95) and 200 (22.18).
"It was great way to end this way, especially since I'll be running here in college," Marrs said. "I'm glad that was able to score some points for us, for my starts were key today in doing well."