Cross country
Seneca junior Evelyn O'Connor claimed the girls individual championship for the third consecutive season, while the Ottawa boys and girls won team titles at Saturday's La Salle County Invitational held at Westwood Golf Course in Streator.
O'Connor finished the 3-mile course in a time of 18 minutes, 20 seconds. Senior Gracie Steffes (20:41) placed third for the Fighting Irish, followed by teammates Julie Mueller (22:24, 8th), Ruthie Steffes (23:51, 11th), and Aubrie Jackson (26:12, 27th).
Ottawa, which scored 34 points to finish ahead of Seneca (42), La Salle-Peru (57) and Streator (101), was led by a fourth-place finish by sophomore Makenzie Blazys (20:47). The Pirates also had counting placements from Shaylen Quinn (21:04, 5th), Addyson Miller (21:13, 6th), Madison Towne (22:59, 9th), Hailey Larsen (23:28, 10th), Sam Ruiz (24:15, 12th), and Riley Thrush (24:30, 13th).
Streator was paced by senior Lily Kupec's 15th-place finish in 24:39, followed by Belle Dean (26:34, 28th), Giselle Guadarrama (27:00, 29th) and Katie Monaghan (27:03, 30th).
Marquette junior Olivia Tamblyn placed 26th in 26:01.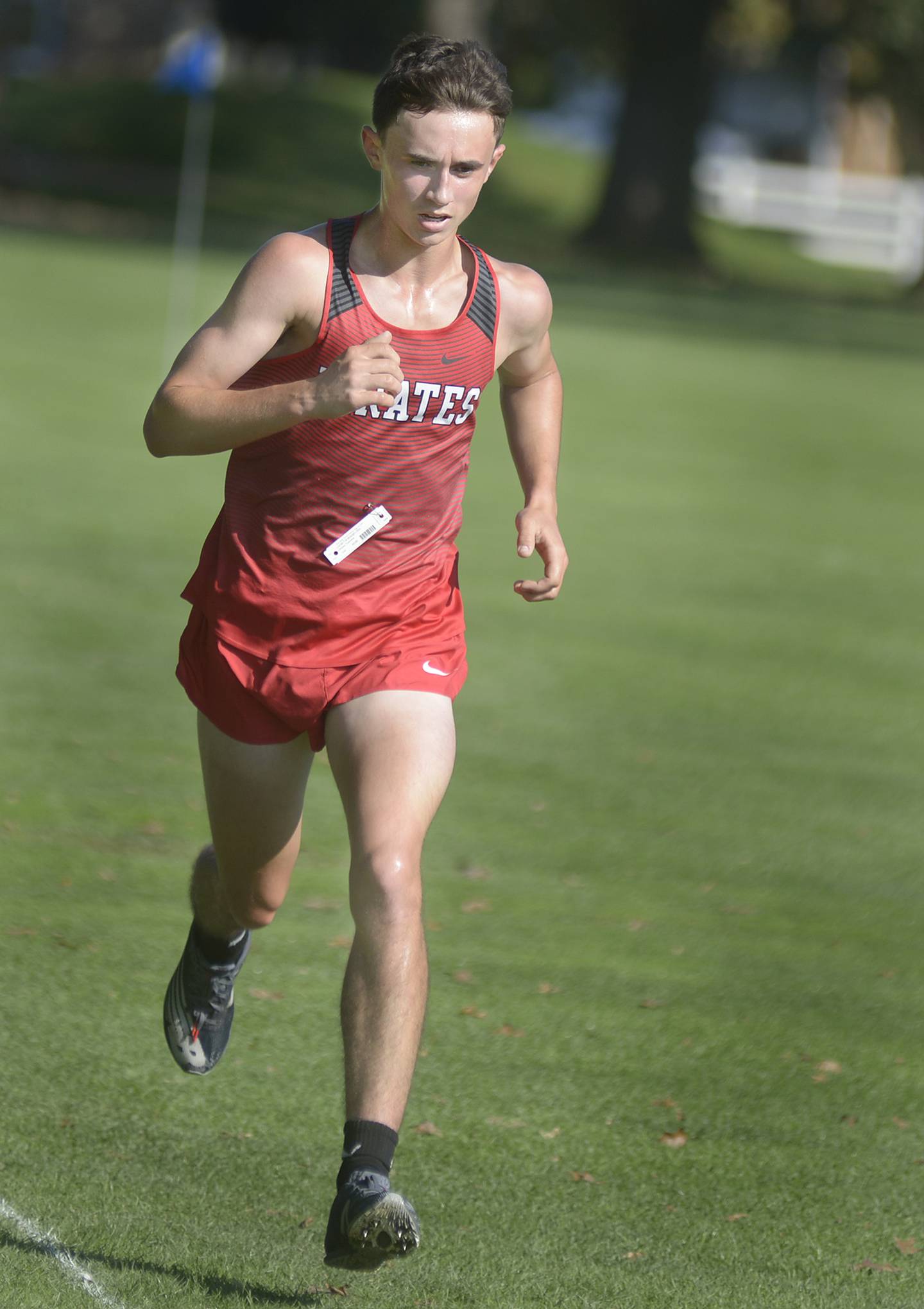 In the boys race, led by a third-place finish by sophomore Lucas Farabaugh (17:16), Ottawa posted 40 points to place ahead of La Salle-Peru (48), Mendota (72), Seneca (88) and Streator (101).
The Pirates also had solid performances from Oliver Ruvalcaba (18:09, 7th), Kaleb Nimke (18:40, 9th), Malachi Snyder (18:56, 10th), Sean Farrell (18:58, 11th), Kasey Dose (19:16, 15th) and Austin Hellman (19:33, 17th).
Senior Logan Pasakarnis (18:32, 8th) led Seneca, followed by Sebastian Deering (19:09, 13th), Jaxson Finch (19:30, 16th), Landon Hebel (20:55, 26th), Connor Pabian (21:22, 34th), AJ Keedy (21:51, 38th) and Alex Gagnon (22:29, 43rd).
The Bulldogs were paced by sophomore Chase Lane (19:05, 12th), followed by Cian Reed (19:36, 18th), Gabe Gutierrez (20:23, 24th), Wyatt McMullen (20:43, 25th), Leon Ramirez (21:21, 33rd), Ted Neuman (21:51, 37th) and Chance Robart (22:18, 41st).
Joe Amicon (19:47) placed 20th and Mackinnley Thompson (20:20) 23rd for Marquette.
Sandwich's Weber sets school record at Peoria Invite: At Detweiller Park, Indians' sophomore Sunny Weber finished second overall of the 267 runners in the Class 1A/2A race in a school-record time of 16:55.
Sandwich, which scored 597 points to place 20th of the 39 teams, also received strong performances from Joanna Rivera (21:19, 114th), Emily Urbanski (22:00, 148th), Norah Vick (22:25, 164th), Erin Lissman (22:52, 179th), Hannah Treptow (23:08, 188th) and Kayla Kressin (23:43, 206th place).
In the boys 1A/2A race, Max Cryer led the way for Sandwich, finishing 136th of the 303 runners in a time of 17:18. Alex Walsh came in right behind Cryer (17:27, 146th), followed by Josh Schaefers (19:11.5, 242nd), AJ Parkison (19:11.8, 243rd), Travis Kellogg (21:19, 280th), Adrian Phouangphidok (28:40) and Nigel Sajulan (24:37). The Indians finished 36th of the 43 teams.
Football
Flanagan-Cornell/Woodland 67, Alden-Hebron 18: At Hebron, in a contest that was originally schedule for Friday night but moved to Saturday afternoon because of a shortage of officials, the Falcons led 7-6 after the opening quarter, then exploded for 27 second-quarter points on the way to their third consecutive Illinois 8-Man Football Association triumph.
FCW (4-2) rushed for 539 yards on 36 carries and 10 touchdowns against Giants, led by Kesler Collins' 224 yards on 13 tries and a trio (26, 55, 65) of TDs. Peyton Quaintance (9 carries, 111 yards) had scoring runs of 20 and 51, Brennan Edens (8 for 108) TDs from 2, 3, and 10, and Leelynd Durbin (4 for 83) paydirt dashes from 32 and 50. Connor Decker made good on all six of his PAT kicks.
FCW is scheduled to play at Bushnell-Prairie City (4-2) next Friday at 7 p.m.
Boys soccer
La Salle-Peru 5, Serena 2: At Serena, the Huskers led 2-1 in the second half before the Cavaliers scored four unanswered goals.
Tanner Faivre and Carson Baker each had a goal and an assist for Serena (9-7-1).
JV girls tennis
Ottawa captures I-8 Tournament title: The Corsairs scored 24 points — led by first-place finishes by the No. 1 doubles team of Rylee Harsted and Yaquelin Hernandez-Solis, and the No. 3 duo of Laurel Fisher and Gracie Polancic — to win the Interstate 8 Conference championship at the L-P Sports Complex.
Ottawa also received third-place finishes from Brooklyn Byone (No. 1 singles), Caitlyn Trettenero (No. 2 singles) and Reese Purcell/Perla Gutierrez (No. 2 doubles).