PRINCETON – Anthony Kelson said he just was there for the experience and to compete.
He wound up winning Princeton's Gary Coates Invitational at Zearing Park Saturday morning.
The Mendota junior ran away from the field with a winning time of 16:49, nearly 15 seconds faster than runner-up Lucas Simpson of Sterling Newman.
"This race felt really good. I was a little bit worried. I was kind of stiff. I tried to do my best," said Kelson, a 2022 state qualifier. "It's really a team collaboration. Everybody works together. We all warm up together. The excitement gets everywhere.
"I'm going to be honest. I'm not here to win. I just want to compete. It's the energy. It just feels so amazing. I'm proud of how everyone ran today."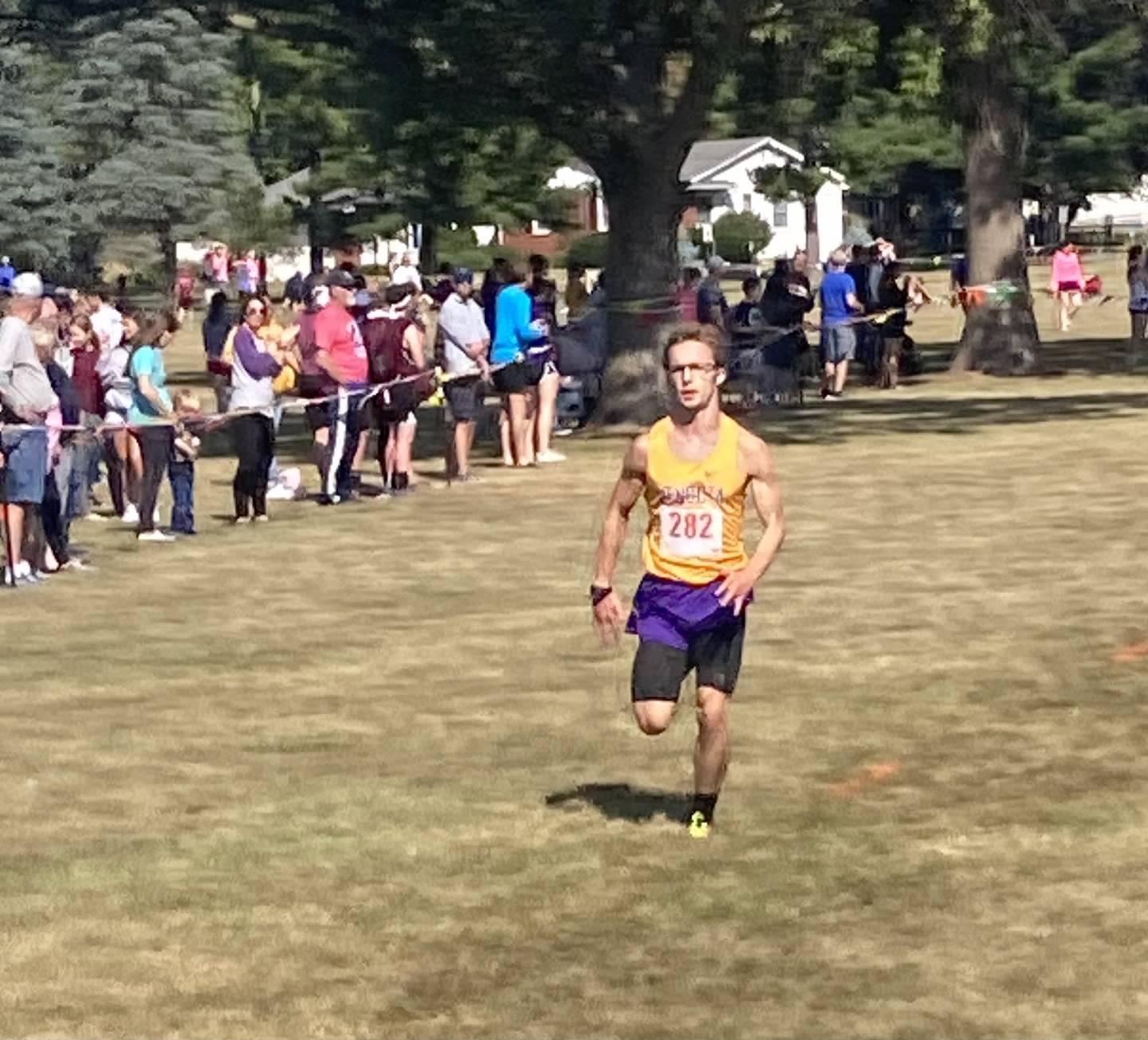 Mercer County (48) edged Newman (49) by one point for the team title. L-P was third at 73 in a field of six full teams.
The Cavaliers were led by Adam Kasperski in seventh (17:54.15), Braylin Bond in 11th (18:04.43) and Griffin Hammers in 14th (18:29.92).
Other top 10 area finishers included Caleb Krischel of Fieldcrest (4th, 17:21), Augustus Swanson of Princeton (6th, 17:47), Wyatt Brown of Newman (8th, 18:01) and Dagen Setchell of Mendota (9th, 18:03).
Also running for the host Tigers were Dawson Lambert (38th, 20:43) and Kamden Wahlgren (64th, 27:00).
Bureau Valley did not field a team in the varsity boys meet. Adrian Gallardo (23rd, 18:55), Landon Hulsing (44th, 21:18) and Nathan Siri (50th, 21:44) represented the Storm.
Hall's lone runner, Eri Martinez-Prado, placed 24th in 19:15.
Brysen Full was Amboy's only competitor, placing 46th (21:25).
Elly Heinecke, a sophomore from of Lowpoint-Washburn won the girls race with a time of 20:15, seven seconds ahead of teammate Kyndre Delagrange, the runner-up.
"I felt really good about it. We came in shooting for first or second. I'm happy with it. I feel like I ran pretty good," Heinecke said. "We were going for really high goals and trying to do well as a team and I feel like we did that."
L-P senior Ashlee Lord led all area runners with a ninth-place time of 21:11.
Other top finishers for L-P were Anya De La Luz (13th, 21:52), Kiely Domyancich (19th, 22:36), Lylian Pabian (30th, 24:14) and Gracie Politsch (33rd, 24:48).
Princeton was unable to field a full team, missing its No. 1 runner, freshman Payton Frueh. Classmates Ruby Acker (12th, 21:51) and Alexandra Waca (25th, 23:34) led the Tigresses in her absence.
They said they're still getting used to running three miles after running just two miles in junior high.
"It's definitely hard going from two miles. But once you get a few meets under your belt it gets easier," Acker said. "I felt pretty good. It was cooler, so that helped. Getting all the encouragement from the spectators is great."
"It's definitely an adjustment going from two to three, but it felt better today," Waca said.
Also for Princeton, sophomore Avery Waca was 34th (24:29) and junior Ella Grey was 62nd (30:28).
PHS coach Pat Hodge said all four of his runners improved on season's best anywhere from 26 seconds to 66 seconds.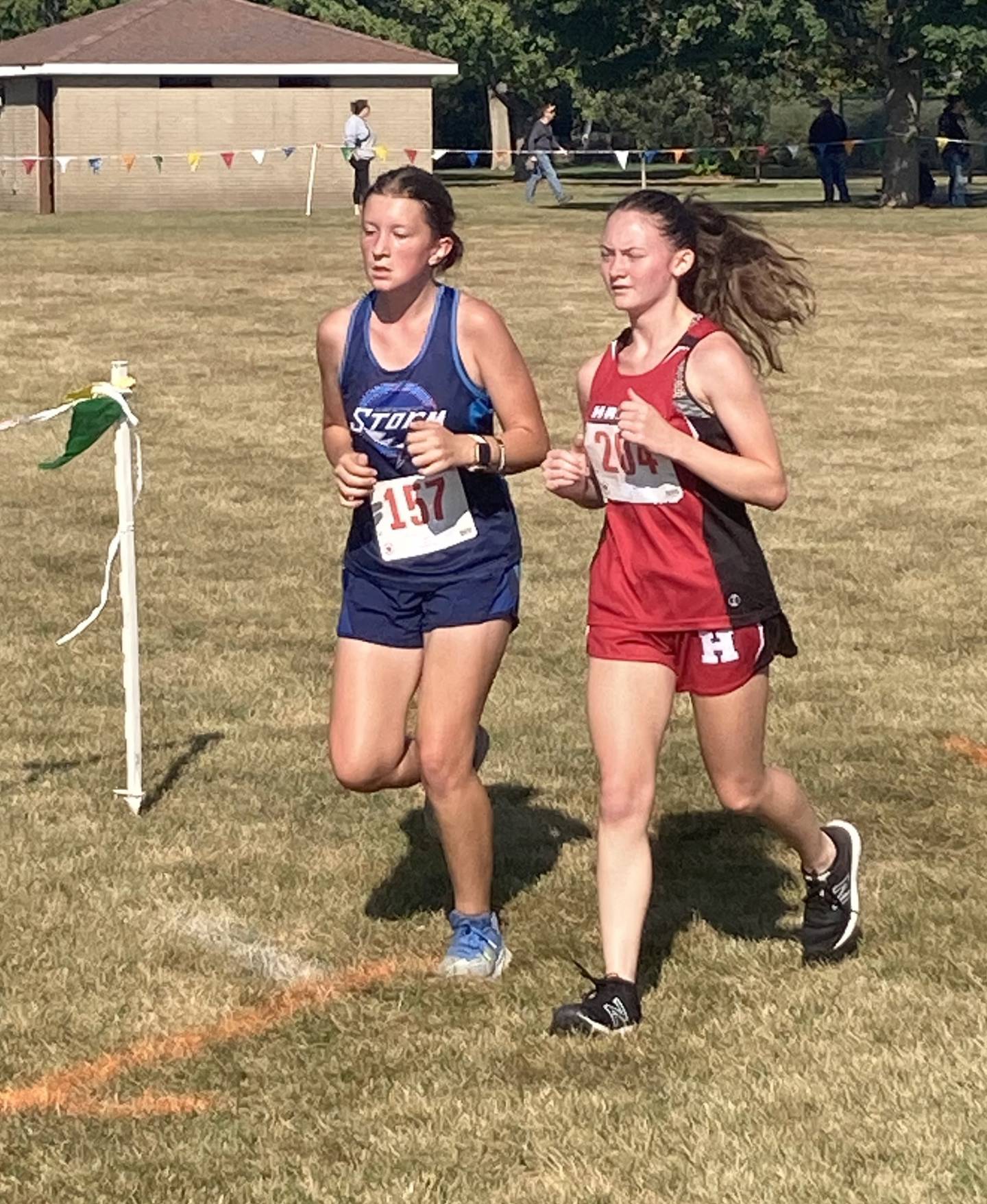 Freshman Leah House, the only runner for the BV girls, finished 52nd with a 27:14.85 personal record.
Clare Phillips led Fieldcrest with a 15th-place time of 21:57 while Addison Pertell led Amboy with a 36th-place time of 25:01 and Peri Manning came in 57th (28:52) for Mendota.
Sherrard, which packed it in for places fourth through seventh, edged Lowpoint-Washburn for first place by the sixth-runner tiebreaker.
Bureau Valley took second place in the four-team, F/S invite. Alex Gallardo set the pace for the Storm on the 1.94-mile course with a 11:37 finish, good for second place. Maddox Moore (6th, 11:46.58), Andrew Roth (11th, 12:37.35), Alex Attig (16th, 12:51.80) and Jordan Linley (25th, 14:25.82) rounded out the top five for BV.
Tyler VandeVenter placed third (11:40) for Princeton, Ethan Mallery was 15th (12:46), Jackson Drozda was 21st (13:41) and Cruz Rodriguez was 38th (17:49).