Move over, Jack Skellington. Illinois is seizing the crown and claiming the title of Pumpkin King.
In a region where every field seems to be corn or soybeans, it may not be obvious that our state is the nation's leading producer of pumpkins. But that's the reality, according to the U.S. Department of Agriculture.
In 2021, Illinois led the nation in pumpkin acreage (15,900 acres, reports the USDA), producing more than twice the amount of beloved autumn gourds than other top-producing states (which include California, Indiana, Michigan, Texas and Virginia). Although the USDA reports about 80% of Illinois' pumpkins go to processors for pie filling, many of the remaining 20% are put to a familiar use: fall decoration.
Those looking for porch pumpkins and decorative gourds in the Illinois Valley don't have to look far – it's easy to buy them straight from the source. Here are six farms, pumpkin patches and stands selling everything you need to deck your yards and porches for the season.
Boggio's Orchard and Produce
12087 Route 71, Granville
For many Illinois Valley residents, Boggio's is synonymous with autumn. This agritourism hub in Putnam County has long reigned as one of the leading orchards and pumpkin patches in the region. Beyond the pumpkin patch, this fall destination includes children's activities, wagon rides, a corn maze, a petting zoo (don't miss saying hello to Karamel the camel), concessions, a market, you-pick apples, apple cider doughnuts and more. Weekend admission will be charged through October for the activities area, but no admission is charged to access the market, bakery and pumpkin hill. The market and pumpkin hill include all of the fall decor staples, including mums, colorful corn and gourds of all shapes, colors and sizes.
For information: www.boggiosorchardandproduce.com or www.facebook.com/BoggiosOrchard
Country Kids Produce
4301 Plain Road, Peru; 426 S. Clark St., Utica
Country Kids Farm Market in Peru is a prime destination to support local farmers. Check out their massive selection of mums and an expansive variety of pumpkins and gourds – large, small, lumpy, flat, round, bright or muted shades … shoppers will have their pick. The fall lineup of products also includes apple and peach cider as well as apple cider doughnuts. The Peru location is open daily through Oct. 31. The Utica stand is open Saturdays and Sundays through October.
For information: www.countrykidsfarmmarket.com or www.facebook.com/countrykidsfarmmarket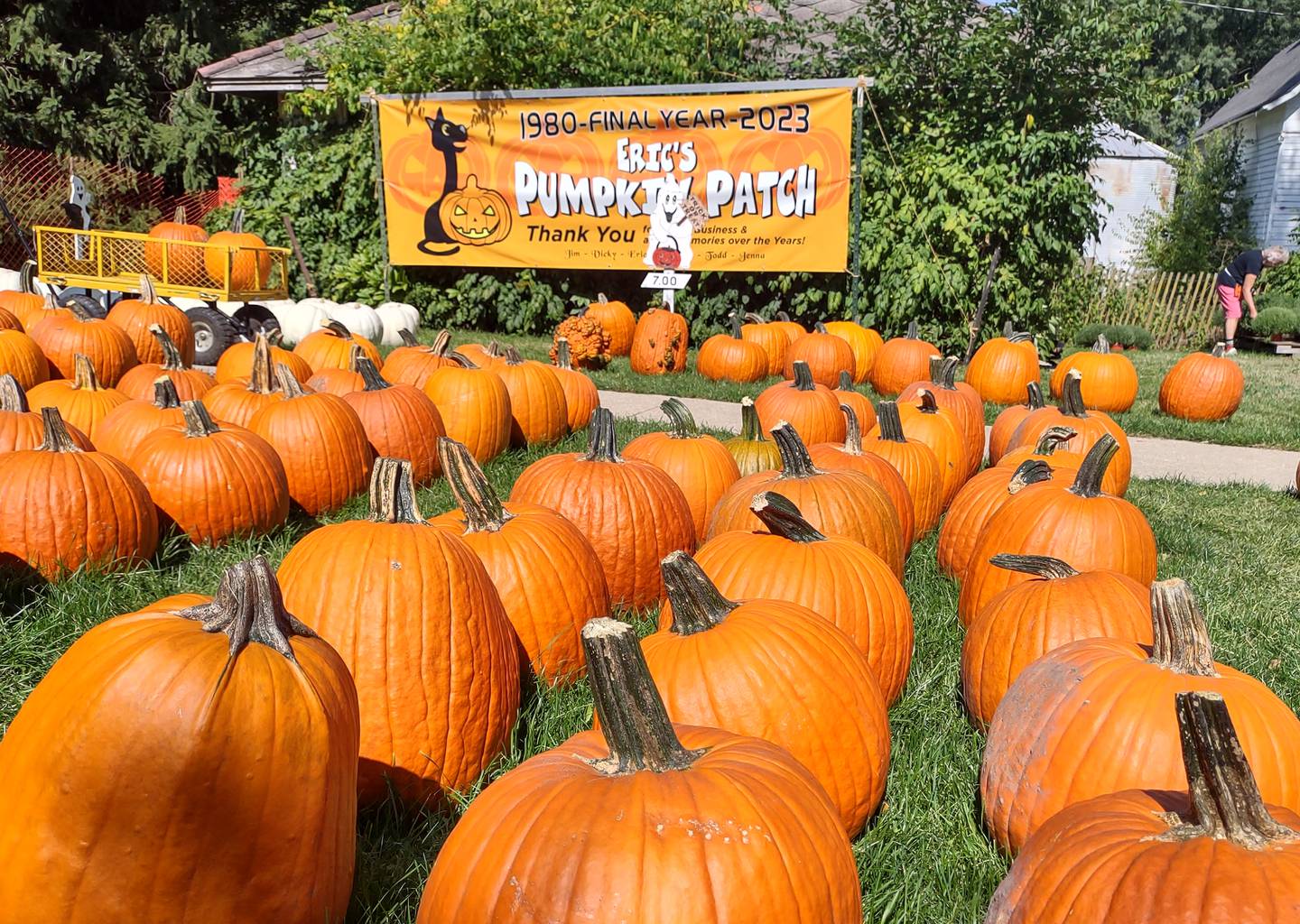 Eric's Pumpkin Patch
2097 N. 15th Road, Streator
This small patch has been a Streator-area staple for fall decorating since 1980. In early September, owners announced on Facebook this will be their final year of selling pumpkins. Eric's Pumpkin Patch excels with the autumn classics: medium to large orange pumpkins, mums, straw bales and other farm-to-home decor. A variety of specialty gourds are available as well. A pumpkin-buying budget can stretch far here. Eric's Pumpkin Patch is open daily.
For information: Eric's Pumpkin Patch on Facebook
Gast's Pumpkins
4327 E. 1553rd Road, Earlville
Visiting Gast's Pumpkins feels like making a social call to a neighbor. This pumpkin patch features a vast variety of pumpkins and gourds arranged around the homey farmyard. Shoppers can find pumpkins of every shape and size, ranging from pie pumpkins to wart-speckled decorations and from small handheld gourds to hefty, lift-with-your-legs giants. An Instagrammable favorite at Gast's are the many stacks of flat pumpkins – they're like totem poles paying homage to autumn, and many guests snap cellphone photos of youths standing alongside the pumpkin stacks. While exploring the variety of options, there's a good chance visitors will be greeted by mooing cows and bleating goats. Gast's Pumpkins, located about 14 miles north of Ottawa, is open daily.
For information: www.facebook.com/gastspumpkins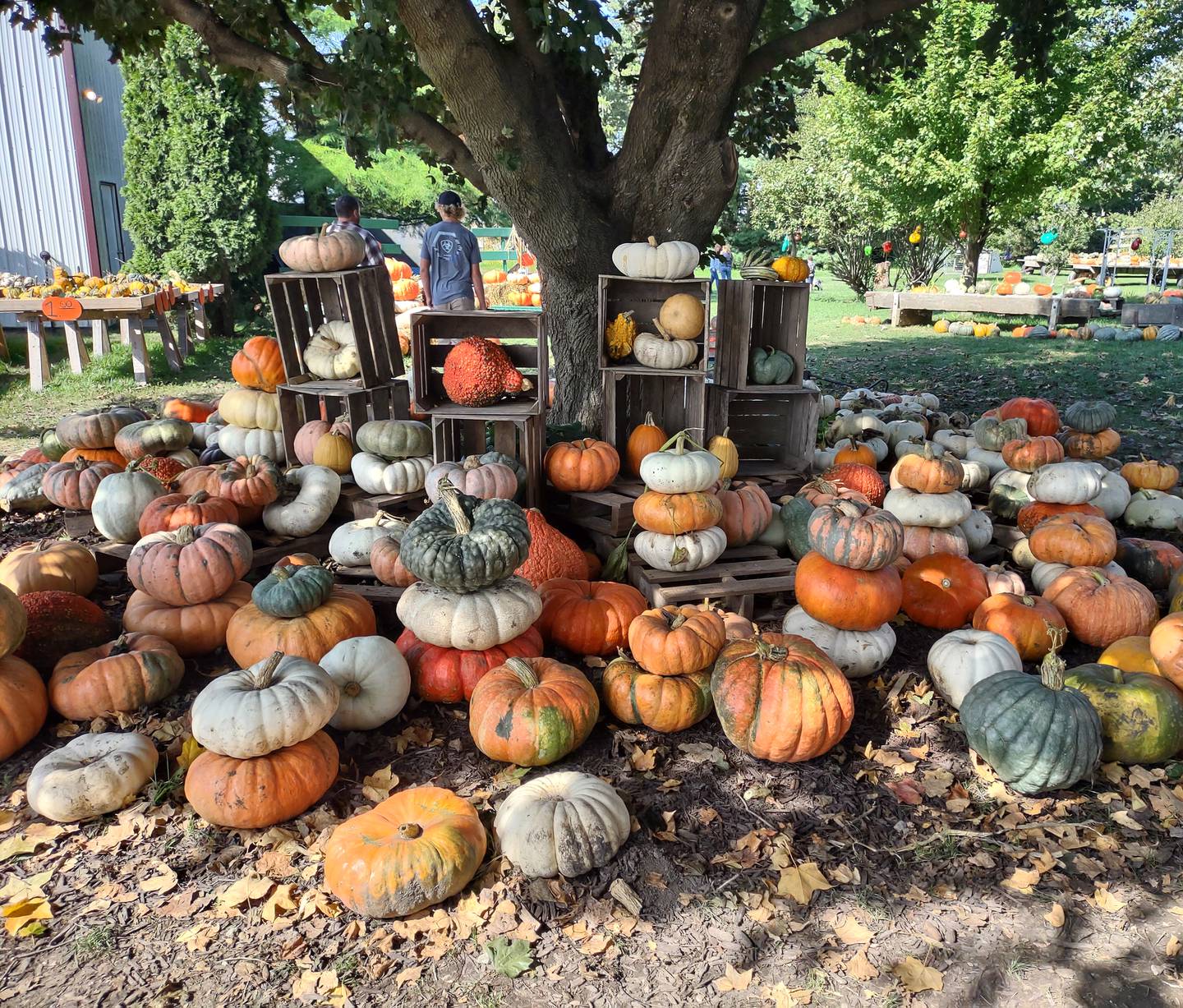 Kane Family Farms
2165 N. 3020th Road, Ottawa
Kane Family Farms is more than a pumpkin patch – it's an all-day family destination. During an excursion to pick the perfect pumpkin, families can opt to pay admission into the farm's expansive activities area, which includes a corn maze, children's activity stations, wagon rides, a petting zoo and more. The farm also includes a concessions stand where visitors can get lunch – don't miss the wood-fired burgers or a dessert of apple cider doughnuts. This year, Kane Family Farms is partnering with Maierhofer Farms to sell mums. There is no admission fee to buy pumpkins, doughnuts, flowers, honey or similar products. Kane Family Farms is open Thursdays through Sundays.
For information: www.kanefamilyfarms.com or www.facebook.com/KaneFamilyFarms
Rusty Pumpkin Farms
2104 N. 2653rd Road, Marseilles
A visit to this rural farm stand is charming in its simplicity. Visitors will find pumpkins and gourds stacked on a hayrack. Rusty Pumpkin Farms sells classic pumpkins of various sizes (including adorable micropumpkins) and several specialty gourds, such as a species that resembles a corn cob. Anyone on the hunt for straw bales can find some here. The farm is about four miles east of Ottawa's southside Kroger, but keep an eye on Rusty Pumpkin Farms' Facebook page for updates about the stand's weekend location. The pumpkin-laden hayrack sometimes goes mobile, and plans are in the works to set up at a location on Ottawa's south side in the future. The stand is open Saturdays and Sundays, weather permitting.
For information: Rusty Pumpkin Farms on Facebook
Julie Barichello is the editor of Starved Rock Country Magazine and is a graphic designer for Shaw Media's niche publications. She can be contacted at jbarichello@shawmedia.com.