It's probably not fair to say opposing runners underestimated Evelyn O'Connor during her first season running at Seneca High School.
If they weren't familiar with the fact she had a pretty strong career in junior high, plus that she comes from a running family, they probably thought there's no way this thin, petite freshman could possibly be faster than the taller, stronger, older ones.
They were mistaken.
O'Connor, the 2021 Times Girls Cross Country Runner of the Year, had a tremendous first year for the Irish, winning several major races – including the Tri-County Conference Meet and Twilight in the Woods on her home course and the La Salle County Meet – before capping it with an area-best 44th place at the IHSA Class 1A State Meet at Detweiller Park in Peoria.
"I guess I surprised myself a little," said O'Connor, who set a personal record three times during the season. "I was not expecting to be able to do what I did. I thought my times would be slower … but I just kept training throughout the year and got faster, I guess.
"Of course, I'm happy with how it turned out."
O'Connor was not a novice runner, having placed 19th and earning all-state honors at the IESA State Meet as a Seneca Grade School sixth grader, then just missing the same honor by placing 26th when she was in seventh grade. The pandemic wiped out the eighth-grade state meet she qualified for at sectional, but she continued to train so she could step right in with Irish XC coach Kim Foster's successful Irish program.
"It's incredible, but as incredible as it is, I'm not at all surprised," Foster said. "I knew her when she was young and coached both her sister and her brother (Savannah and Wyatt Baldauf) in high school, then seeing what she did in junior high, I knew she was going to be an outstanding runner when she got here.
"But seeing her this season, I was blown away not only by her quickness, but more about her awareness of racing. She didn't go out and run right into first like she pretty much could have in any race this season. She ran her race, tucked behind more experienced runners and picked people off at the end. Her race strategy was very impressive for a rookie at the high school level."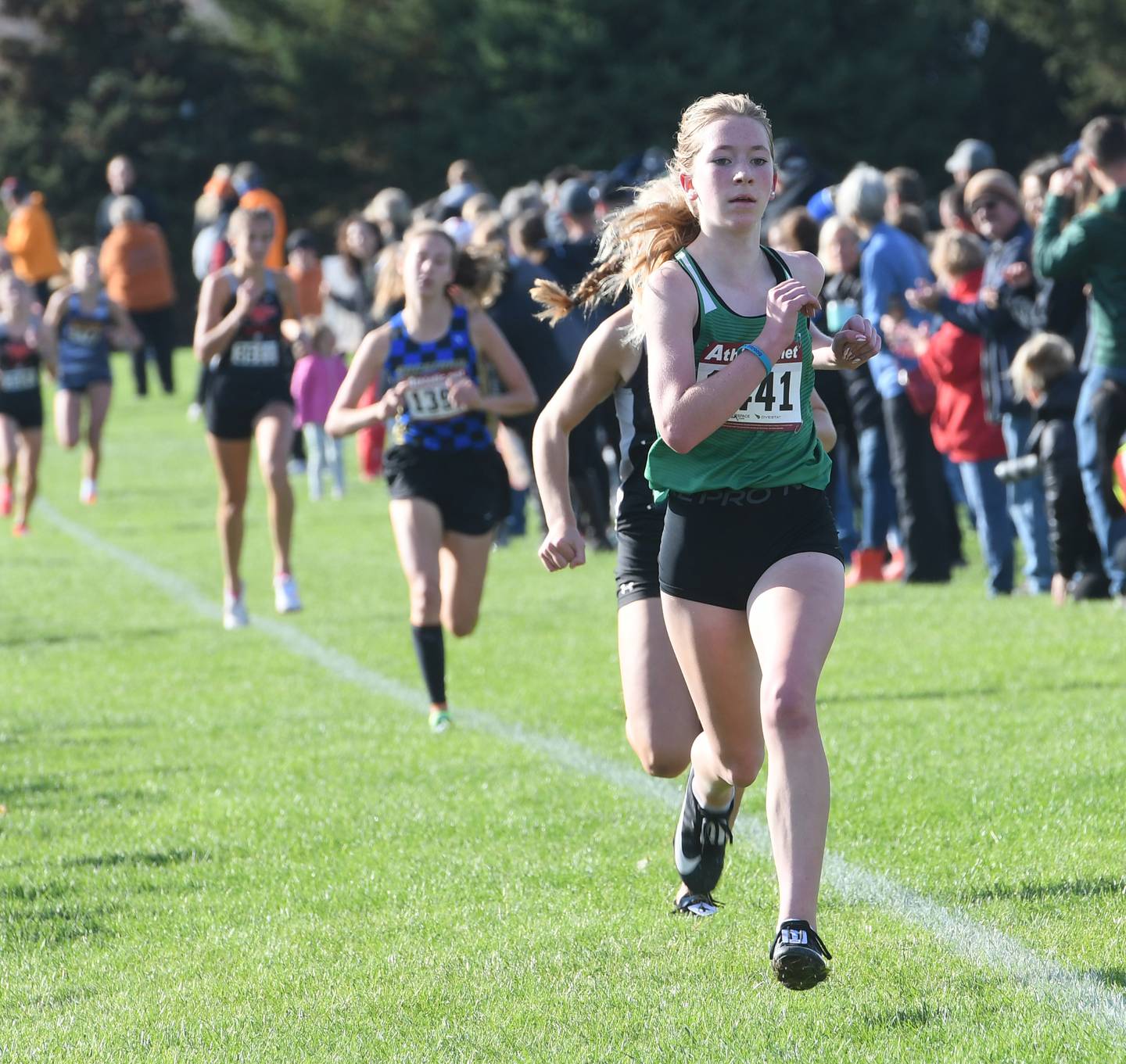 That the SHS team veterans, namely junior Ashley Alsvig and senior Audrey Jenkins, took her under their collective wing and pushed her to work hard in practice and meets made her feel she belonged immediately.
With their help, the transition started with a third-place finish at the Morris Early Bird Meet, one spot behind Alvig, helping Seneca to third as a team. From there, she consistently improved, starting with a first place in 20:27.9 at Seneca's own Twilight in the Woods.
Major meet highlights after that include 16th place at the tough First to the Finish Meet at Detweiller Park, a first at Bureau Valley's Dale Donner Invite, a first at the Tri-County Meet, a first at the La Salle County Meet and a 19th at the Columbus Day Invite at Amboy.
"At the beginning of the season, I was hoping I'd be able to make state," O'Connor said, "but I wasn't sure I could until about halfway through. Maybe at the Bureau Valley Invitational. That was a good field, and I still did well."
She maintained her roll in the postseason, taking first in 18:19 for the first-place Irish at the St. Bede Regional and second in 19:47.18 for their runner-up team at the always tough Oregon Sectional – trailing only eventual state runner-up Winnebago.
At state, she shook off nerves to run a PR of 18:55.48, good for 44th, to lead the Irish to 23rd as a team.
"Running at state was really scary, because I just knew everyone there was going to be a lot faster than at other meets," O'Connor said. "I believe my strength as a runner is setting a goal and focusing on achieving it. … I just ran my race, and it worked out for me.
"I know that if I'm lucky enough to go to state again, I won't be as nervous as I was the first time.
"I'm hoping I can improve my times each year, maybe get a little stronger. Getting into the lower 18s would be nice, and getting a better place at state, but I don't know. We'll see."